DIY homemade gifts are always on my mind this time of year! This Oatmeal Cookie Mix in a Jar Recipe is so easy to make and the cookies are delicious! It even comes with a free printable tag with recipe directions. They are actually oatmeal chocolate chip raisin cookies. The raisins are optional of course.
DIY Gifts are fun to make and usually nice to receive. I have lots of ideas in my Christmas archives.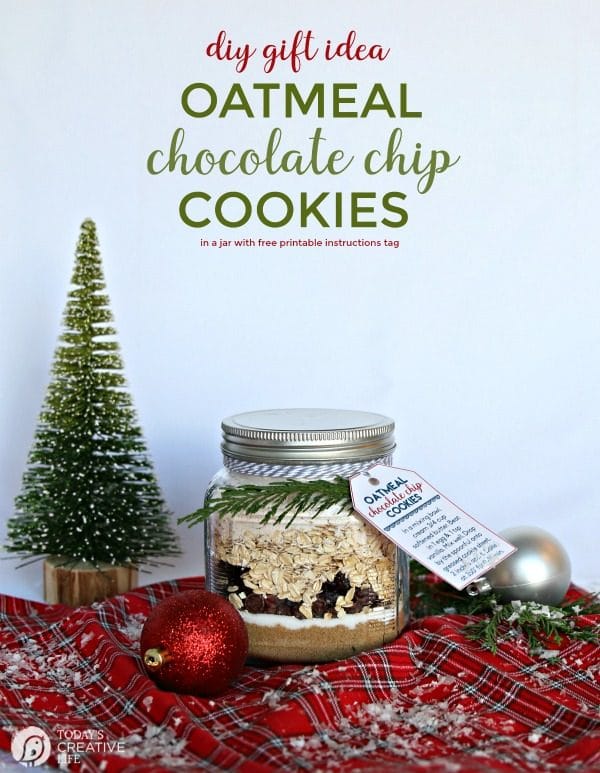 Oatmeal Cookie Mix in a Jar Recipe
When you layer the ingredients, it makes a great DIY homemade gift! I love mason jar gifts or any of the gifts in a jar ideas! It's always cute and doesn't require wrapping.
These cookies in a jar gifts are great for just about anyone! Teacher gifts, neighbor gifts, easy gifts for friends. They're homemade, inexpensive and easy!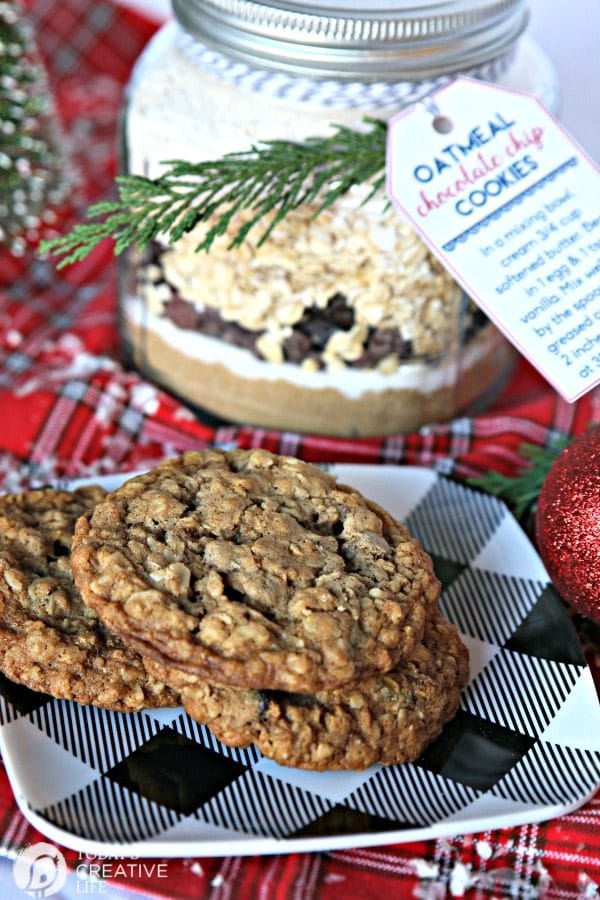 All a person has to do is add the wet ingredients, mix it up and bake! Who doesn't love that?
This Oatmeal Chocolate Chip Raisin Cookie Mix makes the best cookies. Crisp on the edges, chewy in the center.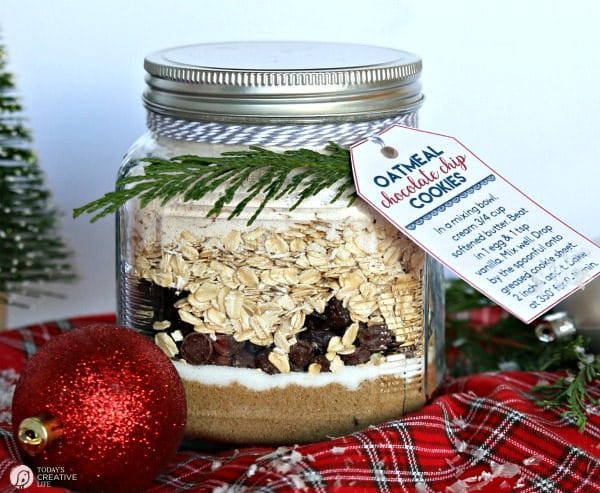 Many Oatmeal cookie recipes will call for quick oats, instead of rolled oats, but not my recipe. Give me all the goodness from real rolled oats. I love the Trader Joe's brand or Bob's Red Mill.
Oatmeal Chocolate Chip Cookie Layered Mix in a Jar
Here are the layers for each jar of cookie mix.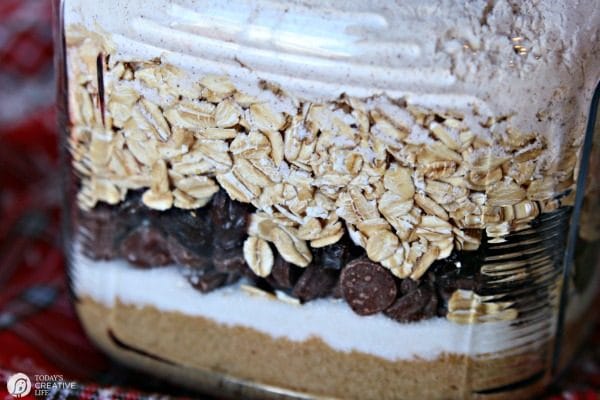 Brown sugar (did you know you can make your own brown sugar? Never run out of brown sugar again! So easy.)
Sugar
Chocolate Chips (and Raisins – I like adding both, but you can add just the chips, just the raisins or both!)
Oats
Flour Mix
Oatmeal Cookies in a Jar Baking Instructions
These adorable and festive printable tags have all the mixing and baking directions to whip up a quick batch of cookies. Just tie it to your jar with bakers twine or ribbon, and you've got yourself a fun homemade gift.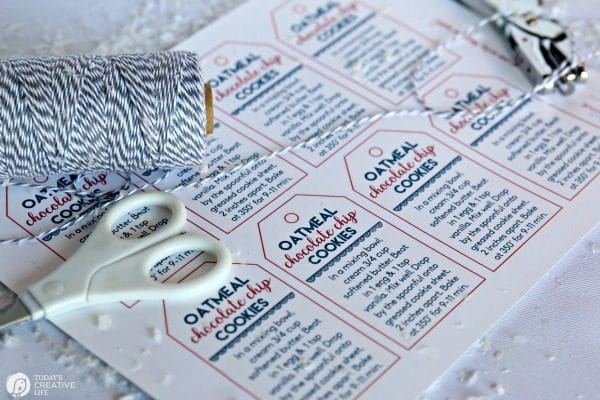 How to Print Gift Tags
You'll need:
Download the free printable baking instructions gift tag and open up the file on your device.
Load your printer with your paper and right click to choose print.
Trim each tag.
punch a hole in the indicated spot.
Add to your cookie mix in a jar.
You'll find the free printable gift tag in The Subscribers Only Printable Vault. Not a subscriber? You can sign up here and your password will be sent to you. Be sure to check your spam folder.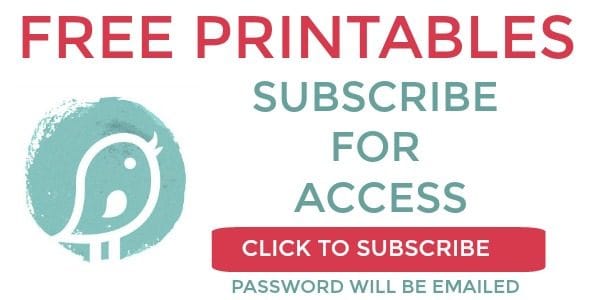 You'll have access to all the free printables for many more homemade DIY gift or craft ideas. The password may change from time to time, but I'll always inform you when that happens.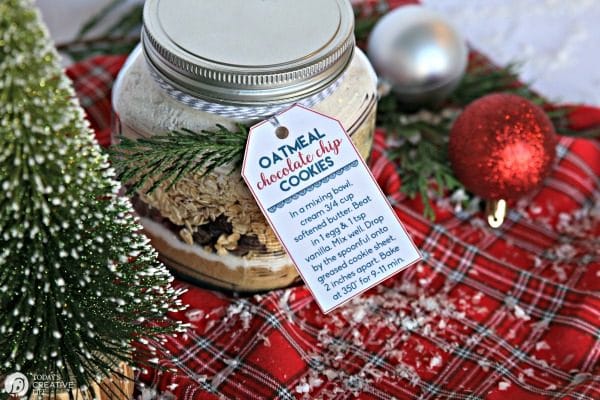 What Kind of Jar do I use?
This Oatmeal Cookie Mix in a jar recipe uses a 2 quart size jar.
Wide Mouth Mason Jar – It's much nicer if you get a wide mouth jar, which makes it easier for creating your layers.
Le Parfait Super Terrine – I love this French one for its simple style!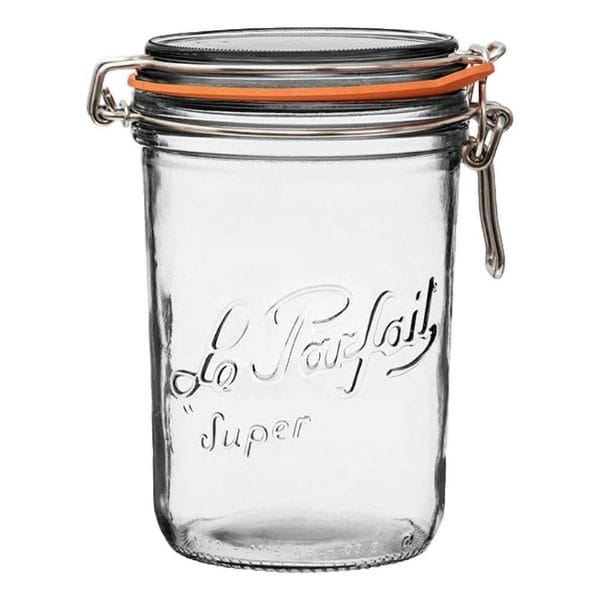 Hinge Top – This is another favorite style of mine. It's got that farmhouse feel.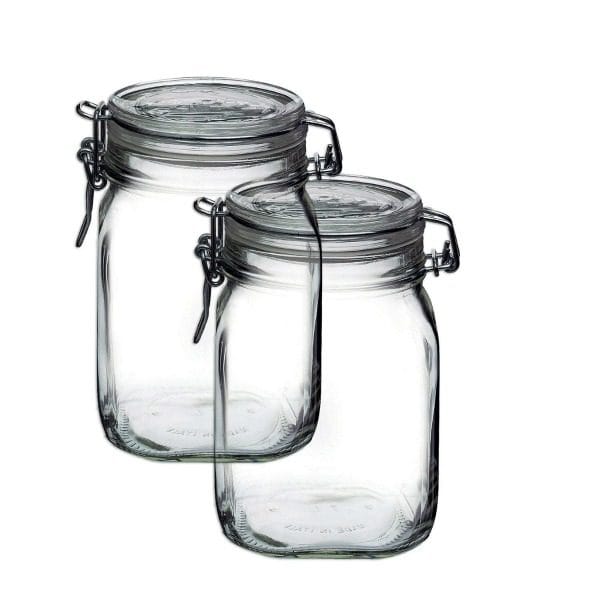 How to Layer Cookie Mix Ingredients
As mentioned, it helps to have a wide mouth jar.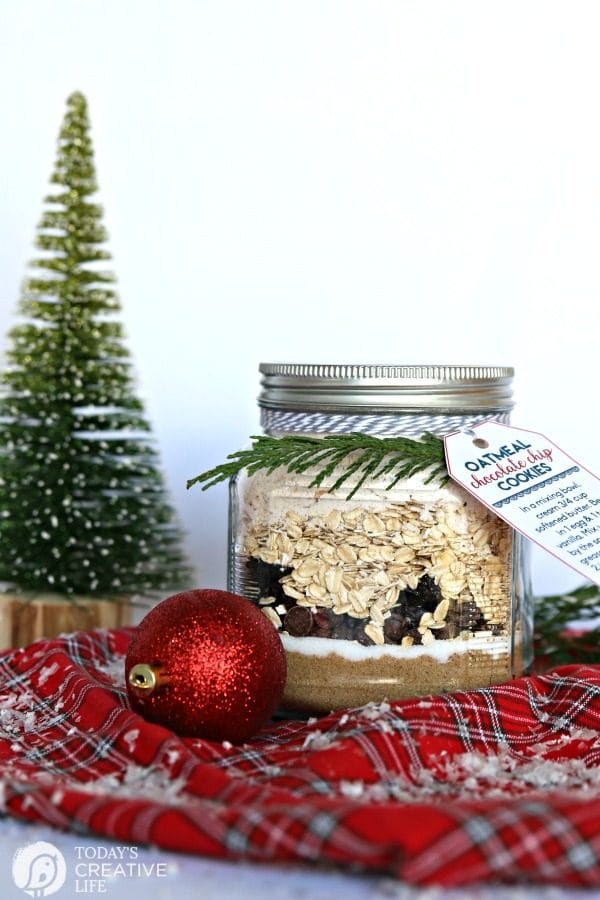 I like filling a 1/2 measuring cup full of each ingredient as I reach into the jar and sprinkle along the edges first. With the packable items, I used a spoon to pat down the edges.
After each ingredient added, I give the jar a gentle tap on the counter to help the layers settle.
How to Make Layered Oatmeal Cookie Mix in a Jar Recipe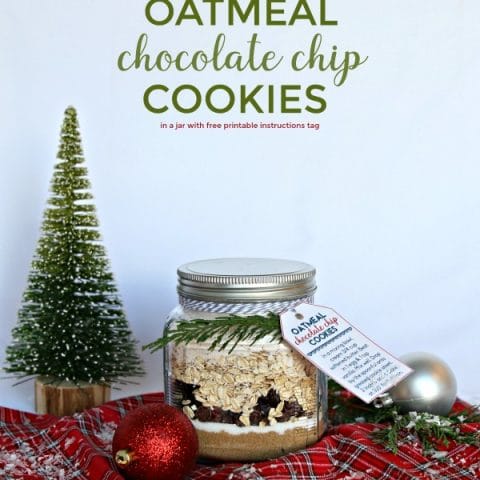 Layered Oatmeal Cookie Mix in a Jar Recipe
Yield: 1 batch
Prep Time: 10 minutes
Cook Time: 10 minutes
Total Time: 20 minutes
Make-ahead cookie mix makes a great DIY gift idea!
Ingredients
1 cup all-purpose flour
1 teaspoon baking soda
1 teaspoon ground cinnamon
1/2 teaspoon nutmeg
1/2 teaspoon salt
3/4 cup packed brown sugar
1/2 cup sugar
3/4 cup chocolate chips
2 cups rolled oats (or quick cooking oats)
ADDITIONAL INGREDIENTS
3/4 cups softened butter
1 egg
1 teaspoon vanilla
Instructions
In a medium-sized bowl, mix the first 5 ingredients. Set aside.
Grab your 1 quart jar and layer the brown sugar, sugar, chocolate chips and oats.
Pack well in between each layer and if needed, use a utensil to pack around the edges for a cleaner layered look.
Top with flour mixture.
Store in an airtight container.
TO PREPARE COOKIES
I use my Kitchenaid mixer
In a mixing bowl, cream butter.
Add egg and vanilla.
Drop by the spoonful onto a parchment paper lined or greased cookie sheet. I like to roll the dough in my hands to form a ball.
Place 2 inches apart.
Bake at 350 degrees for 9-11 minutes or until golden brown.
Cool for a couple of minutes and move to a cooling rack.
Nutrition Information
Yield 24
Serving Size 1
Amount Per Serving
Calories 163
Total Fat 8g
Saturated Fat 5g
Trans Fat 0g
Unsaturated Fat 3g
Cholesterol 23mg
Sodium 148mg
Carbohydrates 22g
Fiber 1g
Sugar 13g
Protein 2g
We do our best to calculate, however, nutrition information may not be accurate.
Because I know we are all in a baking mood during the holidays, you'll have to try my favorite
classic cream cheese spritz cookies.
Another great gift!
Follow along on Instagram | Pinterest | Facebook
Holiday Gifts from the Kitchen
Simple and easy homemade edible holiday gift ideas!
Another great gift idea you can make.
This is a delicious homemade gift.
Eat as is, or drop them in a mug of hot cocoa.
The secret ingredient makes this homemade gift even better!
Simple, easy and they are beautiful!
Photo Credit: www.texanerin.com
These make great party favors too!