I am all about decorating with budget friendly items. It doesn't matter what room I'm updating, I'm always looking for the most inexpensive way to achieve my look. I think you'll love these Guest Bedroom Ideas on a Budget!
I'm sharing the evolution of my guest bedroom. I can never get enough Before and After room makeovers. Keep scrolling to see past years.
When I decorate a bedroom, I think of the bedding first. You probably do too. The bed is the first thing you see of course, so it's important to have a comforter set or duvet cover with beautiful shams that you love!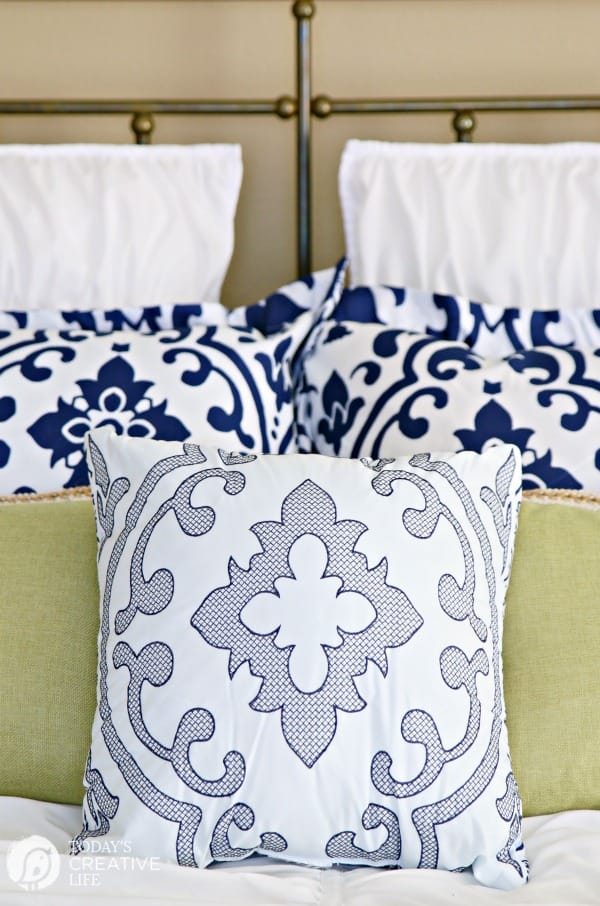 As part of the Better Homes & Gardens at Walmart Blogger program, this month we were challenged to choose a room for a quick makeover. You may remember my Guest Bedroom Makeover from a couple of years ago. I think it was one of my first projects working with them. Although I still love it, I was starting to give it the side eye and dreaming of another stylish, yet inexpensive guest bedroom makeover. It seems like I redecorate the guest room every 2 years.
Guest Bedroom Ideas on a Budget
The first guest bedroom makeover I sharing with you was four years ago. It was more of a masculine look. I remember finding the drapes for a ridiculously low price. I couldn't pass them up. Looking at it now…. I should have passed them up.
Guest Bedroom Makeover BEFORE 2013
Guest Bedroom Makeover BEFORE 2105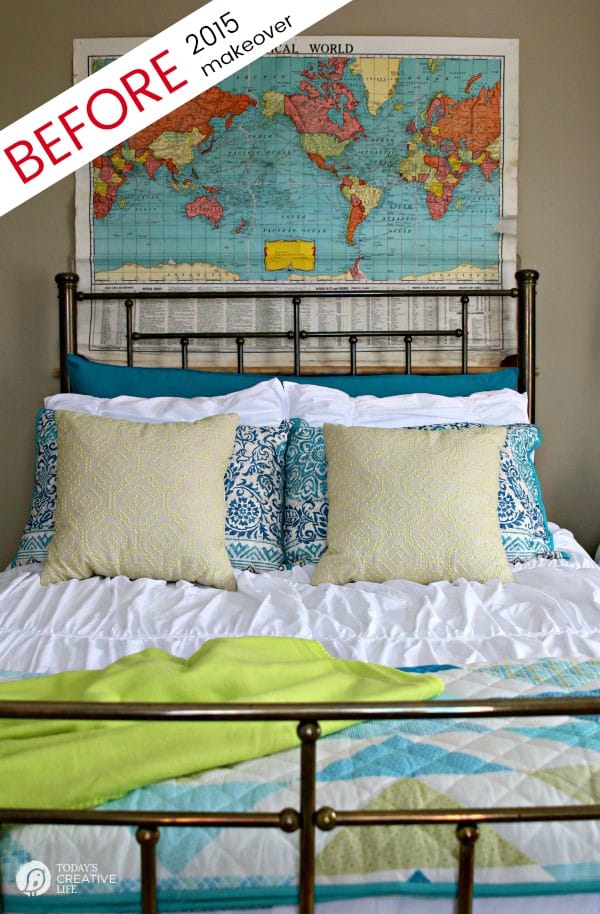 Better….. and I decided to still incorporate the white comforter set for my new makeover. It's from Better Homes & Gardens too.
Are you ready for the 2017 guest bedroom ideas on a budget?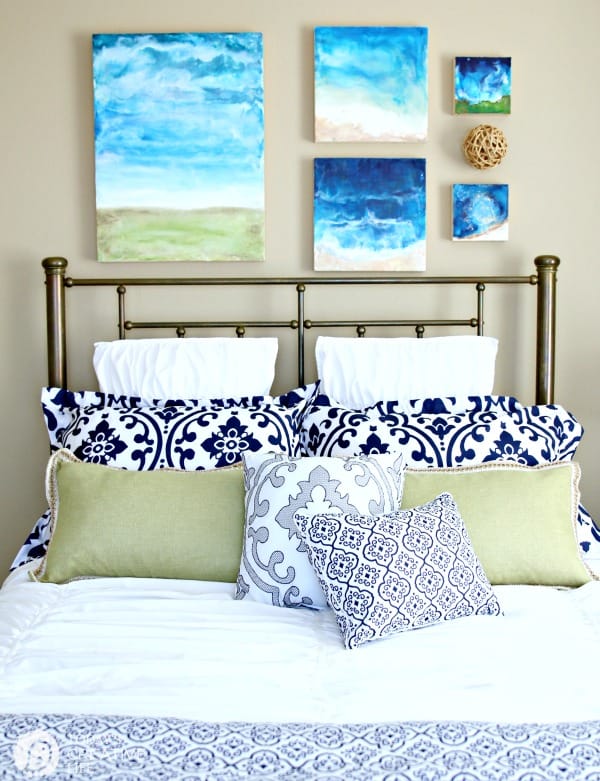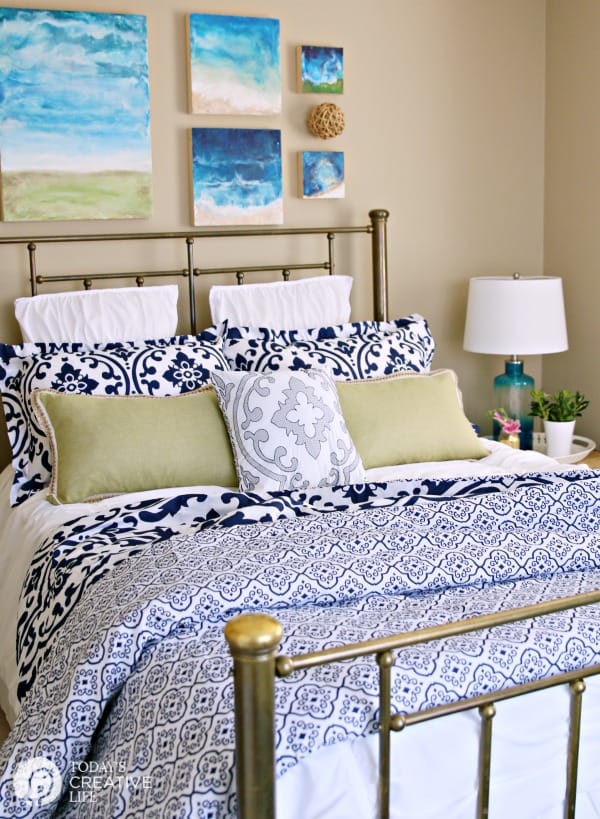 Lighter and brighter with navy blues and greens. It's a much cleaner look.
I updated the look with 5 items.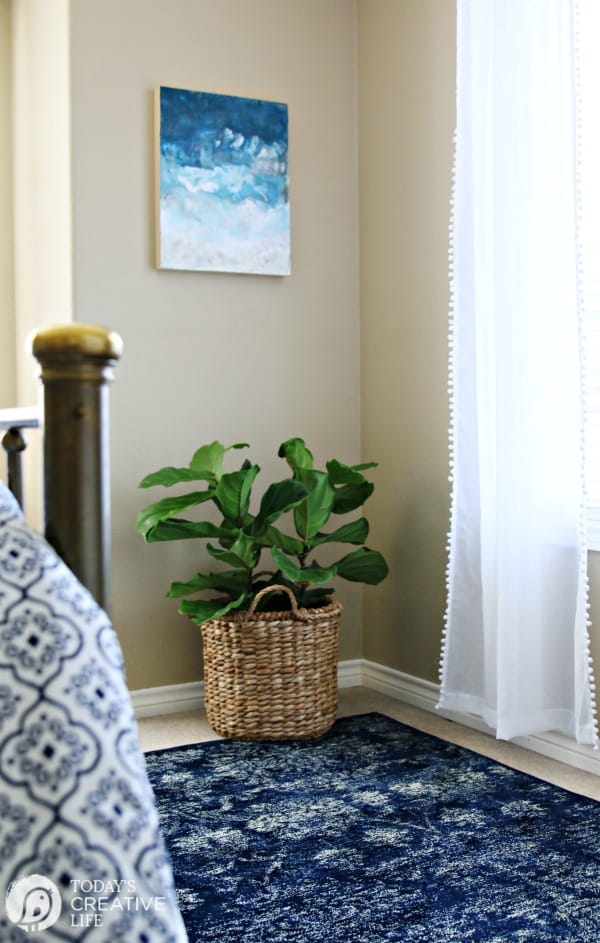 Budget Bedroom Decorating Items
All items are from Better Homes & Gardens found at Walmart. If you can't find it in your local store, find it online!
TOTAL MAKEOVER COST – $325.59! Without the mattress, it would have been $170.59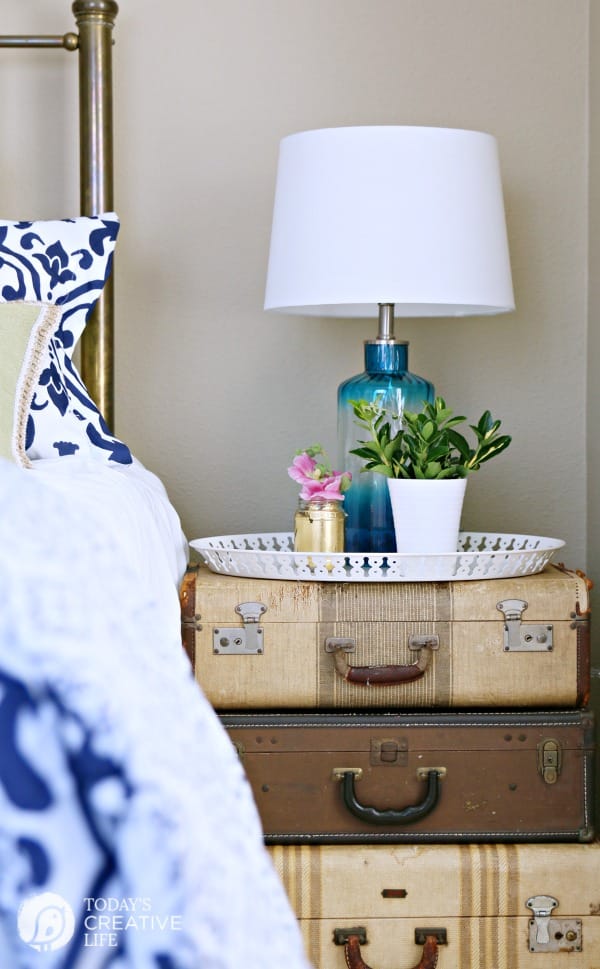 Bedding
I fell in love with the navy blue! I also love that it's reversible for more design options. It's soft and rich in color. I already had the white ruched bedding set which is still for sale.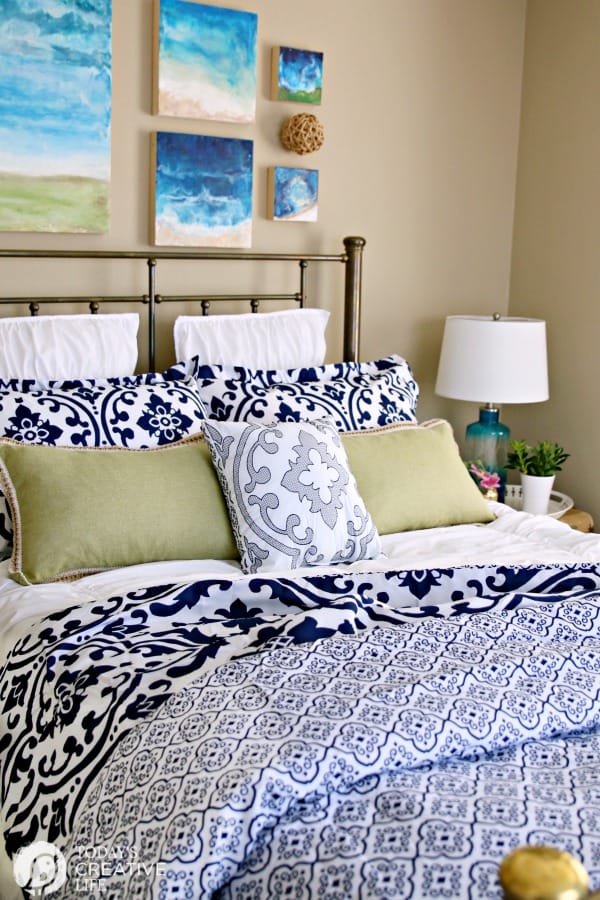 Depending on the size you need, you can pick one up between $39.96 and $44.96. I ended up using the white shams for a different look by setting them on their ends. I think it resembles a European pillow, the exact look I was going for. Budget decorators will find ways to use items differently. Sometimes you gotta think outside the box!
Mattress
When I ordered this, I wasn't paying attention and thought I had ordered a mattress topper. Our mattress in that room is older and I thought it would save us money by just adding life to the bed by adding a topper. You can just imagine as we unpacked it and plopped it on top of the bed. I quickly figured out that I had ordered a mattress! Perfect! We needed one anyway! It's SO comfortable. I wonder if this will make my guests stay too long?
Area Rug
I had never had an area carpet in this room, but when I saw this blue one, I thought it would go perfectly with the bedding and I was right!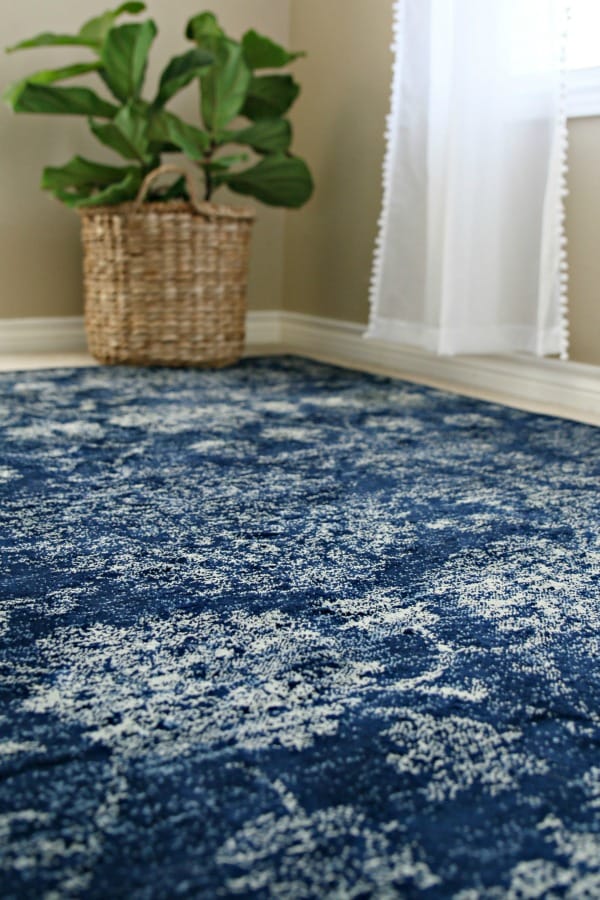 It really pulls the room together! It's silky soft and plenty large for my space.
Lamp
I didn't really NEED a new lamp.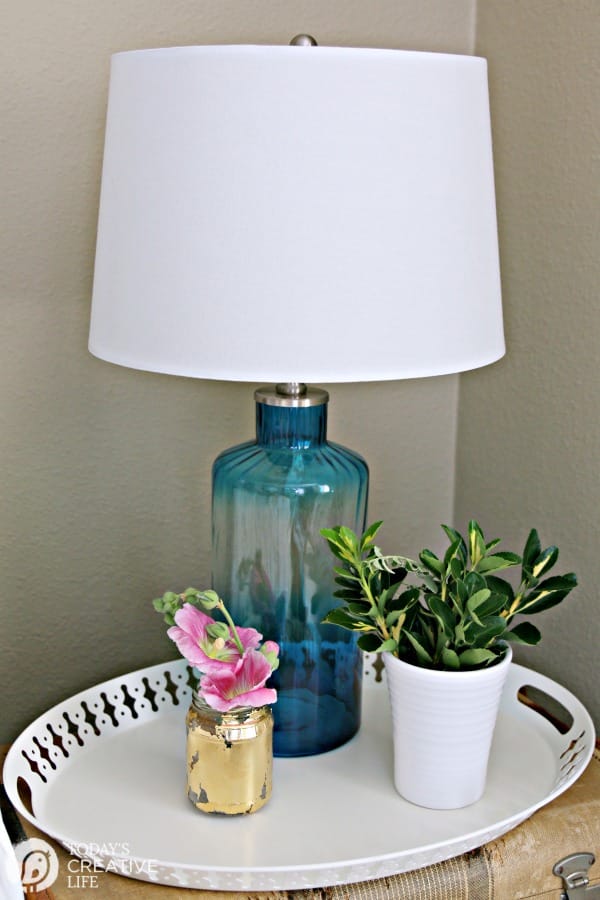 But, look at it! Could you pass it up? I could have just swapped out the lamp shade with an extra white one I had. But the peaceful feel and look this had, I thought it would look so nice. It would tie in all the blues and act as a decorative piece at the same time! Don't you love it?
Artwork
My girlfriend Lara Blair is an artist who does the most amazing encaustic paintings. I had been seeing all her beachy designs on her Instagram and thought they'd be perfect for this room! She's loaning them to me for a bit. How about that rattan ball? Why not?!
I needed something round to finish off this gallery wall. I wanted something earthy. It was the first thing I saw while going through a few discarded decorating items.
As I said, you gotta think outside the box. Break a few rules!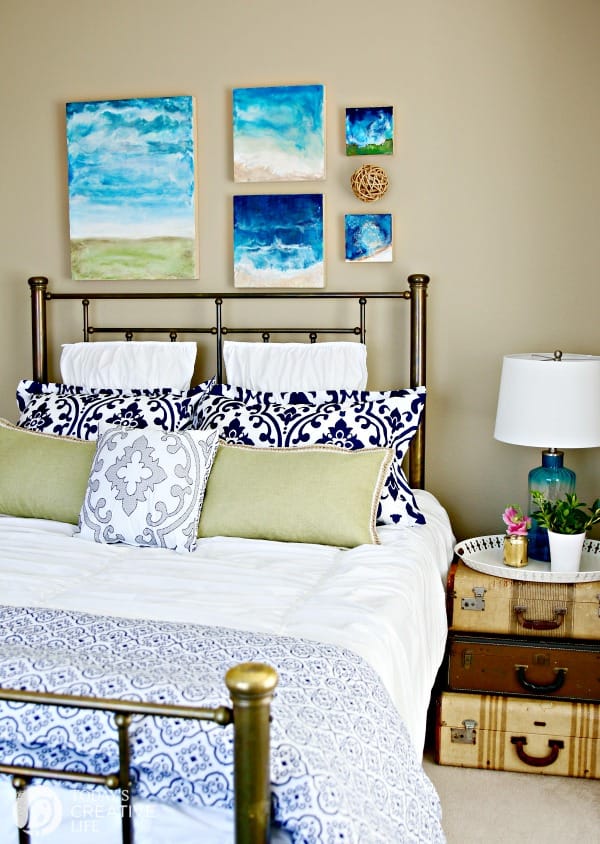 Everything else I already had. I shopped my home to fill in the spaces and to save money! Some of the best guest bedroom ideas on a budget come from combining a few of your own things with a few new items.
You can always count on inexpensive stylish decorating ideas from Better Homes & Gardens at Walmart.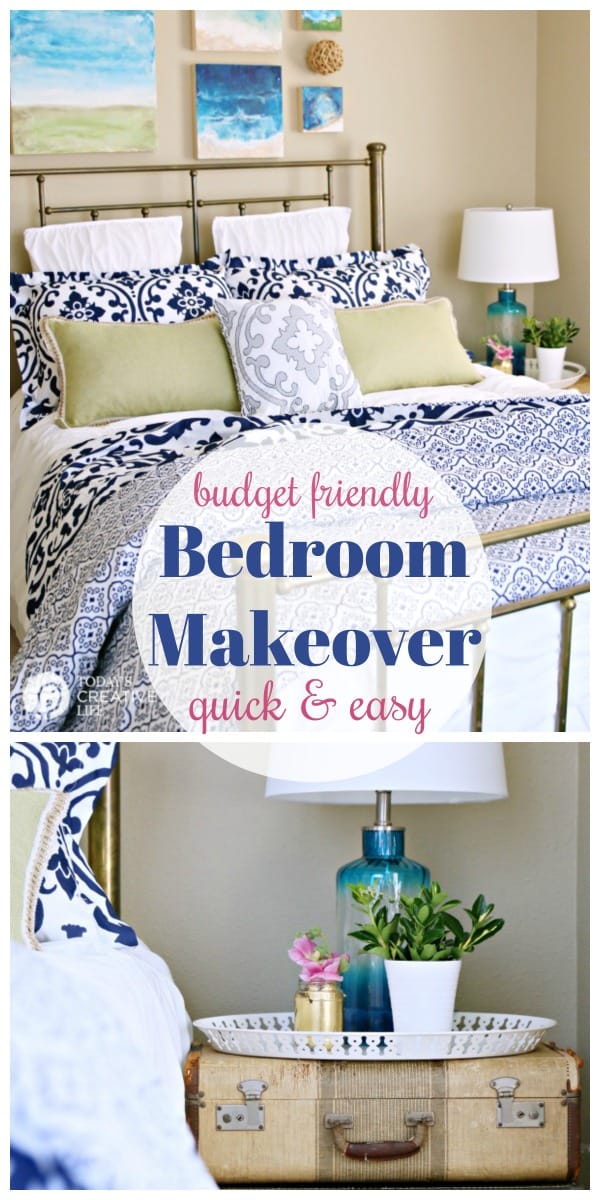 ---
More Room Makeovers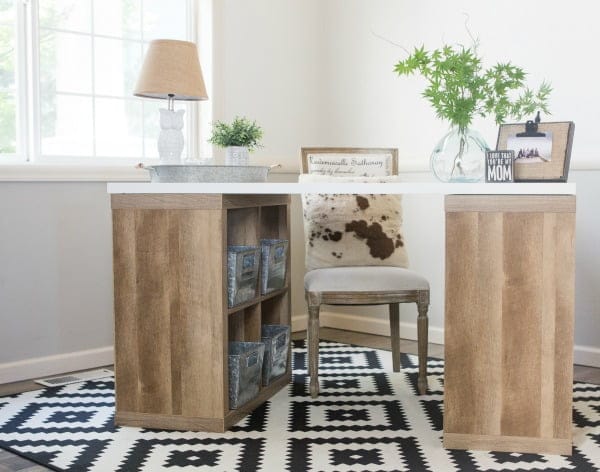 Farmhouse Office Makeover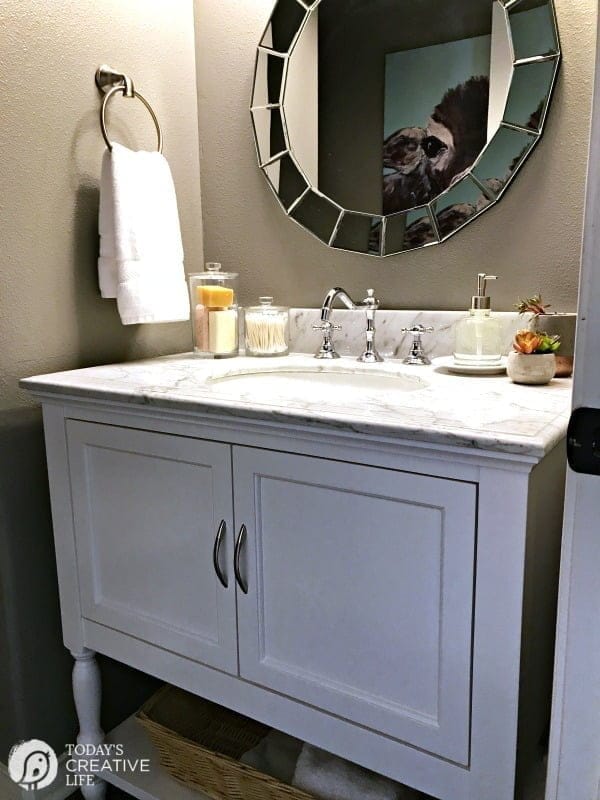 Powder Room Bathroom Makeover