We just got home from a 23-day vacation in Europe (more on that later)! While in Spain, we drank a lot of Sangria, so I was always comparing each Spanish Sangria Recipe, since every restaurant was a little different. This fruity red wine punch is plentiful and never complicated, so I figured I could recreate it to my taste once home.
Some had a fizz and some had more fruit. Each Spanish Sangria Recipe always had red wine and may have rum or brandy. Some added orange juice and some used sparkling water. All I know is each Traditional Spanish Sangria Recipe was refreshing, you could order a small pitcher and it generally came with ice!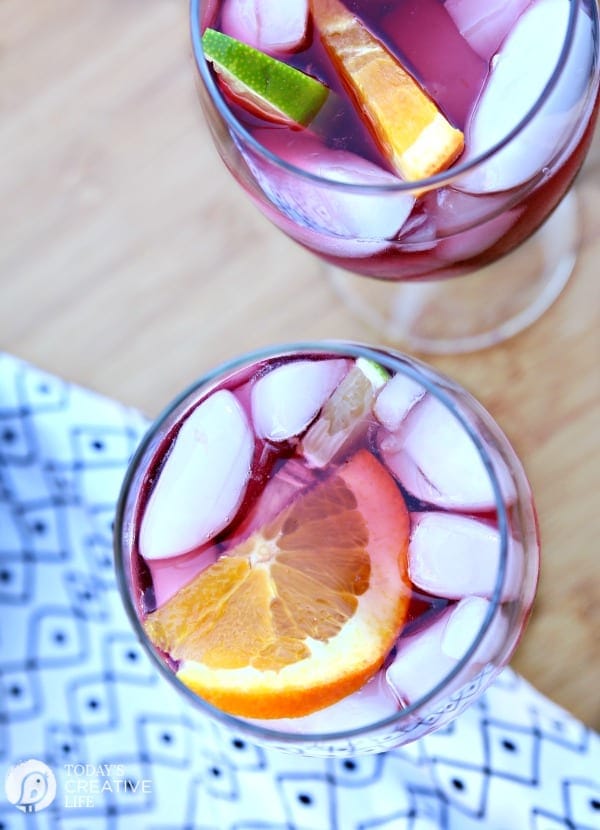 Because we all know Europe isn't on the ice bandwagon like we Americans. It was pretty hot in Spain, so a refreshing cocktail was welcome!
See 20 more Cool and Refreshing Drink Ideas Here.
Spanish Sangria Recipe
The Sangria was everywhere in Madrid but not as much in Barcelona. In fact, one waiter scoffed at my request. I mentioned that to my hair stylist and he started telling me a bit about the history of Sangria and it's not as traditional as thought.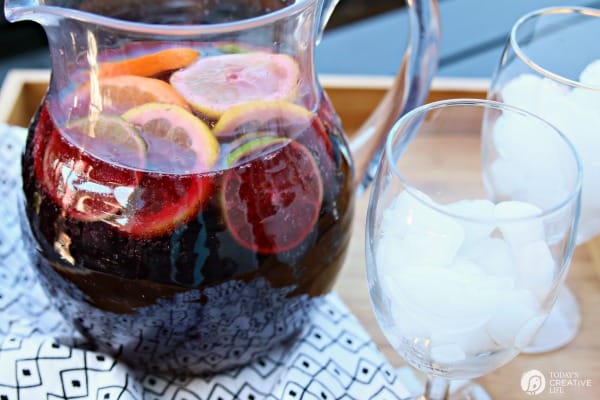 Of course, I had to read up on it and found this article on Where Sangria Came from and why it's symbol in Spain. Huh? Who knew?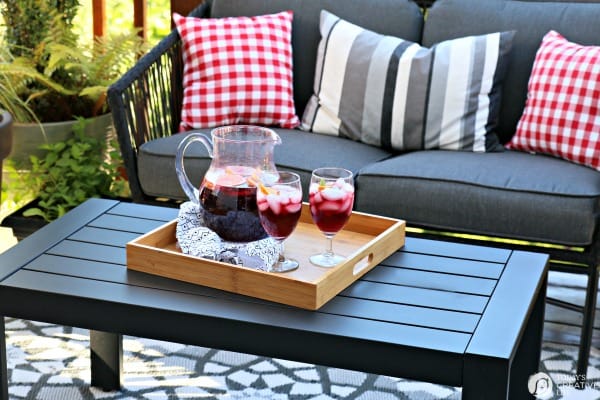 Making Spanish Sangria
Once we got home, I had to whip up my own Spanish Sangria Recipe. You really can't go wrong. I have learned that a "traditional" Sangria is a very loose term. I may even venture further away and try this Pineapple Sangria Recipe sometime soon.
The weather is perfect in the PNW right now, and I just wanted to sit on my newly decorated small patio and sip sangria.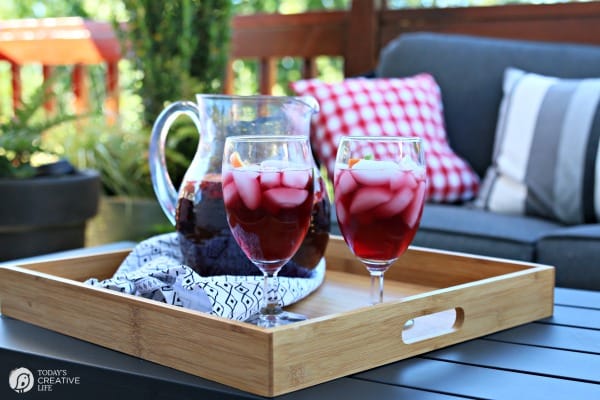 Since I already had rum, I headed to the market and picked up the following ingredients: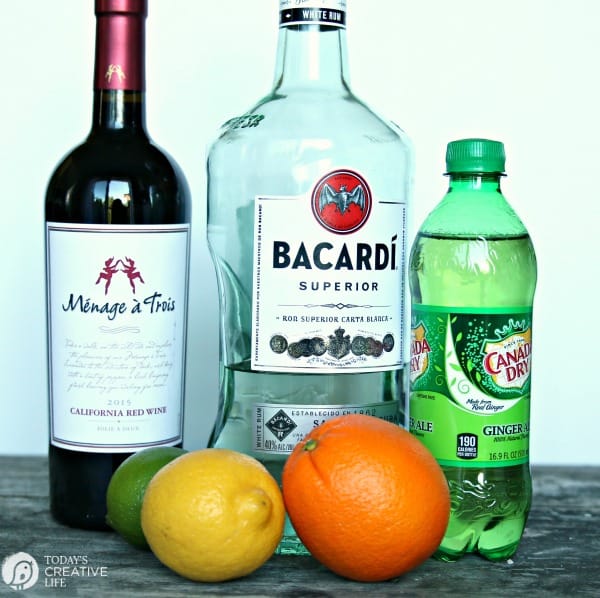 Red Wine – no need to go expensive on this. Sangria is great for using up red wines that aren't your favorite.
Oranges, Lemons, and Limes – I thought of using some berries and peaches but decided to keep it simple.
Sparkling water and Gingerale – I wasn't sure which I wanted to use. So I grabbed both.
A new Pitcher! – I wanted a classic shape.
I sliced up the citrus and left a couple for juicing.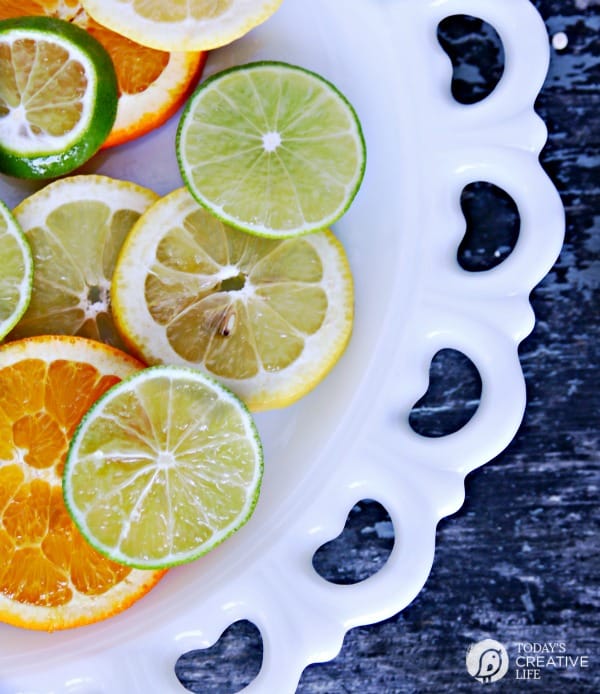 I grabbed my favorite pitcher and just started pouring. As I said, you really can't go wrong.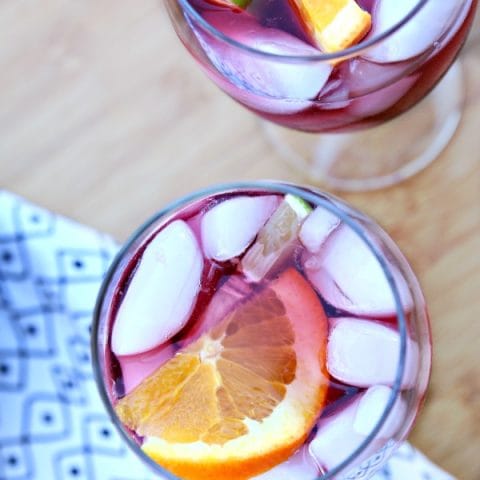 Spanish Sangria Recipe
Yield: 2qt
Prep Time: 5 minutes
Total Time: 5 minutes
This fruity red wine punch is plentiful and never complicated. Classic Spanish Sangria is easy to make!
Ingredients
1 regular size bottle of red wine
2 oranges
1 lemon
2 limes
1 cup rum
2 bottles of Gingerale (32oz. total) or Sparkling water
Instructions
Using a hand squeezer, squeeze the juice of one lime and one orange into the pitcher.
Slice the remaining citrus and add.
Pour in the wine and rum.
Add the Gingerale or anything carbonated right before serving.
Notes
This recipe can be made with brandy too. Or no alcohol. It's up to you.
Need it sweeter? Add a 1/2 sugar.
Drink Responsibly.
Nutrition Information
Yield 8
Serving Size 1
Amount Per Serving
Calories 155
Total Fat 0g
Saturated Fat 0g
Trans Fat 0g
Unsaturated Fat 0g
Cholesterol 0mg
Sodium 6mg
Carbohydrates 10g
Fiber 2g
Sugar 4g
Protein 1g
Nutrition information isn't always accurate.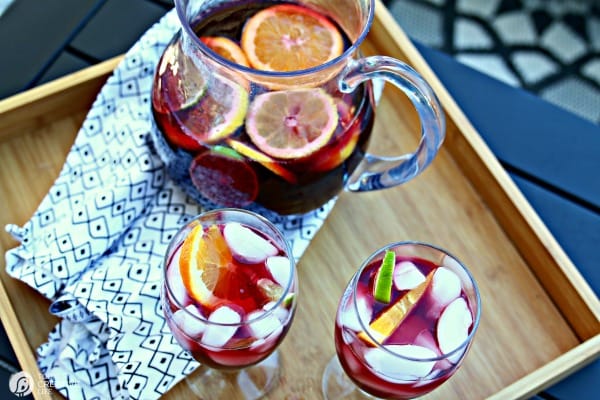 We kept this Spanish Sangria Recipe in the fridge for about 3 days, and just added carbonation when poured. This is great for serving a crowd. It takes minimal time to make, it can be made the day before and almost everyone loves it!
Can you Make Sangria with White Wine?
You sure can, why not?! Try this Apple Cider Sangria! Or this Tropical Sangria Recipe. It's really about blending all your favorite flavors together! Spanish sangria can be a very loose term.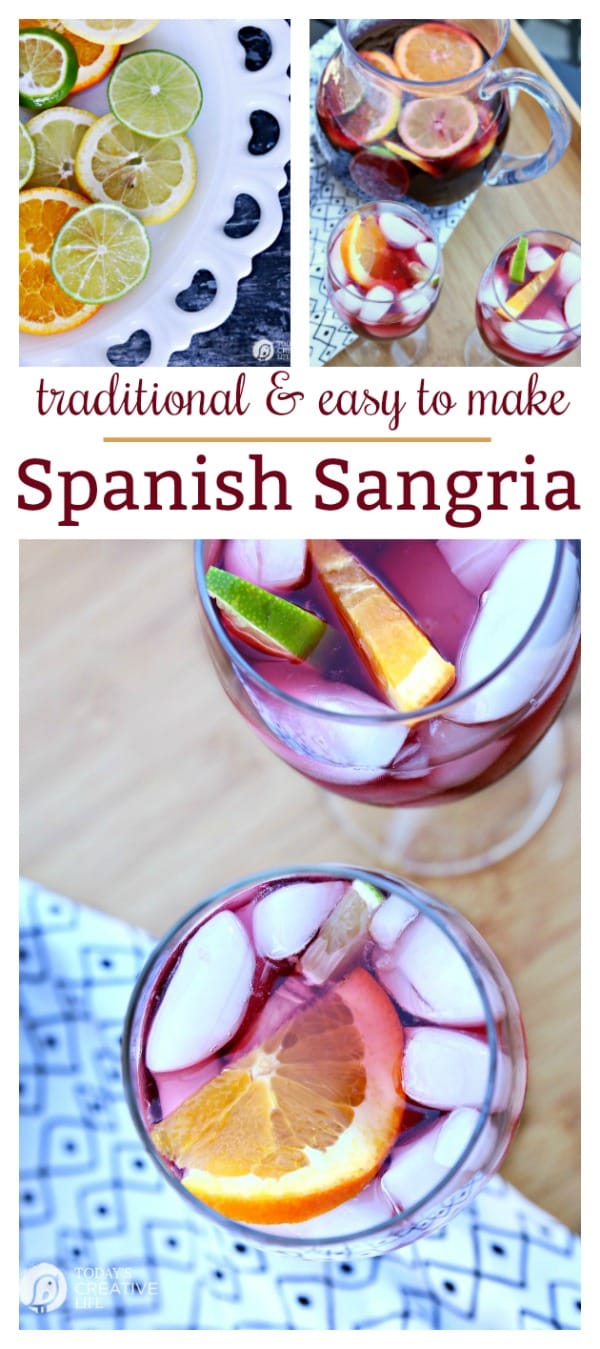 Recipes for Summer Drinks
Find a variety of simple recipes for the summer season.
This cocktail recipe is by Spabettie.
I don't measure. This way it can be made in any size glass.