On a hot summer day, this Pomegranate Cocktail with Orange Bitters, Tequila, and Grenadine is the perfect summer cocktail. The tangy taste of pomegranate juice mixed with the orange bitters and sweetened up with grenadine screams summer… add a couple lemon slices, then topped with a mint leaf or two and you're basically on vacation.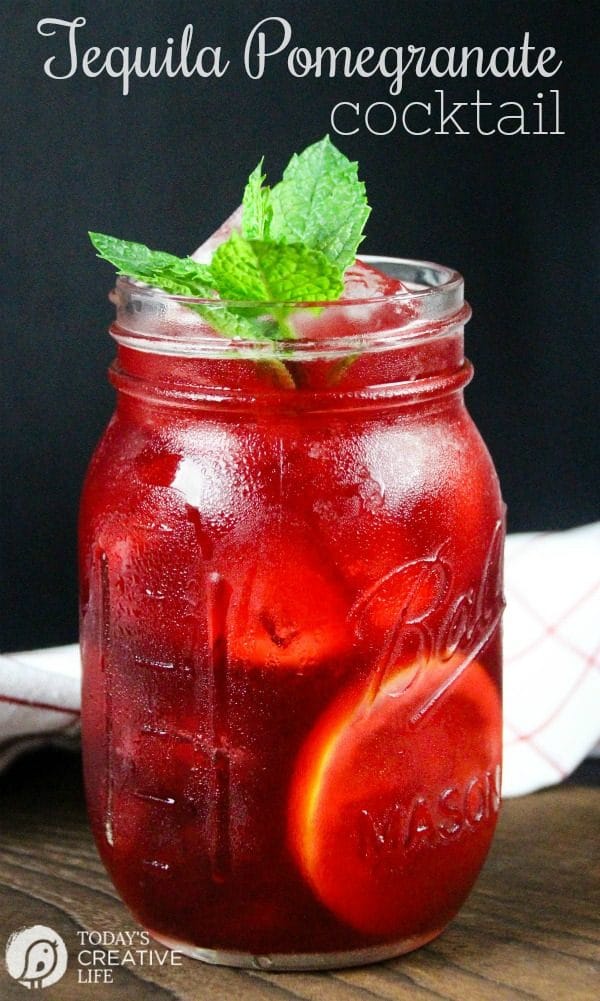 It really should be named the Most Refreshing Summer Drink ever!
Pomegranate Cocktail with Tequila
This is a pretty simple recipe. You don't need cocktail making skills to blend up this tasty beverage.
Besides all the ingredients, you'll need your basic cocktail making supplies.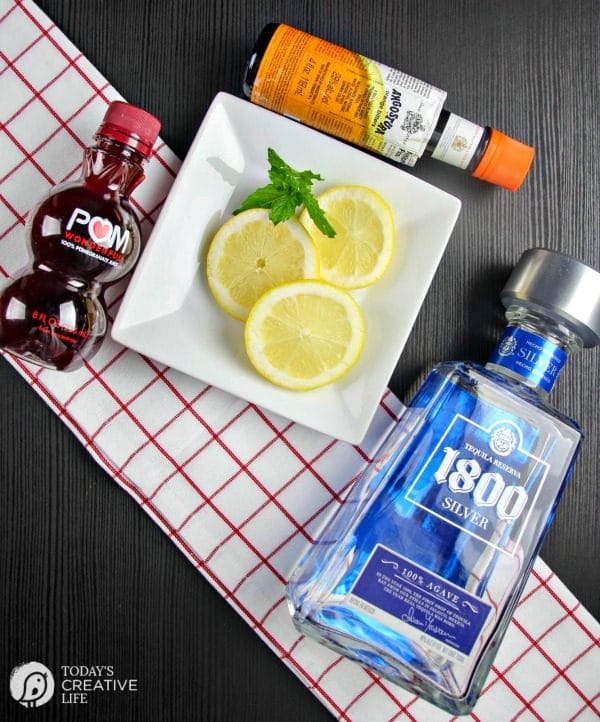 I've added affiliate links for your convenience.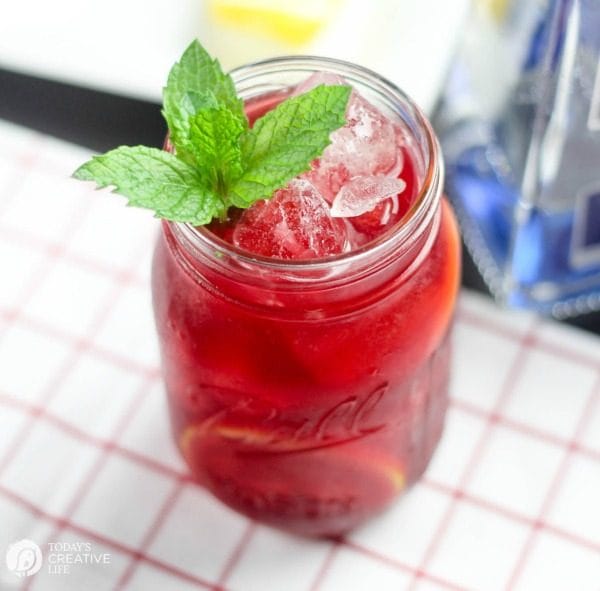 Because this is a "hanging out on the patio" summer type drink, you don't need fancy glasses. Mason jars are perfect! Or those Mexican drinking glasses. I used to have a whole set with the blue rims until I broke them one by one. I did, however, buy one in Mexico about 30 years ago with a green rim, and I still have it! It's my husband's favorite drinking glass. I love those!
Like I said, this is such an easy cocktail to make! Grab your shaker and you basically just dump everything in and shake!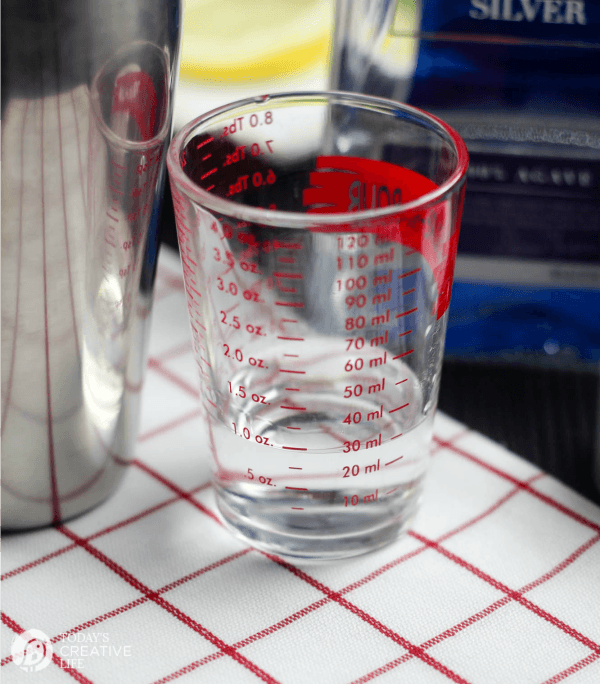 You've got your grenadine and the tequila.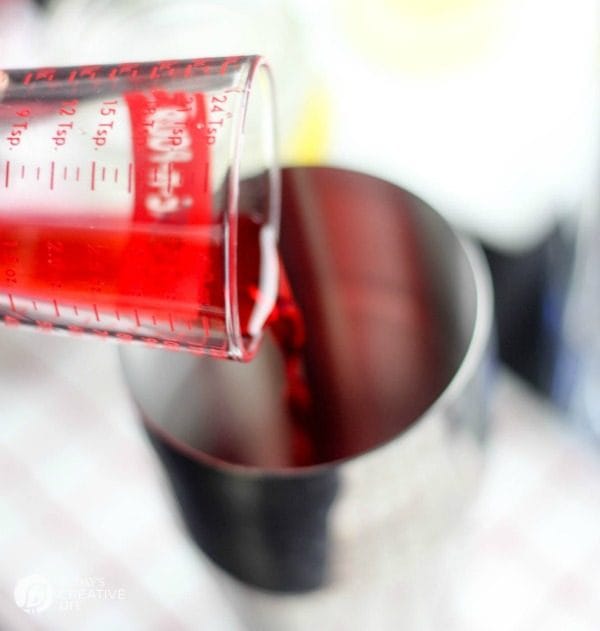 Then in goes the bitters.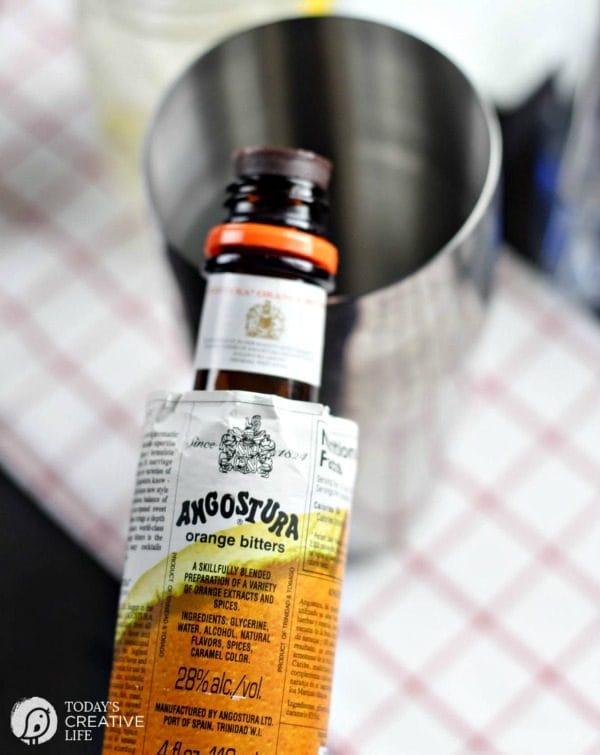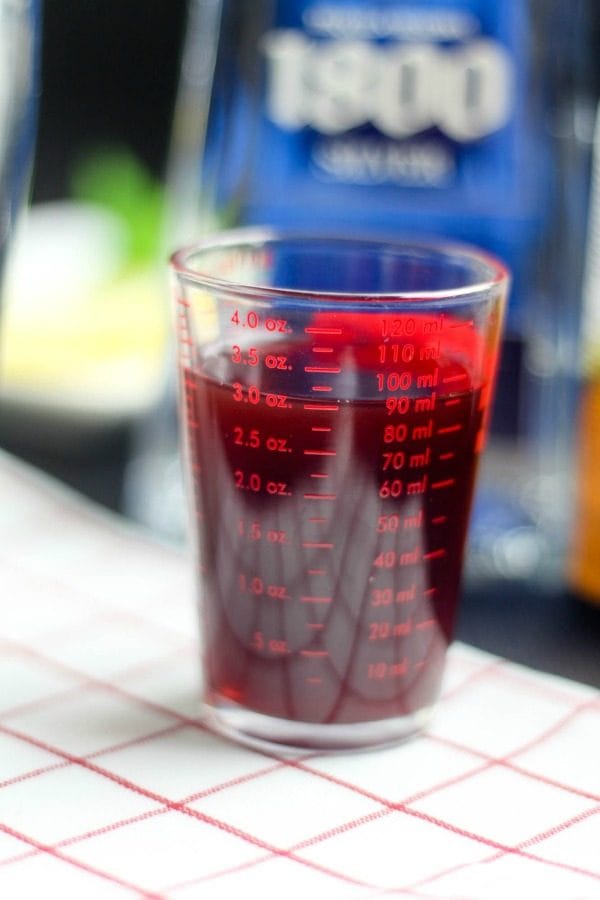 Add the juice and lots of ice…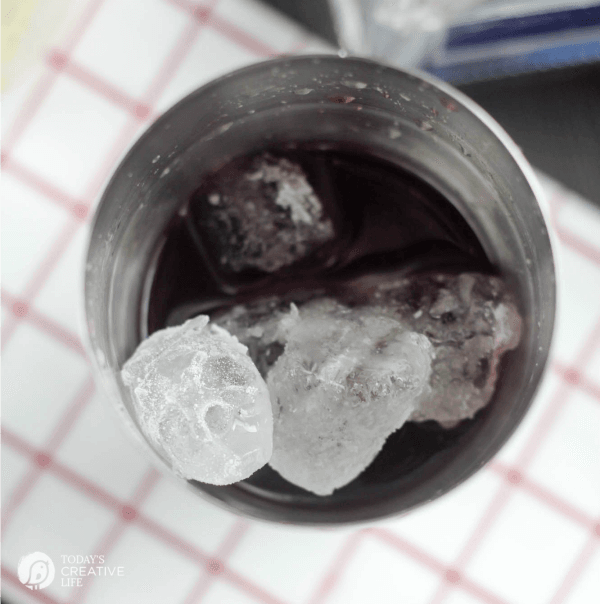 Time to shake it up! There's nothing wrong doing a little dance while you shake it.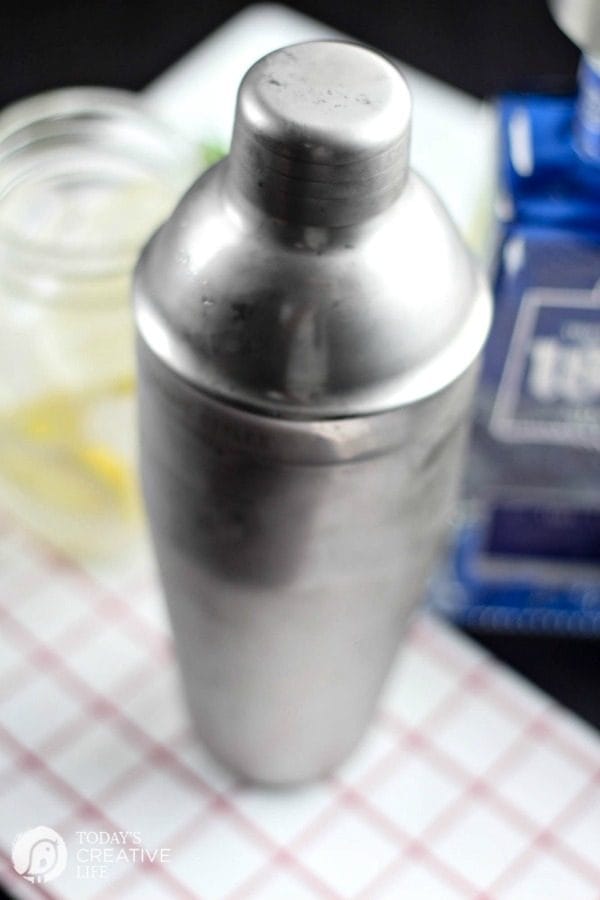 Fill up your glass with more ice and pour your delicious Pomegranate Cocktail!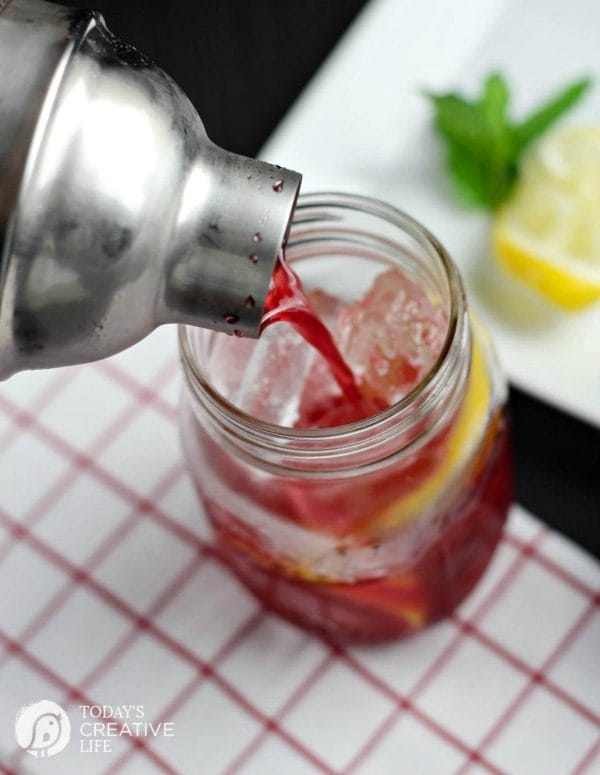 Don't forget the garnish.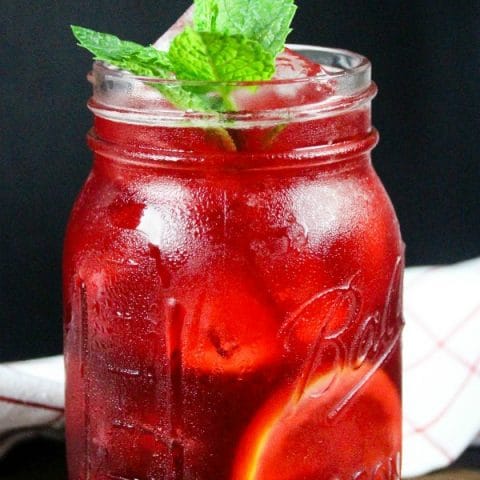 Pomegranate Cocktail
Yield: 1
Prep Time: 5 minutes
Total Time: 5 minutes
Ingredients
0.5 ounce Grenadine
1 ounce 1800 Tequila
2 dashes Angostura Orange Bitters
3.5 ounces POM Pomegranate Juice
Lemon Slices
Stem of Mint
Ice Cubes
Instructions
In a cocktail shaker add grenadine, tequila, bitters, POM juice, a twist of lemon, and crushed ice.
Secure the cocktail shaker lid and shake for 30 seconds.
Strain into a Mason jar and garnish with slices of lemon and a sprig of fresh mint.
Serve.
Notes
Drink responsibly. Never drink and drive.
Recommended Products
As an Amazon Associate and member of other affiliate programs, I earn from qualifying purchases.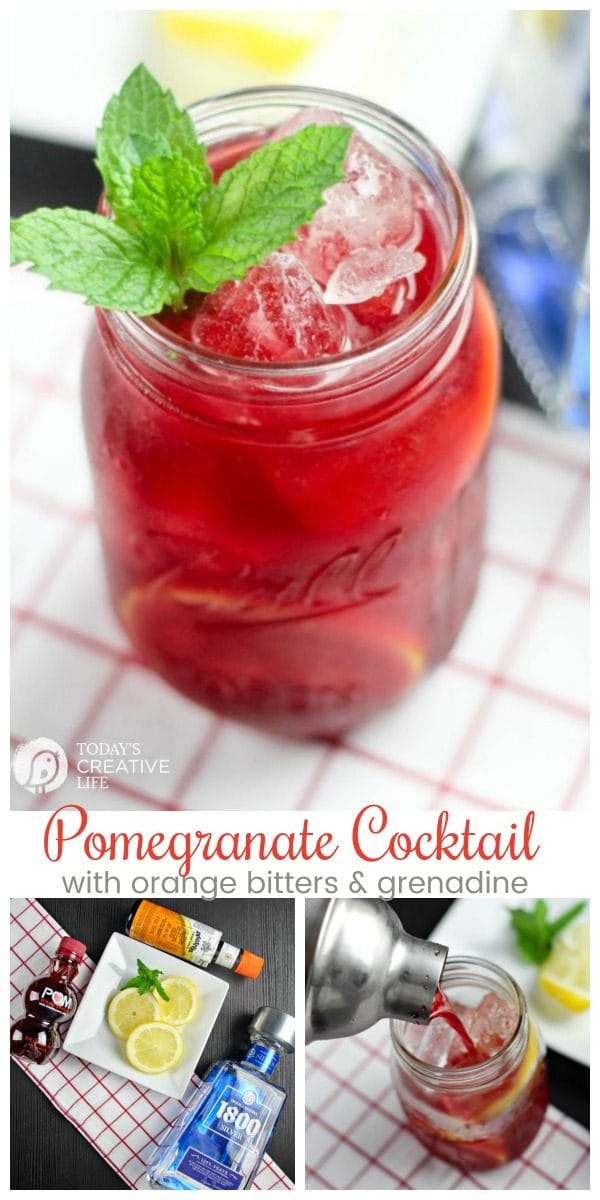 ---
More Summer Cocktail Recipes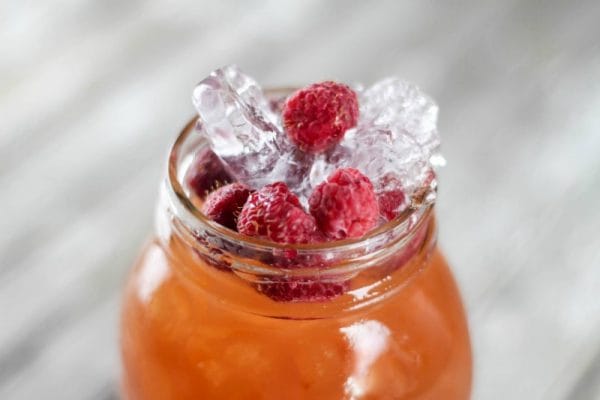 Spiked Lemonade Raspberry Ice Tea
Double Trouble Grapefruit Cocktail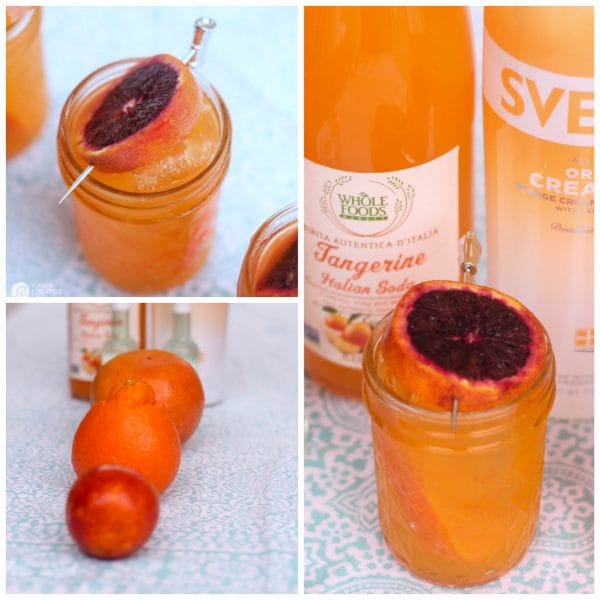 Rum Orange Cream Soda Cocktail