Please welcome my lovely Utah friend Ruthie as she shares her yummy and Easy Peach Turnovers Recipe! Ruthie and I hit it off instantly, and it's not because she makes delicious treats. I love meeting up with her every summer and this past summer, I was lucky enough to film My Craft Channel the same day as her.
___________________________________________
Hi to all of Todays Creative Blog friends! I'm Ruthie from Whats Cooking with Ruthie and I'm SO excited to visit with y'all today.
I love this time of year when the local orchards are harvesting peaches… it's pretty hard to beat a juicy fresh picked peach, don't you think?!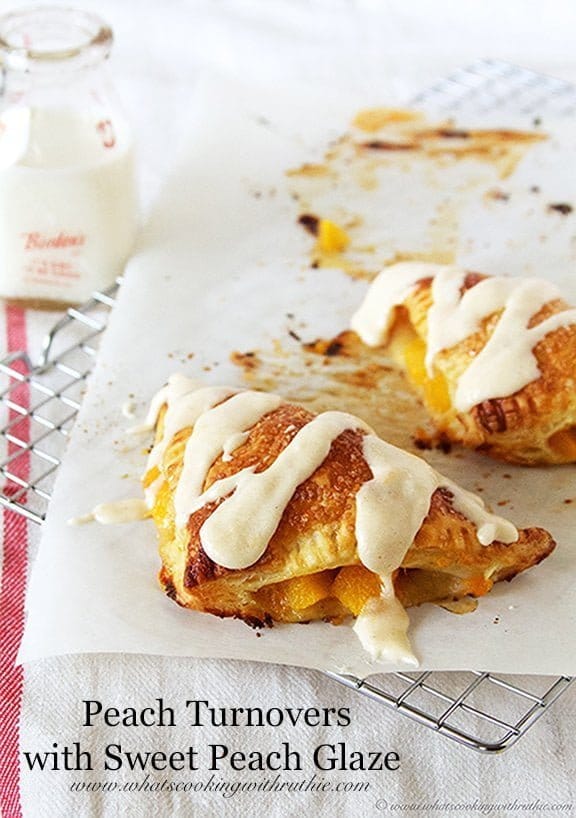 This delightful peach treat is perfect to whip together with fresh peaches but, frozen peaches would work well too.
Easy Peach Turnovers Recipe
I know you'll fall in love with these quick and easy Peach Turnovers Recipe with Sweet Peach Glaze!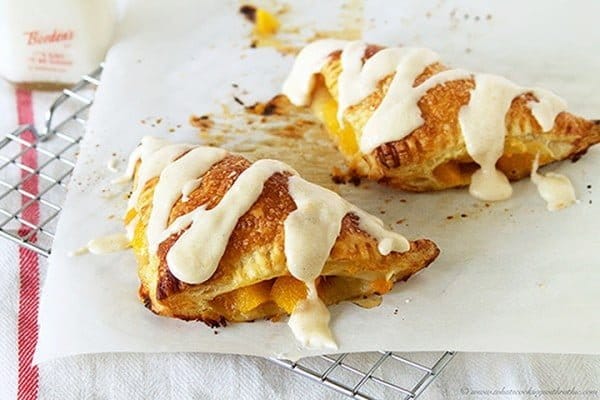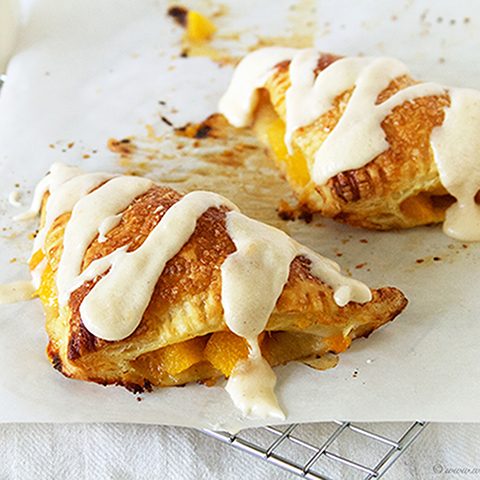 Peach Turnovers with Sweet Peach Glaze
Ingredients
4 Tbsp sugar
2 Tbsp flour
1/4 tsp cinnamon
5 C fresh peaches, peeled and chopped
1 (17.3 oz) package puff pastry sheets, thawed
milk
raw sugar, for garnish
Sweet Peach Glaze:
3/4 C powdered sugar
1 Tbsp butter, softened
2 Tbsp plus 1 tsp leftover juice from peach mixture
1/2 tsp vanilla
dash of salt
Preheat oven to 400 degrees. Line a baking sheet with parchment paper, set aside.
Instructions
For filling: combine sugar, flour, and cinnamon in a small bowl and mix. Add peaches and toss to coat. Unfold pastry and cut each sheet into 4 squares. Brush the edges of one square with milk. Spoon 2 Tbsp filling into the center of square, fold one corner over the filling to the opposite corner. Press edges with the tines of a fork to seal. Place on prepared baking sheet. Repeat with additional squares of pastry. Reserve liquid from peach mixture. Prick tops of turnovers with fork in several places. Brush with additional milk and sprinkle with raw sugar. Bake 15-18 minutes or until lightly browned. Cool slightly on baking sheet on a wire rack.
For Sweet Peach Glaze: In a small mixing bowl combine butter, 1/2 of the powdered sugar, vanilla, salt; mix until smooth. Alternate adding the leftover peach juice and remaining powdered sugar. Mixture should be a thick drizzle glaze. Drizzle over warm turnovers and enjoy!
Notes
Please pin this recipe, but please do not copy and paste the full recipe onto Pinterest or Facebook. This recipe is copyright material. Thank you!
AND since we're thinking of fall treats, here are a couple of other autumn inspired recipes for you to enjoy…
Pumpkin Spice Whoopie Pies with Nutella Cream Cheese Filling
I can hardly believe that fall is here… I don't know how time flies so quickly?! I hope these recipes get you in the mood for some delicious autumn baking 🙂
Thanks so much for having me- you'll be in heaven when you try those Peach Turnovers with Sweet Peach Glaze!
I'd love for you come over and visit me anytime at www.whatscookingwithruthie.com or connect with me on Facebook, Twitter and Pinterest.
Have a wonderful day and Happy Cooking,
xoxo~ Ruthie