Breakfast casserole recipes are some of my favorites! Especially when there are ham, cheese, egg, and biscuits involved. Egg breakfast casseroles are always welcome! Like this Breakfast Strata Recipe with Rye Bread and Sausage, it's bursting with flavor!
I love getting up on a weekend morning to create a quick breakfast recipe that I know my family will love, especially during the holidays. I will whip up breakfast muffins or quick bread to go along with breakfast meat and some fruit and suddenly everyone is happy! This Pillsbury biscuit breakfast bake is a keeper!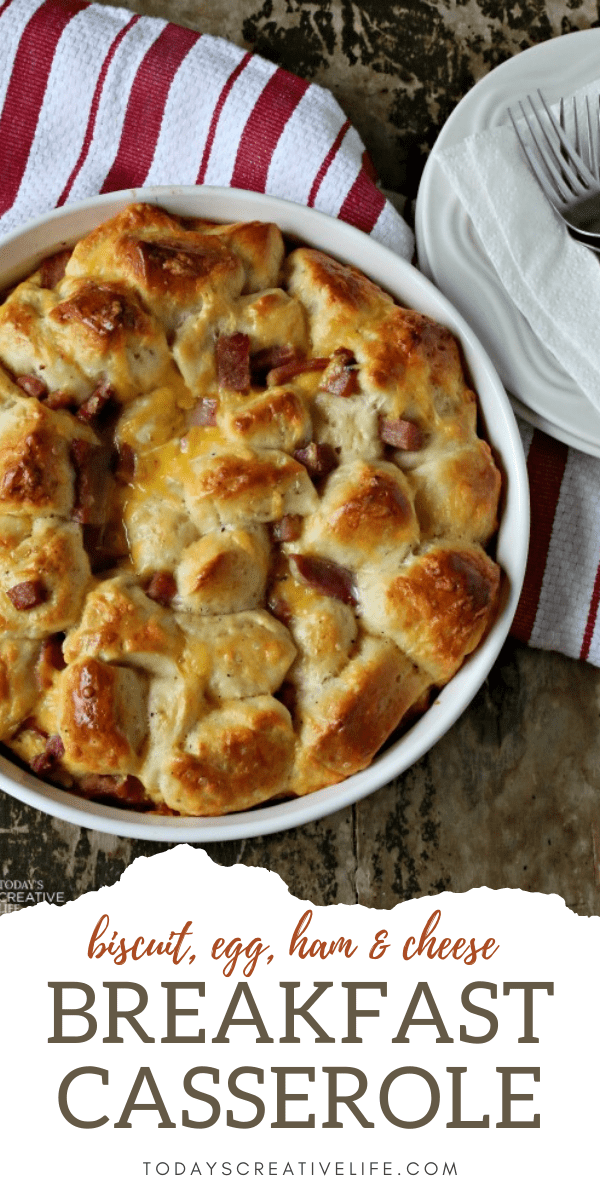 Breakfast Casserole Recipe with Leftover Ham

During the holidays, I especially love baking and cooking for my family. Trying new breakfast casserole recipes and having plates and platters of little treats on the kitchen island has become a tradition. My son says he loves the holidays because there is always something ready to eat at any time of the day!
This breakfast casserole recipe is so easy and turns out delicious. Combining Pillsbury Grands!® biscuits with egg, leftover Christmas ham, and some cheese is one of the smartest things I've ever done.
Every now and then I'm asked to work with Pillsbury®. This is when my son perks right up! In fact, he would have eaten all of it, had I not told him to save some for his dad. He must have told me "This is really good Mom" at least 4 times, which left me wondering if my other breakfast casserole recipes, that didn't receive such feedback, were any good.
Breakfast Ideas using Pillsbury Biscuits
Because I sent him to Walmart the day before making this to buy a couple tubes of Pillsbury biscuits, he knew I had extras. So of course as soon as he jumped out of bed he wanted to know if I was going to make that "Breakfast Casserole Biscuit thingy again?". Nope, but he could….. because it's SO easy and I wouldn't have to supervise at all.
There are so many easy breakfast ideas using Pillsbury biscuits, which means I need to keep a few on hand!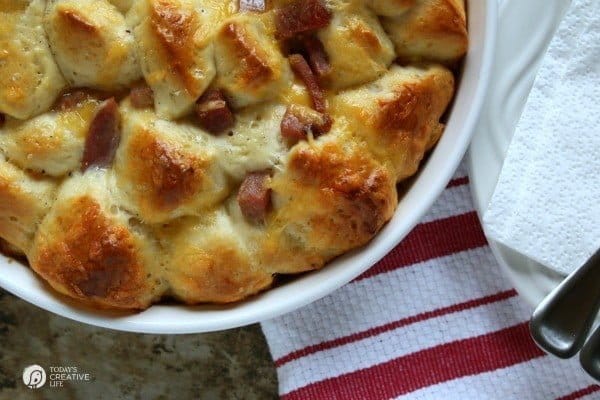 That's the beauty of having a son who can drive and who can stumble his way around the kitchen.
Because Pillsbury had hired me to create a recipe with either the Grands!®, the Sweet Rolls® or the Crescents®, it was nice having a 16 yr old I could send to Walmart and pick up the ingredients needed.
Now if you also have a 16 yr old son, then you know it's a bit like herding cats sometimes. It doesn't matter how specific you are with your instructions, because they will get distracted. Especially if there are girls or food nearby.
I specifically told him to pick up 3 tubes of the original Pillsbury Grands!® and asked him to text me a photo before buying. He texted me this photo.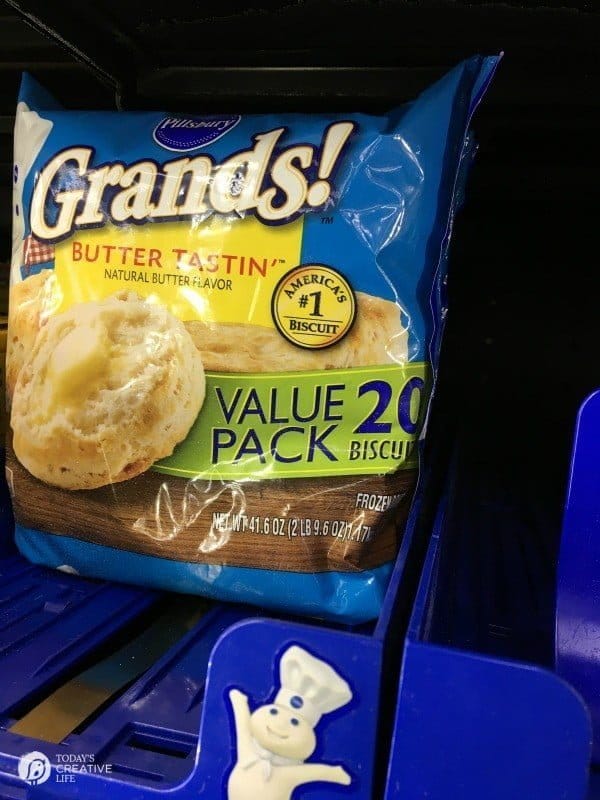 Um, close…… still great to eat, but not what I use for my breakfast casserole recipes.
After telling him to turn to his right (because I could tell exactly where he was in Walmart) and look at the refrigerator case next to the yogurt, he texted me this photo.
YES! Those are the ones! Even if they were in one of Walmart's center display cases, it's all good! Thank God for technology. Then for good measure, he texted me this photo asking if they are the same ones.
Yep, those are the same, but I need original.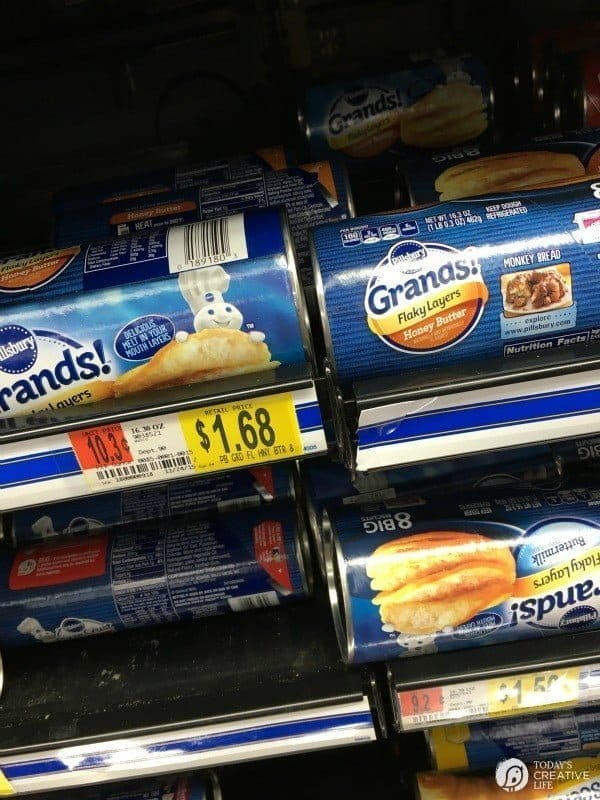 Remember when I had asked for 3 tubes? Well, I ended up with 5, which is OK because I have a feeling he'll be making breakfast casseroles the rest of his holiday break.
How To Make Breakfast Casserole Recipes with Biscuit Dough
Gather your ingredients.
Open the tube of biscuits and cut it into quarters.
Beat your eggs with a little half & half (milk also works).
Place the quartered biscuit dough pieces into your egg mixture and stir gently to coat thoroughly.
Fold in the chopped ingredients- I use cheddar, but you can use a mixture of any kind you like.
Pour into your prepared baking dish and put it in the oven!
(printable recipe below)
I loved how easy breakfast casserole recipes are to whip up. You'll find no confusing instructions or a thousand ingredients. There's a lot of wiggle room if you want to add more eggs or use different breakfast meats.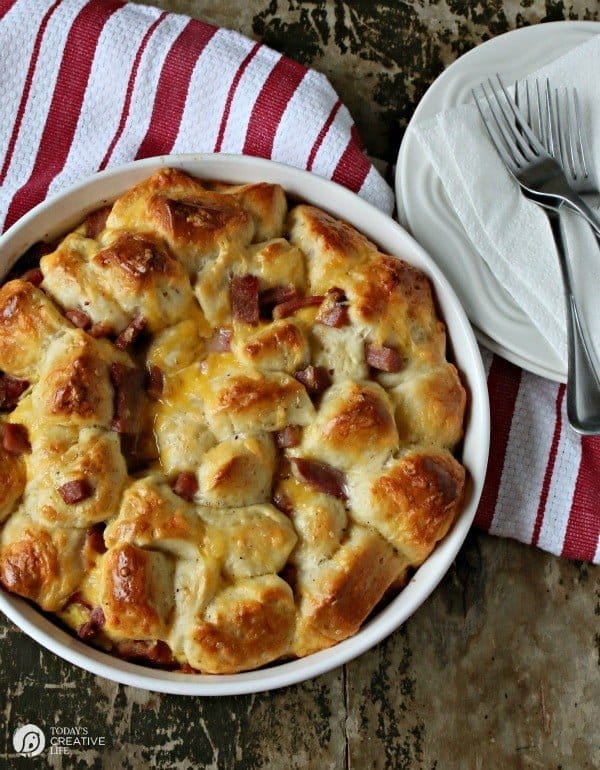 The only thing you need to be careful about is the top getting too brown before the center is completely baked. I just put a tin foil tent over the top halfway through the cooking time.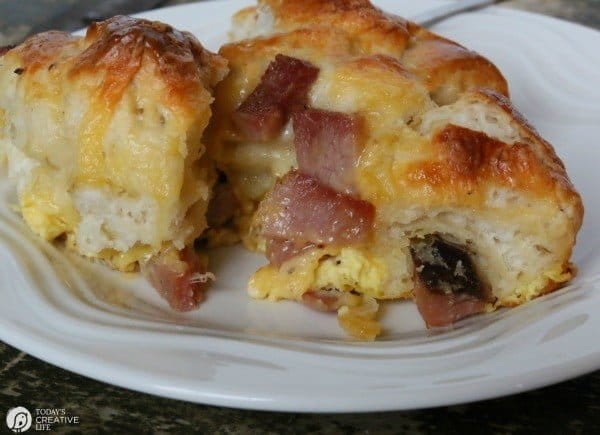 Now I have two go-to breakfast casserole recipes to choose from. My Crockpot Breakfast Hashbrown Casserole and this one! Both easy, both delicious.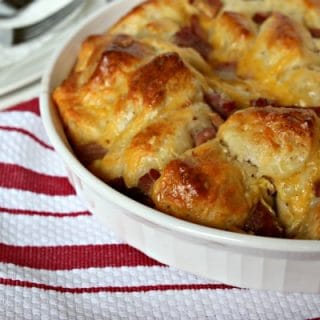 Breakfast Casserole Recipe with Biscuit Dough
Yield: 6
Prep Time: 10 minutes
Cook Time: 25 minutes
Total Time: 35 minutes
Breakfast casserole recipes like this one are a great way to use up leftover holiday ham.
Ingredients
1 tube Pillsbury Grands!® (original or buttery flavor)
2 eggs
3 tablespoons half & half (or milk)
1 cup chopped ham
1 cup shredded cheddar cheese
salt & pepper to taste
Instructions
Whip eggs and half & half in a medium size bowl with a fork until well blended. Set aside.
Cut Grands!® into quarters and add to the egg mixture. Stir gently to completely coat each biscuit.
Fold in chopped ham and cheese.
Pour into a greased casserole dish.
Bake at 350° for 25-30 min, or until the center is no longer doughy.
To keep the top from burning, loosely cover with tin foil once it's browned.
Serve while hot.
You can serve directly from the casserole dish, or invert onto a serving plate or platter for a pull apart bread.
Notes
OPTIONS:
Feel free to add a couple more eggs if you want it to be less "bready".
Use bacon, sausage or both instead of ham.
Add onions, red pepper or even green chilies for a little kick.
Use any kind of cheese you'd like.
You can use homemade biscuits if desired.
Nutrition Information
Yield 6
Serving Size 1
Amount Per Serving
Calories 175
Total Fat 12g
Saturated Fat 6g
Trans Fat 1g
Unsaturated Fat 5g
Cholesterol 96mg
Sodium 550mg
Carbohydrates 6g
Fiber 0g
Sugar 1g
Protein 11g
We do our best to calculate, however, nutrition information may not be accurate.
Can Homemade Biscuits Be Used in the Breakfast Casserole?
This egg and biscuit casserole can most definitely be made with homemade biscuits. Both drop biscuits and cut biscuits should work just as well. You can also make a baguette ham and cheese casserole which is very similar.

Easy To Make Breakfast Ideas
Breakfast recipe ideas that won't take you a lot of time!
Save this recipe for weekends or special holidays.
This high-protein breakfast sandwich is great for on the go.
The fruit filling make these muffins so moist and flavorful.
A full delicious breakfast in one egg biscuit!
Grab & Go High Protein Breakfast ideas with Egg, cheese, ham, and potato muffin cups.
The family favorite is so good with honey butter.
Easy to make French Toast Casserole with Mixed Berries.
Sausage Gravy and Biscuits is a southern specialty! This easy gravy recipe is made with pork sausage and drippings along with milk and flour, making up a thick creamy gravy to serve over fresh biscuits.
Easy to make breakfast casserole for weekends and brunch.