This Breakfast Strata recipe is a healthy breakfast idea, packed full of flavor and perfect for a weekend breakfast. It's a baked egg casserole with a base of rye bread, along with pork sausage, spinach, Swiss cheese, and red onion. Savory breakfast ideas like this and my Sausage Cheese Breakfast Muffins are always popular!
It's hearty, nutritious and best of all delicious! But I really make a mess of my baking dish when I make this Breakfast Strata Recipe.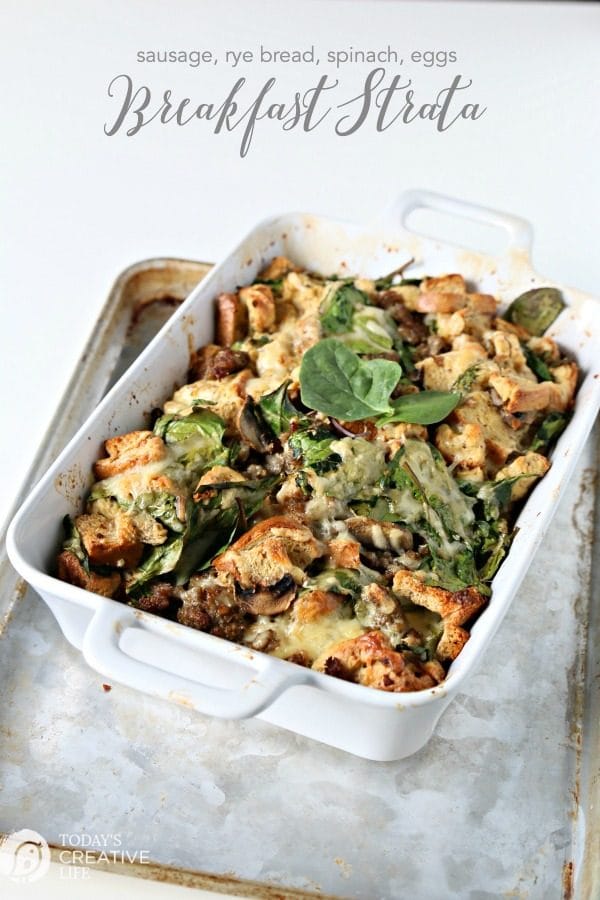 Breakfast Strata Recipe with Sausage
A while back my personal trainer showed me a recipe she was making and I instantly wanted to make it. Her breakfast strata recipe was by Danny Seo in a magazine. It looked delicious!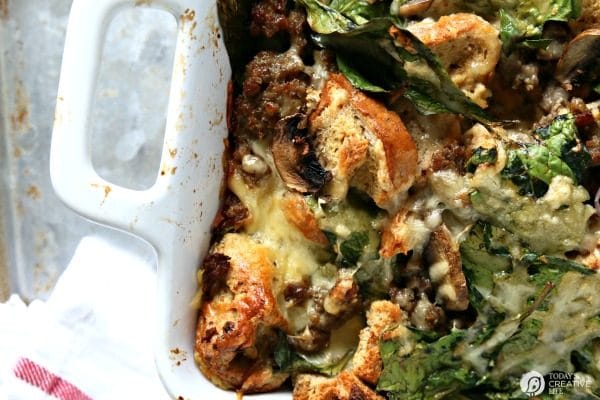 Once she texted me a photo, I do what I do best. Change it to fit with what I have in my pantry and fridge. I decided to use rye bread, add some pork sausage, use swiss cheese and a few other changes.
When I told my trainer about my changes, she then decided to make it and add sauerkraut and make it a Ruben inspired breakfast strata recipe! I think she also used sausage too. It's easy to add any breakfast meat, so go ahead and swap the sausage for bacon or ham.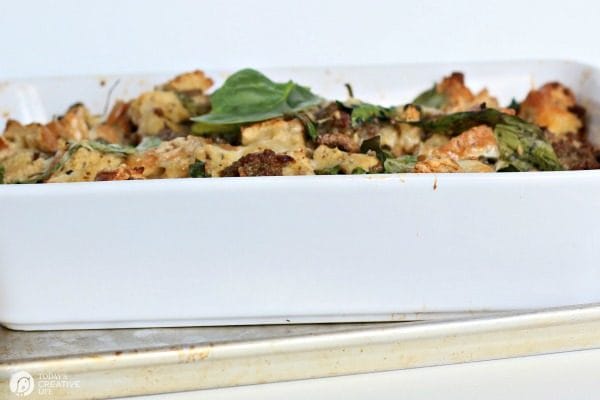 Easy breakfast casseroles are so perfect for a weekend breakfast or brunch. They take very little time to put together and the end result is always impressive.
Breakfast Casserole Recipes
Many can be made up the night before and baked in the morning. Overnight breakfast casseroles are always a welcomed recipe!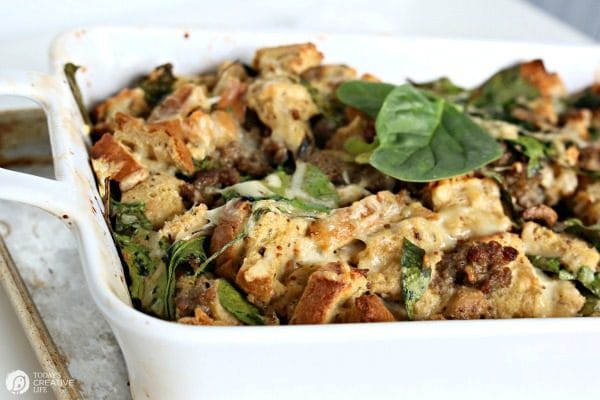 The great thing about this rye bread, sausage, spinach, and egg breakfast strata is it takes long enough to bake that it gives you time to do something else.
Why was my pan so messy?
I assembled all my ingredients in a large bowl, dumped it into my casserole dish and then realized I had forgotten to add the cooked sausage I had set aside. DOH!
Because it's a much fuller breakfast strata recipe before it's baked, I needed to place it all back into my bowl to add the sausage. So when it baked, all the egg smeared mess along the sides of my pan turned brown.
It just adds character, right?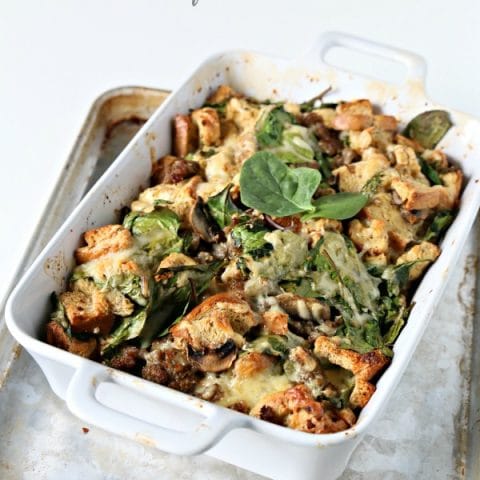 Breakfast Strata Recipe with Rye Bread and Sausage
Yield: 12
Prep Time: 15 minutes
Cook Time: 45 minutes
Total Time: 1 hour
This Breakfast Strata recipe is a healthy breakfast idea, packed with sausage and rye bread. A baked egg casserole that makes the perfect weekend breakfast.
Ingredients
1 loaf rye bread cut into cubes
1 lb breakfast sausage
3 tablespoons Dijon mustard
1/2 teaspoon salt
1/2 teaspoon ground pepper
2 cups whole milk
10 eggs
2 cups fresh spinach
1 small red onion, thinly sliced
1 cup swiss cheese, grated
Instructions
Set your oven to 400 degrees
Grease your baking dish
Brown the sausage into bite size pieces, drain and set aside to cool.
In a medium bowl, whisk eggs, mustard, salt, pepper, and milk.
Grab a large bowl for the bread cubes, spinach, onion, sausage, and cheese. Mix gently. I used my hands.
Add the bread mixture to your baking dish, and pour the egg mixture over the top covering all the ingredients.
I added a little more grated cheese to the top.
Bake for about 45-60 minutes or until the middle is done. Insert a butter knife to the middle. If it comes out clean, it's done.
If the top is getting too brown and it's still not finished, loosely place tin foil over the top.
Nutrition Information
Yield 12
Serving Size 1
Amount Per Serving
Calories 259
Total Fat 19g
Saturated Fat 7g
Trans Fat 0g
Unsaturated Fat 10g
Cholesterol 201mg
Sodium 613mg
Carbohydrates 5g
Fiber 1g
Sugar 3g
Protein 17g
We do our best to calculate, however, nutrition information may not be accurate.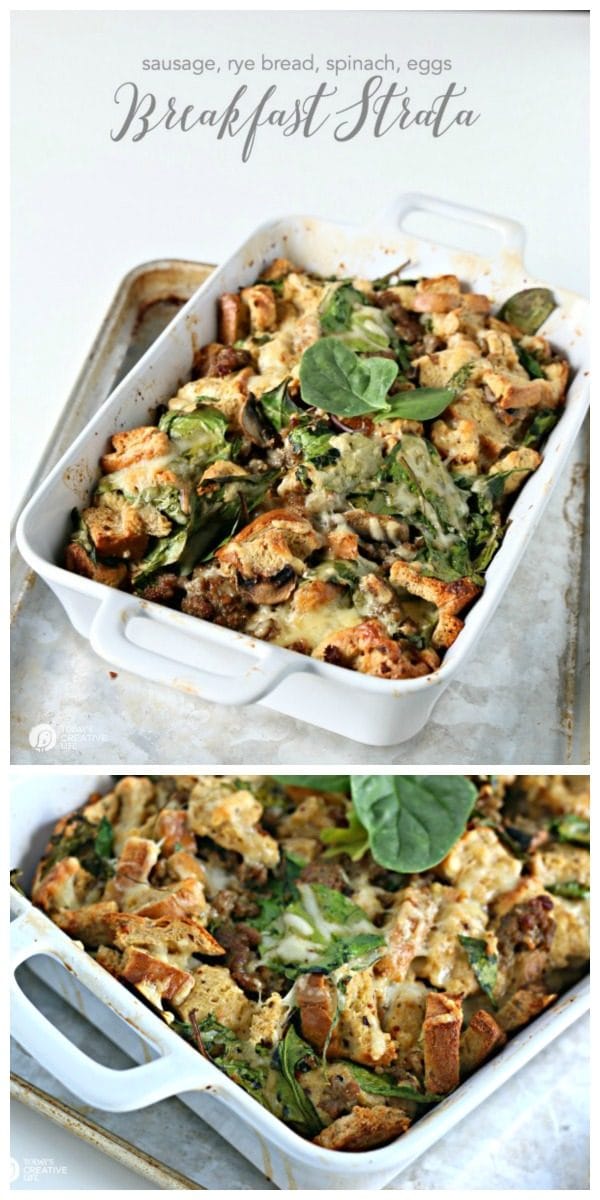 Easy To Make Breakfast Ideas
Breakfast recipe ideas that won't take you a lot of time!
Using refrigerated biscuits, with egg and ham makes a delicious breakfast casserole
This high-protein breakfast sandwich is great for on the go.
The fruit filling make these muffins so moist and flavorful.
A full delicious breakfast in one egg biscuit!
Grab & Go High Protein Breakfast ideas with Egg, cheese, ham, and potato muffin cups.
The family favorite is so good with honey butter.
Easy to make French Toast Casserole with Mixed Berries.
Sausage Gravy and Biscuits is a southern specialty! This easy gravy recipe is made with pork sausage and drippings along with milk and flour, making up a thick creamy gravy to serve over fresh biscuits.
Easy to make breakfast casserole for weekends and brunch.