This Overnight Blueberry French Toast Casserole was perfect for my son's sleepover!
I've had a lot of recipes lately! We love french toast, but I needed something to prepare the night before when my son had a few friends sleep over. Although if truth be told, I don't really see why you can't prepare it the morning of if you've forgotten to do it the night before.
Overnight Blueberry French Toast Casserole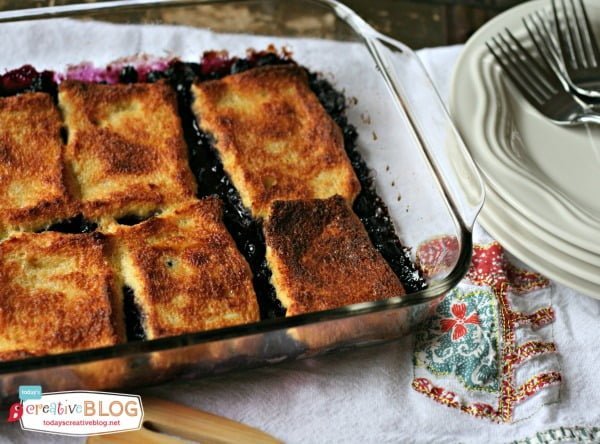 My son's friends are starting to wonder why I take photos of food. They'll learn. 🙂
This recipe could easily be adapted to use different fruit if wanted. I may try adding more bread next time as well, instead of one layer.
I've had this recipe for a long time but hadn't made it in years. It's from an old NW bed and breakfast recipe book I bought years ago……like in 1991. Even though I think you could do this the morning of, it sure is nice to know you prepare this the night before. I love overnight casserole dishes for weekend mornings.
How to Make Overnight Blueberry French Toast Casserole
Be sure to scroll down for the full recipe. Here are a few of my tips to help along the way.
The tin foil pan is the bread that has been soaking all night. Again…….I'm SURE you can do this the morning of. Just make sure the egg is completely soaked in.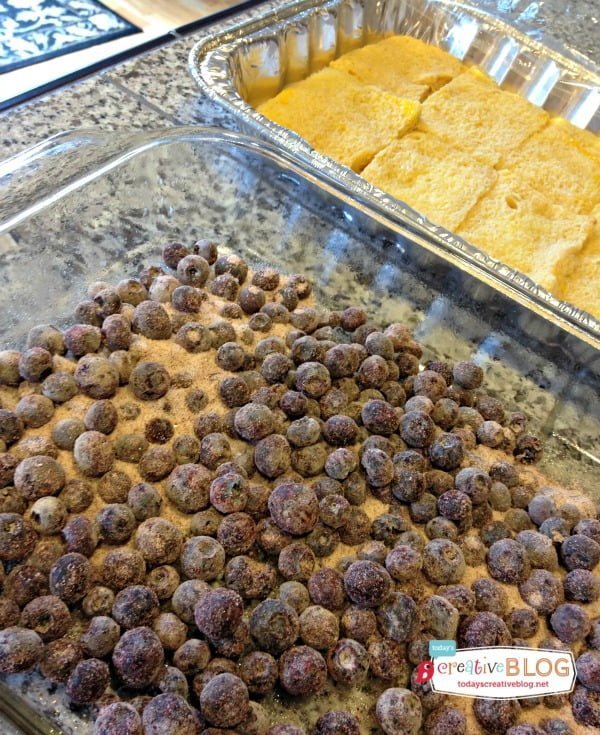 After preparing the berries as stated in the below recipe, pour them into another baking dish and spread evenly. I also made sure the left over sugar mix was spread evenly.
Carefully lay your bread on top of the berries.
I made mine one layer, but I'm going to try two layers next time.
Pour the butter over the dish and place it in the oven to bake.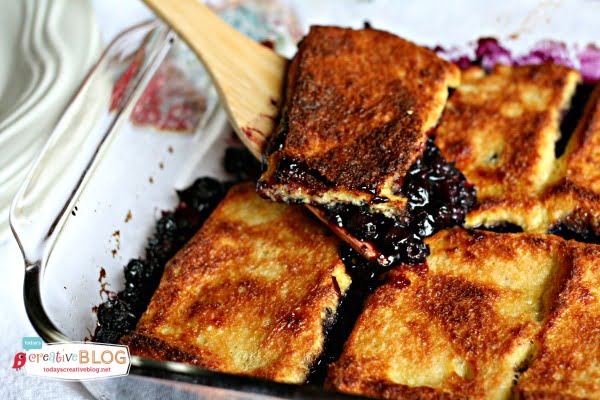 This recipe got two thumbs up from the boys as well as my husband. It's a keeper for sure.
I served this with bacon, but it would be great alone. It's a great brunch recipe for home or if you need to take it somewhere.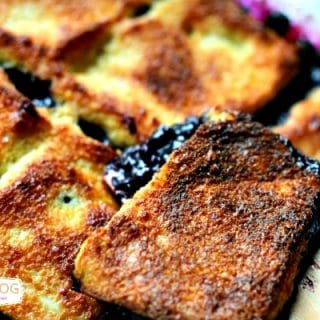 Overnight Blueberry French Toast Casserole
Ingredients
8 or more slices sourdough French Bread
4 eggs, beaten
1/2 cup milk
1/4 teaspoon baking powder
1 1/2 teaspoons vanilla
1/2 cup sugar
1 teaspoon cinnamon
1/2 teaspoon allspice
1 1/2 teaspoon cornstarch
3 cups frozen or fresh blueberries
2 tablespoons butter, melted
Instructions
Trim off bread crusts of each piece.
Arrange bread to fill tightly a 10x15-inch baking pan. I used a foil cake pan.
In a bowl, beat eggts, milk, baking powder and vanilla.
Pour mixture over bread, turning to coat both sides.
Cover with plastic wrap and refrigerate overnight.
In the morning, in a large bowl, mix sugar, cinnamon, allspice and cornstarch. Fold in frozen or fresh berries until all berries are coated.
Place berries into a greased 9x13 inch baking pan.
Cover berries with the soaked bread.
Drizzle with butter.
Bake at 450° for 25 minutes, until bread is golden brown and berries are bubbly.
Sift powdered sugar on top (I forgot to do this)
Serve and enjoy!
Notes
Use any kind of fruit, just make sure the fruit is covering the bottom of the baking pan.
Other great breakfast ideas: