This sticky pull-apart Butterscotch Pudding Monkey Bread Recipe is your "go to" weekend breakfast! This no rise recipe is quick, and feels like something special! Using refrigerated biscuits is one of the fastest ways to make breakfast pull-apart monkey bread with no waiting for the dough to rise but if you'd rather use Rhode's frozen dough, it would still work. It's just not as quick.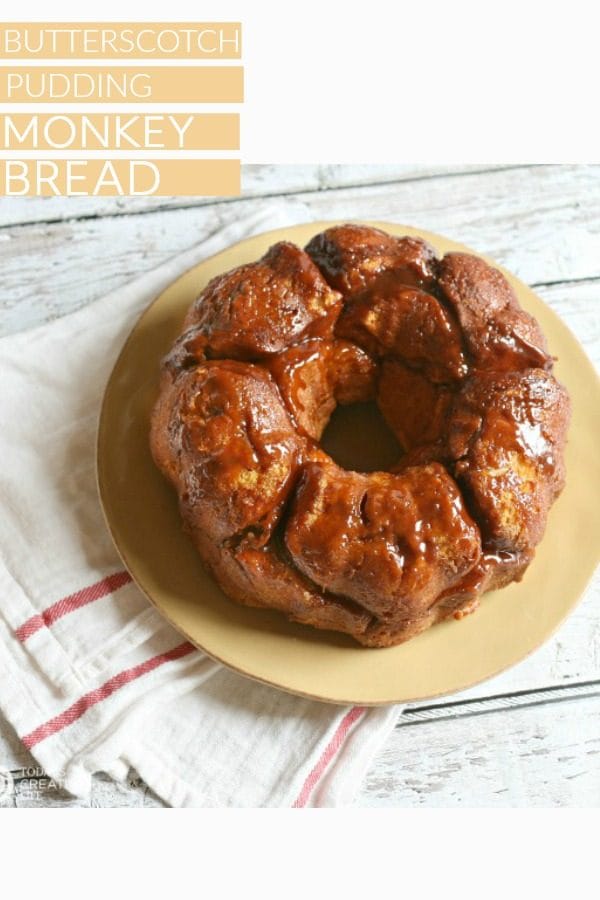 Monkey Bread Recipe Butterscotch Pudding
This Monkey Bread recipe inspired me to make my Pumpkin Spice Monkey Bread. Both recipes can also be made with frozen or refrigerator biscuits, it all depends on your preference!
Because I had a house full of teen boys who had spent the night and I needed something to feed them for breakfast, I went the easy route.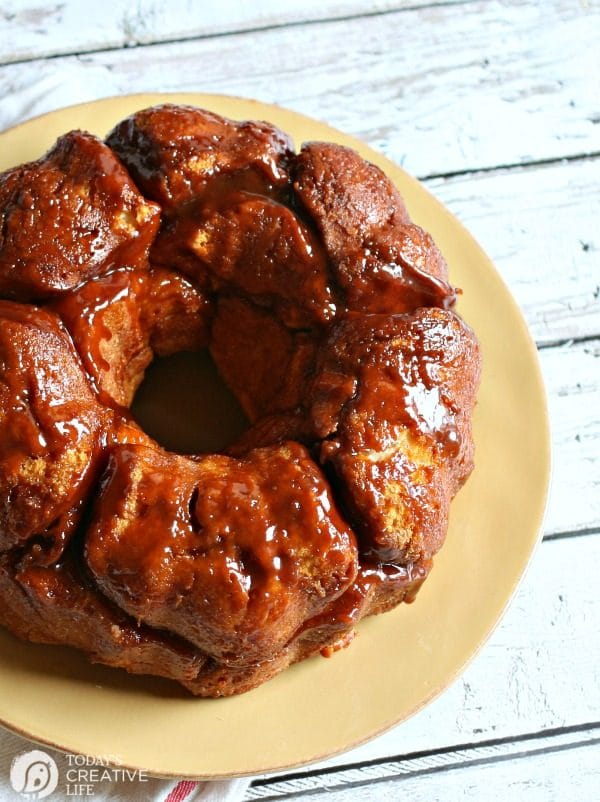 Monkey bread would be perfect! My son usually requests donuts for sleepover mornings, but since it was New Years Day and super foggy, I was in the mood to bake. I love baking quick breads and even this English Muffin Bread using quick yeast when the weather is wintery.
Since these were teen boys, I didn't even bother cutting the biscuits into quarters, knowing they would devour it within minutes no matter what size the bread chunks were. By not cutting them, it made this simple and quick recipe even faster.
There are so many ways to make Monkey Bread, but I love this recipe that uses butterscotch pudding. I love the rich caramel butter flavor. It's mouthwatering. Really.
How to make Butterscotch Pudding Monkey Bread
I dipped each biscuit in melted butter, dropped it in the ziplock bag full of a delicious mixture of sugar, dry pudding mix, and cinnamon. After layering them in a bundt pan…..poured the leftover butter and mixture over the top and popped it in the oven. It probably only took me about 10 minutes to prepare before baking.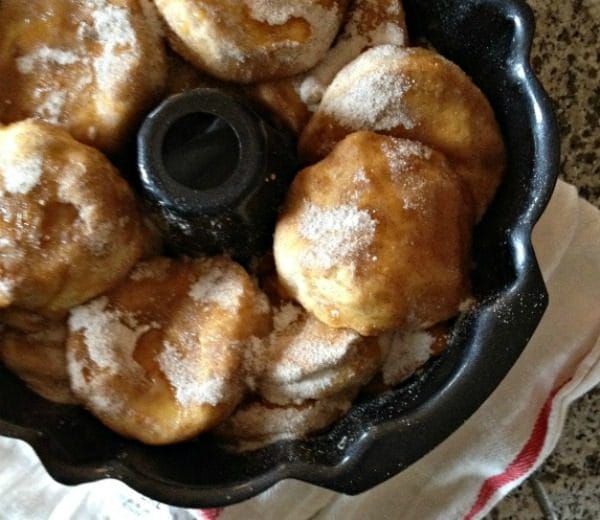 I thought it would only take about 30 min to bake, but it actually took about 40. I placed tin foil over the top near the end so it wouldn't burn.
I rushed to take photos before they charged up the stairs from the teen hangout in the basement. (it's a nice basement, they're not sleeping on the dirt) But they caught me…..One boy looked a little confused and that's when I said "What? Doesn't your mom take photos of everything she makes?" Lucas my son didn't even notice the conversation and simply asked politely "Are you finished?" before tearing off a huge hunk. Yep……he's a son of a blogger.
Butterscotch Monkey Bread Recipe
Yield: 1
Prep Time: 15 minutes
Cook Time: 40 minutes
Total Time: 55 minutes
Easy to make sticky pull-apart monkey bread with butterscotch pudding mix and refrigerated biscuits.
Ingredients
1 regular pkg Butterscotch pudding mix
1/2 cup sugar
2 tablespoons cinnamon
1/2 cup chopped pecans or walnuts
1/2 melted butter
2 large tubes refrigerated biscuits ( I used Pillsbury Grands)
Instructions
Preheat oven to 350° and grease a regular size bundt pan.
Dump the dry pudding mix, sugar, cinnamon and nuts into a large ziplock plastic bag.
Melt butter - I use a large pyrex measuring cup
Dip each biscuit in the melted butter, and place into the ziplock bag. I place about 3 at a time. Shake around until each biscuit is completely coated with the dry mixture.
Place biscuits into the bundt pan, layering as you go.
When you're finished, go ahead and sprinkle the rest of the dry mixture over the biscuits, then pour the remaining butter over the top.
Bake for 30-40 min. I placed tin foil over the top near the end to avoid the top getting overly brown.
Test with a butter knife, poking all the way to the bottom. If the knife has gooey dough on it, it's not done.
Enjoy!
Notes
You can make this monkey bread recipe with homemade biscuits or thawed Rhodes frozen roll dough instead.
Nutrition Information
Yield 8
Serving Size 1
Amount Per Serving
Calories 179
Total Fat 8g
Saturated Fat 2g
Trans Fat 0g
Unsaturated Fat 6g
Cholesterol 22mg
Sodium 81mg
Carbohydrates 25g
Fiber 2g
Sugar 18g
Protein 2g
We do our best to calculate, however, nutrition information may not be accurate.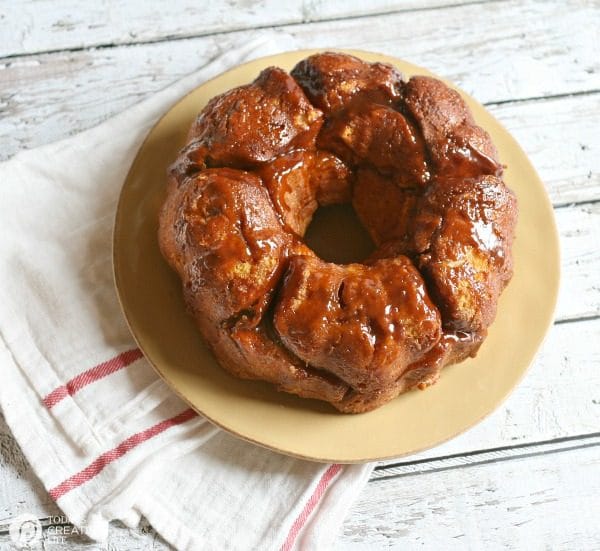 The next time you need something special for breakfast, something sweet and gooey, this Butterscotch Pudding Monkey Bread Recipe is it!
If you try this recipe, I'd love to see it! Take a quick photo, and share it on Instagram, tagging @TodaysCreativeLife
Easy Breakfast Breads
Sweetbreads, savory muffins, and breakfast casseroles are all you need for weekend breakfast ideas.
Easy to make breakfast muffins that are great for brunch or breakfast on the go.
These biscuit egg cups are a family favorite.
Eggs, sausage, and rye bread, what's not to love?
This breakfast casserole bakes up quickly and is a weekend favorite.
The fruit and honey jam centers make these breakfast muffins flavorful.
This banana bread recipe is extra moist becuase of the sour cream.
Easy to make buttermilk banana bread that's moist and full of flavor.
Carrots, bananas and walnuts make for a healthy muffin.
Made with refrigerated biscuits for a quick morning sweet bread.
A fall favorite monkey bread made in a cake pan instead.
Classic and delicious! Slather on the honey and butter.
This garden sweet bread recipe was given to me by the Chef at Rancho Lapuerta.