I've got great tips for Finished Basement Ideas! It's been a while since I've updated our Teen Hangout in our daylight basement and my tip is to keep it simple, inviting and accommodating for several teens. I also like using functional furniture that is simple to clean, stylish, inexpensive and can also be used for sleeping. Decorating a small apartment or basement can have it's challenges.
As part of the blogger network for Better Homes and Gardens at Walmart, our challenge this month was to refresh a space, so I knew exactly what I wanted. I'm also giving away a $50 Walmart Gift Card over on my Instagram. Head over and enter!
I had my eye on this amazing Better Homes and Gardens Rowen Fold Out Linen Futon for a couple of months!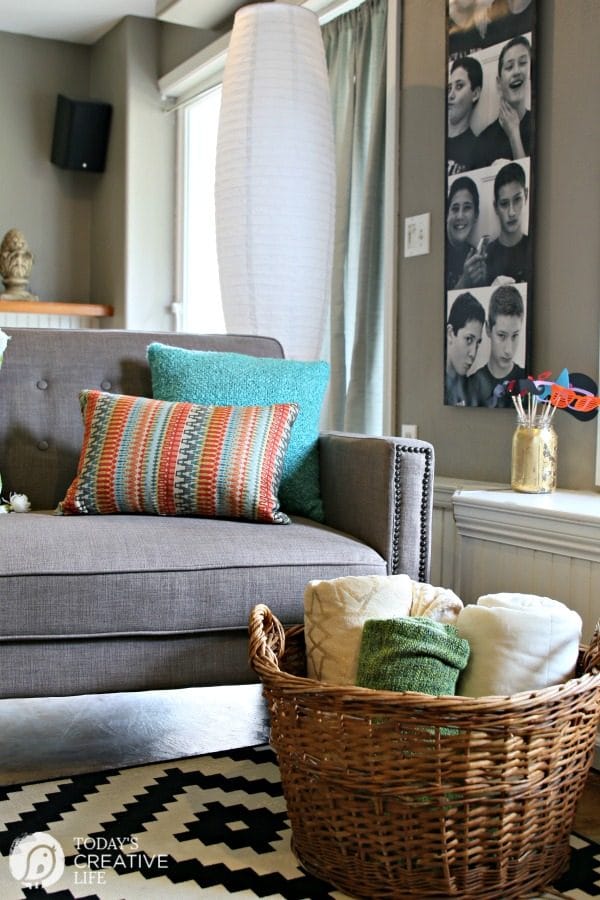 It was stylish, and was on sale for $299! AND they even delivered it for free. It couldn't have been easier to order.
(Do you like that DIY Photo Booth Photo Strip? Here's the tutorial)
The best part? It folds out into a sleeper, which makes a great finished basement idea for functional living.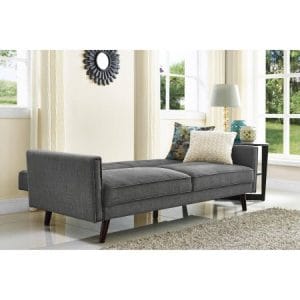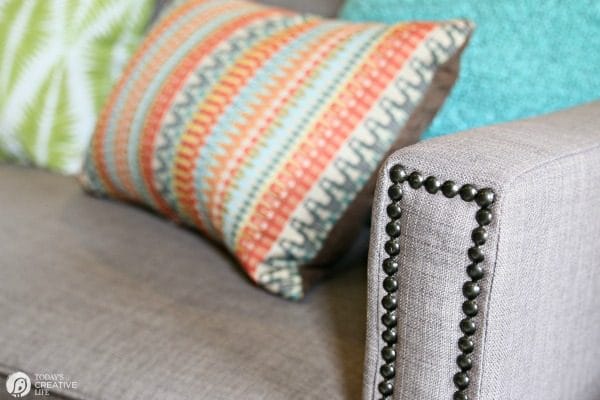 And look at the detailing! The nailheads, the buttons… I love it!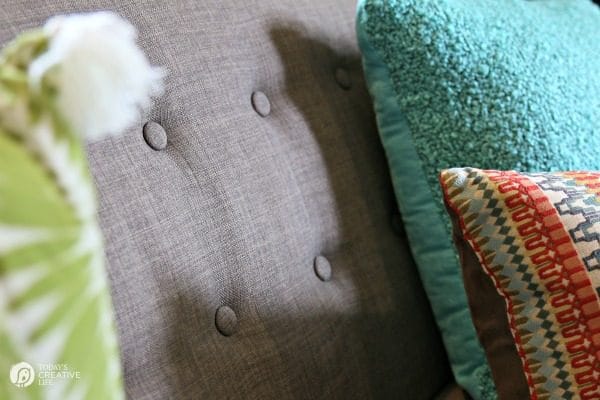 My son is a senior in high school, so it's not uncommon that our home is the gathering place for video game playing, monopoly, poker night, movie night or firepit s'mores night with many of his friends. It's also not uncommon for several crashing for the night.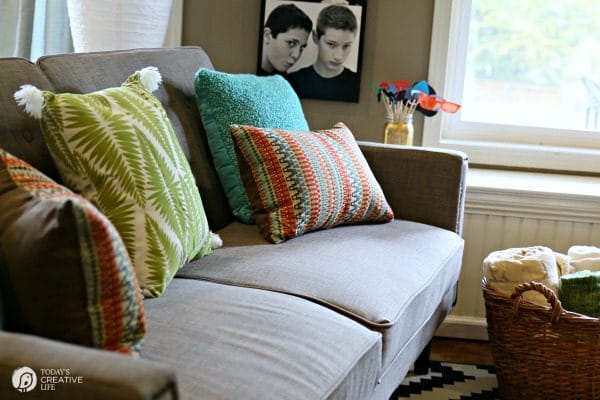 This is one of our smartest finished basement ideas, because now we've got many places for them to crash with two fold out convertible sofas, a recliner, and a fold out floor bed.
Since I was adding a new piece of furniture, I HAD to buy more pillows too. I love all the new spring options.
Nothing I purchased was too expensive, so I don't have to worry about the wear the tear from teen boys. It's so easy to have stylish home decor with any of the Better Homes and Gardens at Walmart products, almost all their pillows are always under $10! Finished basement ideas are simple with so many options.
Finished Basement Ideas – Easy Decorating
Affiliate links for products listed are for your convenience only. This cost you nothing extra. If you happen to purchase anything as a result of clicking, TCL will receive a small percentage. Thank you for your support. This allows me to continue to offer you free content.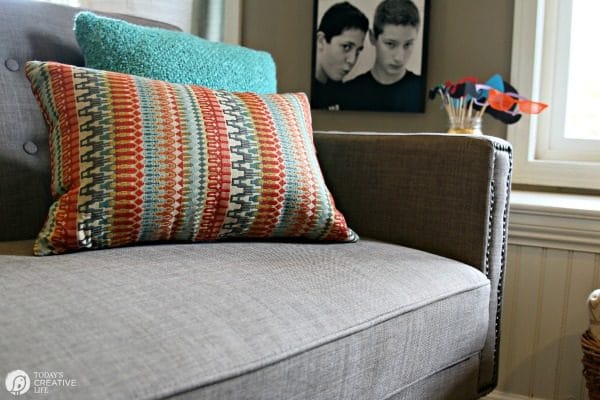 This fold-out sofa futon is very sturdy and comfortable! It comes delivered to your home in a box that is really narrow and a little longer than the sofa. It took my husband and son about 15 minutes to assemble it and have it set up for use. I'm thinking this fold-out futon sofa will be great for my son in college!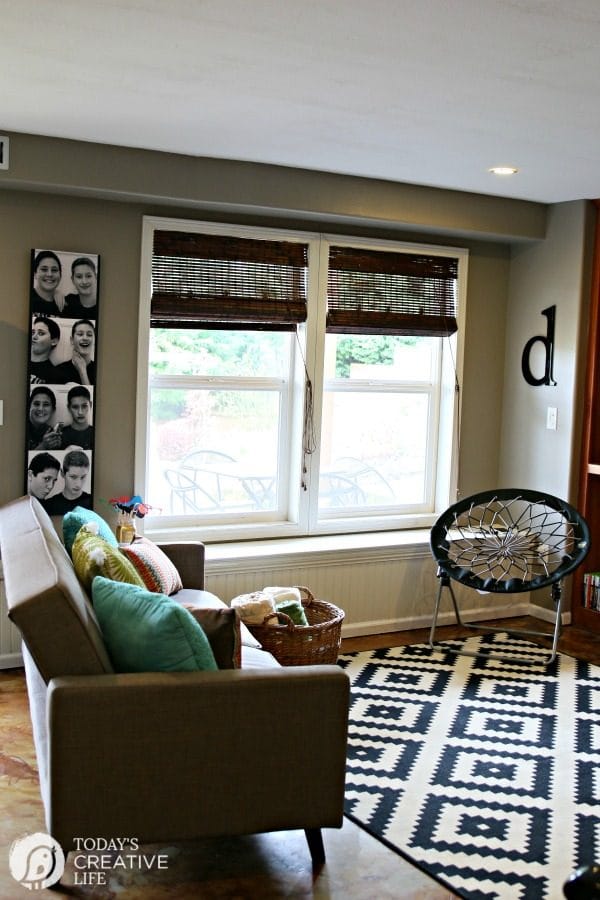 I used to have a coffee table, but since they usually push it out of the way and slide one of the pieces of furniture closer to the TV, I removed it.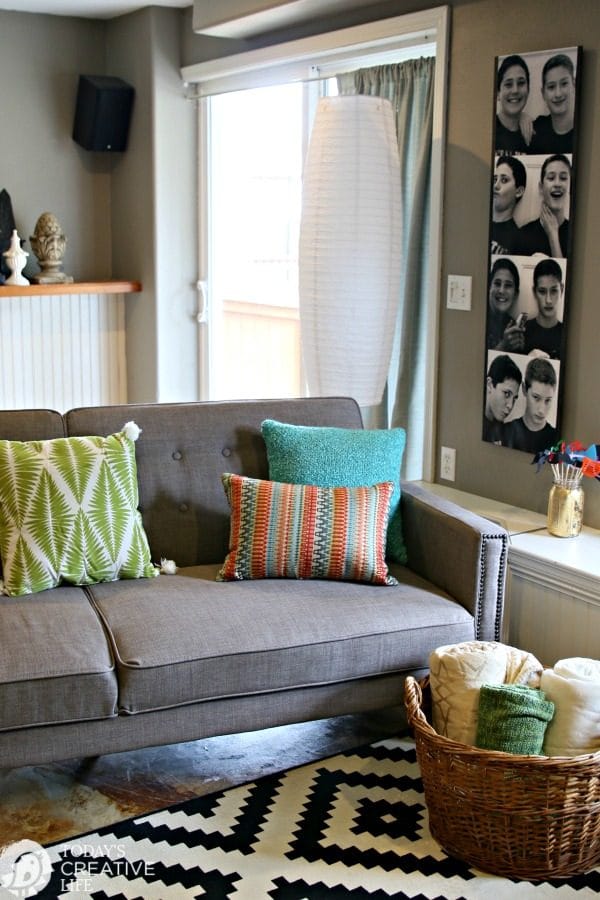 I now make sure this teen hangout has plenty of food, drinks, and places to sit or sleep. One of the best-finished basement ideas is having a kitchenette with a microwave and small fridge. I keep a basket full of microwavable popcorn, s'more making supplies, candy jars full of candy and a fridge full of bottled water and soda.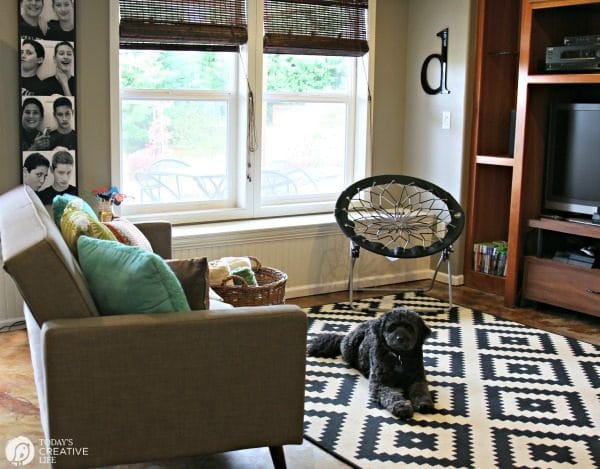 If you know you'll be hosting several teens, it's a good idea to plug in a power strip with a few iPhone chargers. Food and keeping their electronics charged… that's all they really care about.
Finished Basement Ideas for a Teen Hangout
Microwave & Small Fridge – If you don't have a small kitchenette, create a space for these items.
Microwaveable popcorn
Bottled water and soda
S'More's Making Supplies – if you have a firepit, this is a must.
Jars of Candy – We have about 6 jars I keep filled with a variety of candy.
Power Strip – because teens are addicted to their phones, they like to keep them charged.
Board Games – believe it or not, my son and his friends love playing Uno and Monopoly
Movies
Video Game Player and games
Many options for sitting and sleeping

Whatever your needs are, keep your finished basement ideas simple and functional for several activities.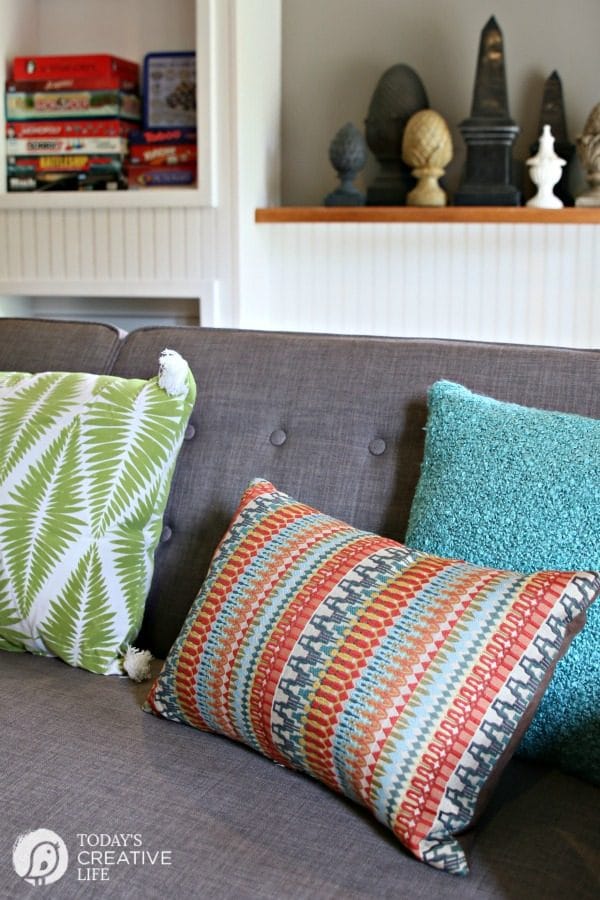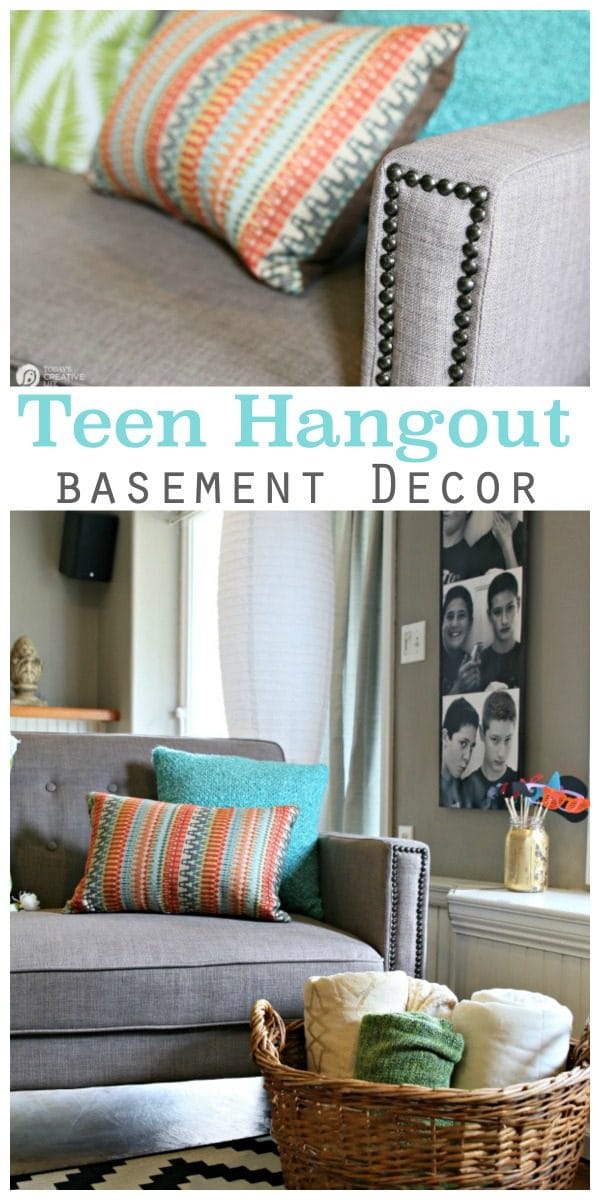 This post is sponsored by Better Homes and Gardens at Walmart. I am compensated for my time and product. Any and all opinions are my own. Affiliate links are supplied for your shopping convenience.