Our finished basement is our designated teen hangout. Finished Basement Decorating Ideas for Teens always needs to be simple and durable, budget-friendly and comfortable.
As one of the Better Homes & Gardens at Walmart Influencers, I was really excited to tackle a quick basement makeover. The modular furniture I chose couldn't be more perfect and comfortable. Keep reading for a full shopping list.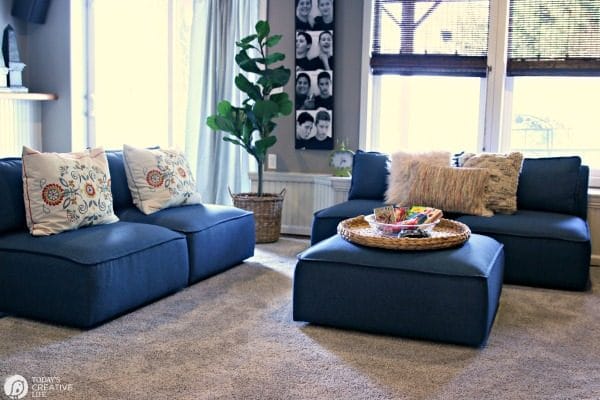 Finished Basement Decorating Ideas for Teens
If you have mostly boys hanging out in your teen hangout, believe me when I recommend keeping room decor very simple. It's not uncommon for me to come down to the basement and see all the pillows and throw blankets on the floor, food wrappers tossed about and empty and half-empty bottles of their favorite drink ICE on the floor, or under the furniture.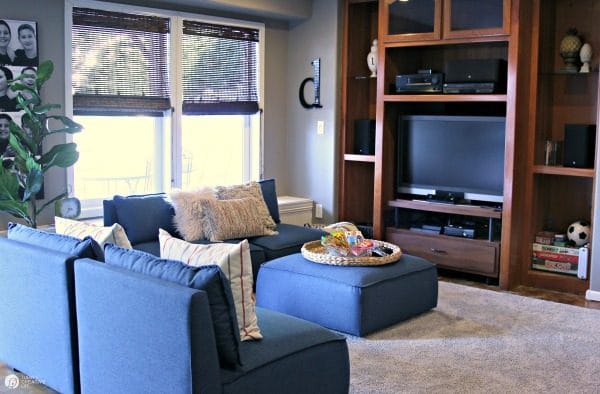 No matter how many times I ask them to pick up their trash, even placing a trash basket near, it just doesn't happen long term. So I have resigned to the fact that I'd rather have them here and comfortable, rather than having them worried and feeling unwelcomed. Much to my surprise, teen boys still need room to rough house, so choosing the right furniture and decor options were important.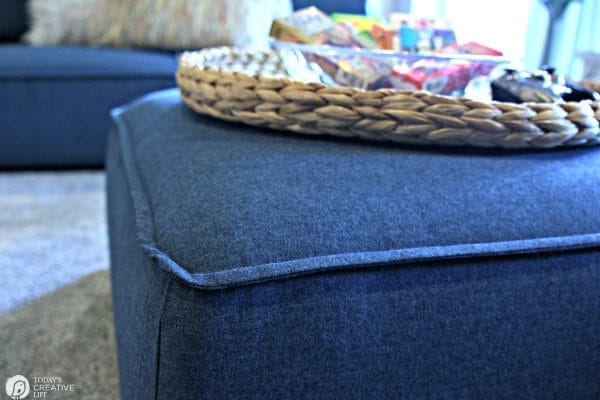 I was pleasantly surprised by the fabric! It's a soft and thick tweed-like that will withstand the use of teen boys. Also comes in a lighter or darker grey. It will be easy to clean when needed with this DIY upholstery cleaner.
As much as I would love my rooms to always look like the staged photos, they don't. People live here. And as an old friend says… "people over perfection."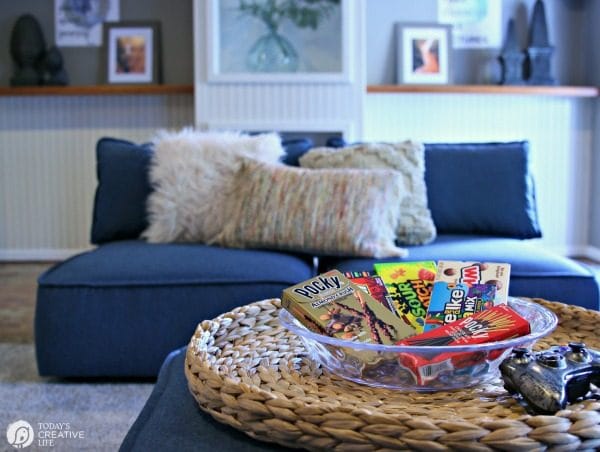 Choosing Furniture for your Basement Makeover for Teens
When I did the last finished basement update for teens, I chose a fold-out futon similar to this one, because it would give people a place to sleep for the many sleepovers my son had during high school. Sleepovers aren't happening so much anymore, so I upgraded to furniture that is easily moved around to meet their needs, whether it's playing video games, movie watching, or playing board games (yes, they still play board games).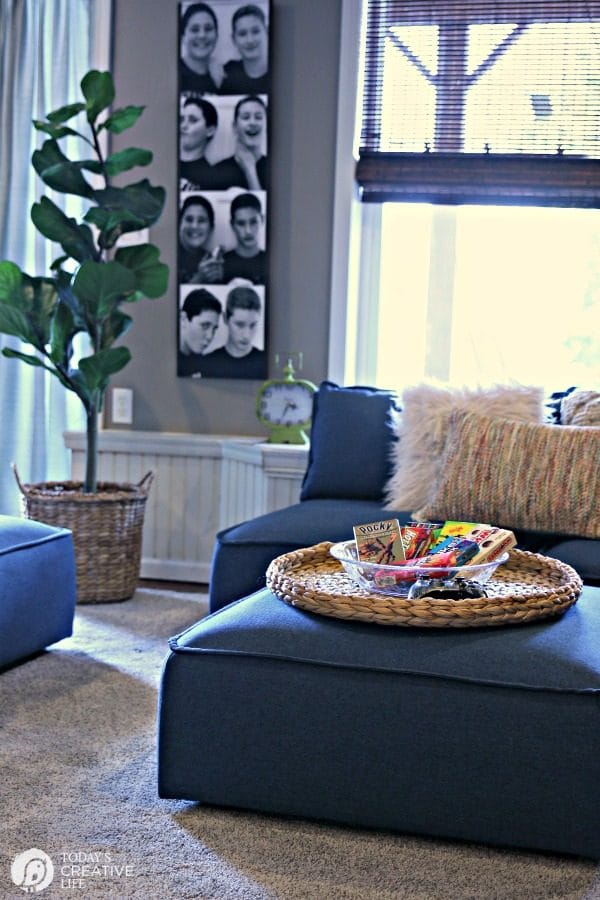 We also have my son's extra-large bean bag that also adds a comfortable place to sit. It was a bit difficult to photograph, so out it went! Here's a quick shot below of where it will be.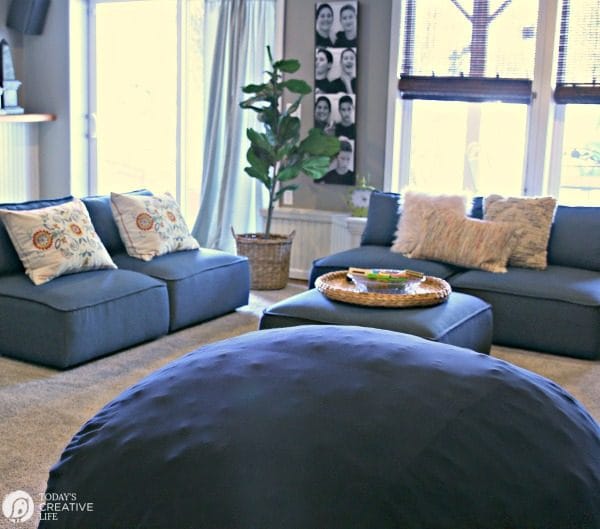 I chose a couple of new pillows that would be stylish, yet durable. They can throw these where ever because they will hold up! I have listed a few more stylish options on the Teen Hangout shopping list below.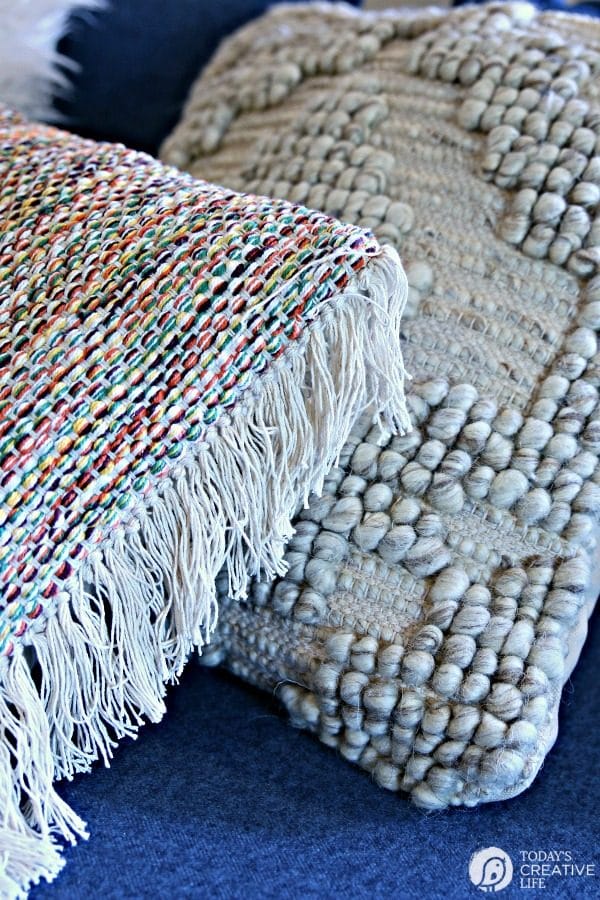 Finished Basement Wall Decor for Teens
This time I really tried to figure out what would speak to teens for a comfortable and welcoming place to hang out. My son really loves photography and music.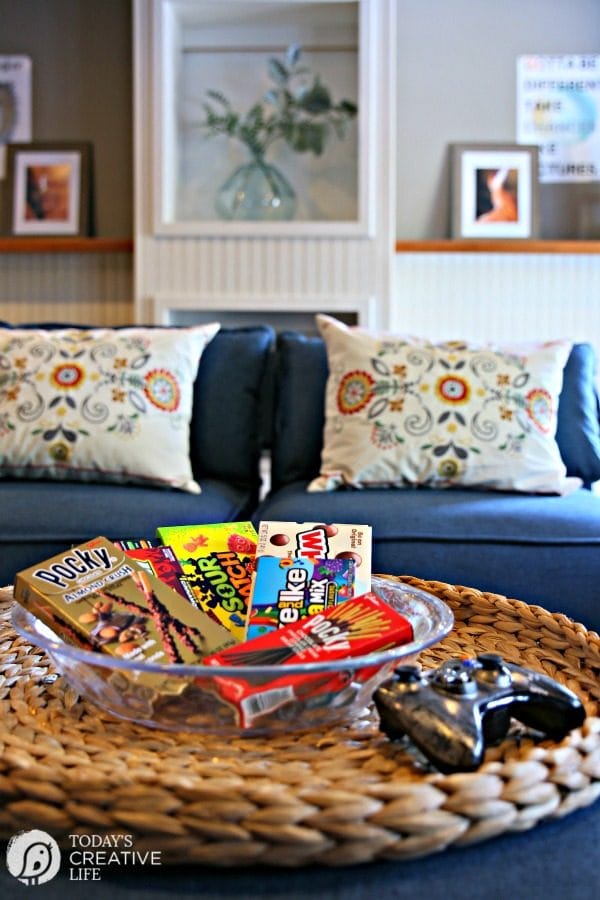 So I framed two of his Antelope Canyon photos he took, which kind of match our stained and etched concrete floor. Then I created 2 posters with quotes from his favorite artists and had them printed into a 16×20 size. You can download them in The Printable Vault which is free for TCL subscribers. I thought they were the perfect finished basement decorating ideas for teens. More relatable, temporary, and budget-friendly.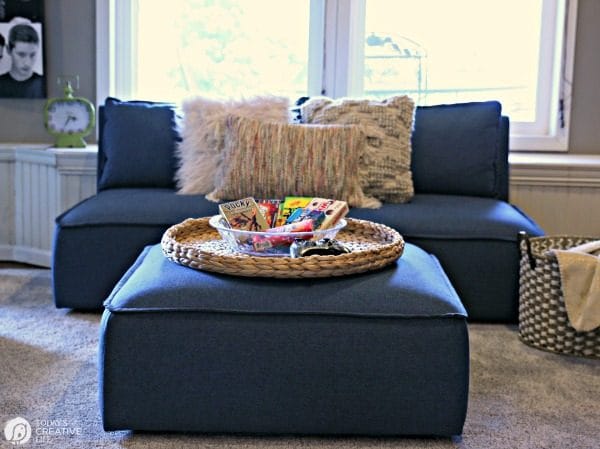 The DIY Life Size Photo Strip is still on the wall too! He keeps asking me to change it, but I love it! I guess now that he's 20, it's a little embarrassing for him. I must be doing my job.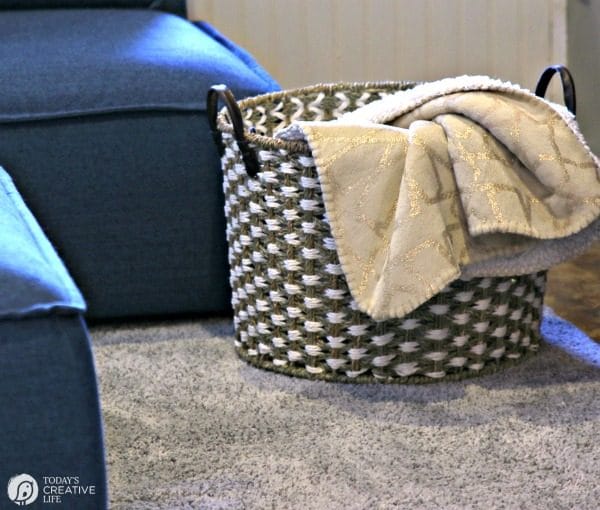 Keeping a large basket where they can toss throw blankets does help. They don't always hit it or even try, but it makes for easy and fast clean up.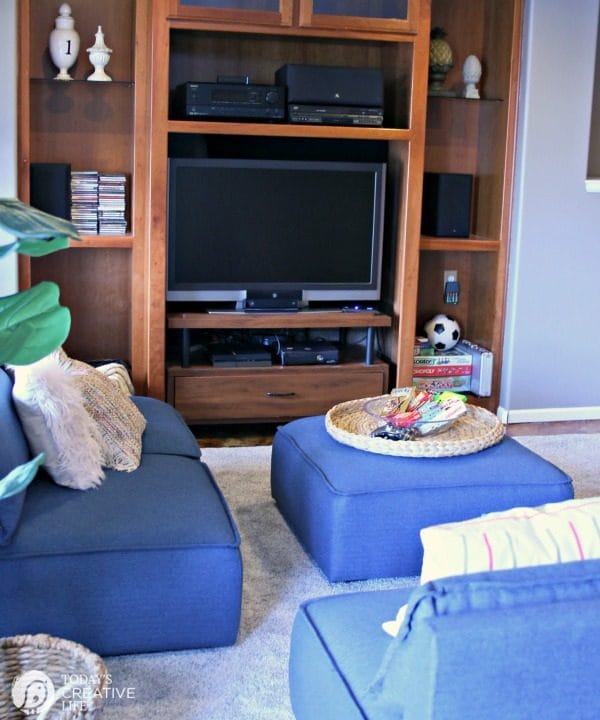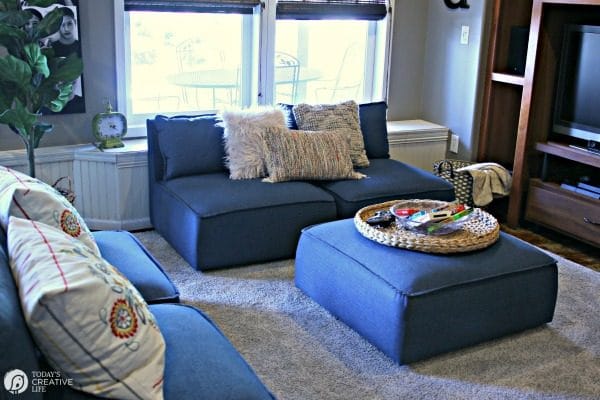 Fill the basement full of everything they may need and you'll have happy teenagers. We need jars full of snacks, baskets full of microwave popcorn, and a mini-fridge full of water and flavored drinks. I will admit that I never purchase dark-colored drinks.
Finished Basement Decorating Ideas for Teens Shopping List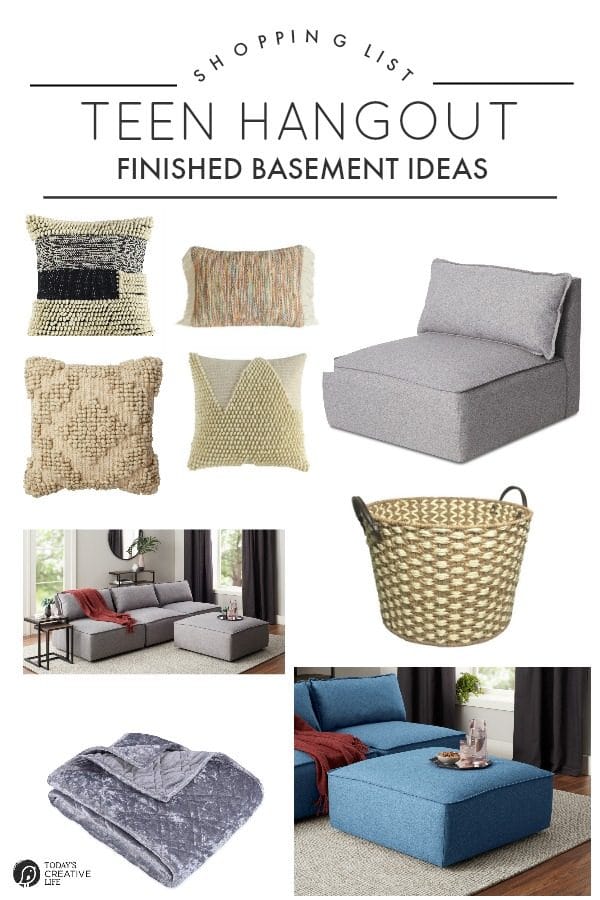 Because this was written in 2019, some items may be discontinued or out of stock. I would try searching their toolbar for something.
Step by Step Decorating Options
So many seating options with this modular furniture. They're easy to scoot around for a variety of activities.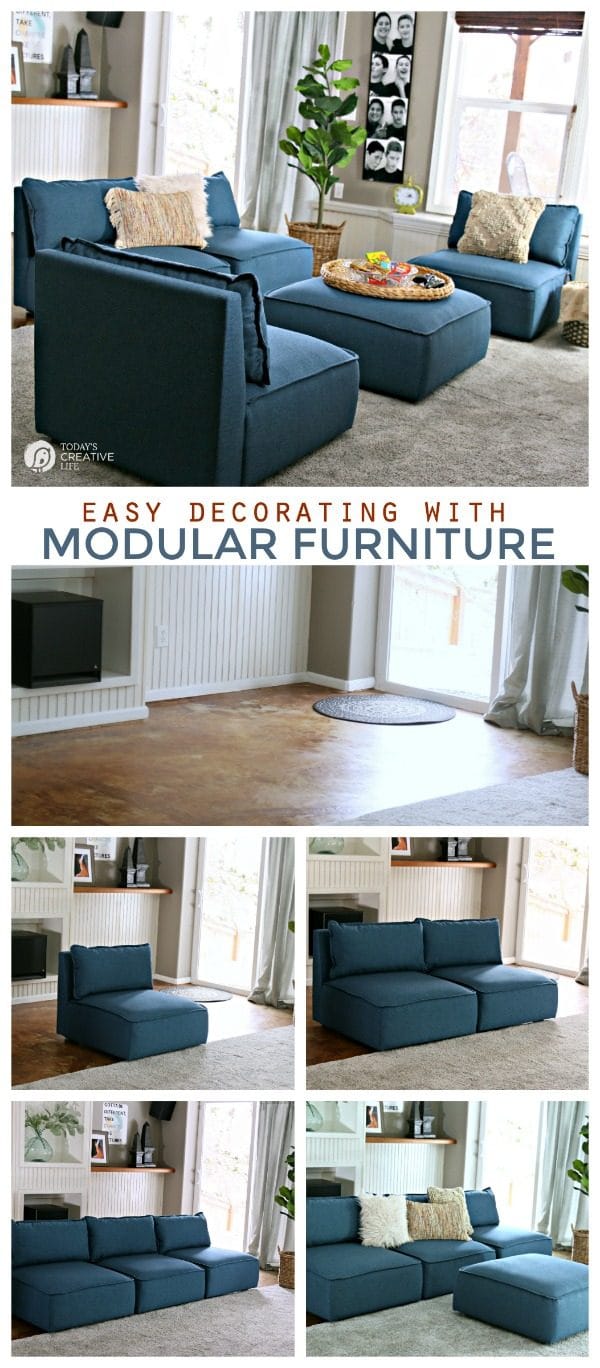 Hopefully, these Finished Basement Decorating Ideas for Teens will inspire you to makeover a room that needs a room makeover refresh!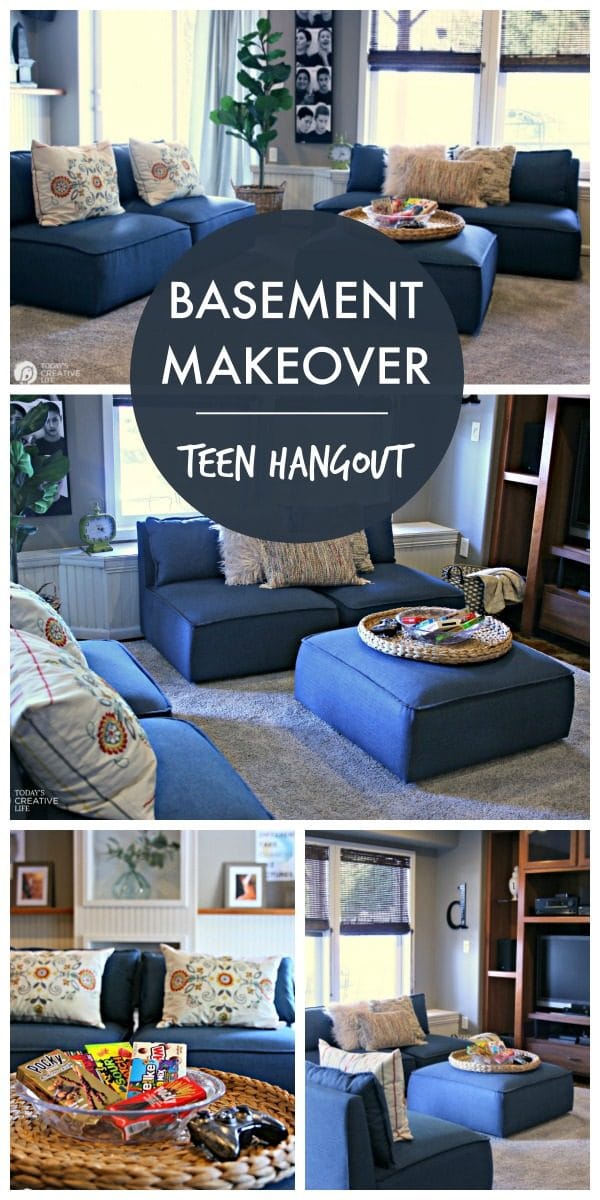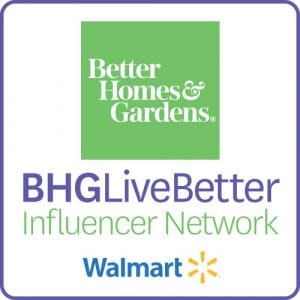 Room Makeover Ideas
Budget-friendly decorating and room makeover ideas.
Bright, functional and budget-friendly office makeover ideas.
Quick bedroom refresh with soft restful colors.
Buffalo Check and bright lemons make doing laundry much easier.
Updating a bedroom from young teen to young man.
Stylish and Functional Office Makeover.
Easy festive tips for your holiday guest room.
Colorful and organized Craft Space
Sports Bedroom Ideas for tweens and teens.
Simple Master Bedroom Decorating Ideas.
Inexpensive decorating tips for your guest bedroom.