It's soup season, which means you're going to love these Sun Dried Tomato Savory Muffins to go along! This Mediterranian-inspired easy recipe is baked with 2 kinds of cheese, garlic, olive oil, sun-dried tomatoes, and herbs.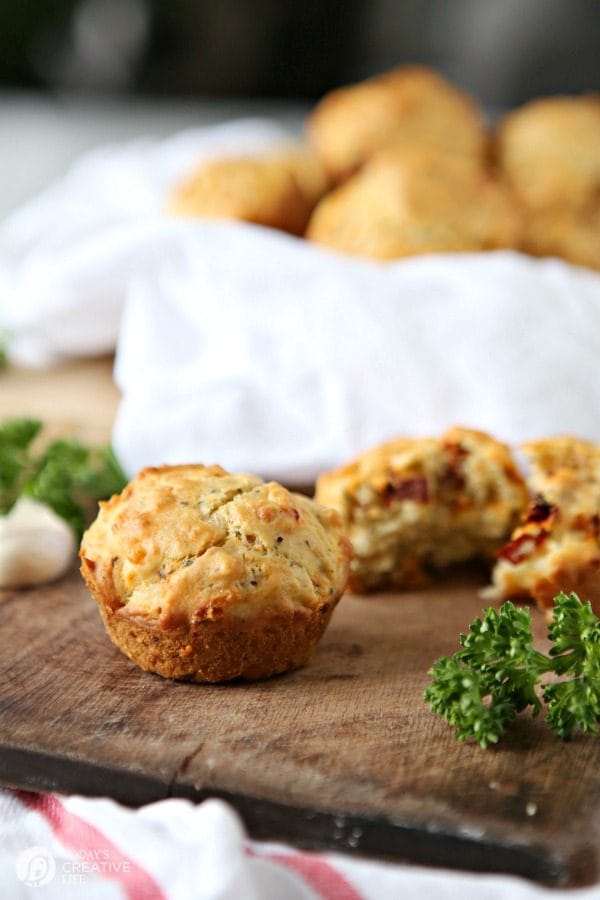 Sun Dried Tomato Savory Muffins
Serve these savory muffins with a hot bowl of soup like my mushroom soup, my easy to make cobb salad or a delicious plate of pasta with tomato and clam sauce.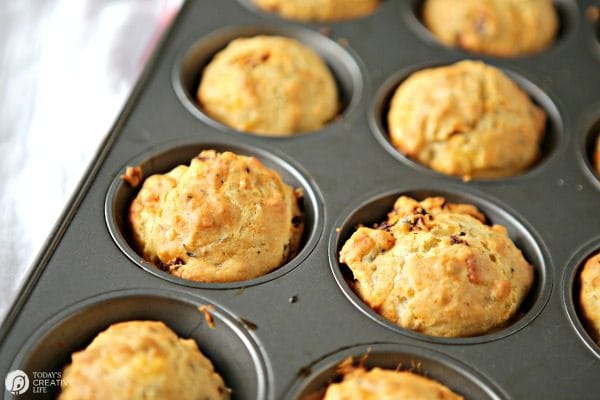 Or grab one for a quick snack! My favorite way to enjoy them is to slather it with garlic butter, but you can eat them plain if you want.
What are Savory Muffins?
Savory muffins are the opposite of sweet. We tend to think of muffins as a sweet cake-like treat. Savory muffins and quick breads, like my Garlic Cheese Beer Bread or this Savory Caprese Bread, use ingredients like spices, herbs, cheese etc…This Rosemary Parmesan Bread is also one to try.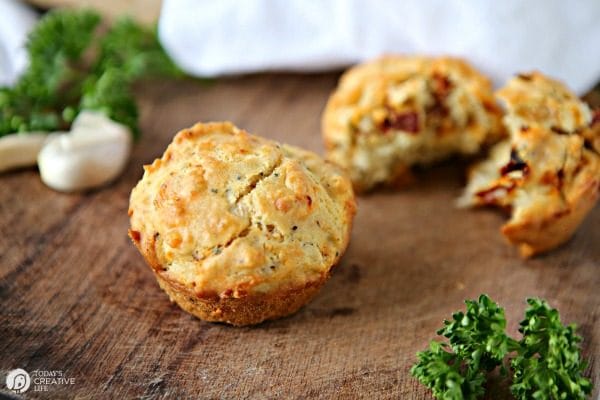 This Sun Dried Tomato Savory Muffins Recipe is very forgiving allowing you some versatility. You can add more flavors to the mix, like kalamata, green or regular olives, or maybe a different blend of cheeses. Play around with different herbs, adding rosemary, basil or oregano.
Savory Muffins with Cheese and Sun Dried Tomatoes
Whenever I make these, I will throw in a mixture of cheeses.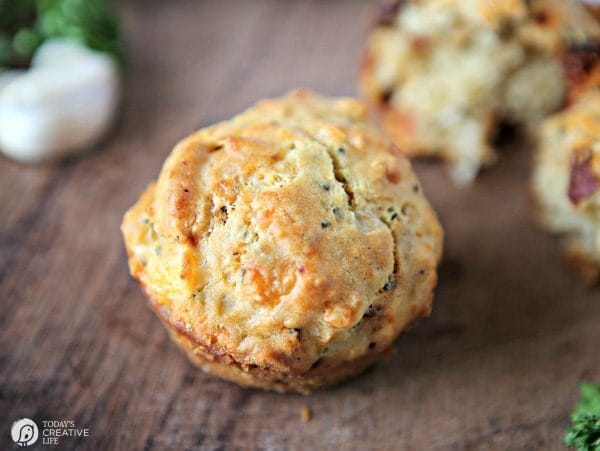 This time I used cheddar and romano. But I have also used Parmesan too. When choosing sun-dried tomatoes, I always use the ones that come in olive oil, then chop them into smaller pieces.
I also like using fresh garlic diced or crushed, but you can use garlic powder if you're in a pinch. They will still taste delicious!
How to Make Sun Dried Tomato Savory Muffins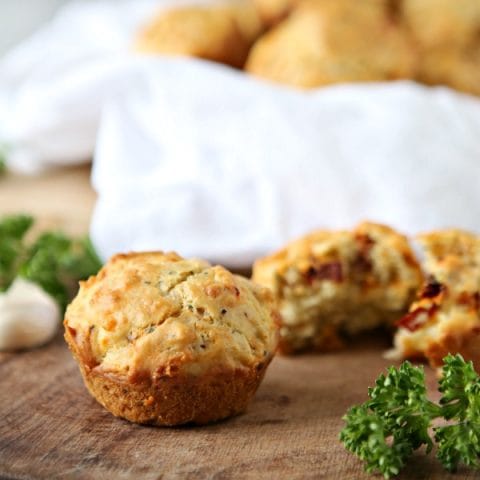 Sun Dried Tomato Savory Muffins
Yield: 12
Prep Time: 15 minutes
Cook Time: 18 minutes
Total Time: 33 minutes
Easy to make savory muffins for soup, salad or snacking.
Ingredients
2 cups all-purpose flour
2 teaspoons baking powder
1/2 teaspoon baking soda
1/4 teaspoon dried dill - if using fresh, use 1 tsp. chopped.
1/4 teaspoon dried thyme - if using fresh, use 1 tsp. minced.
1/2 teaspoon salt
1/2 teaspoon black pepper
1 egg
1 1/4 cup 2% milk
1/4 cup olive oil
1 clove garlic, minced or crushed. (1/2 teaspoon garlic powder for substitute)
1/4 cup shredded romano cheese
1/2 cup shredded cheddar cheese
1/2 cup oil-packed sun-dried tomatoes, chopped.
Instructions
Set oven for 375° and grease your muffin tin.
Mix together the first 7 ingredients in a large bowl and set aside. If you're using garlic powder, add it to the flour mixture.
In a small bowl, whisk egg, milk and olive oil, and add to your flour bowl mixture and stir until moistened.
Fold in the rest of the ingredients; cheeses, fresh garlic, and sun-dried tomatoes.
Fill your prepared muffin pan cups 3/4 full.
Place in your preheated oven for 18-20 min, baking until golden brown.
Let them cool for about 5 min, before removing from pan.
Notes
Feel free to experiment by adding different herbs and spices.
Nutrition Information
Yield 12
Serving Size 1
Amount Per Serving
Calories 171
Total Fat 8g
Saturated Fat 2g
Trans Fat 0g
Unsaturated Fat 5g
Cholesterol 24mg
Sodium 307mg
Carbohydrates 19g
Fiber 1g
Sugar 1g
Protein 5g
Can you Freeze Savory Muffins?
Yes! Freezing muffins is easy. Allow them to cool completely, then wrap each one in aluminum foil, placing them all into a Ziploc freezer bag. Be sure to press as much air out of the bag as possible when sealing. Use within 2-3 months.
When you're ready to eat them, grab the quantity you need. Take it out of the plastic bag, placing the foil-wrapped muffin in a warm oven or toaster oven for a few minutes to thaw. Or you can just allow to thaw on the counter if you have more time.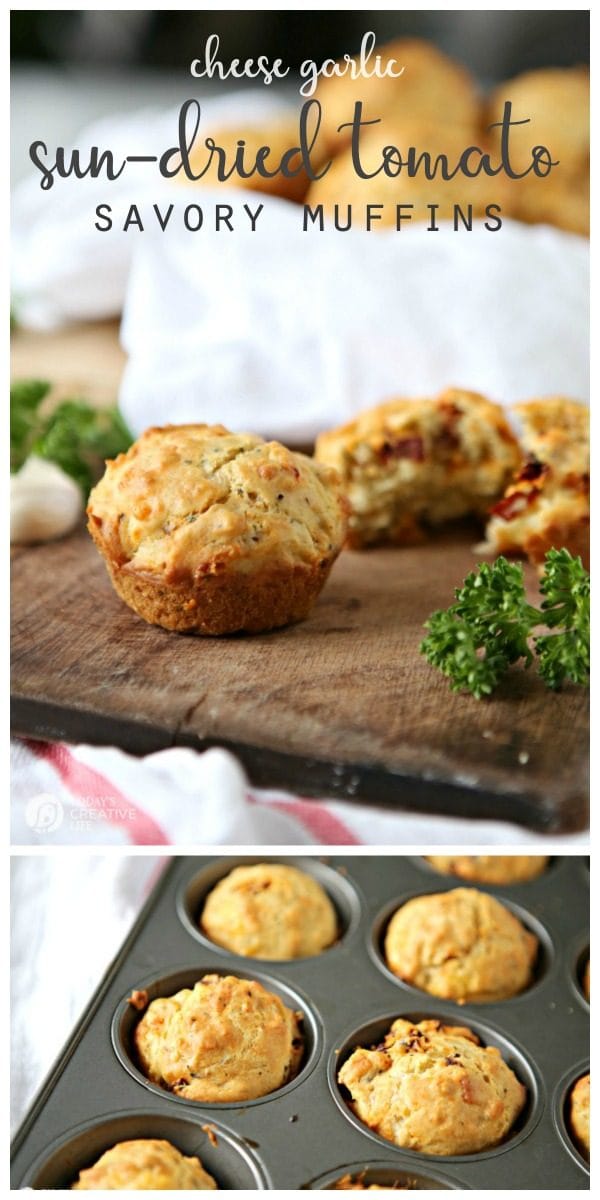 If you make these Sun Dried Tomato Savory Muffins, I'd love to hear about it! Tag me on Instagram @TodaysCreativeLife and tell me how they turned out and if you added anything extra.
Follow along on Instagram | Pinterest | Facebook
---
Savory Bread Recipes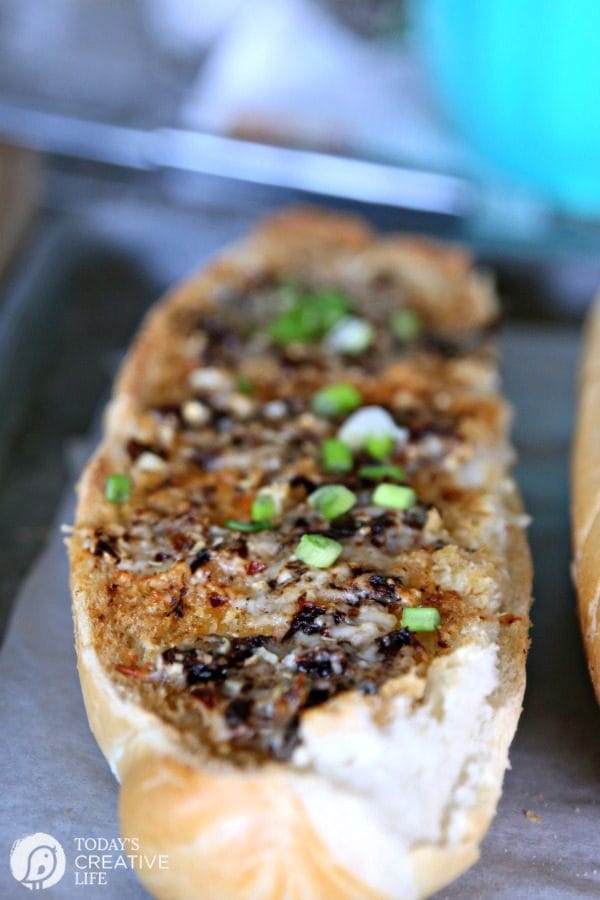 Sun-Dried Tomato Garlic Bread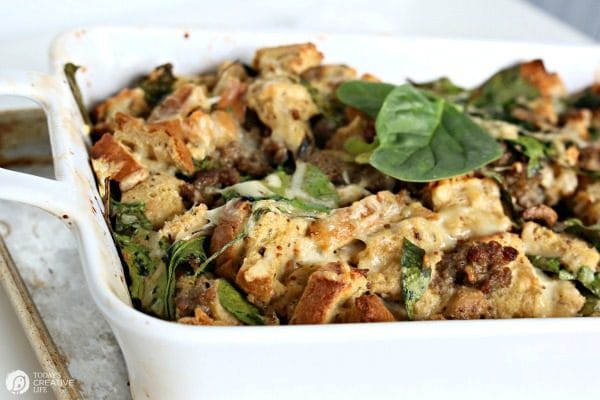 Savory Breakfast Strata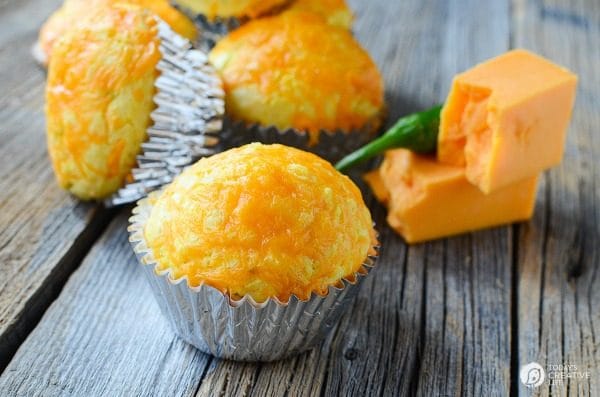 Jalapeno Corn Bread Muffins