Chinese take-out just got a whole lot easier with Slow Cooker Orange Chicken Rice Bowls. If you love Chicken Fried Rice or any type of rice bowl, these are a busy family's best friend! It doesn't get much easier than Orange Chicken in a Crockpot for a simple dinner solution the whole family will love!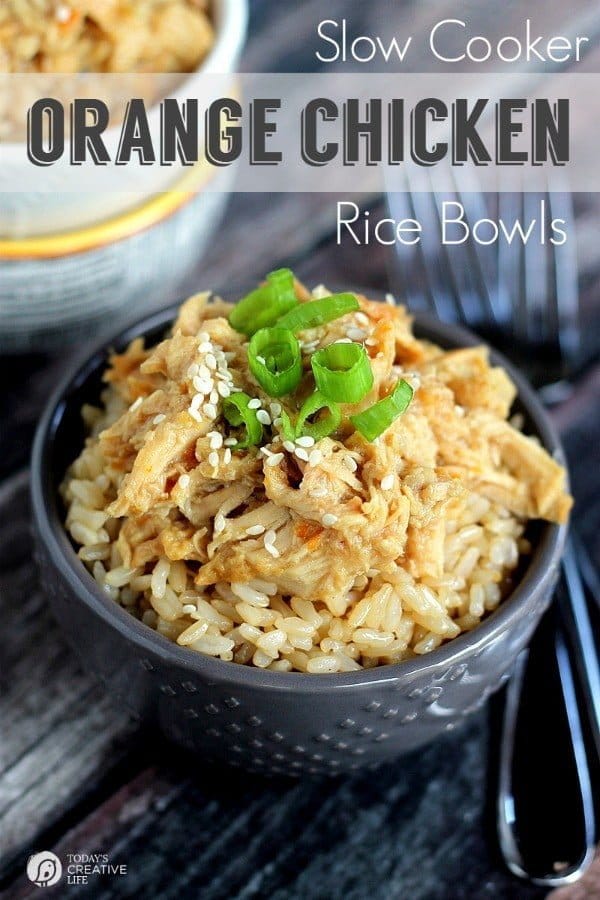 Slow Cooker Orange Chicken Rice Bowls Recipe
One of my son's favorite fast food meals is the Orange Chicken from Panda Express. With soccer practices getting over around 8 pm, I hate to admit how often we frequent that place to pick him up an after practice "snack". Kids love the stuff.
I'll never forget giving a ride home to another teammate and since I needed to get Lucas dinner, I had Lucas ask his friend if he liked Panda…… all I hear is "Duuude, I LOOOVE Panda's orange chicken". For some reason it totally made me giggle and suddenly feel better about my son's latest fast-food obsession.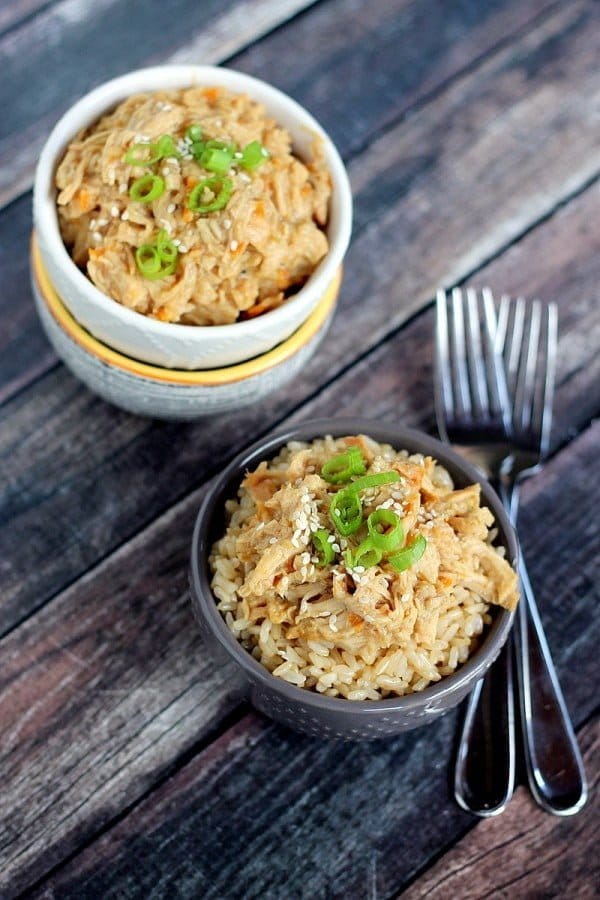 I've since stocked my freezer with the Trader Joe's orange chicken and their frozen brown rice. Add some veggies and it's another quick meal!
I was thrilled when Allyson from Domestic Superhero sent me this Slow Cooker Orange Chicken recipe for rice bowls. I can't wait to try it. She says it's delicious and she's made it twice in the same week! It would be great to have this waiting for me instead of waiting in the drive-thru line. (which by the way….. we were stuck in last week! It took us 30 minutes to order and then get our food……which was wrong. And at 9:15 at night….they gave us 5 coupons for free entree's in the future…….but guess what? They were already expired! SO NOT COOL!)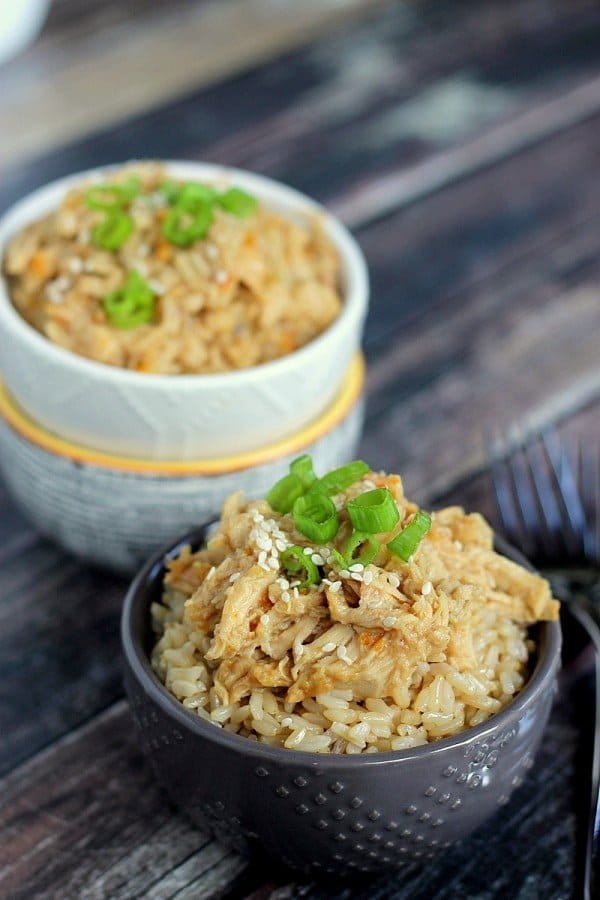 I'm sure this recipe will be much healthier and probably tastier… I KNOW it will be much more convenient!
Orange Chicken Recipe
This orange chicken recipe is made in the crockpot so dinner is ready with no fuss. Once the chicken is cooked, it's best if you shred it so the sauce for the orange chicken is completely incorporated. Serve it over rice and add a few veggies too.
Orange Chicken in a Crockpot
Yield: 4-5 Rice Bowls
Prep Time: 15 minutes
Cook Time: 6 hours
Total Time: 6 hours 15 minutes
Crockpot Orange Chicken Rice Bowls complete with sauce for orange chicken. Serve over rice and enjoy!
Ingredients
nonstick spray
4-5 boneless, skinless chicken breasts
1 cup orange preserves
1 TBS soy sauce (I used low sodium)
1 tsp rice wine vinegar
3 garlic cloves, minced
1 tsp fresh grated ginger
1 tsp sesame seeds
3 green onions, chopped
2 cups cooked brown rice
Instructions
In the pot of a slow cooker, spray to coat with nonstick spray. In a small bowl, mix together orange preserves, soy sauce, rice wine vinegar, garlic, and ginger; pour mixture into bottom of slow cooker. Add chicken on top, stir carefully to coat chicken.
Place lid on top. Cook for 5-6 hours on high, or 7-8 hours on low. Remove chicken from slow cooker; shred using 2 forks. Place shredded chicken back into slow cooker and stir to coat with sauce.
To serve: Add ½ cup rice to a bowl, then top with shredded chicken, sesame seeds, and green onions. Repeat to make all bowls. Enjoy!
Nutrition Information
Yield 5
Serving Size 1
Amount Per Serving
Calories 323
Total Fat 5g
Saturated Fat 1g
Trans Fat 0g
Unsaturated Fat 3g
Cholesterol 102mg
Sodium 268mg
Carbohydrates 27g
Fiber 3g
Sugar 5g
Protein 40g
We do our best to calculate, however, nutrition information may not be accurate.