Homemade dog treats are easy to make with peanut butter and coconut oil! Because this dog treats recipe uses just a few simple, real food ingredients, making them will save you money and they're healthier for your dog, too!
Keeping Maybelline's dog treat tin filled with healthy dog treats makes me feel like I'm winning! Especially when I know they are made with coconut oil, which I've read can be good for her coat. I've also made her these Frozen Bone Yard Pumpkin Dog Treats that she also loves!
The next time I make any, I may try my friend Randi's recipe for Homemade Carrot Dog Biscuits.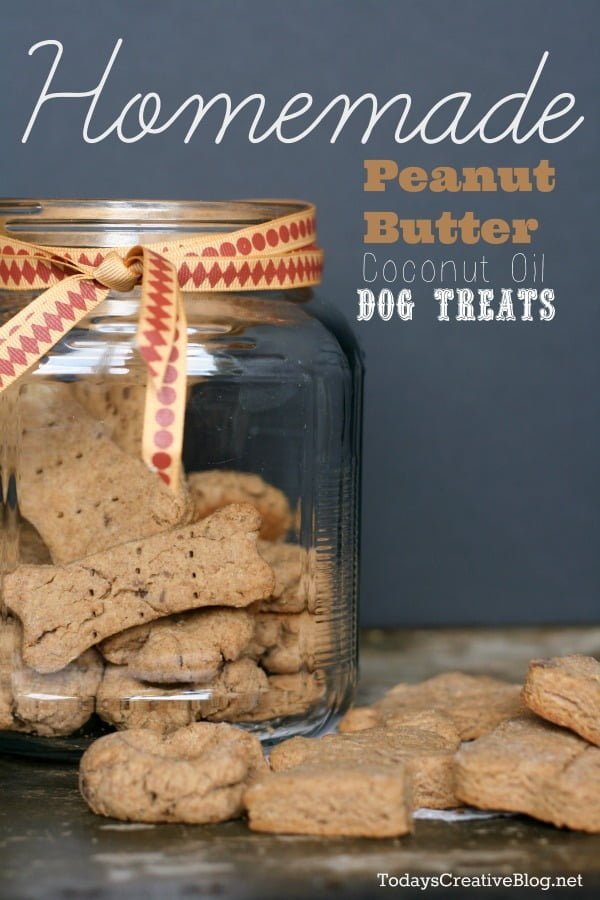 My sweet girl Maybelline loves to snack just as much as the next dog, but she is picky!
In fact, she will not eat the red colored dog biscuits at the pet store. The checkout gal is learning and will dig around in the box looking for a plain one just for her. To make her look even more like a princess, she very very gently takes a treat, then takes her sweet time eating her treats.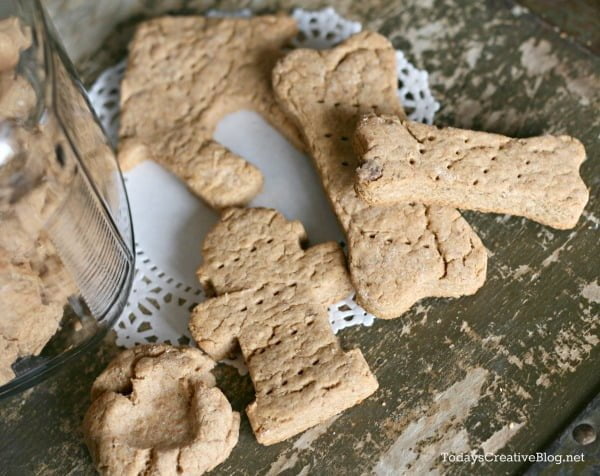 It can take her at least 1 minute or more to eat a simple dog treat. She's picky…… another fun fact…. she will NOT drink out of the dog fountain at the dog park or another dogs bowl. I don't blame her. Have you seen how some of those dogs drool? Not very lady like at all.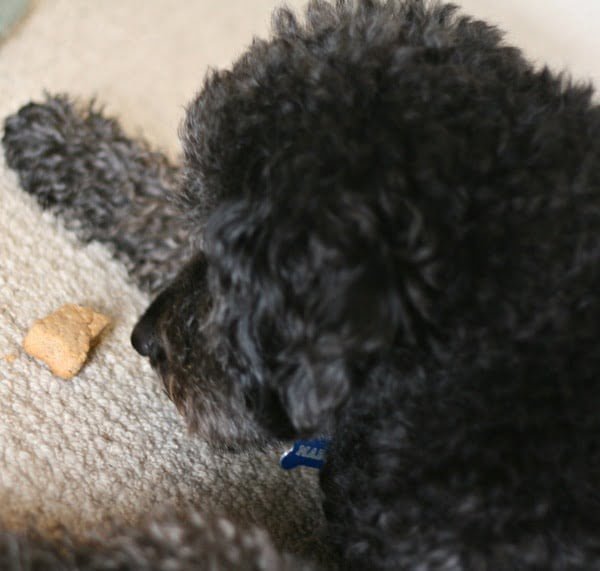 So I guess she's really a germaphobe princess. (I kinda like that trait)
Homemade Dog Treat Ingredients and Supplies Needed:
Affiliate links for products listed are for your convenience only. This cost you nothing extra. If you happen to purchase anything as a result of clicking, TCL will receive a small percentage. Thank you for your support. This allows me to continue to offer you free content.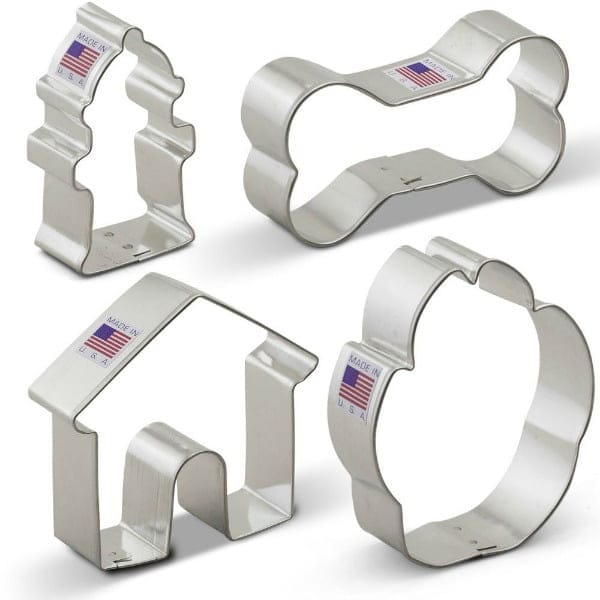 I found the cutest dog themed cookie cutters in a variety of shapes. Perfect for all kinds of homemade dog treats.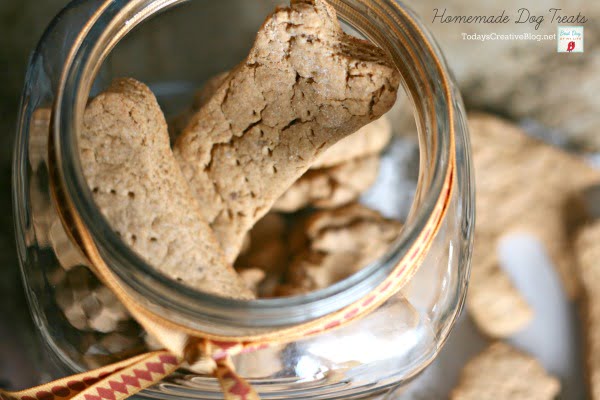 How do you make homemade dog treats?
This recipe for dog treats is easy to make. It uses whole wheat flour because that is the healthiest option for most dogs. However, like humans, some dogs also have sensitivity to grains. If this is the case with your dog, you can make the recipe using a gluten free flour.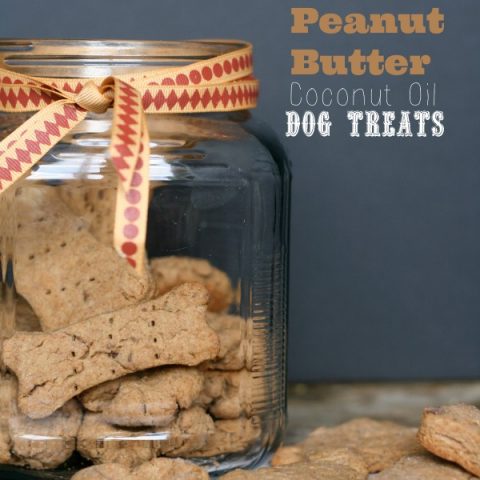 Homemade Dog Treats
Prep Time: 15 minutes
Cook Time: 10 minutes
Total Time: 25 minutes
Easy to make healthy dog treats for your pet.
Ingredients
2 cups whole wheat flour
1 tablespoon baking powder
1 cup peanut butter
1 cup milk
3 tablespoons coconut oil
Instructions
Preheat oven to 375°F
Combine all ingredients into your mixing bowl, I used my kitchen-aid mixer, but a hand mixer works great too.
Mix on Medium until well blended.
Placing your dough on a floured surface, and knead.
Roll it out. Mine kept looking like it would crumble apart, so I didn't roll it out too thin.
Cut out your shapes and place on a greased cookie sheet. I poked holes with a fork in case they wanted to bubble, but mostly because it looked like I knew what I was doing. 🙂
Bake for 10 minutes.
Recommended Products
As an Amazon Associate and member of other affiliate programs, I earn from qualifying purchases.
Nutrition Information
Yield 20
Serving Size 1
Amount Per Serving
Calories 141
Total Fat 9g
Saturated Fat 3g
Trans Fat 0g
Unsaturated Fat 5g
Cholesterol 1mg
Sodium 141mg
Carbohydrates 13g
Fiber 2g
Sugar 1g
Protein 5g
Nutrition info may not be completely accurate.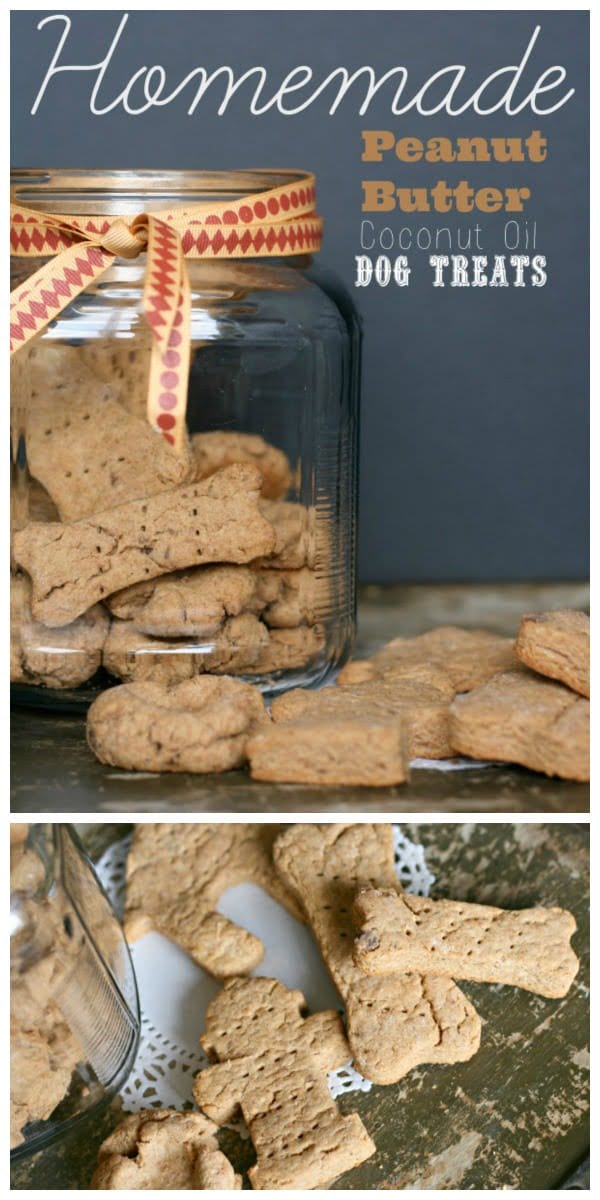 Homemade dog food and homemade dog treats are becoming more and more popular. There are so many great recipes out there, as well as many options for fresh dog food delivery services for those who can't find the time but still have all the benefits of "homemade".
Ideas for Dogs
Find a few DIY Dog Ideas from recipes to DIY crafts.