Where has this been all my life?  This Christmas Crunch Recipe aka Christmas Crack was given to me by a scrapbooking friend (Hi Debbie B), a few years ago.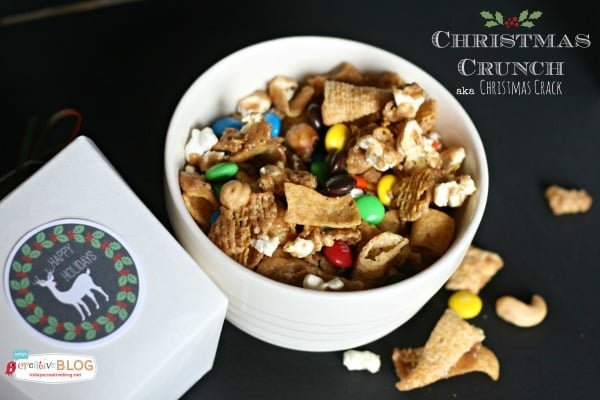 Once she told me it had bugles in it, I had to have it. I even wrote it out on a scrap piece of cardstock and then tucked it away in my recipe book. I would pull it out and gaze at it from time to time, but didn't want to make such a HUGE batch just for general snacking.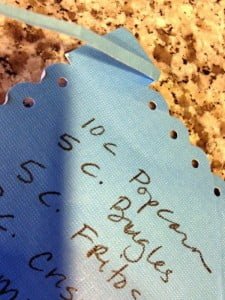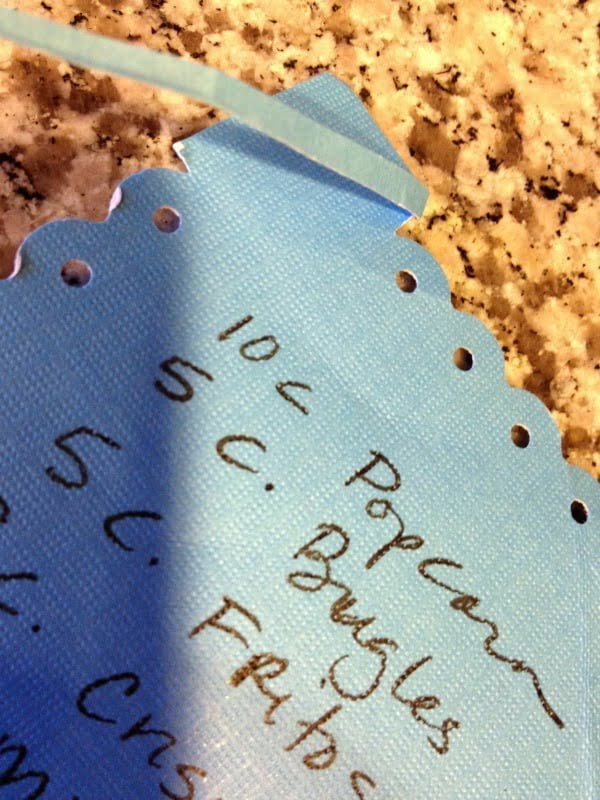 When my husband needed suggestions for gift ideas for his staff of 10, a light bulb went off! I figured, I whip up this recipe, have some left over and save me some time and stress.  I used some of my stashed take out boxes, made some quick printable labels, which you can find on my Quick & Easy Creative Wrapping post. Which goes along with my Quick & Easy Entertaining ideas.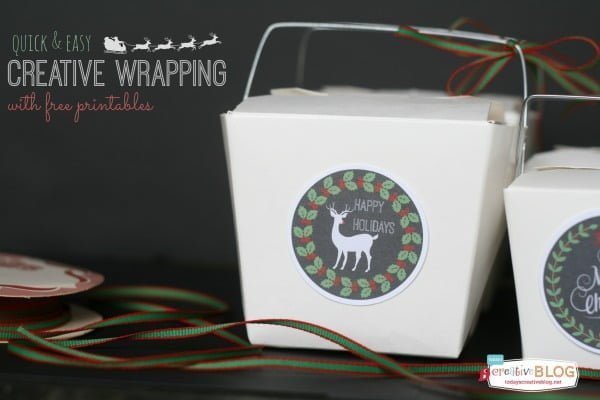 It's not a huge gift, but it's delicious and it looked super cute.  You can also use the printable tags I made as gift tags or just stick them on a package like I did.
Writing out this recipe, I just realized I forgot to add the pretzels! Dang! 
Christmas Crunch Recipe
Ingredients
10 C. Popcorn
5 C. Bugles
5 C. Fritos
8 C. Crispix
1 C. Mixed Nuts
2 C. Pretzels (which I totally forgot!)
1 pound M&Ms plain (optional)
Caramel Mixture
2¼ Cup Brown Sugar
1 C. Butter
⅔ C. Corn Syrup
1 teaspoon salt
1 teaspoon baking soda
Instructions
Mix all dry ingredients, except M&Ms and not the Caramel mixture, into a large oval roaster. Mix and set aside.
Combine caramel mixture except for baking soda in heavy sauce pan.
Bring to a slow boil. Cook for 5 minutes, stirring occasionally.
Remove from the heat and stir in baking soda.
Pour over dry mixture and stir until well coated.
Bake 200° for one hour, stirring every 15 minutes.
Pour mixture out onto 2 jelly roll pans, lined with waxed or parchment paper.
Sprinkle with M&Ms
Let cool and store in an airtight container.
Notes
Do yourself a favor and buy one of those large foil turkey roaster pans.