If you are looking for the perfect recipe for homemade gifts from the kitchen, I've got exactly what you need! Christmas Crunch Recipe is all that and more! Everyone will love it! A little sweet, a little salty with a whole lotta deliciousness.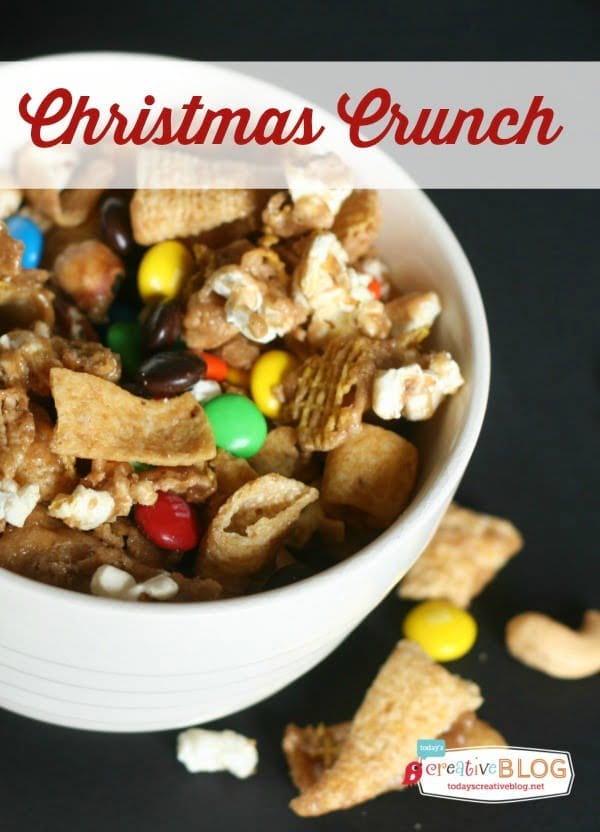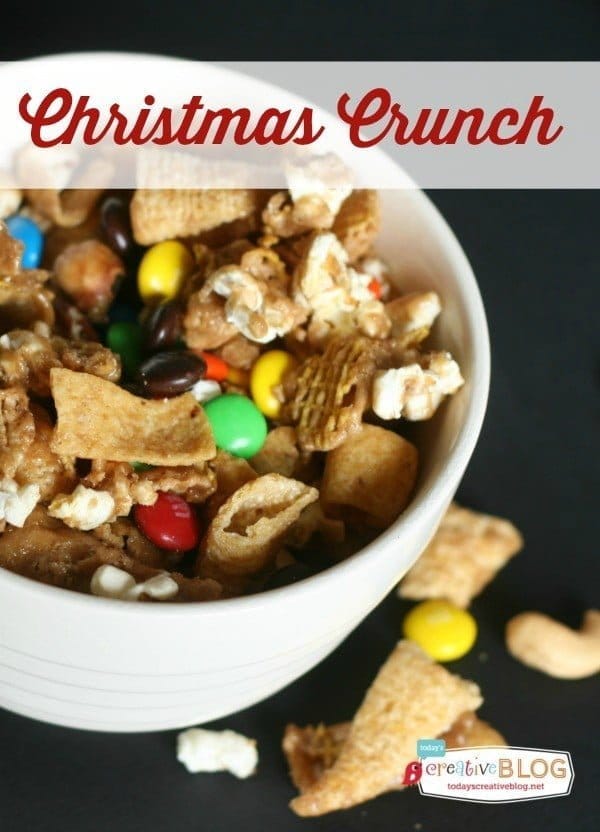 Christmas Crunch Recipe
Where has this been all my life? This Christmas Crunch Recipe aka Christmas Crack Chex Mix was given to me by a scrapbooking friend (Hi Debbie B), a few years ago. This recipe makes a LOT, making it perfect for a batch of homemade gifts for the holidays! And when I say a LOT, I mean you'll need one of those large foil turkey pans to mix it up into.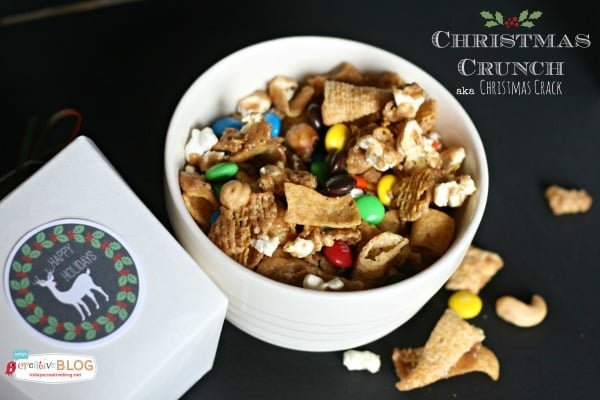 My friend was telling me how amazing this Christmas Crunch Recipe was and once she told me it had bugles in it, I had to have it. I even wrote it out on a scrap piece of cardstock and then tucked it away in my recipe book.
I would pull it out and gaze at it from time to time but didn't want to make such a HUGE batch just for general snacking.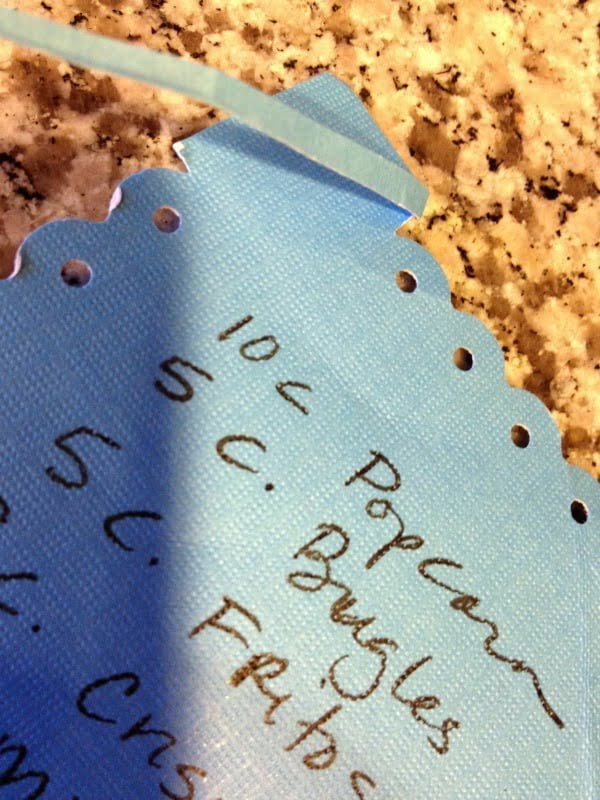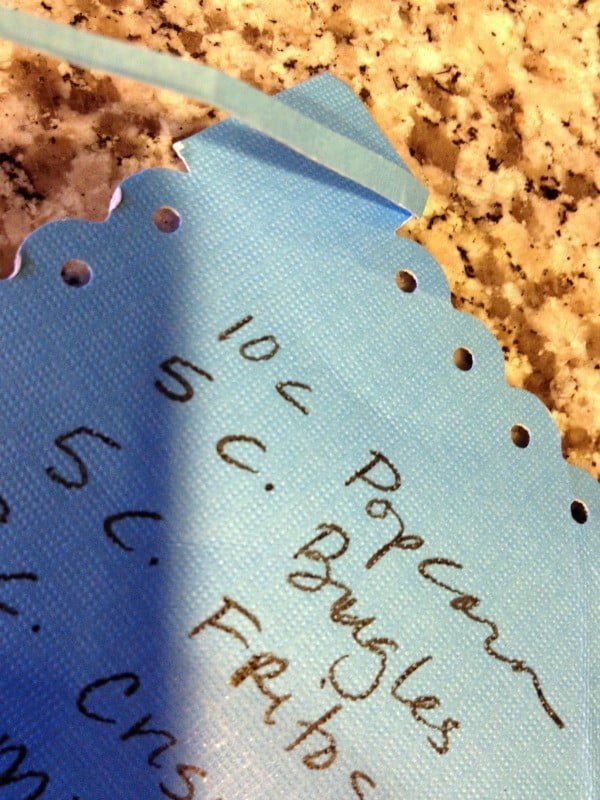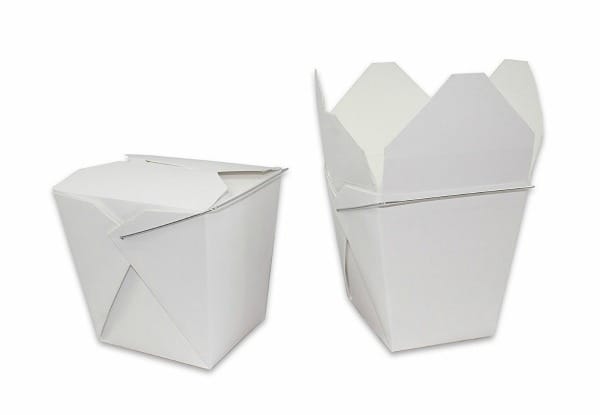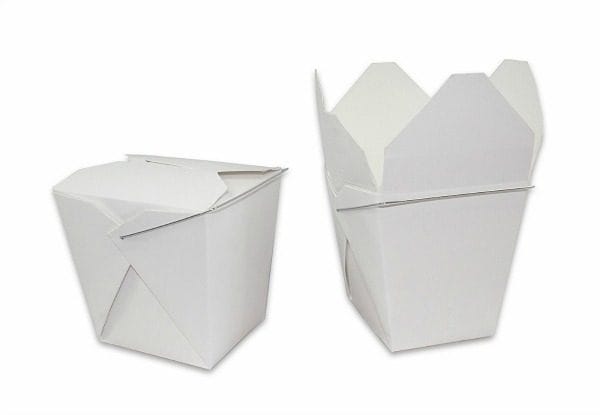 When my husband needed suggestions for gift ideas for his staff of 10, a light bulb went off! I figured, I whip up this recipe, have some left over and save me some time and stress. I already had a large supply of takeout boxes that would make for easy packaging.
Using PicMonkey, I was able to make up a few quick printable labels to stick to each gift. You can find these free printable holiday labels on my Quick & Easy Creative Wrapping post. Which goes along with my Quick & Easy Entertaining ideas.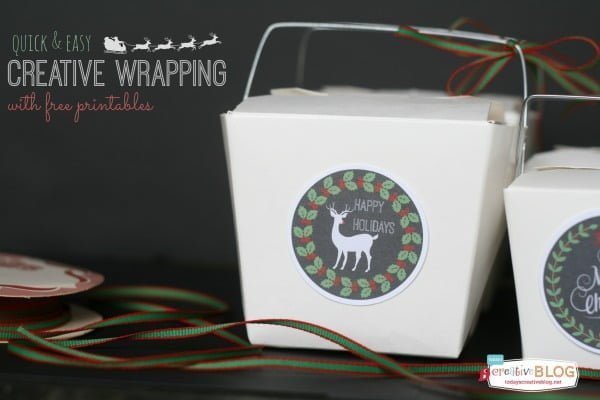 It's not a huge gift, but it's perfect for co-workers. They'll appreciate the adorable package full of this Christmas Crunch recipe. You can also use the printable tags I made as gift tags or just stick them on a package like I did.
I used my Xyron machine to turn each label into a sticker, but you can also use a tape runner or glue stick.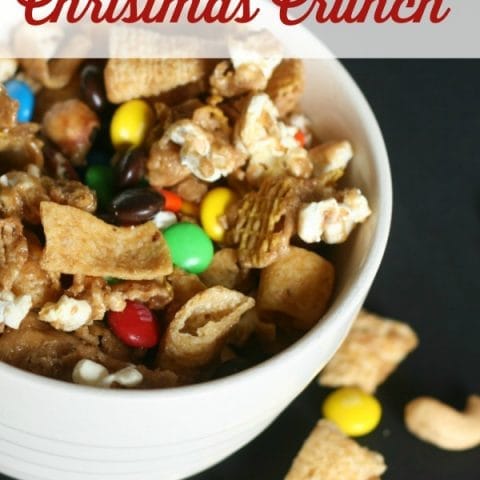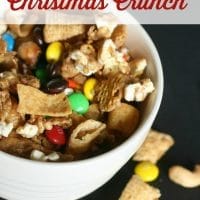 Christmas Crunch Recipe
Prep Time: 15 minutes
Cook Time: 1 hour
Total Time: 1 hour 15 minutes
Ingredients
10 C. Popcorn
5 C. Bugles
5 C. Fritos
8 C. Crispix
1 C. Mixed Nuts
2 C. Pretzels (which I totally forgot!)
1 pound M&Ms plain (optional)
Caramel Mixture
2 1/4 Cup Brown Sugar
1 C. Butter
2/3 C. Corn Syrup
1 teaspoon salt
1 teaspoon baking soda
Instructions
Mix all dry ingredients, except M&Ms and not the Caramel mixture, into a large oval roaster. Mix and set aside.
Combine caramel mixture except for baking soda in a heavy saucepan.
Bring to a slow boil. Cook for 5 minutes, stirring occasionally.
Remove from the heat and stir in baking soda.
Pour over dry mixture and stir until well coated.
Bake 200° for one hour, stirring every 15 minutes.
Pour mixture out onto 2 jelly roll pans, lined with waxed or parchment paper.
Sprinkle with M&Ms
Let cool and store in an airtight container.
Notes
Do yourself a favor and buy one of those large foil turkey roaster pans.
Writing out the recipe, I realized I forgot to add the pretzels!


---
More Holiday Ideas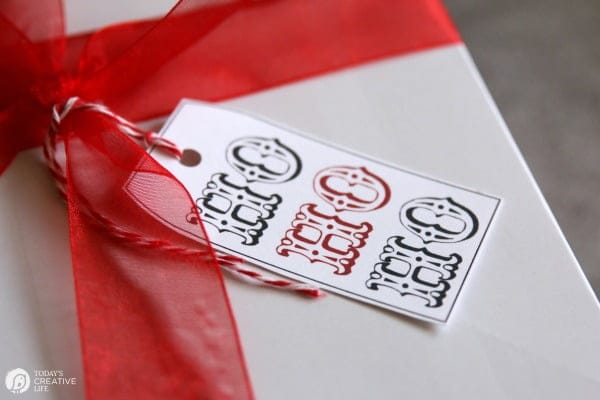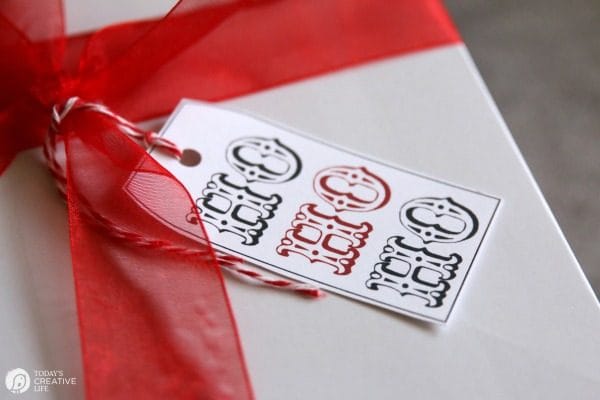 Free Printable Christmas Gift Tags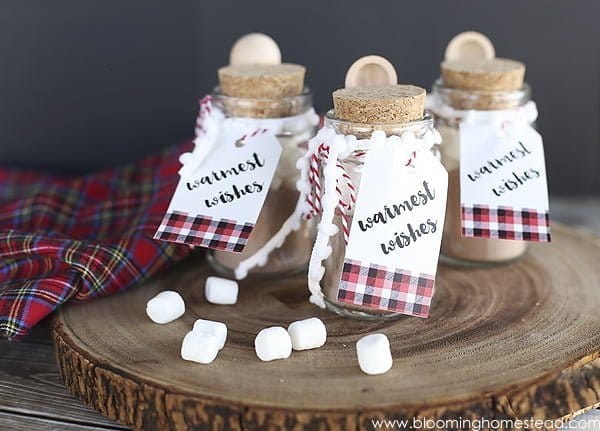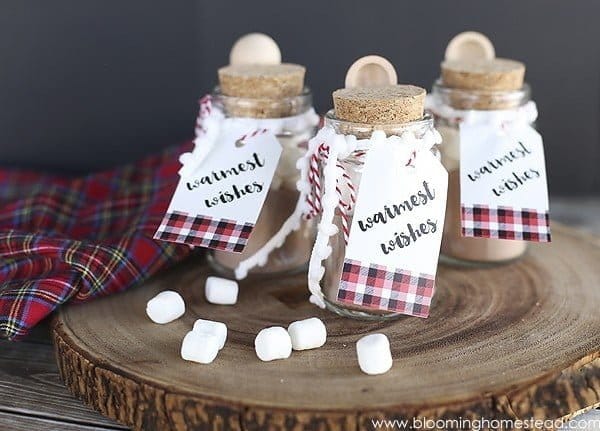 Easy Gift Idea – Mini Hot Cocoa Jars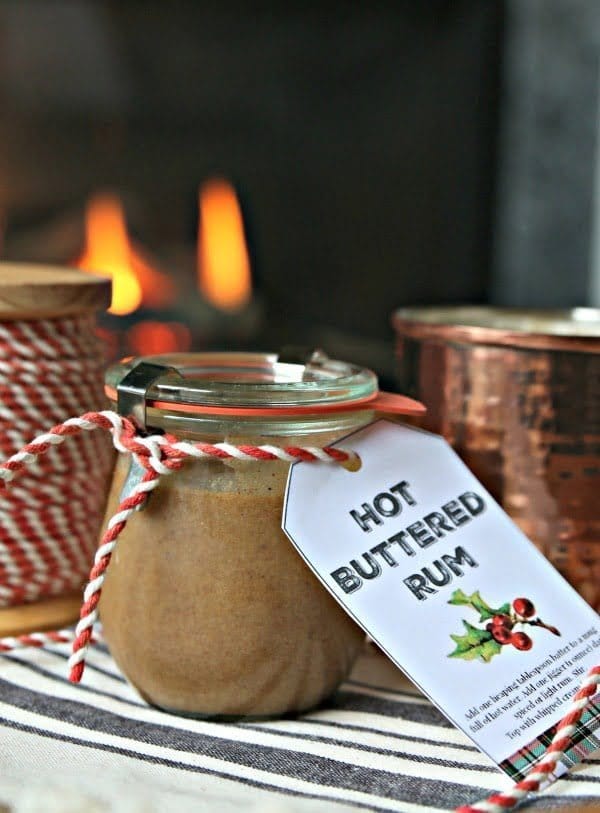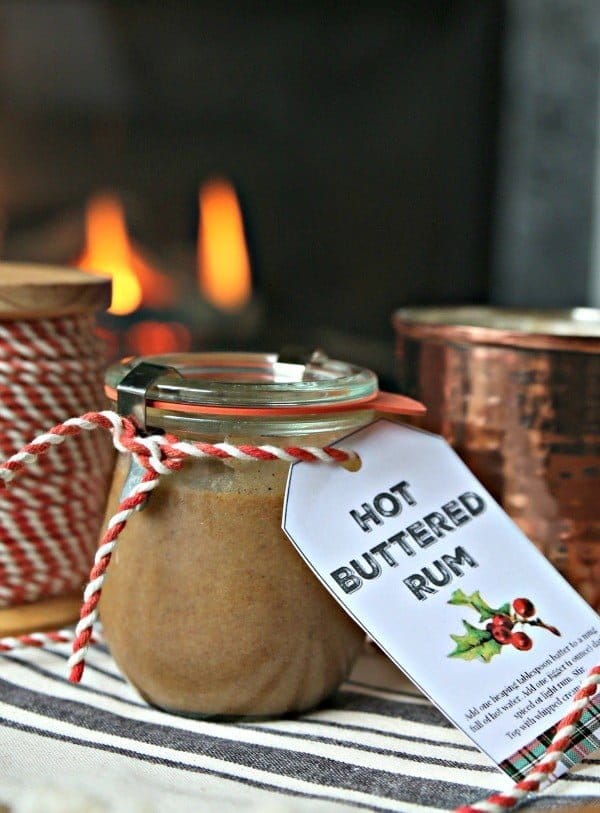 Hot Buttered Rum Recipe