Holiday wrapping is easier with free printable Christmas labels that can also be used as gift tags! Printing labels at home is an easy and cost-effective way to make your gift wrapping process smoother.
Some are filled in for some of the homemade gift ideas here on Today's Creative Life or print out the blank version.
I confess….. I have not wrapped up ONE. SINGLE. GIFT! Well if you count the office gifts I did for my husband's staff……the ones with the cutest printable labels.……then, I lied.
Printable Christmas Labels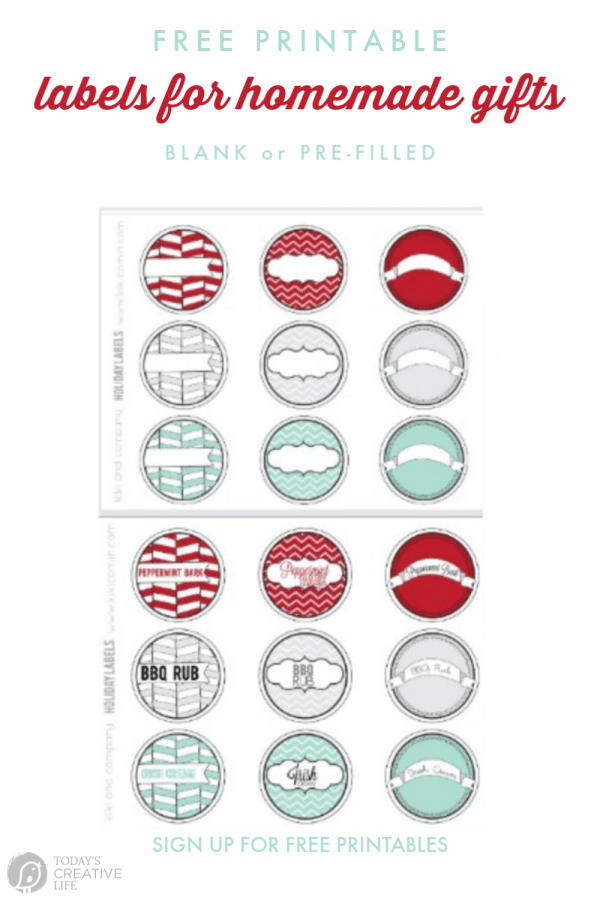 If you're in the same boat as me, I thought you may enjoy these Printable Christmas Labels. I used these last year with a few homemade gifts. Some are blank, some have the gift name (I have all the recipes if you're looking for quick gift ideas).
All printable labels can be found in the Printable Vault. Subscribers use the password sent to them to access the Vault. Still need to subscribe?


I love them. Kiki and Cindy designed them for me last year. They went with the homemade gifts I made.
How to Print Christmas Labels
Supplies needed:
White cardstock
Printable Labels
Printer
Scissors
Hole Punch
Download the labels from The Printable Vault. They are located under the Gift Tags/Labels section near the bottom.
Open the file on your device and load your printer with the cardstock.
Print
Trim each label with scissors or a circle punch.
Punch a hole in the top of each label to tie to your homemade gift. Or you can use a Xyron to make your labels into stickers.
Need more? I'm loving these chalkboard round labels I made myself for Quick & Easy Creative Wrapping Ideas. Or these Homemade Vanilla Printable Labels.
Printable Planners, Lists and Trackers
Printable products and ideas for helping you stay organized and inspired.
Free printable shopping list with a farmhouse look.
Free printable menu planner.
Organize medications with this free printable medication tracker and chart.
Keep track of your passwords with this printable password tracker.
Stay motivated and inspired with this fitness tracker.
Plan your weekly menu with this free printable menu planner.
Photo Credit: jackpinejones.com
JackPIne Jones has a digital fitness planner for all your needs.
Photo Credit: jackpinejones.com
This digital Self Care Planner can be printed or used on your ipad.