Halloween is a great time to put your DIY skills to use and these DIY Halloween Wreath Ideas will get you inspired for making your own homemade Halloween decorations. Halloween wreaths are great for decorating your door or inside your home. I'm sharing a few easy ideas to help you get your Halloween craft on!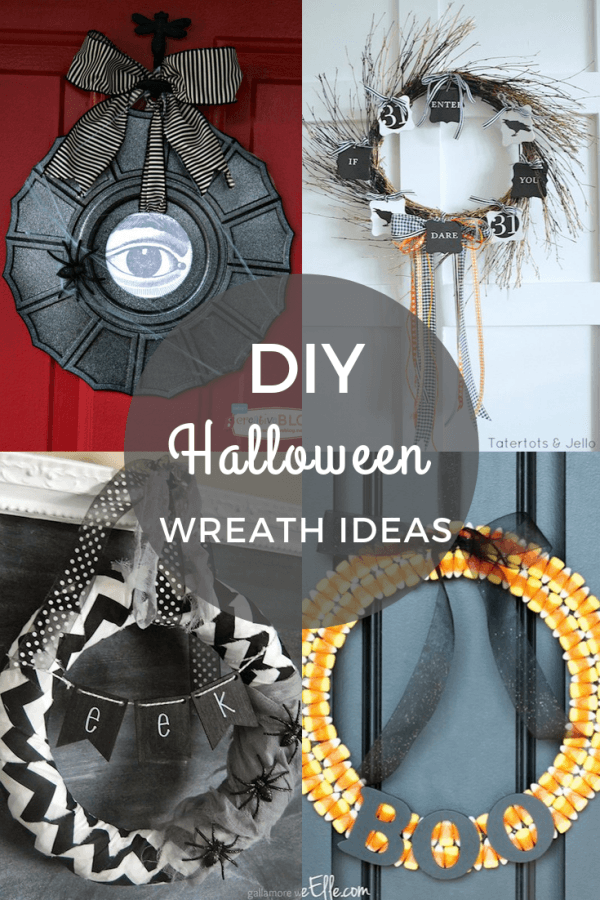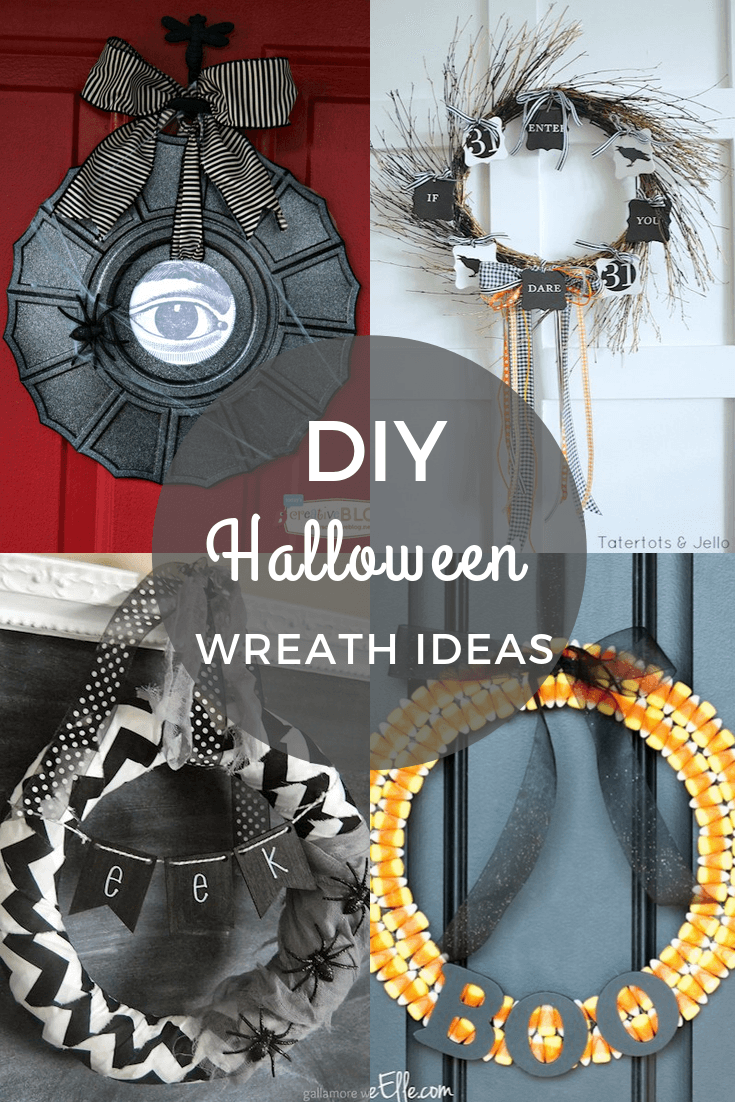 Easy DIY Halloween Wreath Ideas
Having a festive wreath on your front door that you made, makes the holidays even more fun! I love creating a custom look for my seasonal decor and I like easy to make holiday crafts!
I am sharing a few easy to make Halloween wreaths from TCL and some of my fellow blogger friends to get you started and inspired.
I made this wreath years ago and I still love it!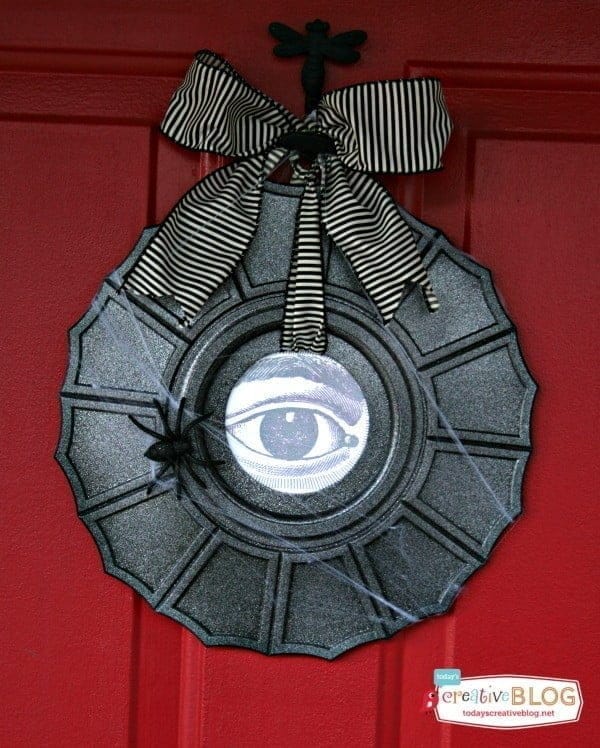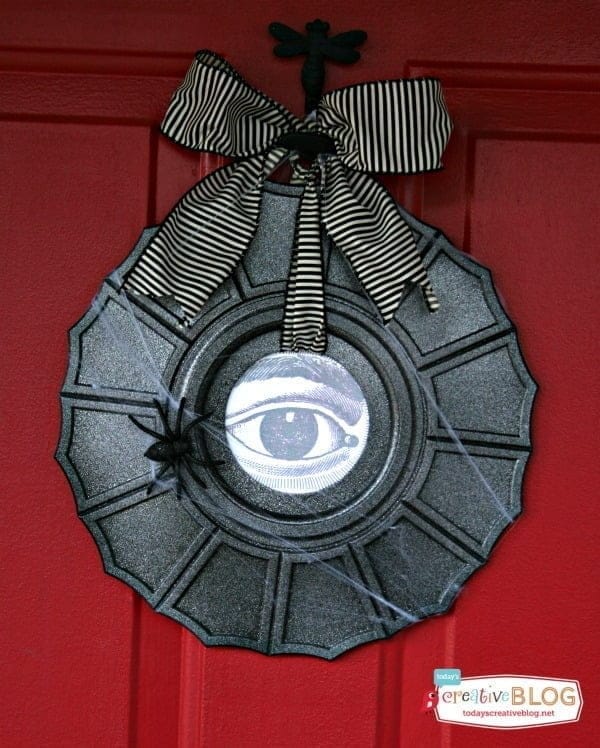 You can see my full tutorial on how I made this creepy Halloween wreath, but it couldn't have been easier.
All you need:
Ceiling Medallion – I bought mine at lowes
Black Spray Paint
Glitter Spray paint
Printable for Eye image
Ribbon, a faux spider & some cobwebs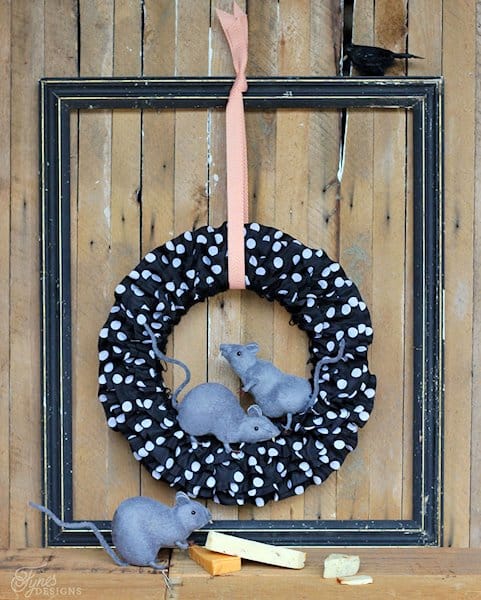 To get started, you're going to need:
Foam Wreath
Imitation Rats
Four large corsage pins
Old Frame
For a full tutorial on how to make a Rat Wreath, head to Fynes Designs. She'll walk you through how she layered the ribbon for this fun seasonal homemade wreath.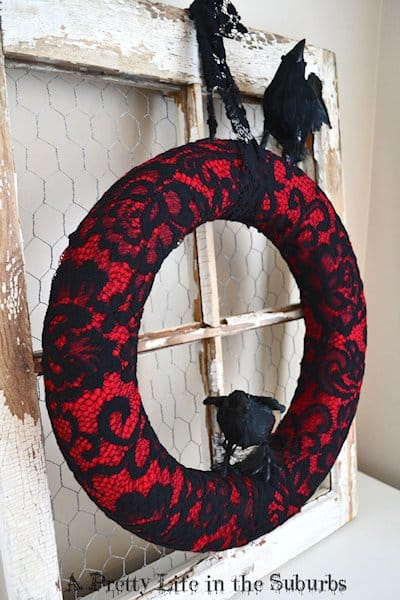 Create this easy wreath with:
Foam Wreath
Fabric
Lace fabric
Faux Crow
This one will not take long to create at all! Head over for the full directions on how to make this Lace Covered Crow Wreath.
Enter if You Dare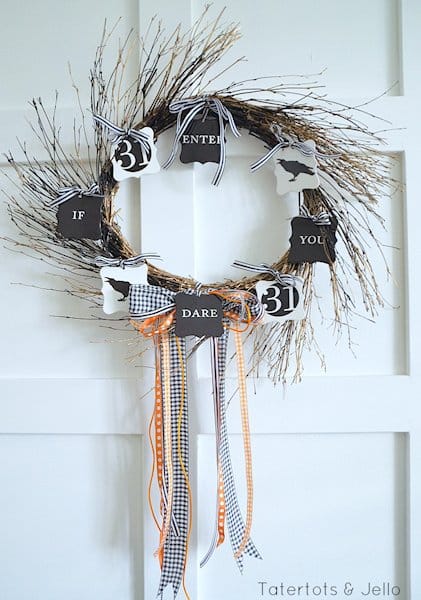 Easily found wreath supplies:
free printables found on her wreath tutorial
wood cutouts
ribbon
rustic wreath
I love easy wreath ideas when you can add seasonal items to an already existing wreath. After the Halloween holiday, you could simply remove the decor and use the twig wreath for Thanksgiving.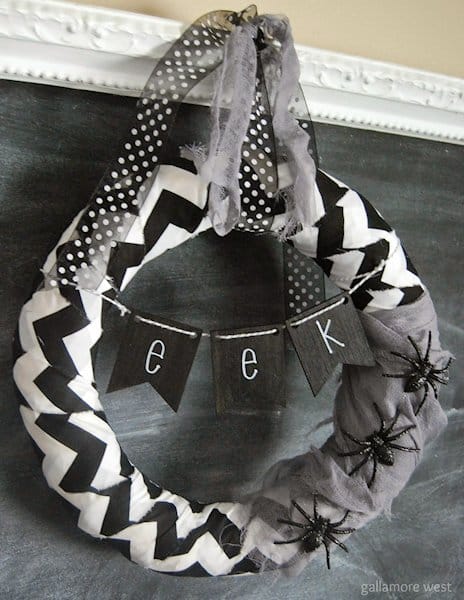 You'll have this finished within the hour!
You're going to need:
Fabric – any Halloween design you like.
plastic spiders – the dollar store is great for these.
cheesecloth or gauze fabric
Wood cutouts for banner
See full instructions on how to make this Halloween Spider Wreath door decor.
Here's another one from TCL.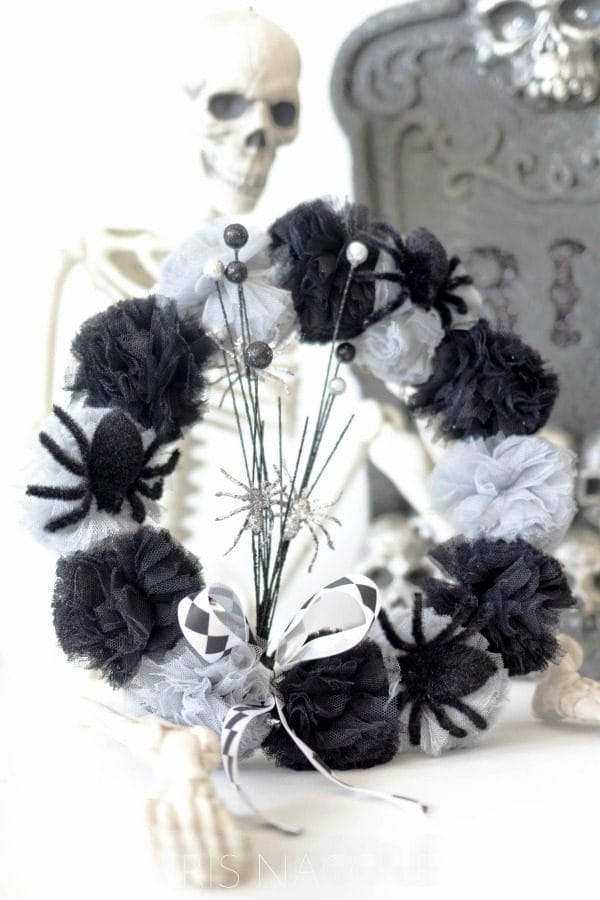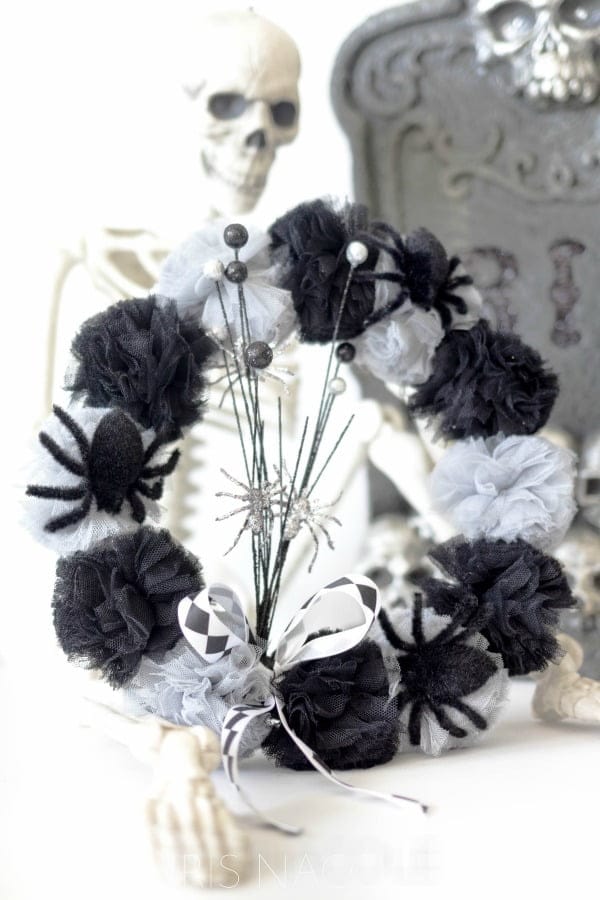 Made with simple supplies. Here's what you need:
Tulle in black and grey
Grapevine wreath spray painted white
Halloween picks and a faux spider
See the full tutorial for this Pom Pom Halloween wreath.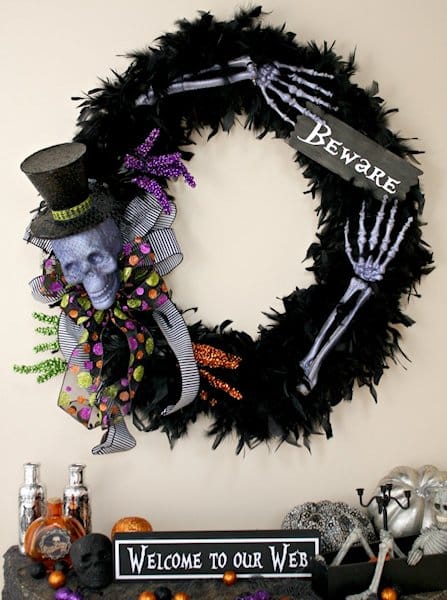 These cute girls found a wreath from a home decor store and decided to create their own at a fraction of the price. Head on over to see how their wreath stands up to the original.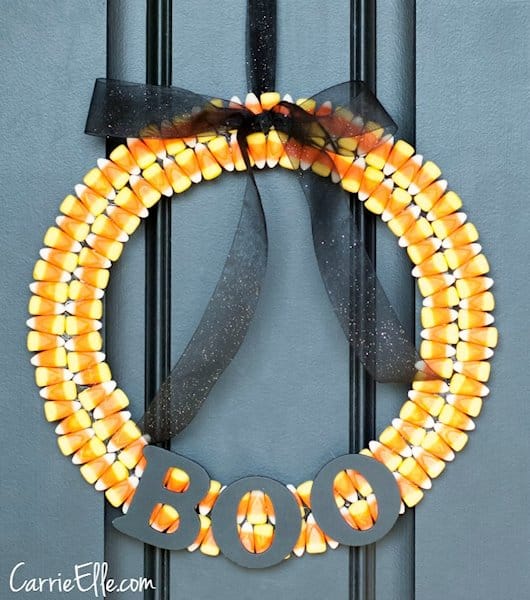 She even states that this adorable wreath is better suited for the indoors, but I still want to make it!
Supplies needed:
candy corn
craft glue
wreath ring
ribbon
See the full candy corn wreath tutorial.
Witch Legs Wreath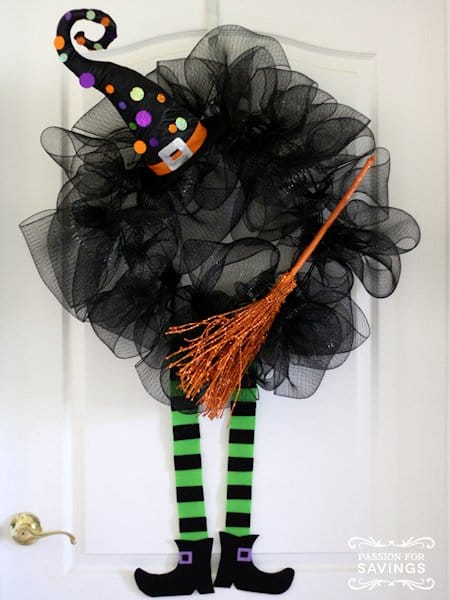 Striped witch legs are always a hit for Halloween decorations.
Make it with:
Mesh Ribbon
Wire Wreath Form
Felt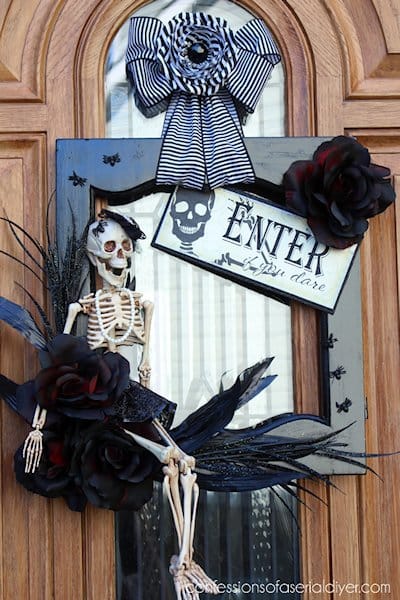 Time to get creative and recycle items! This turned out pretty cute!
So many great DIY Halloween Wreath Ideas to inspire you to craft up your own!
---
DIY Halloween Ideas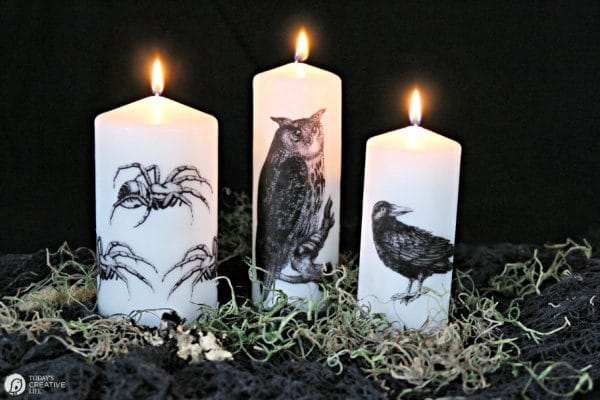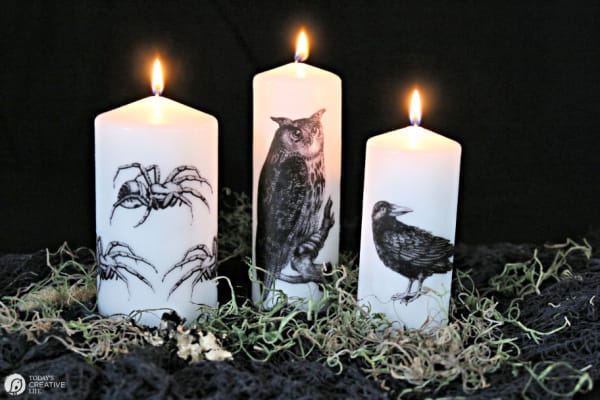 Halloween Candles with Tissue Image Transfer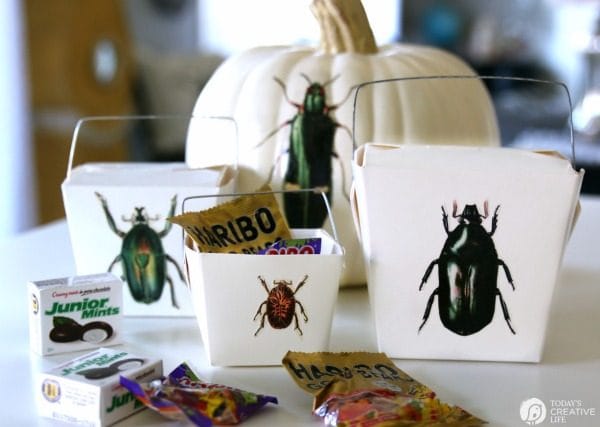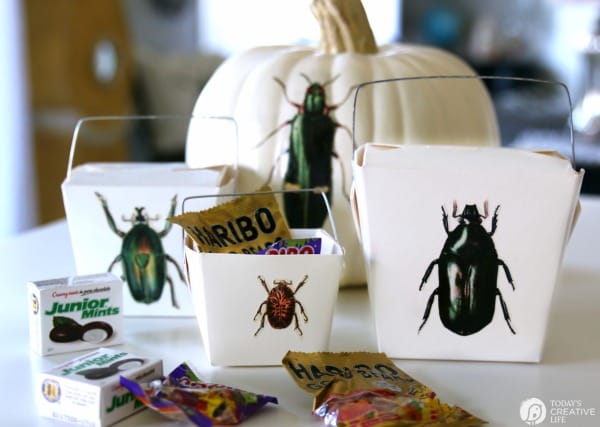 DIY Halloween Treat Box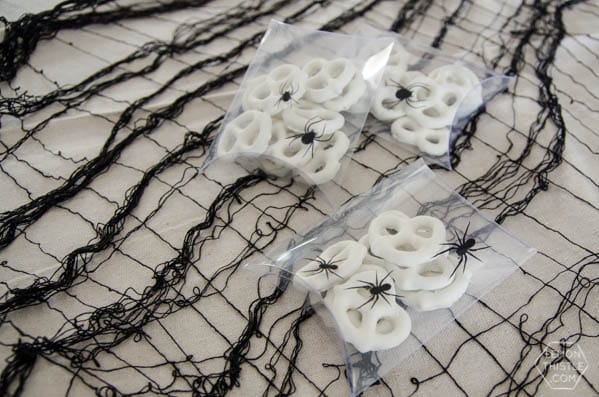 Creepy Crawly Treat Boxes