This Halloween Cricut project made these DIY Creepy Crawly Treat Boxes for Halloween even better! Easy Halloween ideas make it easy to create the holiday you dream of. They remind me a bit of my Vintage Spider Halloween Treat Boxes too.
DIY Creepy Crawly Treat Boxes for Halloween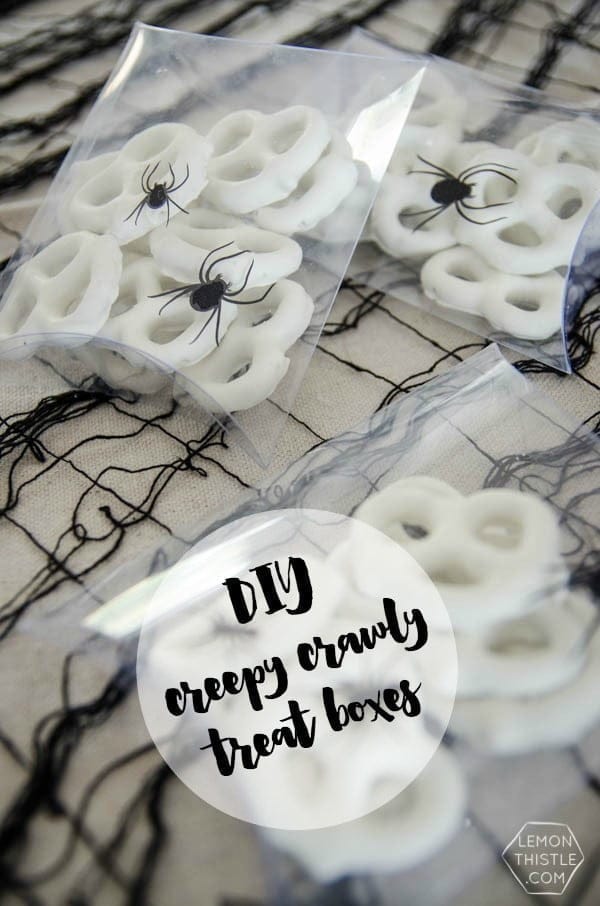 Hello, Today's Creative Life readers! I'm so thrilled to be back with you today sharing these fun creepy crawly treat boxes- perfect for Halloween. When I spotted these translucent pillow boxes at the dollar store I knew that they would be the perfect containers for treats at a Halloween party… they just needed a spooky treatment.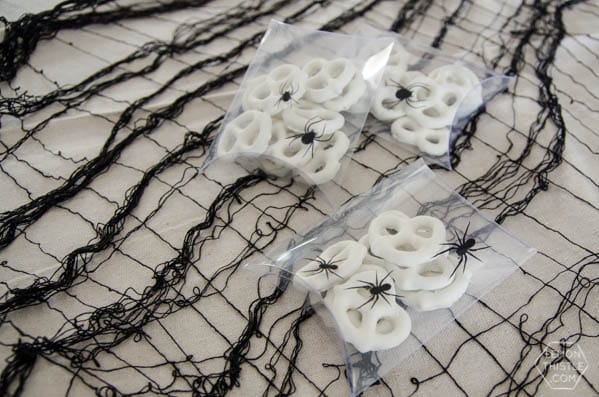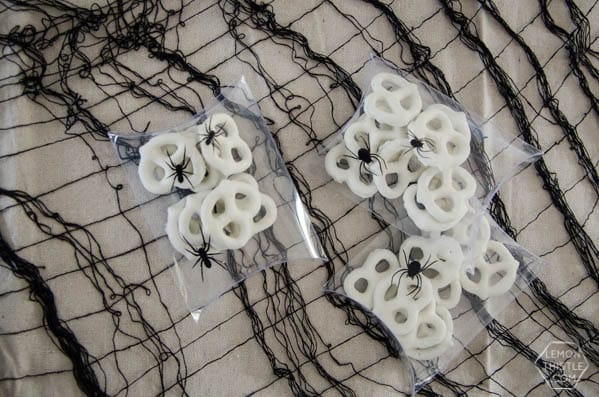 You know how much I love my Cricut Explore Air, so I pulled that thing out and with a little bit of black vinyl, I had the perfect amount of spooky without going over the top. These treat boxes come together so quickly, they can hardly be called a real DIY but the little spiders make all the difference. I especially love how they look on an all-white snack, but candy corn would look pretty sweet in there too!
How to Make Halloween Treat Boxes
Gather your supplies. If you don't have a Cricut, you could always use spider stickers. The Cricut just makes it easy to cut a variety of sizes or colors if desired.
Cricut or another cutting machine
Treats!

I made my spiders using free graphics from PicMonkey.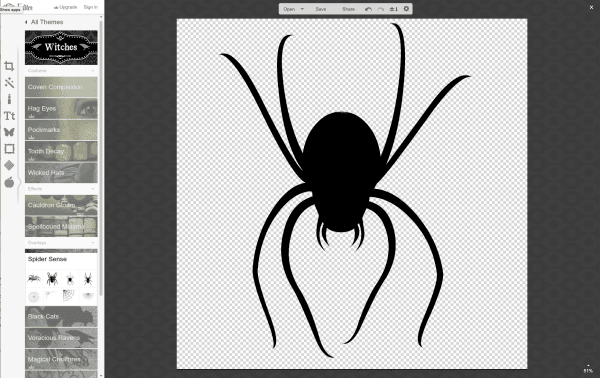 I used two different spiders and made them on a translucent background, saving them to PNG.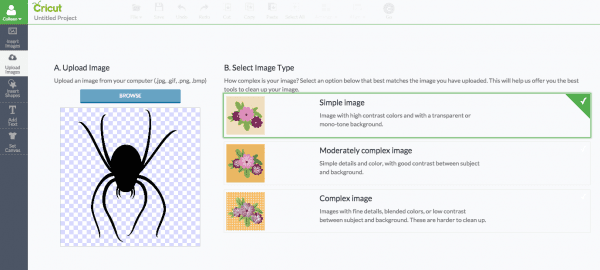 I then uploaded those images as a simple image into my Cricut Design software and sized them between one and two inches each.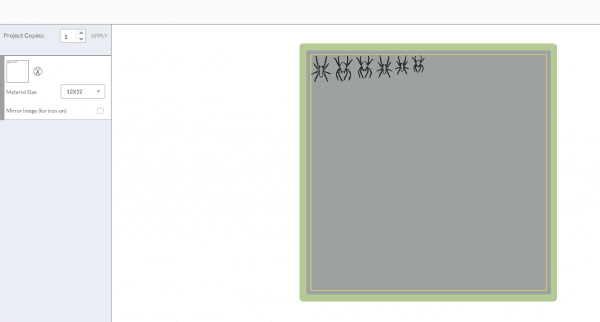 Make sure you switch your images to CUT instead of PRINT and CUT! Then load your black vinyl and cut your spiders!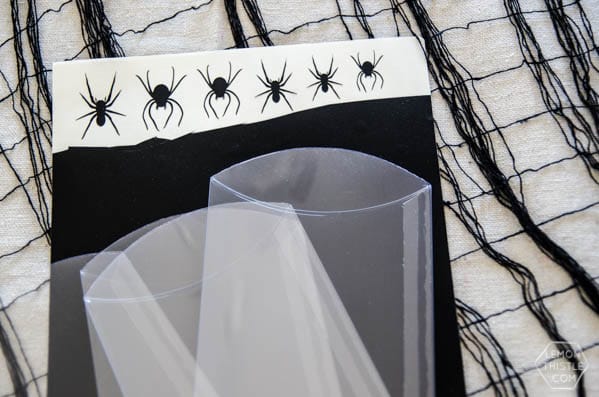 Take your spiders and place them inside your pillow boxes.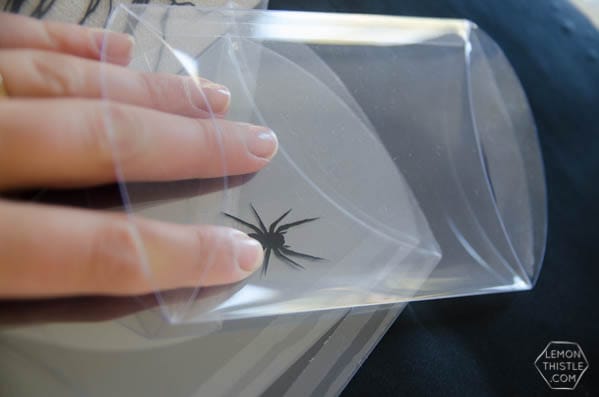 I love the look that this gives- you don't feel the stickers on the outside either.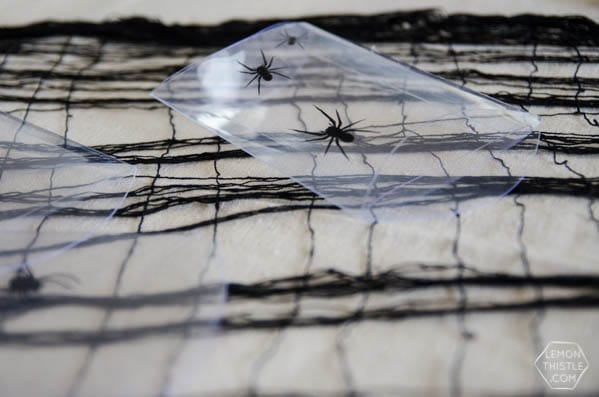 I chose to mix up my spiders, placing two or three on each pillow box, but you could do as many as you like on each.
How you have your own DIY Creepy Crawly Treat Boxes for Halloween!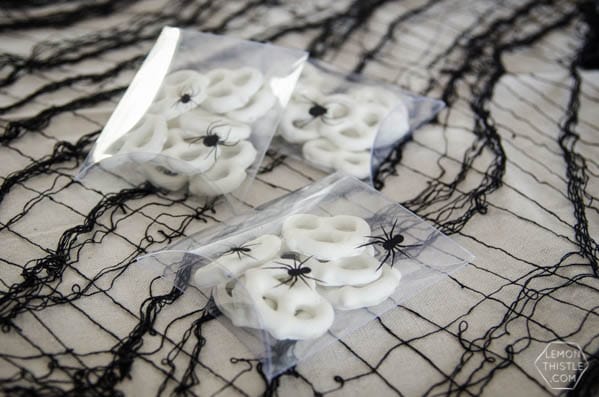 Then fill them up with your treats and you're ready to party! You could do so many things with these clear pillow boxes… sayings, monograms, big spooky eyes… seriously, the options are endless! I'm on a bug kick this year for Halloween though, so I'm loving these spider ones!
Do you throw a Halloween party? What would you use these for?
Halloween Treat Box Filler Ideas
Halloween treat boxes can be filled with pretty much whatever you want. It doesn't always have to be a snack or candy.
Candy Corn
Wrapped Bite Size Candy Bars
Red Hots
Jelly Beans
Can you Make This Without a Cricut?
If you don't have a Cricut cutting machine, you could still make this fun Halloween craft by using stickers or hand-cutting larger spiders.
Halloween DIY Ideas
Create the Halloween of your dreams with Easy Halloween Ideas. Find Halloween decor for cheap for a budget-friendly holiday. Recipes for Halloween too!
Printable Wall Art for Halloween - DIY Halloween decor in a flash!
Easy Halloween Craft for transferring images onto wax candles.
Make this cute beetle pillow design with iron-on vinyl.
Halloween party bottle wrappers printable.
Simple to make Halloween party food ideas.
Get creative with a fun Halloween centerpiece.
This Halloween-decorated take-out box is great for treats or even Halloween party leftovers. Cricut Halloween Ideas.
Free Halloween printables.
Halloween decor for cheap! Dollar store items made into a creepy crawly centerpiece.
Iron-on crafts are my favorites!
Another great Cricut craft for Halloween.
Halloween treat boxes with vintage beetles. Print and decoupage. Free printables.
Who would know you could find the best craft supplies in a hardware store? A little spray paint, a free printable, cobwebs and you've got yourself a simple Halloween craft.
Fun for any spooky party!