I easily made these DIY Image Transfer Candles for Halloween using tissue paper, wax paper and a blow dryer! This easy transfer technique allows you to transfer any custom printed image onto a wax candle, making it an inexpensive and fun way to decorate any time of year. You can also see how to transfer images onto a candle when I created fern candles for my fall table.
This simple image transfer onto candles method makes it easy to create a fun Halloween centerpiece for your Halloween party using any image.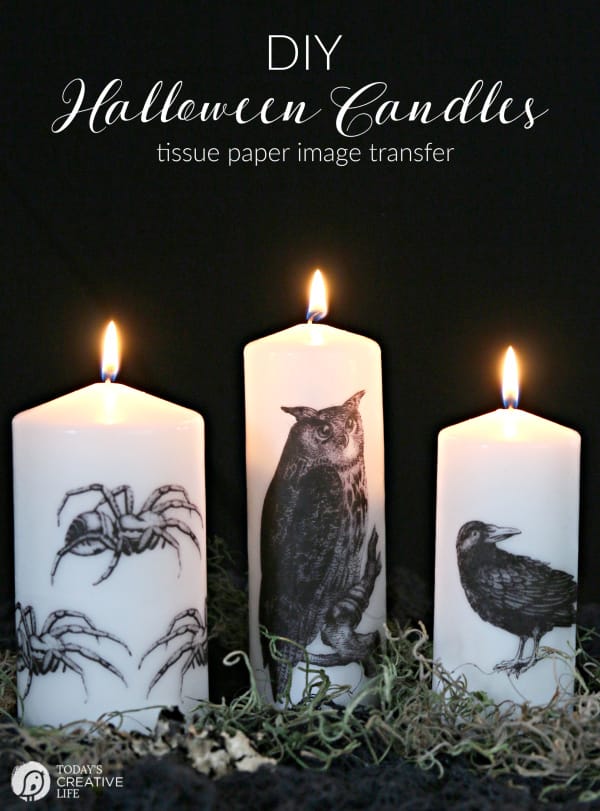 I originally shared this easy Halloween craft on the Eighteen25 Blog for their annual Spooktacular event.
DIY Image Transfer Candles for Halloween

This DIY craft doesn't have to be used only for Halloween. You can print anything on any pillar candle. Create seasonal home decor for your mantle, a table centerpiece or an easy DIY gift idea with a nice message or photo. Once you see how easy this is, you'll be making image transfer candles year-round.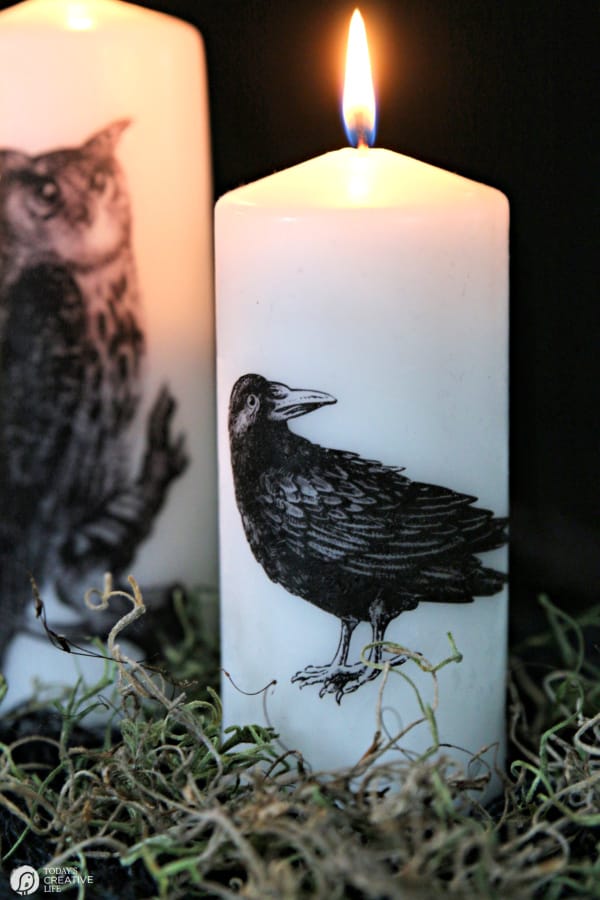 I've created my own DIY Halloween decor for years!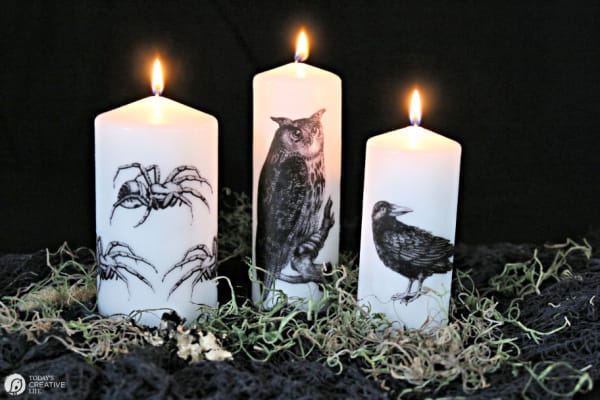 How to Make Image Transfer Candles
Supplies for Transferring Images onto Candles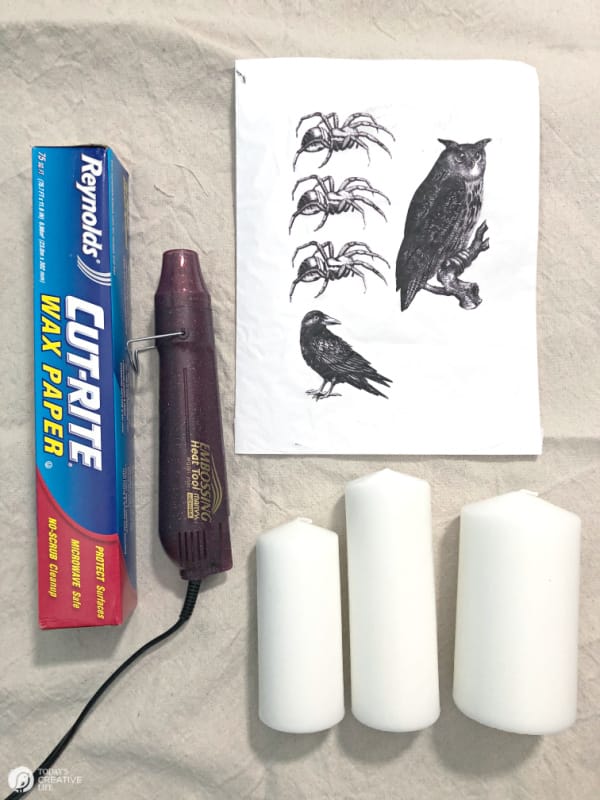 White Tissue Paper
Tape – I found that washi tape worked better than scotch tape.
Printer Paper or Cardstock
Graphic Images – I found mine free on PicMonkey You can download these for free from my Printable Vault. Subscribers have free access. If you need to subscribe, click here. Your password will be sent to you.
Blow Dryer or Heat Gun
Waxed Paper
Candles – I found the best prices at IKEA
Inkjet Printer
Oven Mitt – optional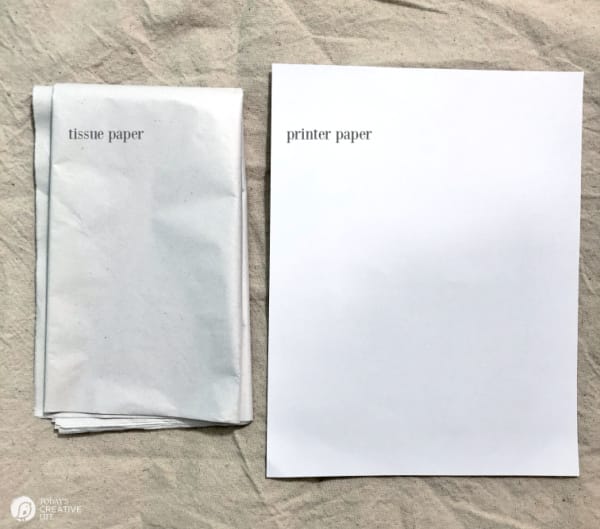 Find Halloween images you want to use. You can print photos, graphics or text onto tissue paper.
Using your printer paper as a guide, cut one piece of tissue paper a little larger than the piece of paper.
With the paper face down on your cut tissue, fold and wrap the tissue around the paper, taping it all the way around. I found using scotch tape harder than washi-tape.
Place tissue wrapped paper into the printer so it will print onto the tissue side. Each printer may be different. If you're not sure which side of the paper is printed, simply mark a regular piece of paper with a pencil and do a test print before loading your tissue-wrapped printer paper.
Cut the printed design out as close to the image as possible, trimming all excess tissue paper away. Place the tissue onto your candle.
Wrap a piece of wax paper tightly over the tissue with the image.
Use a blow dryer or heat gun about 2 inches away and with continuous movement to blow hot air over the image for about 20-30 seconds. You'll notice the image gets darker as it melts into the candle. Be careful not to burn yourself. Use a towel, glove or oven mitt to protect your hand.
I will usually rub the paper a bit before peeling it away from the candle.
As you pull the paper away, you'll see your image on the candle.
If you're wanting to use text, you'll want to make sure to reverse your image before printing. Some printers have this setting. I had to google to find out how on my printer.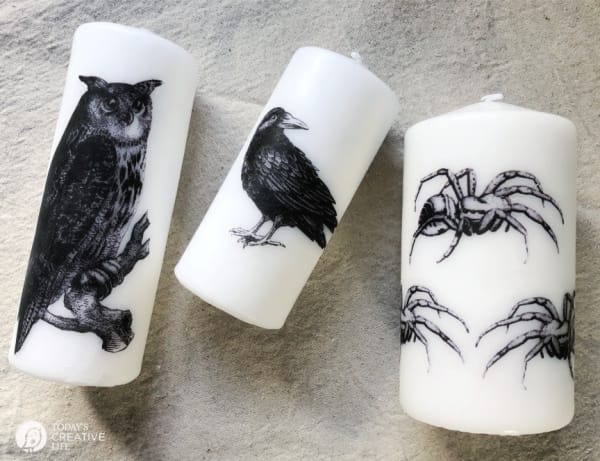 How to Find Halloween Images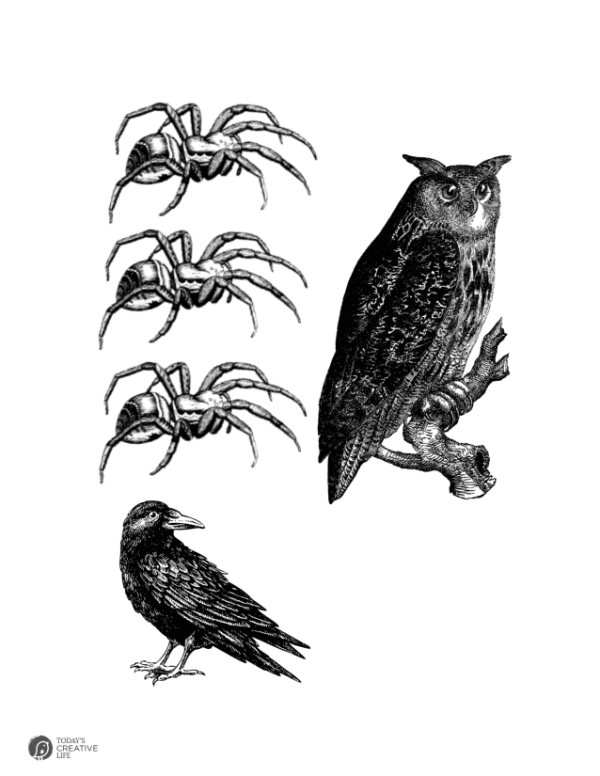 I usually just use the ones available free on PicMonkey under the graphics section. I created one page with all my Halloween designs on it so I could just print out one page.
You can also just print black and white or colored photos you have and then print onto tissue paper. Or just print any message with a fancy font. Remember to reverse the image before printing.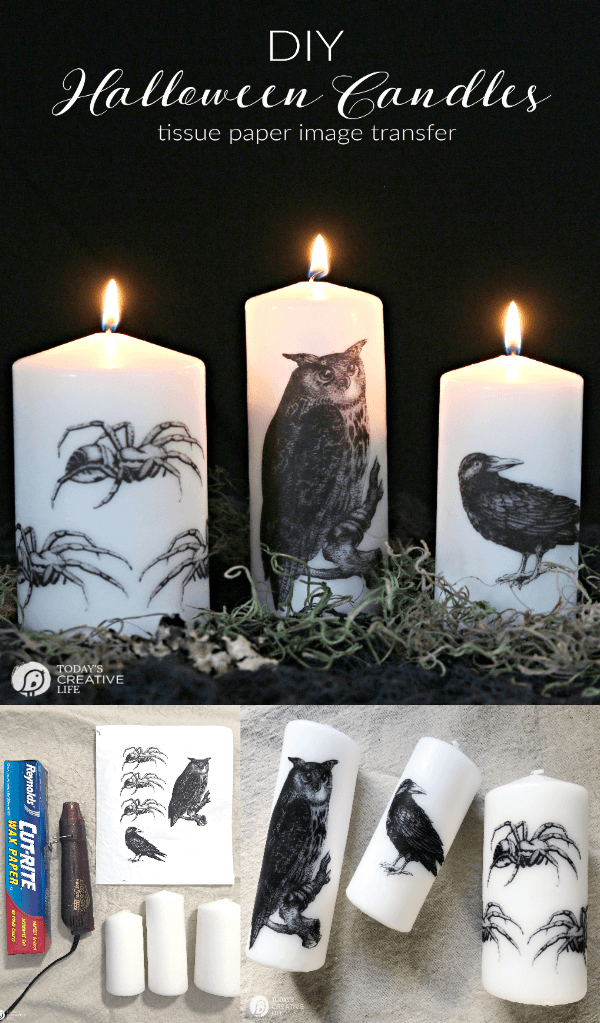 Let the Halloween season of decorating begin with your new DIY Image Transfer Candles for Halloween or any holiday!
This is honestly one of the most impressive and easy DIY crafts I've ever done! Create DIY gifts, custom seasonal decor and have fun doing it!
Halloween DIY Ideas
Create the Halloween of your dreams with Easy Halloween Ideas. Find Halloween decor for cheap for a budget-friendly holiday. Recipes for Halloween too!
Printable Wall Art for Halloween - DIY Halloween decor in a flash!
Make this cute beetle pillow design with iron-on vinyl.
Halloween party bottle wrappers printable.
Simple to make Halloween party food ideas.
Get creative with a fun Halloween centerpiece.
This Halloween-decorated take-out box is great for treats or even Halloween party leftovers. Cricut Halloween Ideas.
Free Halloween printables.
Halloween decor for cheap! Dollar store items made into a creepy crawly centerpiece.
Iron-on crafts are my favorites!
Another great Cricut craft for Halloween.
Halloween treat boxes with vintage beetles. Print and decoupage. Free printables.
Who would know you could find the best craft supplies in a hardware store? A little spray paint, a free printable, cobwebs and you've got yourself a simple Halloween craft.
Fun for any spooky party!