I have been trying to post my DIY Indian Corn Wreath Fall Porch for about 2 weeks. Making a fall wreath with Indian Corn or corn husks is a great way to create your own DIY fall decor. All you need are dried mini corn cobbs, a wreath frame, and a sturdy glue. Decorating for Fall is more fun when you make your own seasonal home decor.
But as luck would have it, we have been hit by rainstorm after rainstorm, not to mention the wind. My poor little DIY Indian Corn Wreath Fall Porch has taken a beating but I still love it and thought it was still worth sharing.
DIY Indian Corn Wreath Fall Porch
I have been wanting to make one of these Indian Corn wreaths for a long time! Making your own DIY Fall Wreath is always more rewarding than buying one.
Like any craft I create, I always think it's going to be so much easier than it ends up being. Not that it was hard, I just didn't realize some of the problems I would have ran into.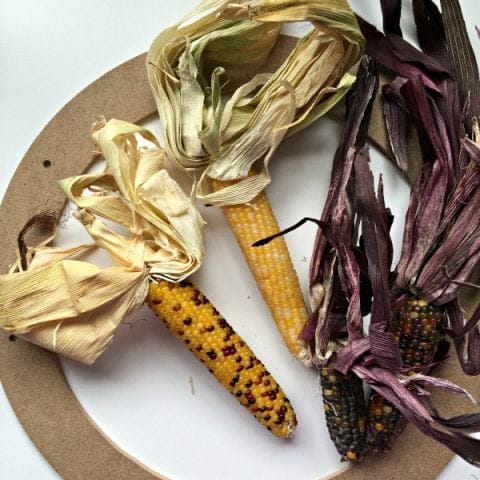 How to Make an Indian Corn Wreath
Yield: 1
Active Time: 30 minutes
Total Time: 30 minutes
Difficulty: Easy
Easy to make rustic fall wreath.
Materials
Wreath Form - I used a Floral Biodegradable ring. You could even cute one out of thick cardboard.
Mini Indian Corn (about 35-40)
Instructions
Apply a large dollop of hot glue on your wreath form and press the middle of the corn piece onto it.
Continue and repeat all the way around.
Straighten the corn husks out as you go.
Notes
Because there will be gaps, you can wrap your wreath form with burlap before, or stuff Spanish moss into gaps after.
Recommended Products
Affiliate links for products listed are for your convenience only. This costs you nothing extra. If you happen to purchase anything as a result of clicking, TCL will receive a small percentage. Thank you for your support. This allows me to continue to offer you free content.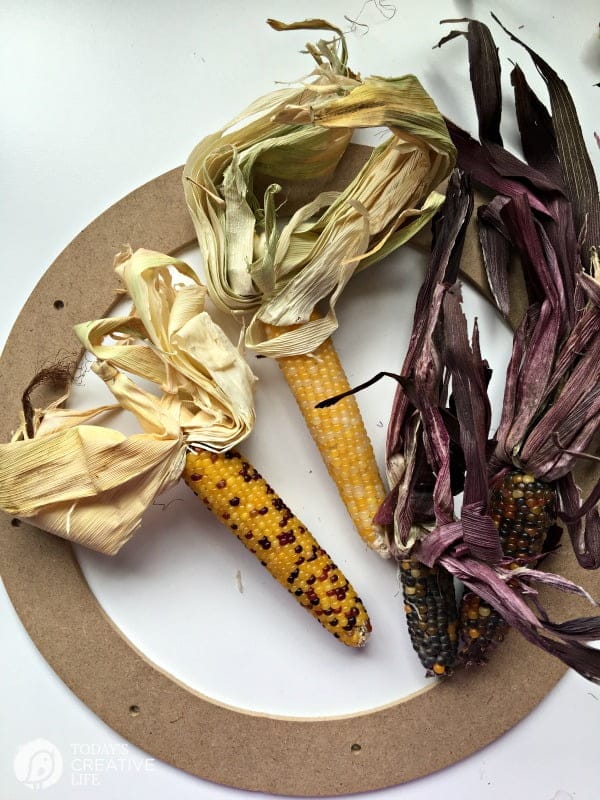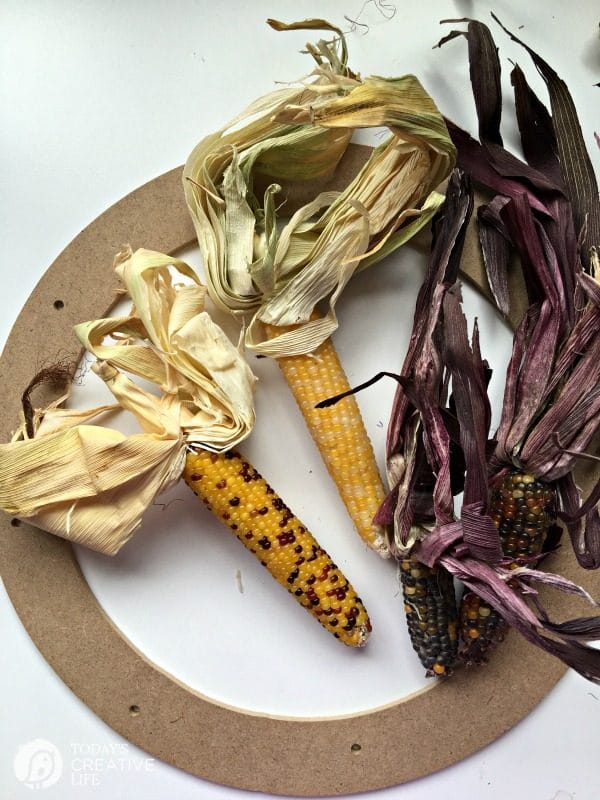 I forgot that when working on anything in a circle, you'll have gaps between the items. So in hindsight, I should have wrapped the wreath form with burlap ribbon or something. I still think it turned out fine, but if you're a perfectionist, you may be bugged.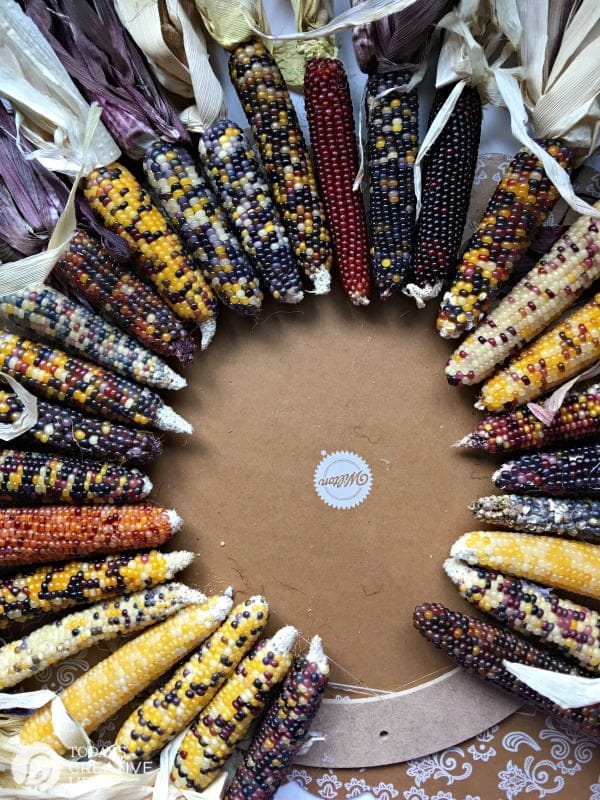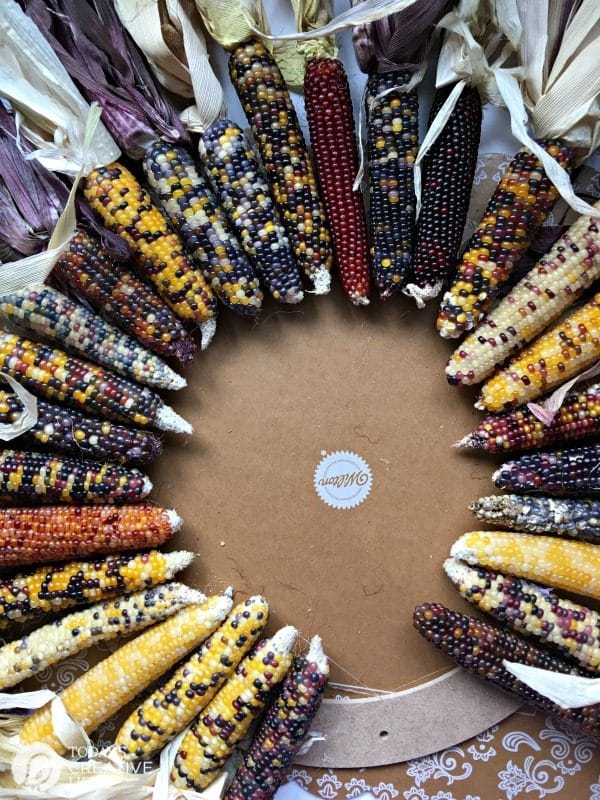 This will take more hot glue than you anticipate. Apply a generous amount (be careful…. it's called a hot glue gun for a reason), then press a piece of corn into the glue and hold for a second. Repeat, working your way around.
FYI – The Wilton cake boards make excellent craft mats.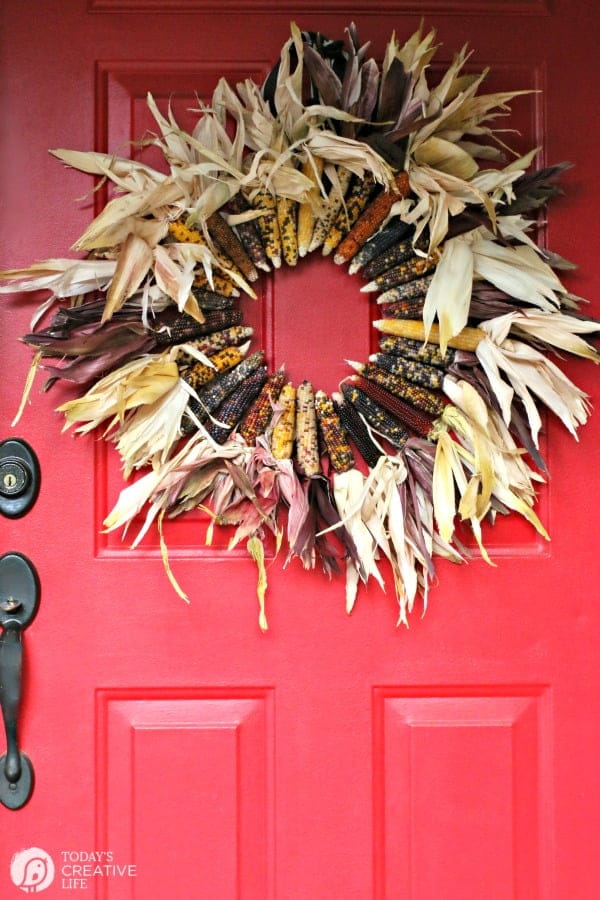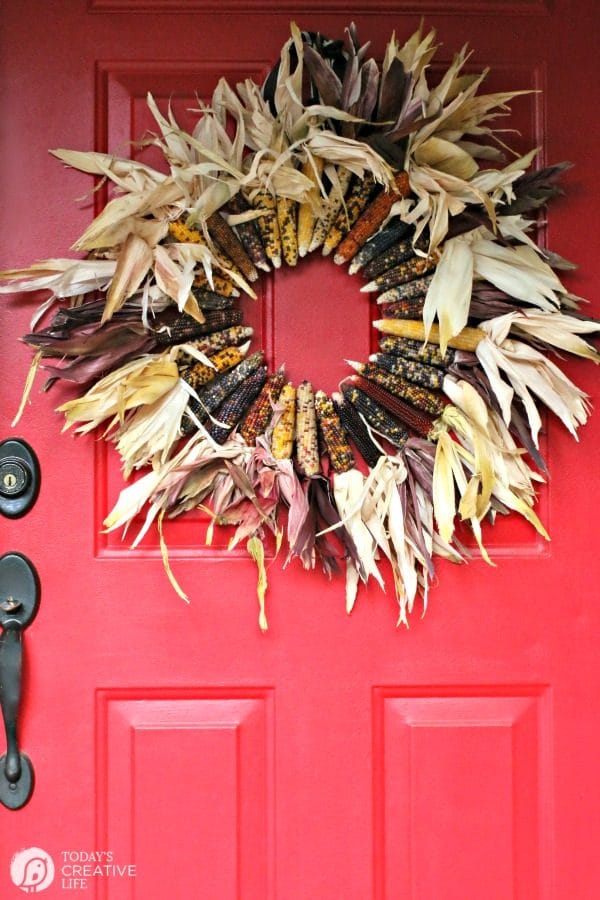 How to Re-shape Corn Husks
Another issue I had, was the corn husks were really wonky. I should have sprayed them with water and reshaped them. But…. then I doubt it would have make much of a difference because the wind and rain kinda did a number on them anyway.
I used a 9-inch form and it was plenty large enough when finished.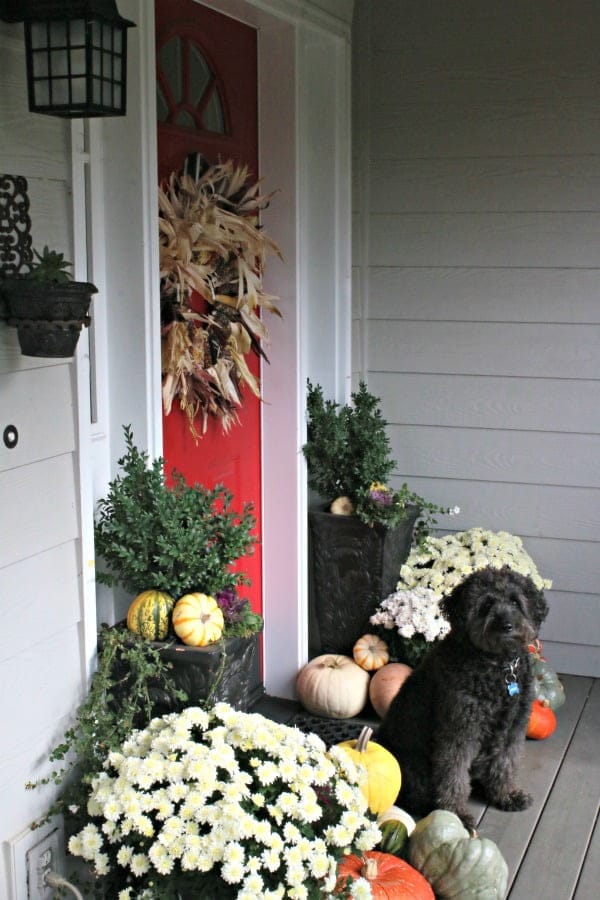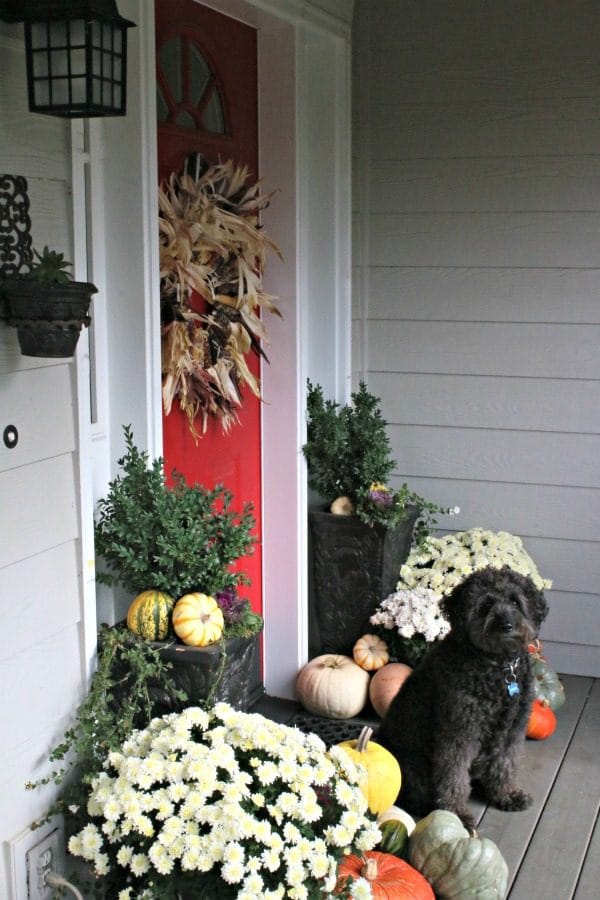 How to Decorate Your Porch for Fall
I filled in the fall porch with mums, pumpkins, and gourds. Lots and lots of pumpkins and gourds. I kind of have a pumpkin obsession this year….. have you seen my Fall Table and how I filled my hutch full of them? Sometimes, you just gotta go with a crazy idea!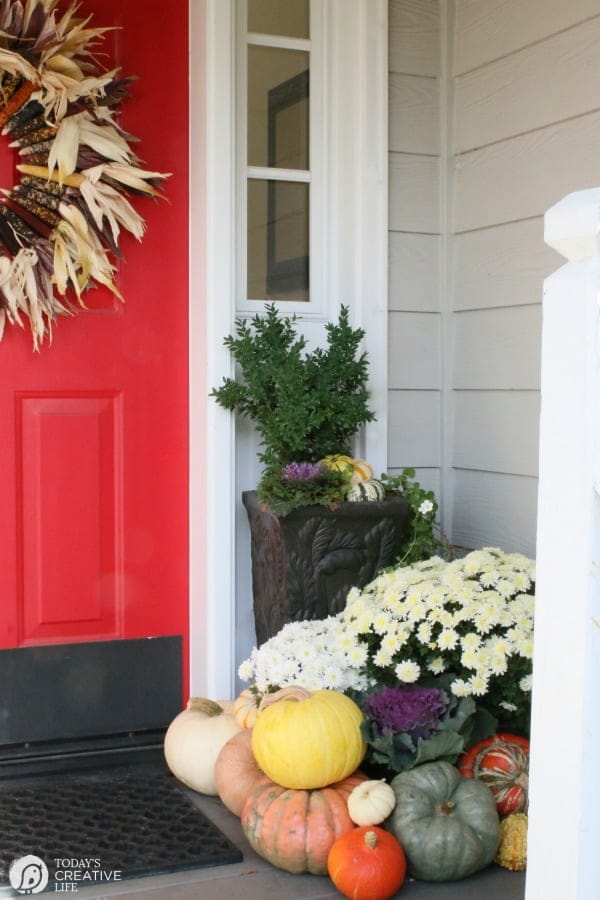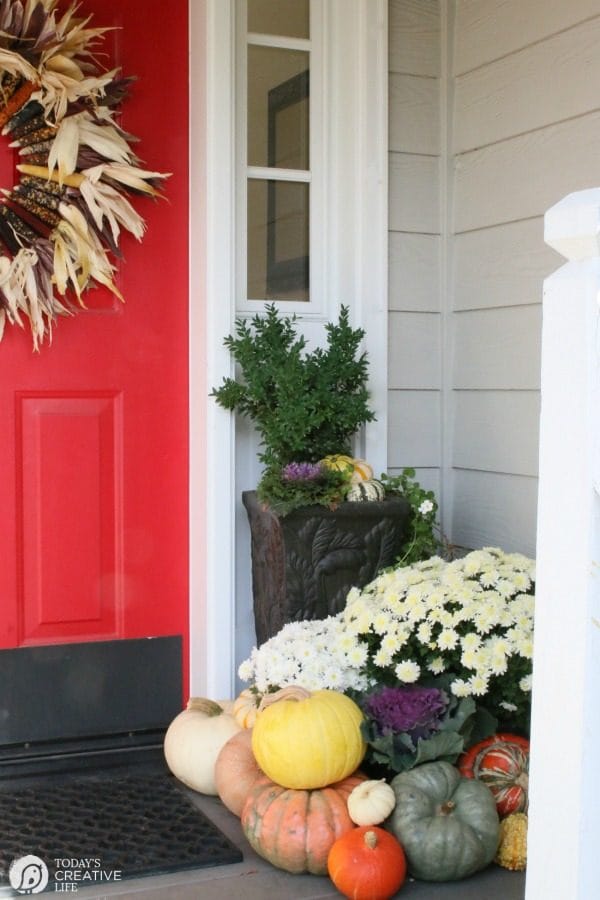 To make things simple, I decided a long time ago to plant boxwoods in our front porch planters and just supplement with seasonal flowers. In the fall, I supplement with the cabbage plants and more mini gourds. I may set a few Halloween mice or crows in the mix for Halloween. You can see where I did that on a past Fall Front Porch here.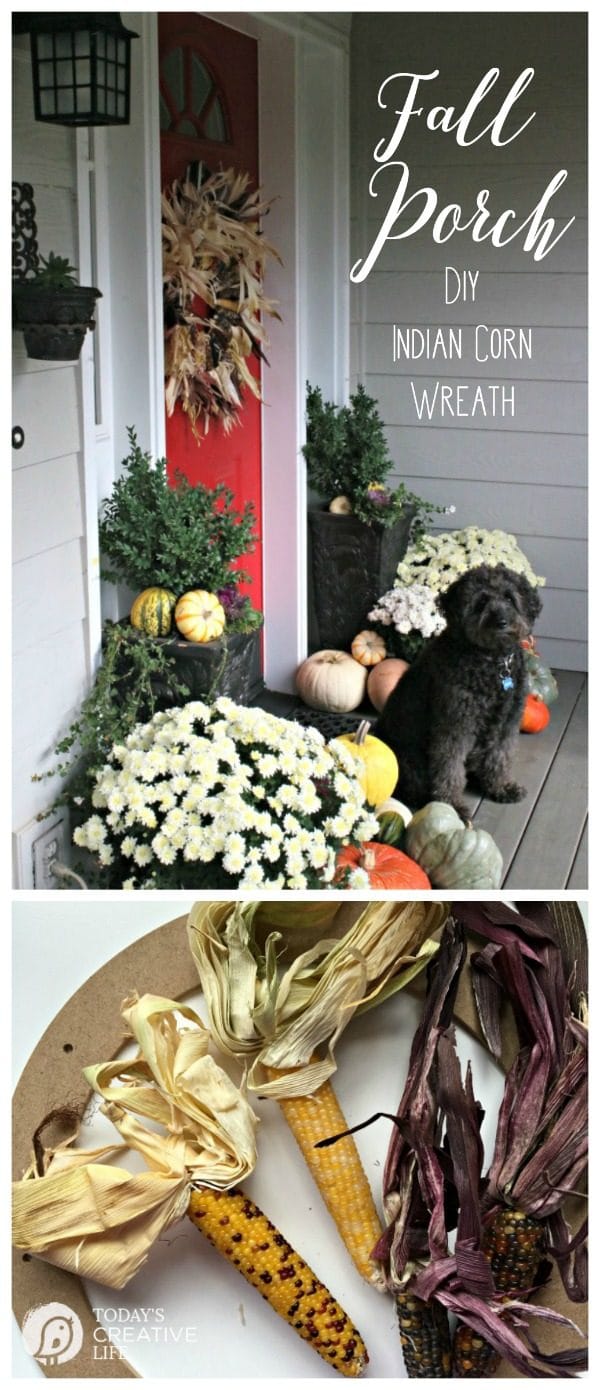 I always think it's easier when you look to nature for your decorating inspiration!
Can you use a DIY Indian Corn Wreath Outside?
I use mine on my front door, but we do have an overhang, so it's not in direct rain. Because it is an unsealed natural product, you wouldn't want to use it where it came in contact with regular wet weather. I'll use my wreath starting in September thru Thanksgiving.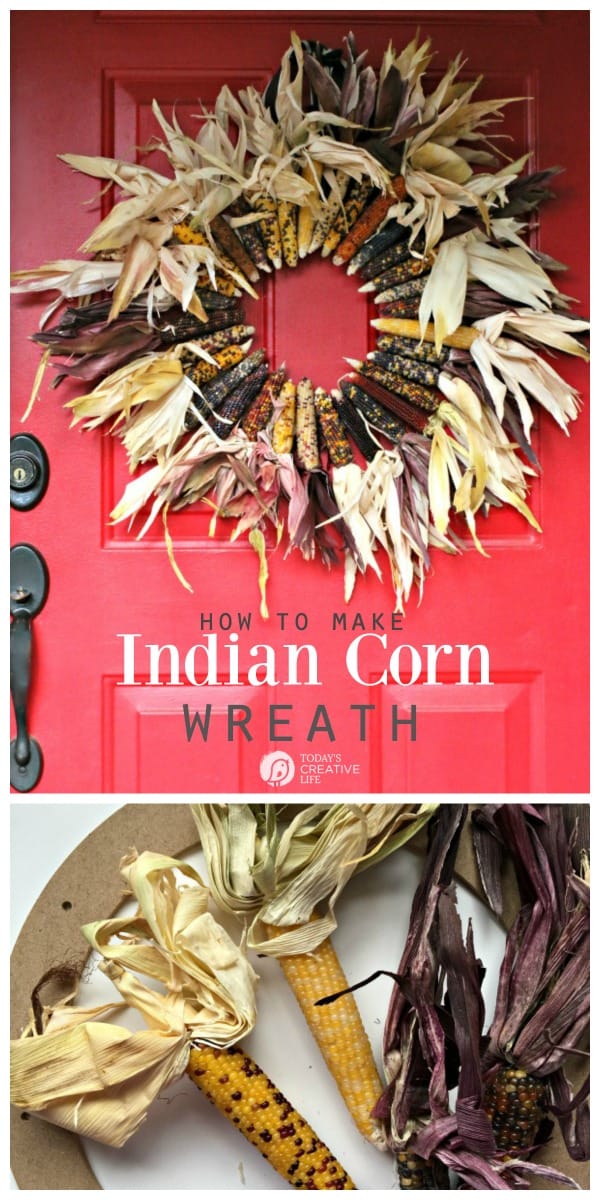 How to Store an Indian Corn Wreath
Store your wreath in a large flat box, or large plastic bag to protect from moisture and lay flat. Another option is to to do what I do. I store all my wreaths in my garage, where I hang them on the walls for easy storage. I also never forget what I have this way.
EASY DIY HOME DECOR IDEAS FOR FALL
Simple, stylish and budget-friendly ideas for decorating for Fall and Autumn.
Easy to make wreath for Autumn
Make this simple fall decoration for your door.
Frame it or clip it to a clipboard for quick DIY decor.
Make your own Cloche to use with fall pumpkins and gourds.
This show stopper is gorgeous on your fall door.
Use natural elements from your yard to create this beautiful Autumn porch.
Grab all the pumpkins, moss, and picks from the yard to create this easy centerpiece.
Shop your yard for all the things you need to decor your home for fall.
Herbs, pumpkins and flowers. Another easy way to decorate.
Create your own DIY Home decor with iron-on transfer sheets.