This Apple Pie Moonshine Spiced Cider is your perfect fall and holiday cocktail! Make up a couple of these quick cocktails for holidays or sitting around the bonfire.
It's not only delicious, but it's also beautiful!
Apple Pie Moonshine Spiced Cider

I've mentioned a few times that I'm always looking for apple recipes. I just shared my apple cinnamon spice muffins the other day and today, and now after seeing this Apple Cider Cocktail, and this apple pie cocktail, I had to try making my own.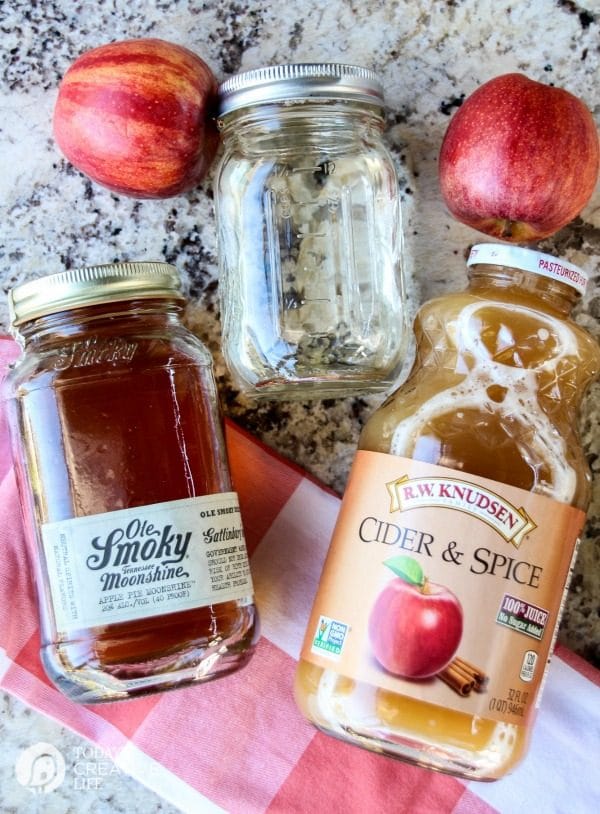 Who knew they had moonshine at the liquor store? And not just any ole moonshine……but Ole Smoky Apple Pie Moonshine! I love the label. It's the real star for this Apple Pie Moonshine Spiced Cider cocktail.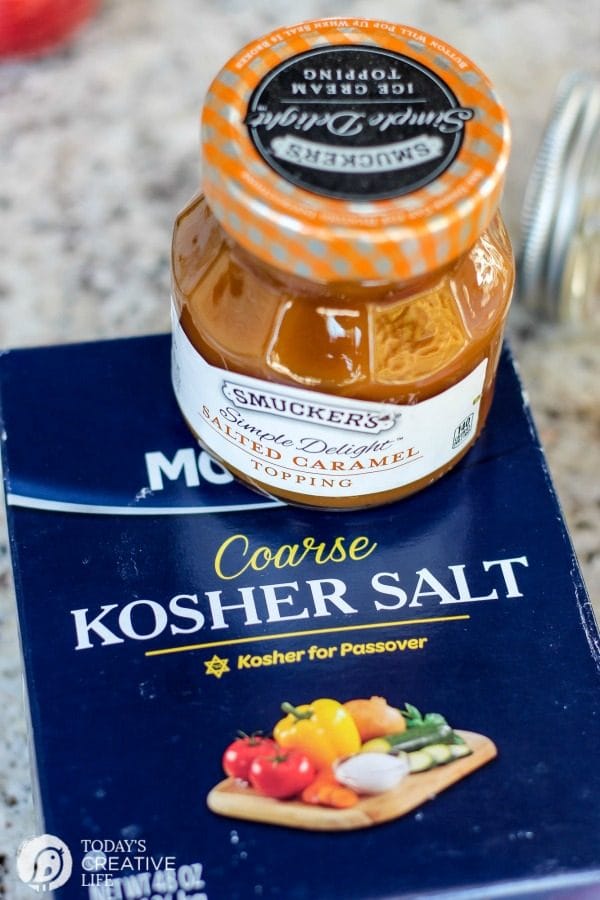 Then comes the good stuff. Salted Caramel! If you're feeling extra creative, you could also make your own salted caramel with one ingredient. Just follow my Slow Cooker Caramel Sauce Recipe and add a bit of salt. If you're looking for a non-alcoholic drink, try this butterbeer recipe.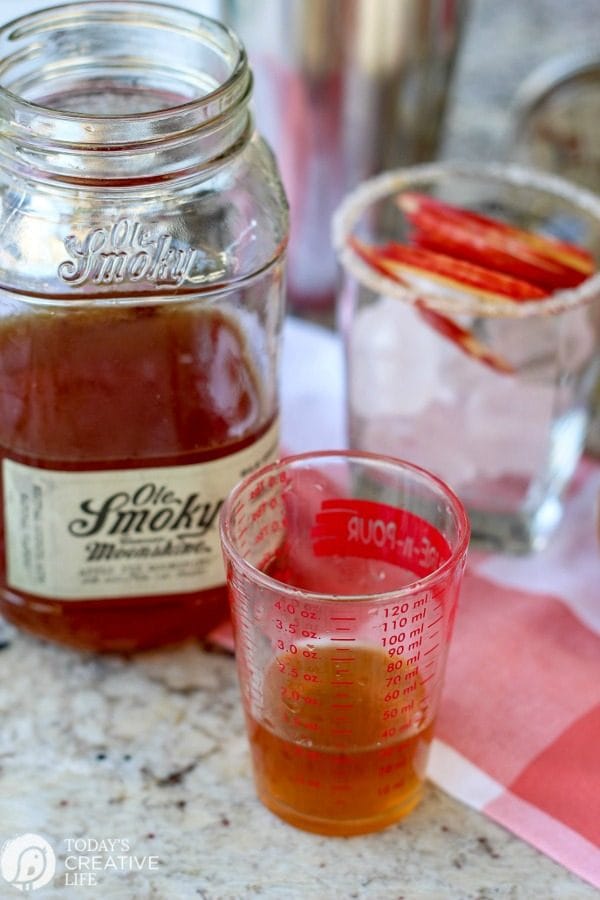 Get your cocktail shaker ready and measure out your goods.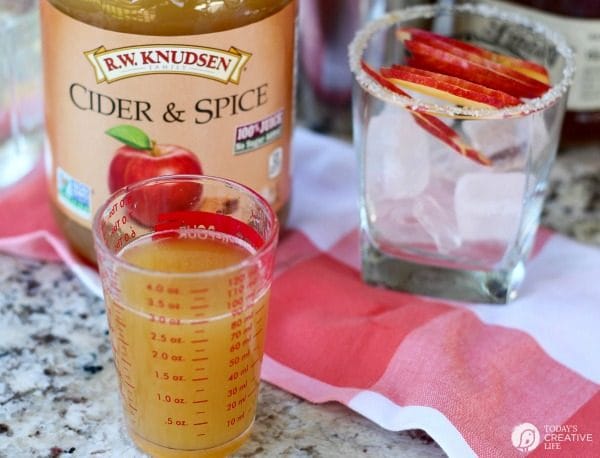 Once you've added everything, shake it til the cows come home…. or at least 30 seconds, then strain and pour over your ice filled glass. Don't forget the apple garnishes!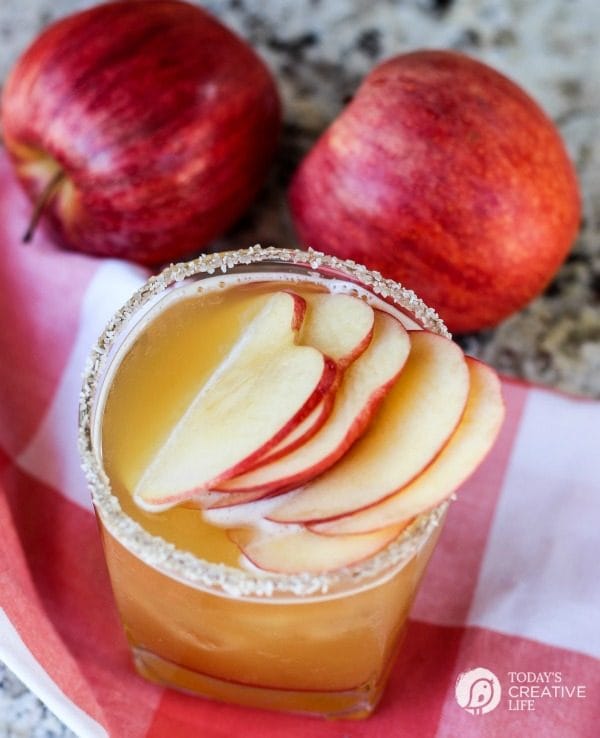 How to Make Apple Pie Moonshine Spiced Cider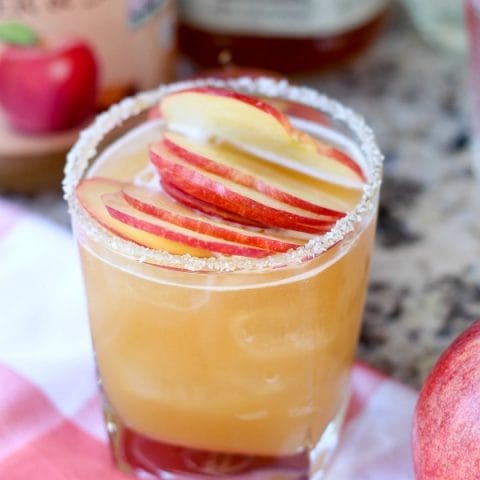 Apple Pie Moonshine Spiced Cider
Yield: 1
Prep Time: 5 minutes
Total Time: 5 minutes
The perfect cocktail for sitting around the bonfire!
Ingredients
1 oz. Ole' Smoky Apple Pie Moonshine
1 oz. Simple Syrup
3 oz. R.W. Knudsen Cider & Spice
Salted Caramel
Coarse Sea Salt
Ice Cubes
Instructions
Prep, Coat the rim of the glass with salted caramel sauce.
Dip the salted caramel sauce rim into coarse sea salt.
In a cocktail shaker add apple pie moonshine, simple syrup, spiced cider, and ice cubes.
Secure the lid on the cocktail shaker and shake 'till the cows come home or 30 seconds.
Strain into a serving glass filled with fresh ice.
Serve.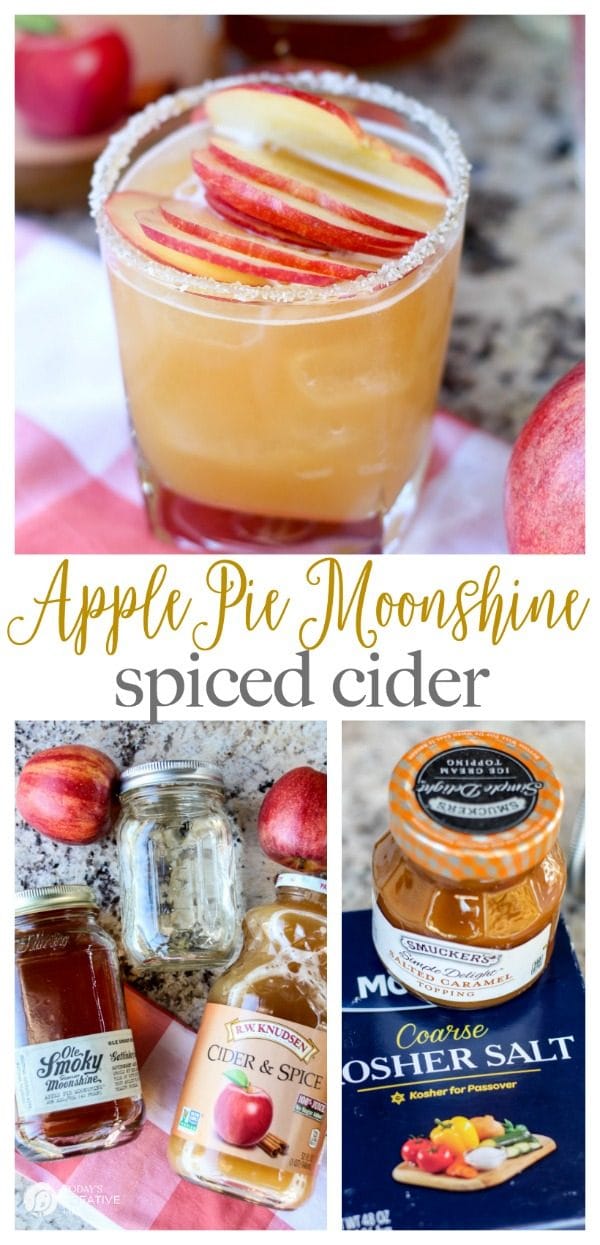 This is a quick cocktail recipe you can whip up during any potluck or holiday party. If you want, just print the recipe out, laminate it, and set up a "Make it Yourself Cocktail Bar". People love the shaking part!
Cocktail Recipes
Refreshing home-crafted cocktails.
Fresh herbs make this drink special.
Grapefruit drinks with fresh herbs are delicious.
This cocktail is like a dessert!
The perfect cocktail for sitting around the bonfire!
This 4th of July cocktail has a bang!
Find a variety of simple recipes for the summer season.
This cocktail screams summer!