I'm always on the lookout for the perfect homemade pancake and I think I've found it! This Buttermilk Pancakes Recipe from scratch starts with mixing the buttermilk and flour together and then letting it sit overnight, creating fluffy and flavorful pancakes every time. Reminds me a bit of my Fluffy Cake Flour Pancakes. I believe learning how to make buttermilk pancakes or Belgian waffles is a valuable life skill!
Buttermilk Pancakes Recipe from Scratch
I recently came across a couple of older community cookbooks when moving my mother-in-law to a retirement community. These always have the best recipes, like my 7Up biscuits, pancakes, bread and more. This one was from 1965 and was full of homemade and classic recipes all listed with the author's name. I bet many of their families still live in the neighborhood.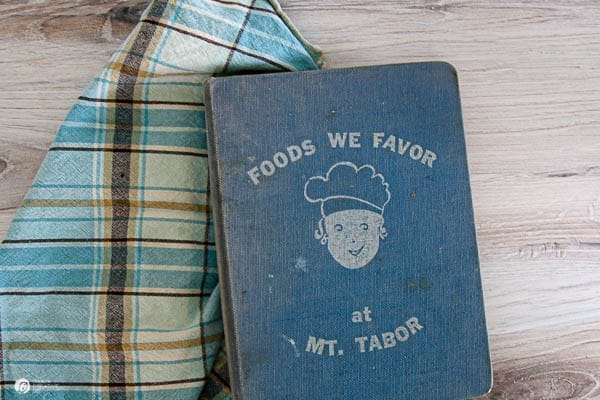 I love how this pancake recipe is called Sour Milk Pancakes instead of buttermilk. Many older recipes will call for ingredients by another name, or ones we no longer use or have.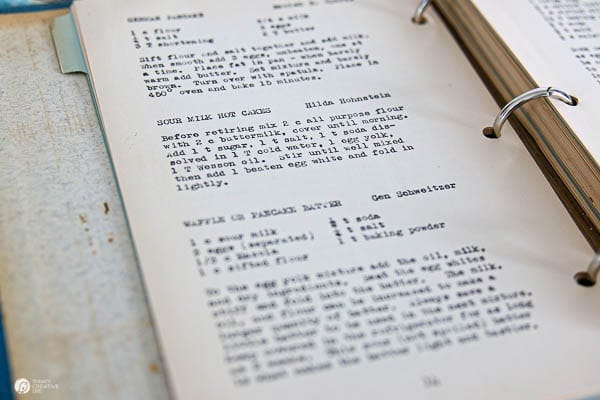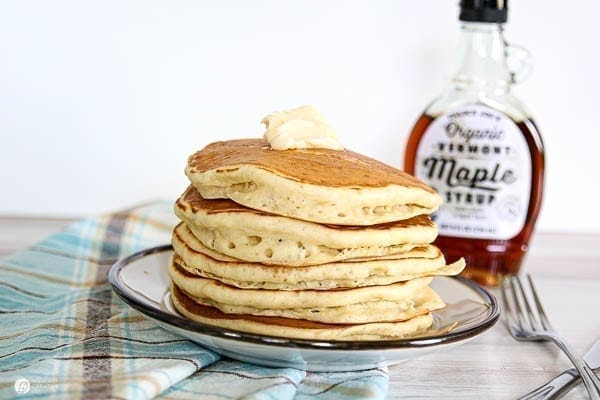 Homemade Buttermilk Pancakes Recipe
Prep Time: 10 minutes
Cook Time: 15 minutes
Additional Time: 8 hours
Total Time: 8 hours 25 minutes
Fluffy pancakes made from scratch!
Ingredients
2 Cups All-Purpose Flour
2 Cups Buttermilk
1 teaspoon Sugar
1 teaspoon Salt
1 teaspoon Baking Soda dissolved in 1 tablespoon cold water
1 egg - separated 
1 tablespoon vegetable oil
1/2 teaspoon vanilla extract
Instructions
Mix flour and buttermilk together. Cover and refrigerate overnight.
Add sugar, salt, baking soda with water and egg yolk, oil, vanilla and stir until well mixed but still lumpy. Do not over stir, you want to see lumps.
Beat egg white in a separate bowl and fold lightly into batter.
Let pancake batter rest for 10-15 minutes.
Prepare and heat your skillet on medium. If it's a non-stick pan, no additional oil is needed to coat the pan.
Pour a scoop of batter into pan. When the top is covered with bubbles, flip and cook the opposite side.
Notes
If you didn't prepare your batter to sit overnight, this recipe will still work. Just give it a little more rest time before cooking.
Nutrition Information
Yield 8
Serving Size 1
Amount Per Serving
Calories 165
Total Fat 3g
Saturated Fat 1g
Trans Fat 0g
Unsaturated Fat 2g
Cholesterol 26mg
Sodium 548mg
Carbohydrates 27g
Fiber 1g
Sugar 4g
Protein 6g
How to Make Fluffy Pancakes
Creating fluffier and bouncy pancakes is easier than you think. Here are a few tips on how to make pancakes fluffy.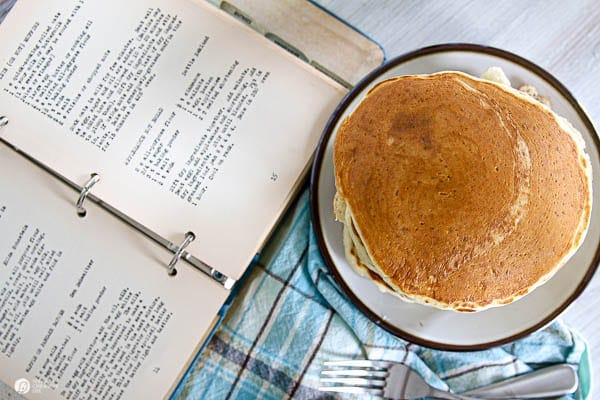 Separate the eggs – Separate the egg whites from the yolk. Add the yolk with the buttermilk mixture and then whip the egg white separately and fold in last. This creates an airy and less dense hot cake.
Don't over-mix – when you over mix the batter, you overdevelop the gluten, which creates a more dense and chewy pancake. You want your batter to be slightly lumpy.
Rest the Batter – Let the batter rest after mixing for 5-10 minutes. This is especially recommended if you over-mixed and will allow the gluten to relax.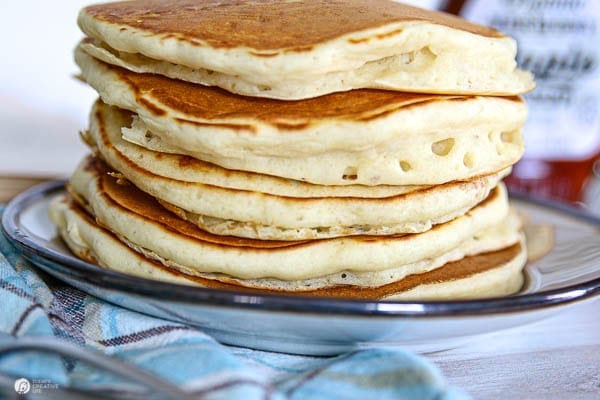 Can You make Pancakes with Whole Wheat Flour?
Yes, of course! I've never tried this buttermilk pancake recipe using whole wheat flour, so I can't personally tell you how it would turn out. Making pancakes with whole wheat flour will increase vitamins B-1, B-3, and B-5, along with riboflavin and folate. It also has more iron, calcium, protein, and other nutrients than white flour. Here is a great WW Pancake recipe you can try.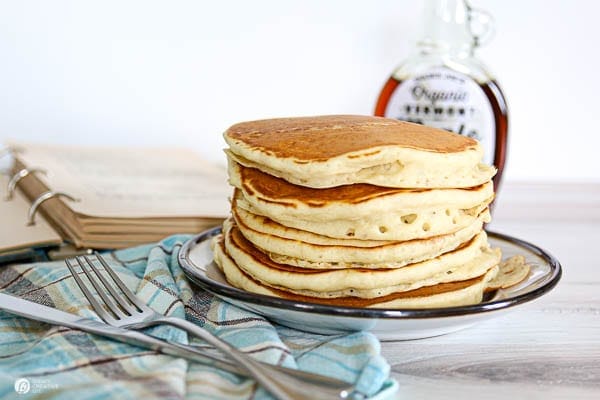 Light and Fluffy Pancakes
When you follow this recipe and basic mixing instructions, it's easy to make fluffy homemade buttermilk pancakes from scratch every time! Serve with your favorite syrup, fruit, peanut butter or just butter. Breakfast just got delicious!
If you try this buttermilk pancakes recipe, please tag me on Instagram @TodaysCreativeLife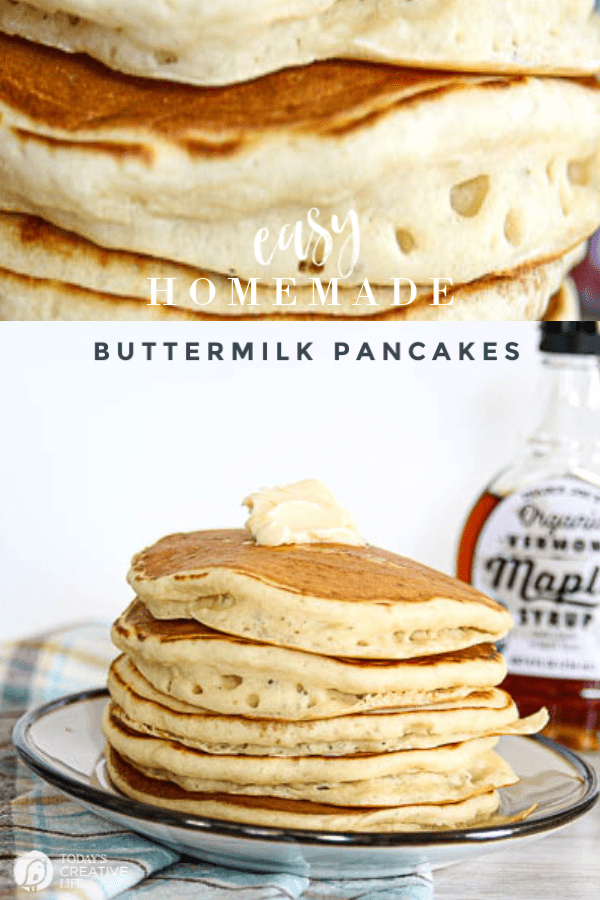 Breakfast Recipe Ideas
Simple and easy breakfast favorites.
Breakfast casserole recipes like this one are a great way to use up leftover holiday ham.
This breakfast casserole is a brunch favorite.
Photo Credit: www.theidearoom.net
Crockpot egg, sausage and hashbrown breakfast casseroles are easy and always delicious.
Photo Credit: kidsactivitiesblog.com
Make up a batch for the whole week.
Grab & Go High Protein Breakfast ideas with Egg, cheese, ham, and potato muffin cups.
Sausage Gravy and Biscuits is a southern specialty! This easy gravy recipe is made with pork sausage and drippings along with milk and flour, making up a thick creamy gravy to serve over fresh biscuits.