Everyone's heard of 7up Biscuits, right? But what about 7up Biscuits Skillet Style? Biscuits turn out fluffy inside with a crispy coating. Great with butter and jam, or slathered in sausage gravy.
When my mother passed away last year, I brought all her cast iron pans home. She loved cooking in a cast-iron skillet and had collected a few over the years. But I don't remember her ever baking in them, so I thought I'd try dropping 7up biscuits in one, rather than rolling and cutting out the biscuit dough, I took the easy way and made a drop biscuit recipe instead.
Any bread or biscuit recipe is a friend of mine, especially if it doesn't take too long and doesn't involve yeast. Have you tried my Garlic Cheddar Beer Bread or my Bacon Cheddar French Bread? I think you'll enjoy them too! Looking for something REALLY quick? These Biscuit Savory Rounds are great in a pinch.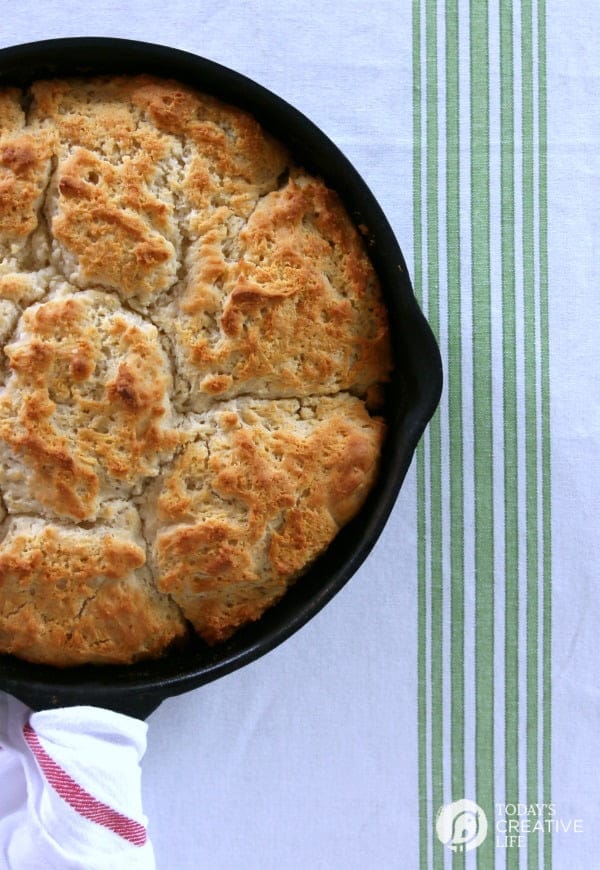 7up Biscuits Skillet Style
This biscuit recipe uses a biscuit mix like Bisquick to speed up the process. It also uses lemon-lime soda, like 7up or sprite. Not diet, you'll need the hard stuff for this recipe.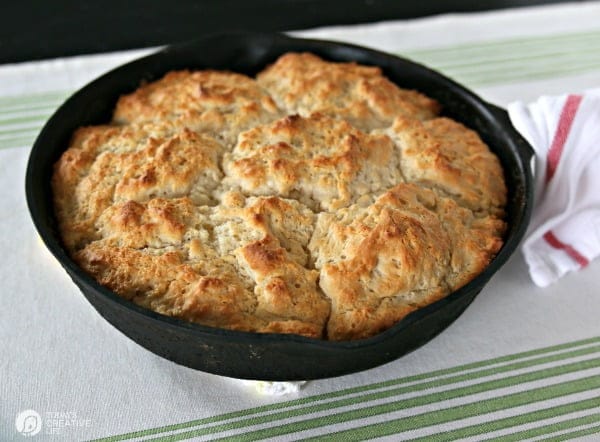 7up Biscuit Recipe Supplies
Bisquick
7up or Sprite
Sour Cream
Butter
Cast Iron Skillet – I used a 12.5 inch.
Wooden Spoon
That's it! Only 4 ingredients are needed for the best 7up biscuits skillet style.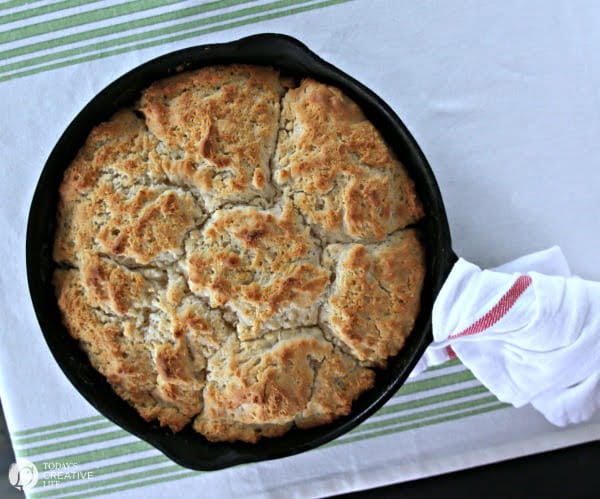 This recipe is SO simple in fact, it would be a great recipe for young children to start off with. They'd get a kick out of using soda pop.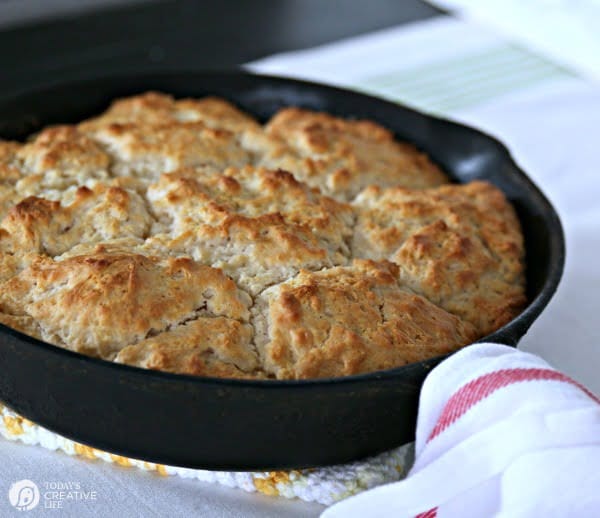 You'll want to serve this straight out of the oven with more butter and a dollop of jam, but they are also fantastic to use for a bacon egg sandwich or biscuits and gravy.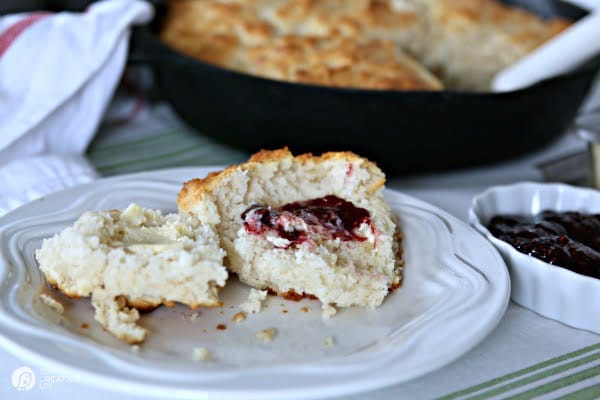 These biscuits melt in your mouth with a bottom crust that's light, with a slightly crisp texture. They don't make for a tidy biscuit, but they make up for it with flavor!
Can You Make 7up Biscuits Ahead of Time?
If you had to, I suppose you could, but they are best fresh out of the oven. Anytime, I've had leftover biscuits and stored in a plastic bag, they would lose their crisp outer coating. Heat all extras in the oven, rather than a microwave.
Can I use Diet Soda?
Nope, it just won't turn out. Just like my easy apple dumplings, the recipe needs the sugar from the soda to work well.
Can I Use Other Flavored Soda for 7up Biscuits?
I suppose you could, as long as it's full sugar. I've never tried it. If you're using a cola or a soda with a darker color, your biscuits will be tan and not white, which isn't a big deal. You could probably also use sparkling cider or even beer like in my Garlic Cheddar Beer Bread.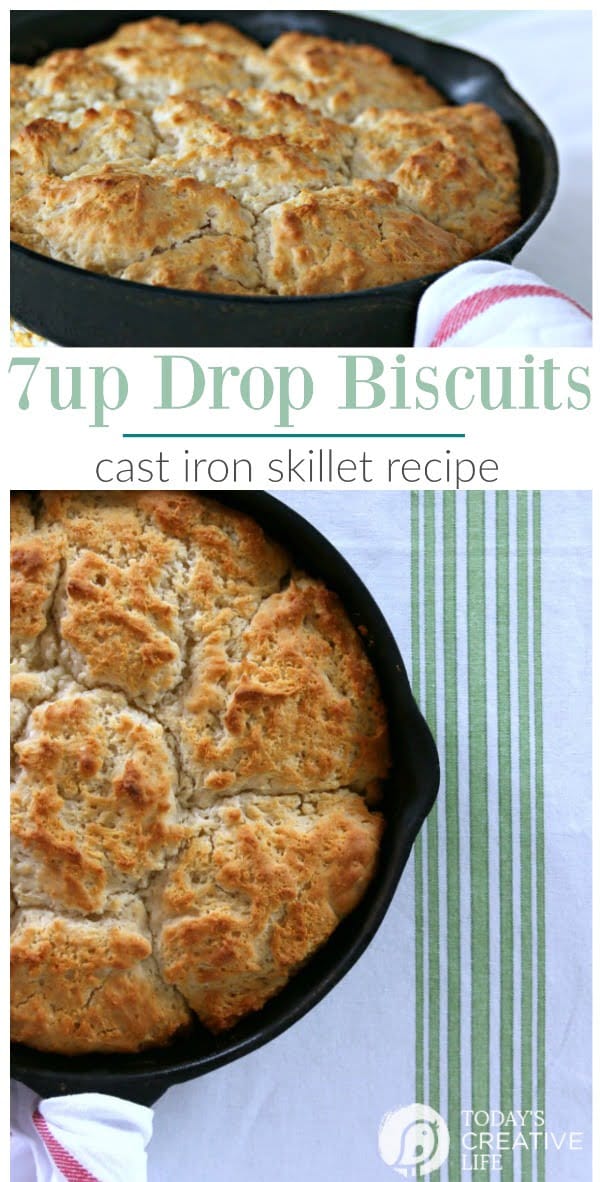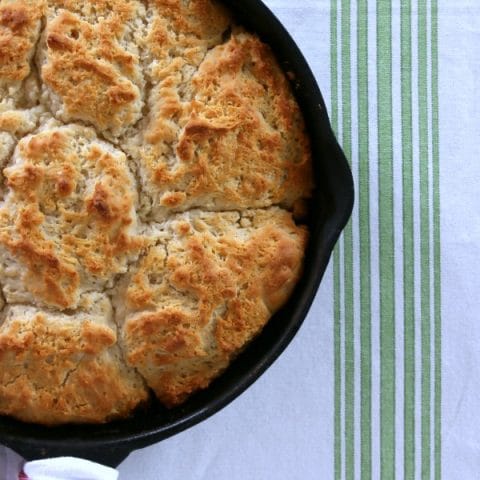 7up Biscuits Skillet Style
Yield: 8
Prep Time: 10 minutes
Cook Time: 15 minutes
Total Time: 25 minutes
I used a cast iron pan, but if you don't have one, a regular baking dish or can pan works too. If you'd like to have cut biscuits, place dough on a floured surface, then roll or pat out and cut into circles.
Ingredients
1 cup 7up or Lemon-Lime soda
1 cup sour cream
1/2 cup melted butter
Instructions
Pre-heat your oven for 400 degrees.
In a medium bowl, mix together the biscuit mix, 7up and sour cream with a wooden spoon.
Using a large spoon, drop large scoops of the mixture into your cast iron skillet until the skillet is full.
Pour melted butter over the dough, making sure it seeps down to the bottom. This is what will give you that light crispy crust.
Bake at 400 degrees for 15-20 min, or until done with a lightly browned upper crust.
Nutrition Information
Yield 8
Serving Size 1
Amount Per Serving
Calories 513
Total Fat 29g
Saturated Fat 13g
Trans Fat 1g
Unsaturated Fat 13g
Cholesterol 49mg
Sodium 1069mg
Carbohydrates 57g
Fiber 2g
Sugar 18g
Protein 7g
We do our best to calculate, however, nutrition information may not be accurate.
Easy Breakfast Breads
Sweetbreads, savory muffins, and breakfast casseroles are all you need for weekend breakfast ideas.
Easy to make breakfast muffins that are great for brunch or breakfast on the go.
These biscuit egg cups are a family favorite.
Eggs, sausage, and rye bread, what's not to love?
This breakfast casserole bakes up quickly and is a weekend favorite.
The fruit and honey jam centers make these breakfast muffins flavorful.
This banana bread recipe is extra moist becuase of the sour cream.
Easy to make buttermilk banana bread that's moist and full of flavor.
Carrots, bananas and walnuts make for a healthy muffin.
Made with refrigerated biscuits for a quick morning sweet bread.
A fall favorite monkey bread made in a cake pan instead.
Classic and delicious! Slather on the honey and butter.
This garden sweet bread recipe was given to me by the Chef at Rancho Lapuerta.