If you've got overly ripe banana's then you're going to need this fail-proof easy Banana Bread Recipe. 3 bananas and buttermilk give this moist homemade banana bread extra flavor, which will make this recipe a keeper.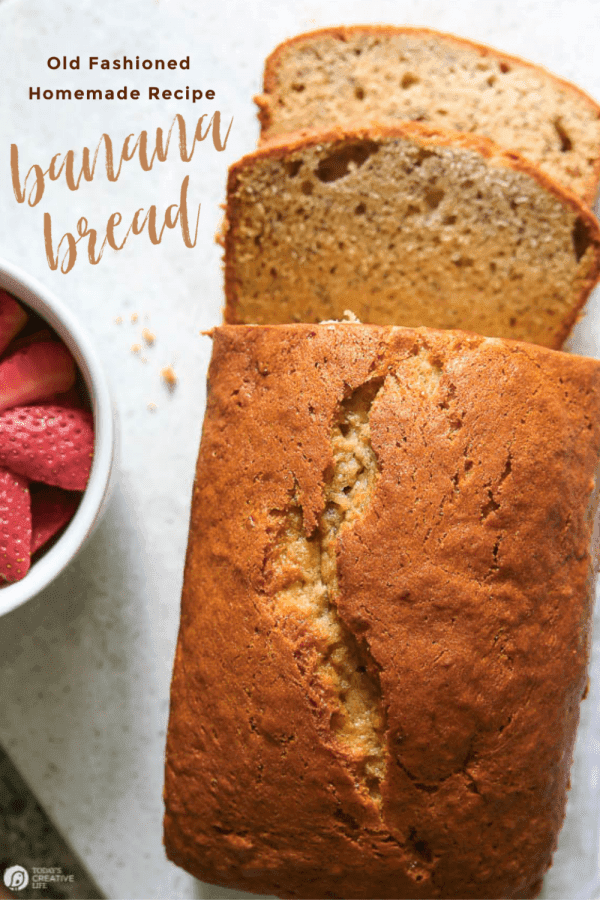 Easy Banana Bread Recipe
Quick bread recipes are my favorites because there's no yeast to deal with. Homemade banana bread recipes can be tweaked by adding cocoa, chocolate chips, another fruit, it all depends on your mood and on what you have on hand. I've got a few of my favorites right here on TCL and the one thing they all have in common is the moist texture and the delicious banana flavor. No one likes dry banana bread or banana muffins.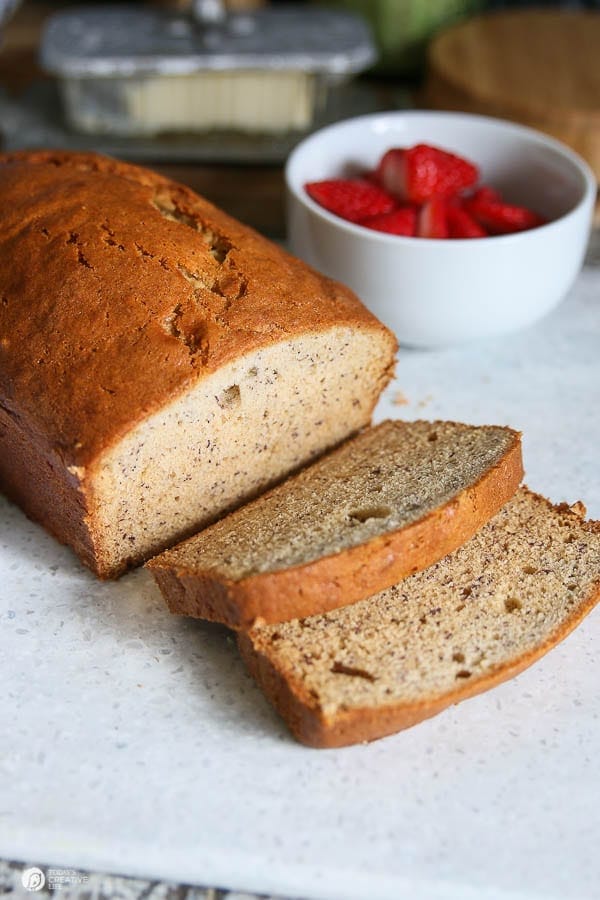 Try these banana bread recipe varieties.
I found this old fashioned recipe in an old community cookbook from my mother-in-law's stash and thought I'd try this banana bread recipe that called for sour milk. I used buttermilk instead… basically the same thing. I love old cookbooks like that.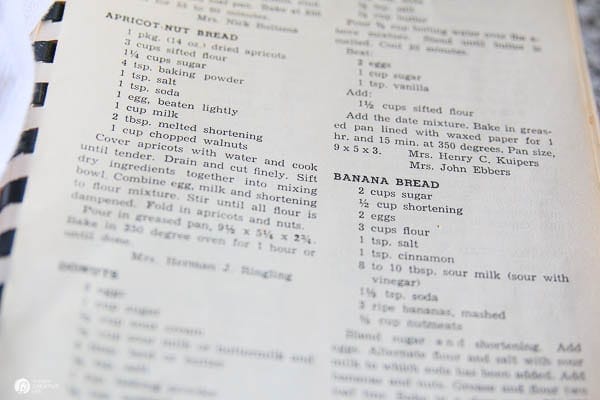 They are often poorly written, or have ingredients by a different name, but I love reading the author's name.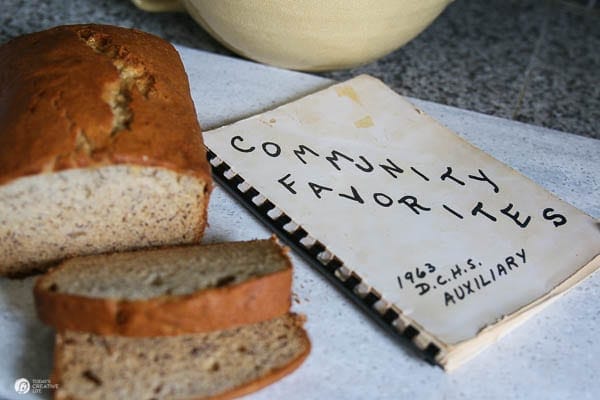 I also snagged this beautiful ceramic handled mixing bowl. I love kitchen items passed down.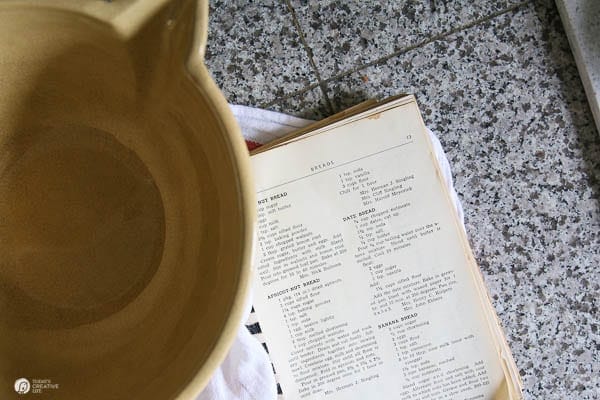 How to Make Banana Bread from Scratch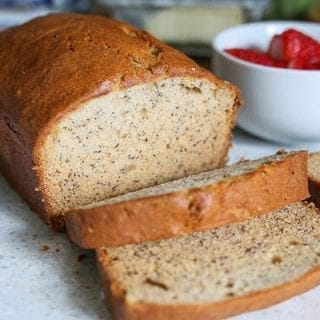 Easy Banana Bread Recipe
Yield: 1 loaf
Prep Time: 15 minutes
Cook Time: 1 hour
Total Time: 1 hour 15 minutes
Easy to make buttermilk banana bread that's moist and full of flavor.
Ingredients
2 cups sugar
1/2 cup butter - room temp
2 eggs
3 cups flour
1 tsp. salt
1. tsp cinnamon
1/2 cup to 2/3 cups buttermilk
1 1/2 tsp. baking soda
3 ripe bananas - mashed
Instructions
Set oven at 325°
Grease 2 regular size loaf pans.
In a medium bowl, mix dry ingredients together and set aside.
In a large bowl, blend together sugar and butter.
Add eggs and mix.
Alternate adding dry mixture and buttermilk.
Blend in bananas.
Bake for 60 minutes.
Recommended Products
As an Amazon Associate and member of other affiliate programs, I earn from qualifying purchases.
Nutrition Information
Yield 8
Serving Size 1 slice
Amount Per Serving
Calories 532
Total Fat 13g
Saturated Fat 8g
Trans Fat 0g
Unsaturated Fat 4g
Cholesterol 78mg
Sodium 677mg
Carbohydrates 97g
Fiber 3g
Sugar 56g
Protein 8g
Nutrition information may not be accurate.

Why do Overly Ripe Bananas Work Best for Banana Bread
We always hear about saving our overly ripe bananas for banana bread or muffins. This is because they are much easier to mash, which will blend into the batter easier, as well as they tend to be sweeter, which makes a much better tasting product. The banana scent is much stronger too with bananas that have overripened.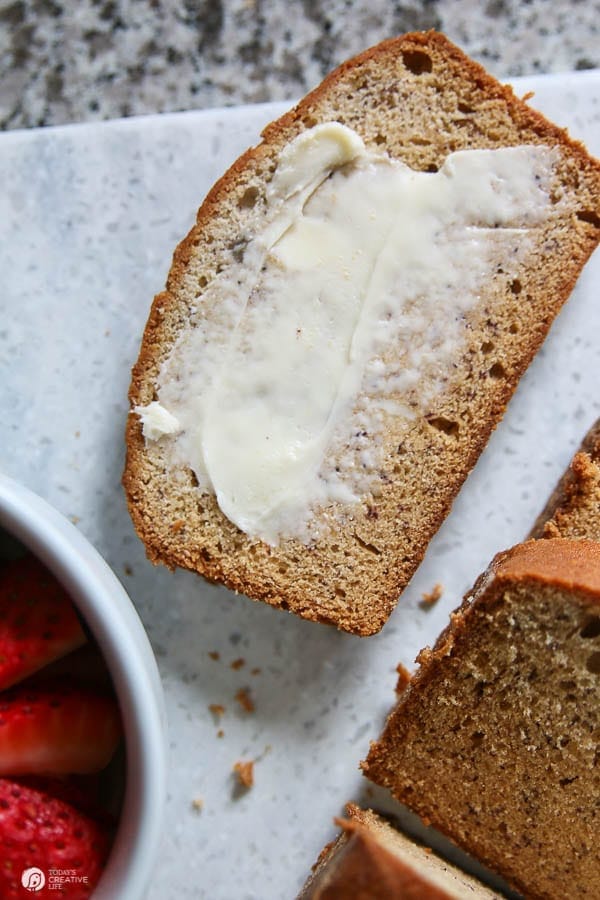 How to Ripen Bananas Quickly for Banana Bread
There is nothing worse than when you have a hankering for baking banana bread and all your bananas are not ripe enough. If only could wave a magic wand to overripen them quickly.
You can! To quickly ripen, just place unpeeled bananas on a parchment-lined or foil-lined baking sheet and bake them at 300 degrees for 15 to 20 minutes, or until the banana skins turn black all over.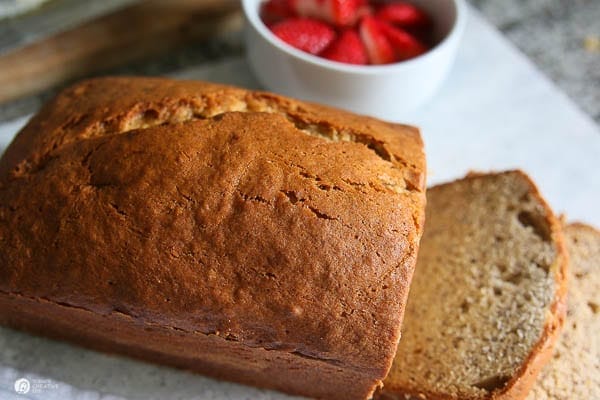 Can you Make Banana Bread with Fresh Bananas
If you must, yes you can. They may be harder to mash and your banana bread may not be as rich in banana flavor, but I'm sure it will still be a delicious treat.
There are so many different ways to make banana bread, I'd love to know your favorite secrets.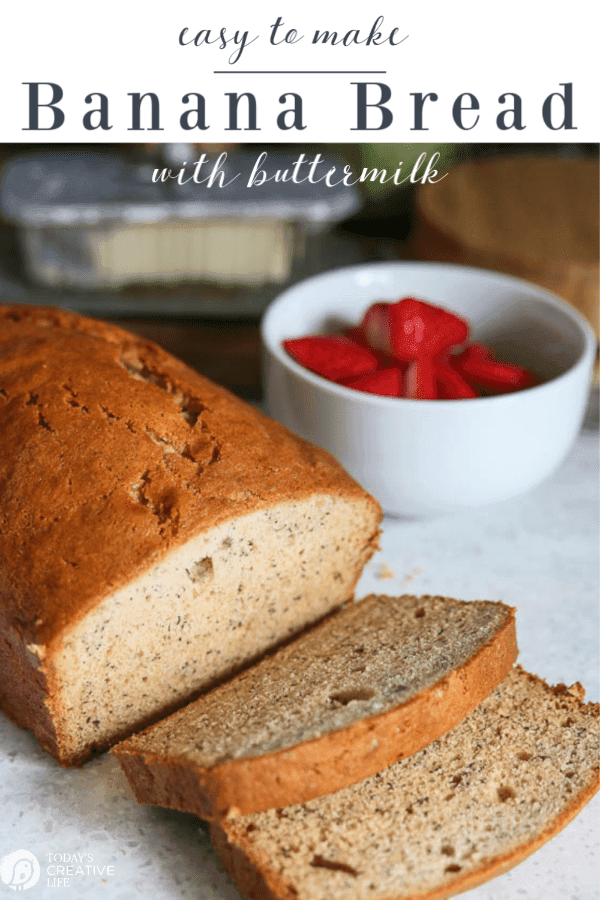 Banana Recipes
Find simple recipes that use bananas.
Moist and flavorful banana quick bread recipe.
Use your favorite jam for filling.
This praline glaze is delicious!
Use the peanut butter powder in this delicious muffin recipe.
Full of valuable nutrition with carrots, bananas and walnuts!
When you're in a hurry! This twinkie cake is your solution.
This Banana Bread Recipe is moist and delicious made with buttermilk and chocolate chunks!
Whip up a batch when the weather gets warm.
Another favorite combination with peanut butter and bananas!