Toilet Paper Rolls for Crafts are one of the most overlooked craft supplies and easy to find. Recycling and repurposing the cardboard from a paper tube never looked so good! There is an abundance of crafts, especially crafts for kids you can make with a cardboard tube.
My friend Melinda Tomasello reached out to me and wanted to share with TCL readers on how she was inspired by all the pandemic TP hoarding. Creating little art pieces from all the toilet paper rolls seems like a great idea!
Cardboard Toilet Paper Rolls for Crafts
Due to all the creative and crafting challenges taking place with COVID19, I thought it would be fun and helpful to create something useful, so for me that would be little art papers. And just like that, my toilet paper and paper towel tube art project emerged. This project can also be used to get a jump start on Christmas, by cutting the pieces into smaller shapes as holiday gift tags.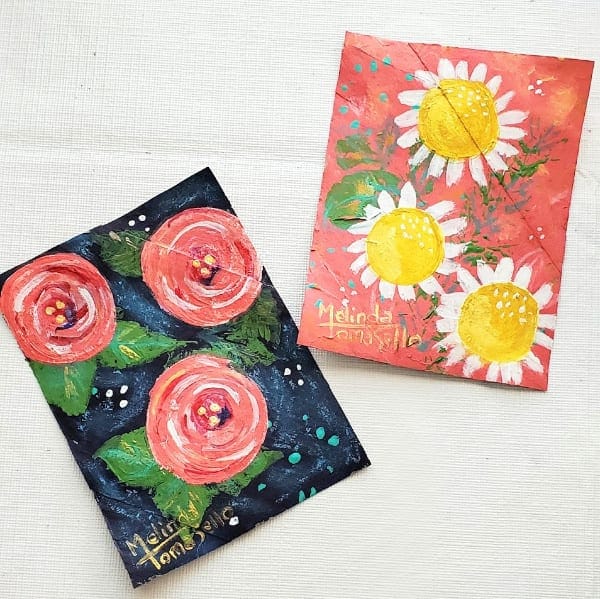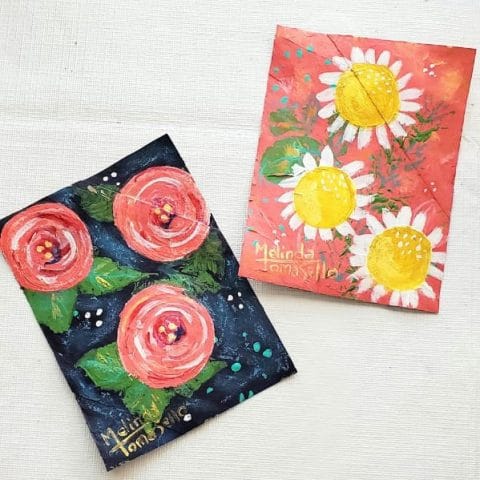 Toilet Paper Roll Art
Yield: 1
Prep Time: 5 minutes
Active Time: 30 minutes
Additional Time: 3 hours
Total Time: 3 hours 35 minutes
Difficulty: Easy
Estimated Cost: $10
Save those paper tubes for creating painted art!
Materials
Toilet Paper Tube
Painters Tape
Acrylic Paints, Crayons, Colored Pencils - whatever you have it great! 
Minwax water based Polycrylic protective finish, optional
Craft Glue
Tools
Scissors
Craft Paint Brushes
Instructions
Cut tube lengthwise down the middle. You might choose to square off the edges using a paper cutter, but it is not necessary.
Wet tube entirely under running water and blot dry. The excess remnants of paper come off easily during this step.
Gently tape down edges with Frogtape or other painters tape and let air dry.
Some of the tube's pieces might come loose and that's okay, just let the tube dry for a bit (about 30 minutes), then while it's damp apply clear craft glue and gently tape edges again.
Let dry completely prior to decorating with acrylic paint, crayons or colored pencils. If paper buckles, gently curl in the opposite direction.
To make your artwork shine, let your paint dry 24 hours before coating the piece with one layer of Polycrylic in a well-ventilated area. Spray acrylic sealer also works.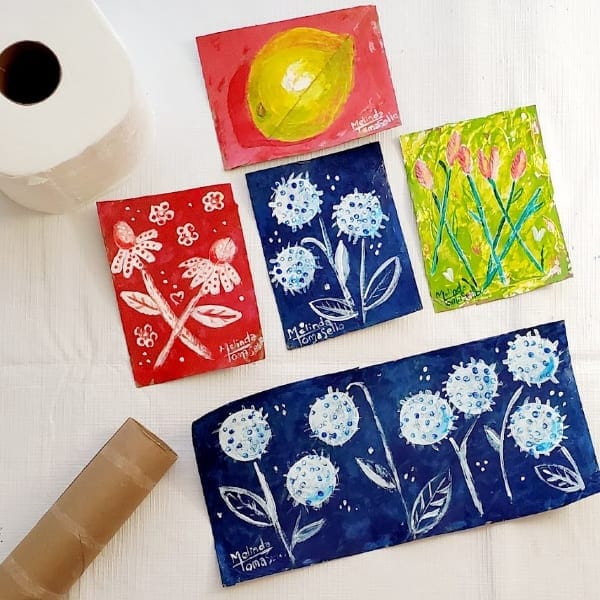 Crafts with Toilet Paper Rolls
There are SO many ideas when searching for crafts you can make with toilet paper rolls. Especially season or Christmas ideas. It's always fun to get the kids creating crafts for any holiday. It keeps them busy and some could be given as a homemade gift. My fellow blogger friend Maggie has 79 easy paper tube craft ideas and many you can use for the Christmas holiday or modify for others.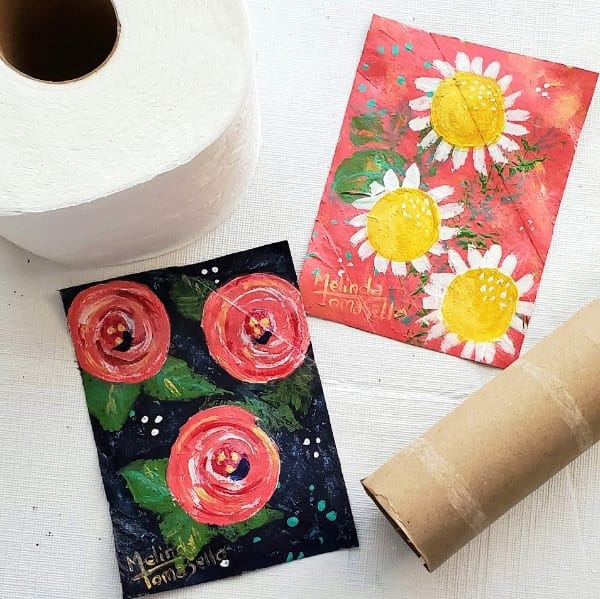 Are Toilet Paper Roll Tubes Safe to Use for Crafting
Because toilet paper tubes are in the bathroom, some are concerned they may be unsanitary.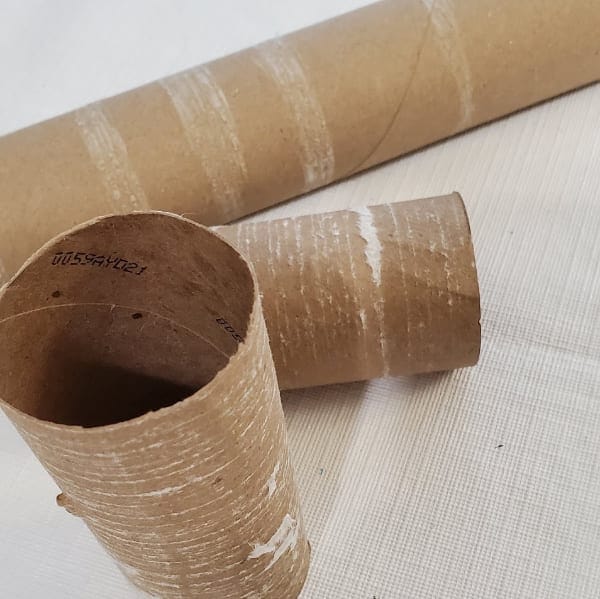 I don't see any studies on the findings, but I've looked around the web and found a few ideas on how to clean and sanitize if you feel you need to.
Keeping the lid down while flushing keeps the germs from swirling around your bathroom.
Some people have sprayed with Lysol and then let them dry.
Some set them out in the sun.
You can bake toilet paper tubes in the oven on low heat to sanitize them. See this "how to sanitize TP rolls" tutorial.
You can also purchase paper rolls for created just for crafting. They were never used with toilet paper.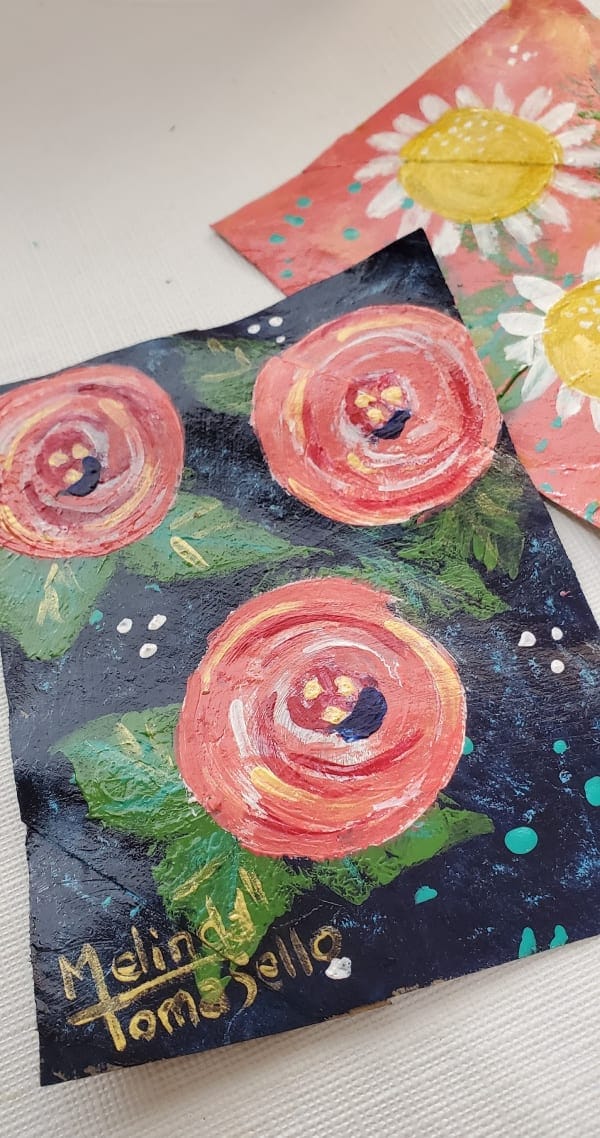 Creating art from items that are headed for the trash or recycling bin is a fun way to create. You don't have a lot invested, so if it doesn't turn out, it's fine!
Show me your TP cardboard tube creations and tag me on Instagram! @TodaysCreativeLife
Easy to Make Paper Crafts
Paper crafting ideas for art, cards, gifts and more.