This How to Make a Tire Swing Tutorial will give you step by step instructions. Find your list below for Tire Swing Hardware and any questions that may arise.
I am so thrilled to have
Michele
as my guest blogger today as part of the Celebrate Summer Series here on TCB! If you've got a big tree, then you'll love this
How To Make A Tire Swing
tutorial! Enjoy.
---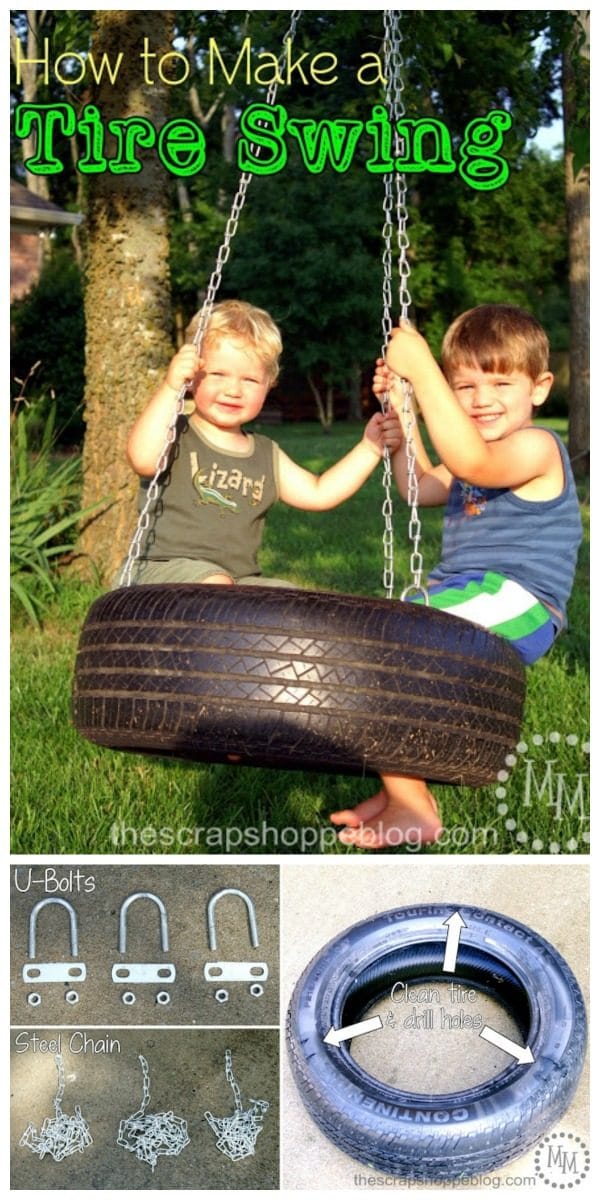 How To Make a Tire Swing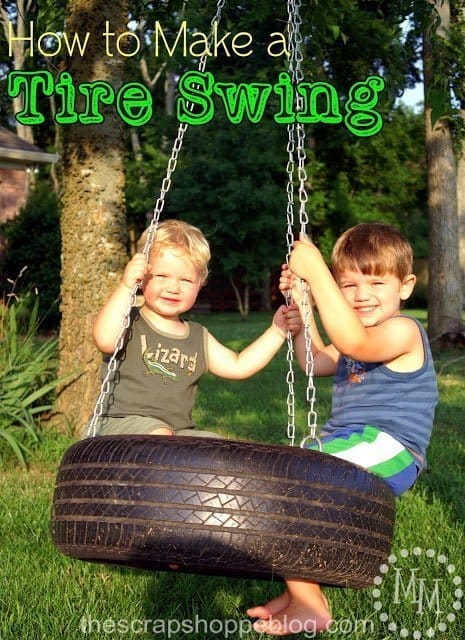 Hi, everyone! My name is Michele and I am the creative mind at
The Scrap Shoppe
.
I'm super excited to be here!
I don't know about you, but when I think about summer, my first thoughts are of fun outdoor activities for my boys.
And my second thoughts? How to keep the cost down on those outdoor activities!
Well, my friends, it doesn't get much more fun and inexpensive than a tire swing for your kids!
Let me show you how to make one. It may be even simpler than you thought!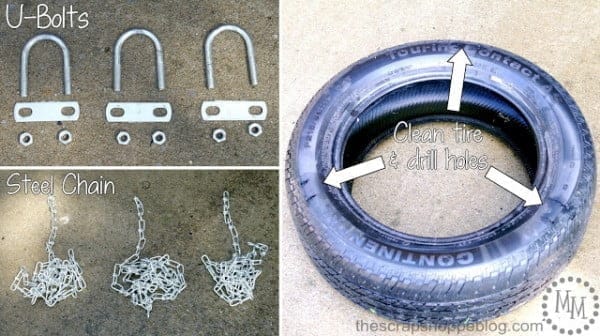 Tire Swing Hardware
The main ingredients necessary for a good tire swing are:
U-bolts
Steel chain
old tire
Drill
Thick Nylon Cord or Rope
carabiner
You will also need a chain S-hook, carabiner, and a length of nylon cord.
For this project, you will need 3 U-bolts. You can find them at your local hardware store, and they each come with a plate and 2 hex nuts.
You will also need some steel chain. It does not need to be heavy duty, simply what you would use on a swing set. For measuring purposes, figure out the length you would need to attach the tire to a tree then multiply by three. Divide the chain into 3 even sections.
Is it time for new tires for your vehicle? You might want to hold on to one of them! Or you can probably snag one for free from a neighbor, family member, or your local dump.
Scrub the tire you use very well with soapy water to remove as much dirt as possible.
Once clean and dry, spray the tire with a clear sealant.
Drill a set of holes in the outer wall of the tire that a U-bolt would fit through.
Repeat 1/3 of the way around the tire, then once more another 1/3 of the way around the tire.
Put a U-bolt through the end of one section of chain then insert the U-bolt through one of the sets of holes you drilled into the tire. On the inside of the tire, place the plate that came with the U-bolt on the U-bolt ends sticking through the tire. Screw on the hex nuts.
Repeat this process with the other 2 sets of holes in the tire and the rest of the chain and the other two U-bolts.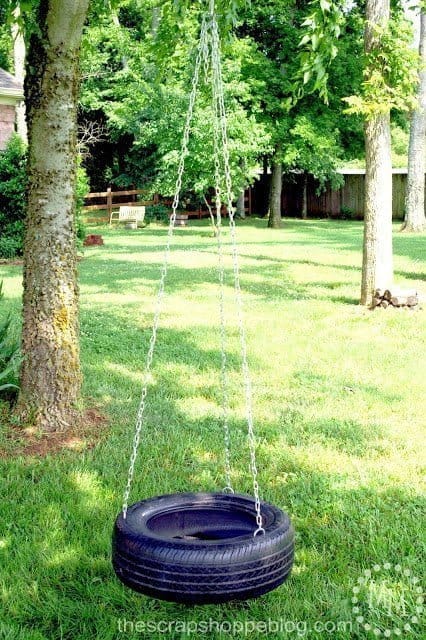 Now we are ready to hang the tire from a tree!
Find a nice thick branch that will hold approximately 150 pounds.
It's also nice if you can at least reach the branch with a regular ladder.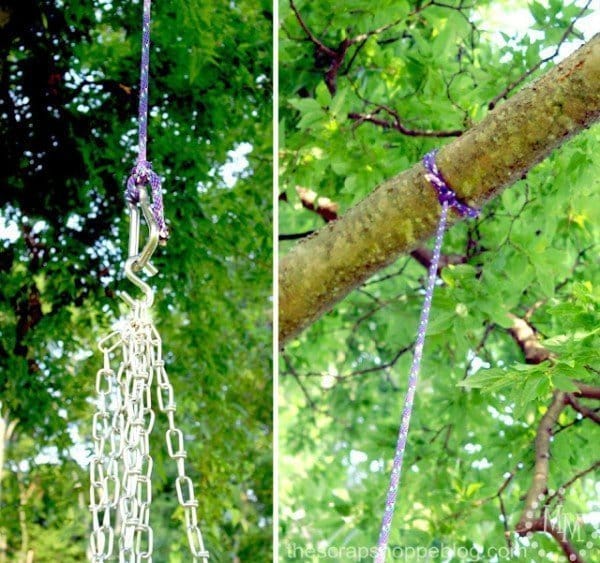 Gather the 3 lengths of chain from the tire and hook them to a chain S-hook so that the tire sits level.
Hook the other end of the S-hook to a carabiner.
We are going to use nylon cord to attach the entire unit to the tree. Why?
The nylon cord will not eat into the tree the way chain would.
Knot one end of the nylon rope to the carabiner and the other end to the tree.
Test out the tire swing out before letting your little ones on it!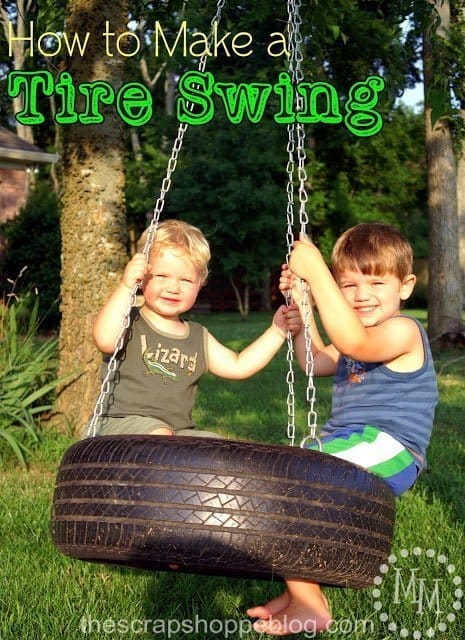 Now you know how to make a tire swing and we're really ready for some fun!
My boys love their tire swing and ride it daily if it isn't raining. It's the first thing they want to do when they get home from school!
A big thank you to Kim for having me over today.
I would love to have y'all come visit me at
my place
!
Michele is a mom of two very active little boys, puppy mom to two adorable pups, and has a loving and supportive husband who encourages her crafting and DIY habits. She doesn't shy away from any type of media so you never know what type of project will show up on her blog!
---
More Activities for Kids
No Borax Slime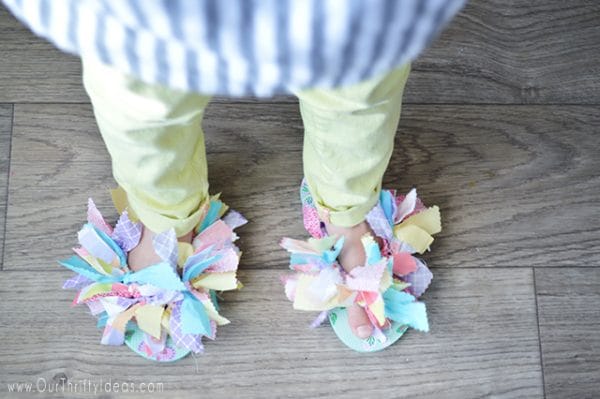 DIY Scrap Fabric Flip Flops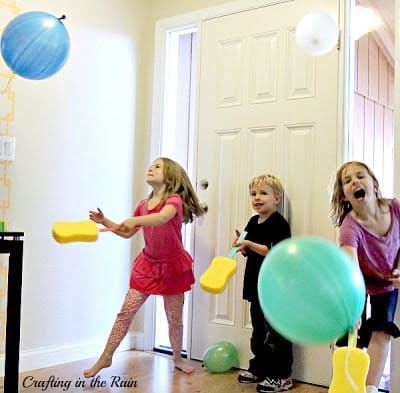 Balloon Boppers