Learning How to Make Clay Ornaments is one of the easiest holiday craft projects you'll do. Use baked white clay holiday ornaments for gift tags, decorating the tree or hanging as a garland. Grab some polymer clay along with tree and star-shaped cookie cutters and let's create some homemade Christmas ornaments.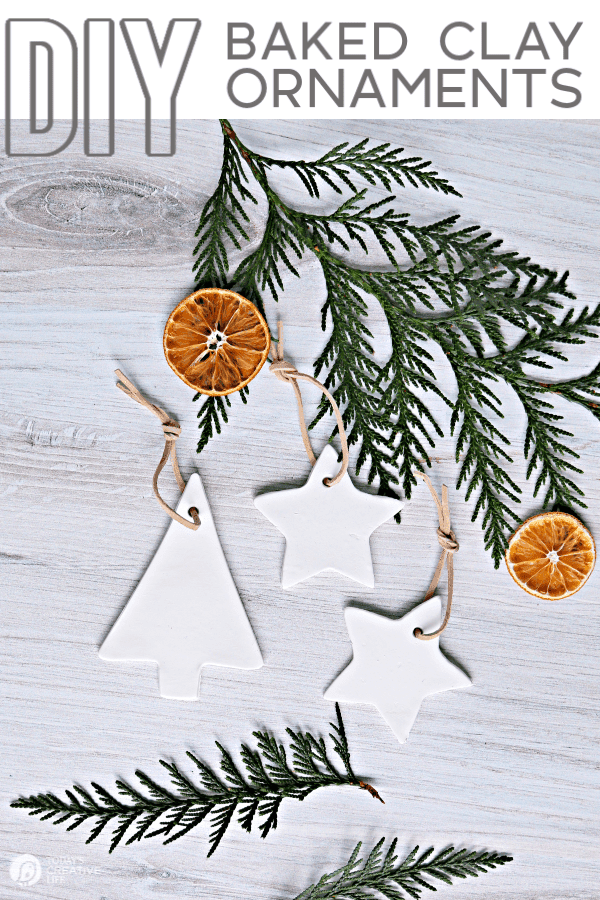 HOW TO MAKE CLAY ORNAMENTS
Making these minimalist white clay tree ornaments is ridiculously easy. I've worked with polymer clay before when I made my herb and plant garden stakes but this year, I was excited to try making my own clay Christmas tree decorations. I wanted a simple Scandinavian shape and style and was thrilled when I found the right shaped tree and stars. I figured they would obviously be great for decorating the tree, but also adding them to a wrapped package would be so cute, especially if you add a sprig of tree greens and maybe a dried orange.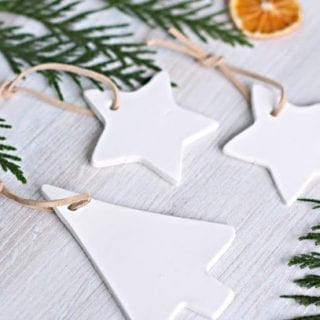 How to Make White Clay Christmas Ornaments
Yield: 20
Prep Time: 30 minutes
Active Time: 30 minutes
Total Time: 1 hour
Difficulty: Easy
Estimated Cost: $15
Homemade white clay ornaments are fun and easy to make for holiday decorating.
Tools
Rolling Pin
Baking Sheet
Bamboo Skewer 
Instructions
Set your oven temperature to 275°
Gather your supplies.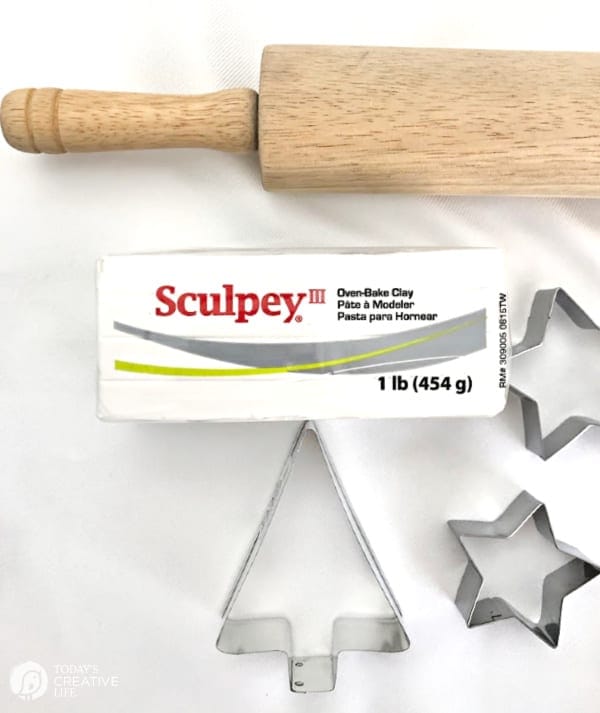 Cut about a quarter of the clay brick off and warm up by working with your hands.
Roll out the clay as if you're rolling pie dough until about 1/8in.
Cut your shapes then use a skewer or the end of a craft paintbrush to poke a small hole in each ornament.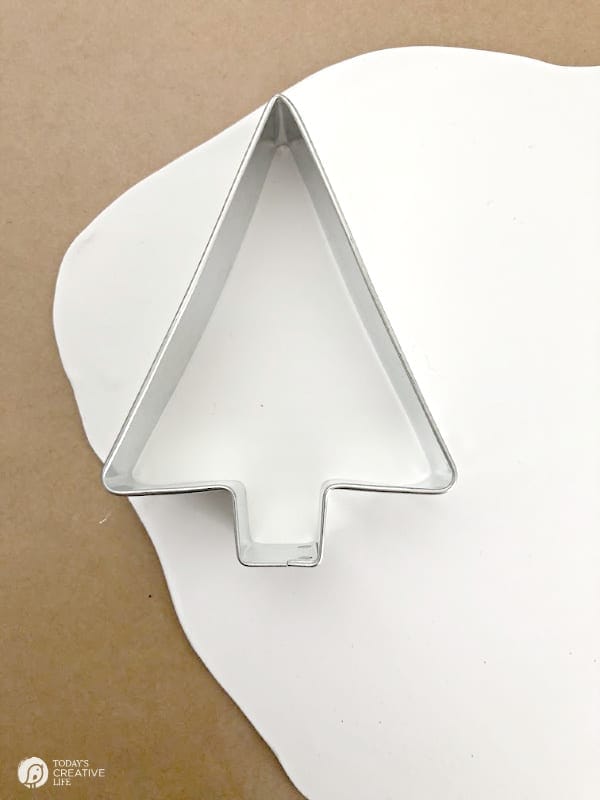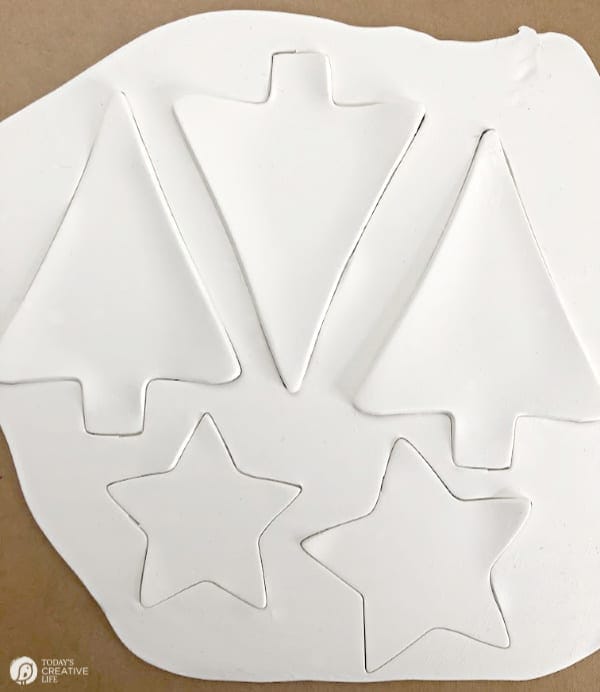 Place on a parchment-lined baking sheet.
Bake for 30 minutes and allow to cool.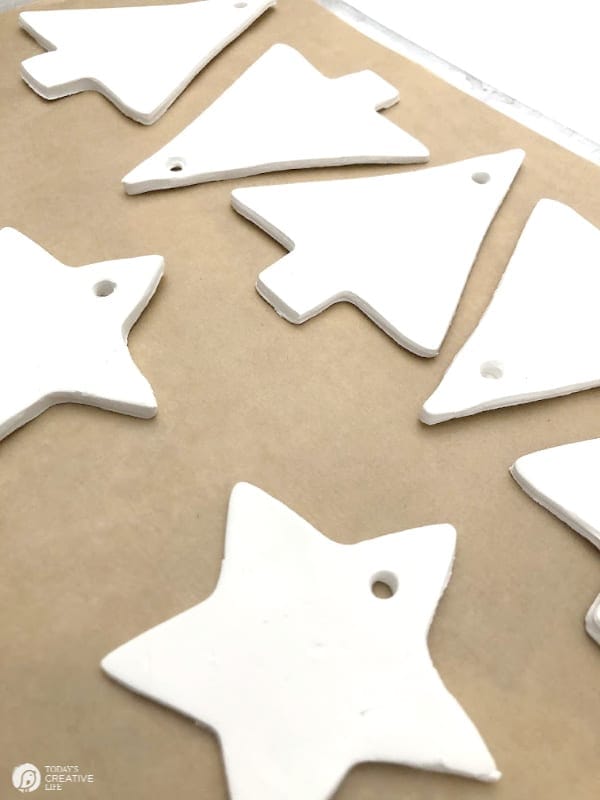 Thread leather twine or ribbon through hole and tie.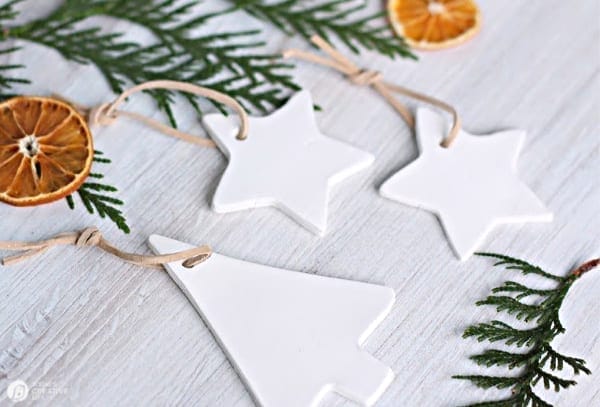 Notes
Options:
1. Use small alphabet stamps to stamp before placing in the oven.
2. Lay cedar or fir on clay and gently use a rolling pin to create an imprint.
Recommended Products
As an Amazon Associate and member of other affiliate programs, I earn from qualifying purchases.
HOW LONG DO YOU BAKE CLAY ORNAMENTS?
Because these are fairly thin, the recommendations were to bake for approximately 30 minutes. It is recommended that you at least bake 15 minutes per 1/4 inch (6 mm) thickness. You cannot bake clay ornaments in a microwave. See more FAQ here.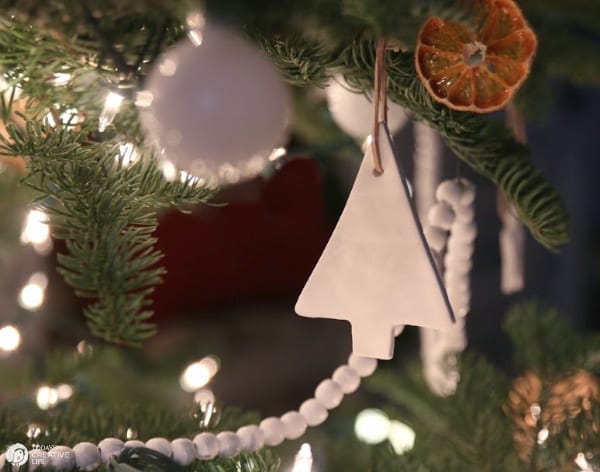 CAN I DECORATE CLAY ORNAMENTS?
Yes, of course! If the plain white look isn't your style, there are many options on how to decorate these Christmas ornaments.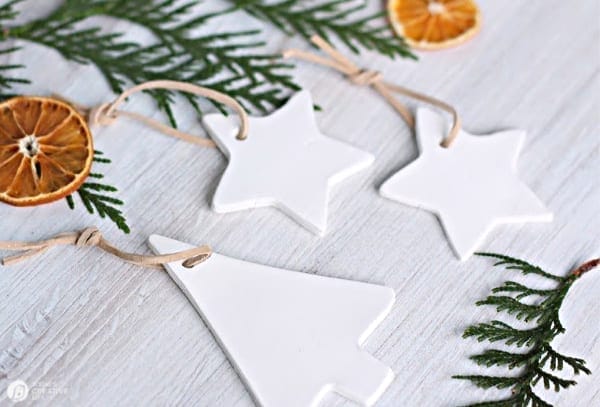 How to Paint Clay Ornaments
Acrylic paint is a great way to decorate baked clay. You'll want to do this after the baking process. Use stencils or freehand. You could even use sharpies.
How to Stamp on Clay Christmas Ornaments
You can add any stamped design to clay by gently pressing the un-inked stamp into the clay before baking. Add a monogram, a full name or any words by using alphabet stamps. This is a great way to personalize a gift.
How to Imprint onto Clay Holiday Ornaments
Use tree greenery or even a leaf to imprint a shape onto the clay. I found it easier to place the cedar or fir sprigs on the rolled out clay before cutting, then roll with your rolling pin gently pressing item into the clay. Lift items off the clay to reveal the design.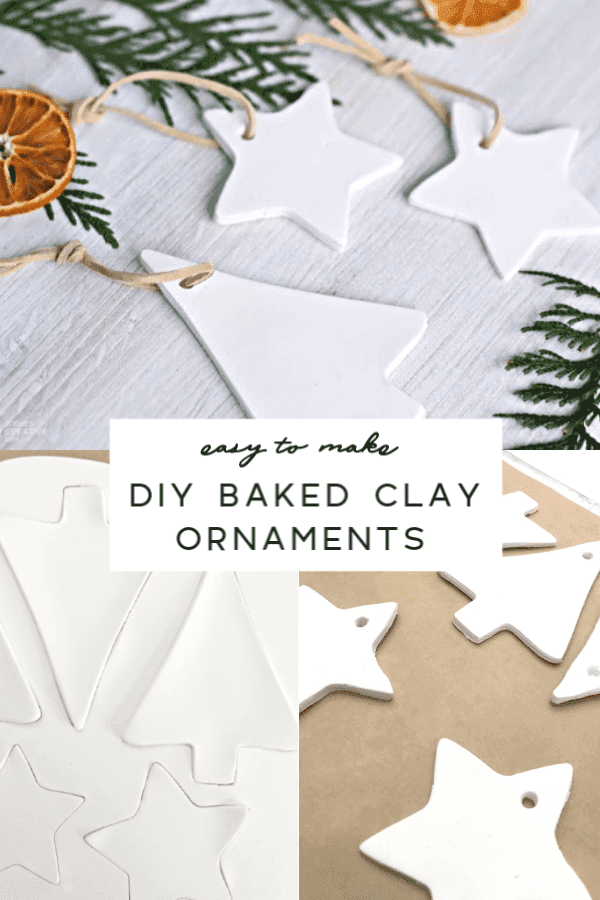 Now you know how to make clay ornaments with options on how to personalize and design. If you make these, please take a photo and tag me on Instagram or Facebook.
DIY Holiday Ornaments
Homemade DIY Holiday ornament tutorials and ideas.