Make your own DIY holiday decor with dried orange slices. This easy and budget-friendly How to Dry Orange Slices tutorial is great for making orange slice garland for Christmas, holiday potpourri, or use them with your holiday gift wrapping and tree decorating. They look amazing with my DIY Baked Clay Ornaments.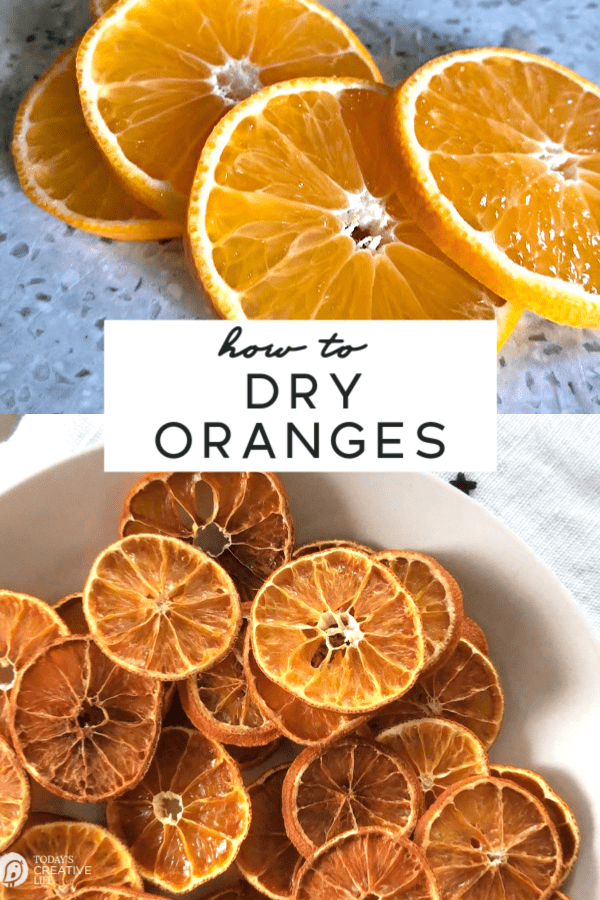 HOW TO DRY ORANGE SLICES IN THE OVEN
Decorating for the holidays led me in the direction of dried oranges. I like the idea of a homemade holiday.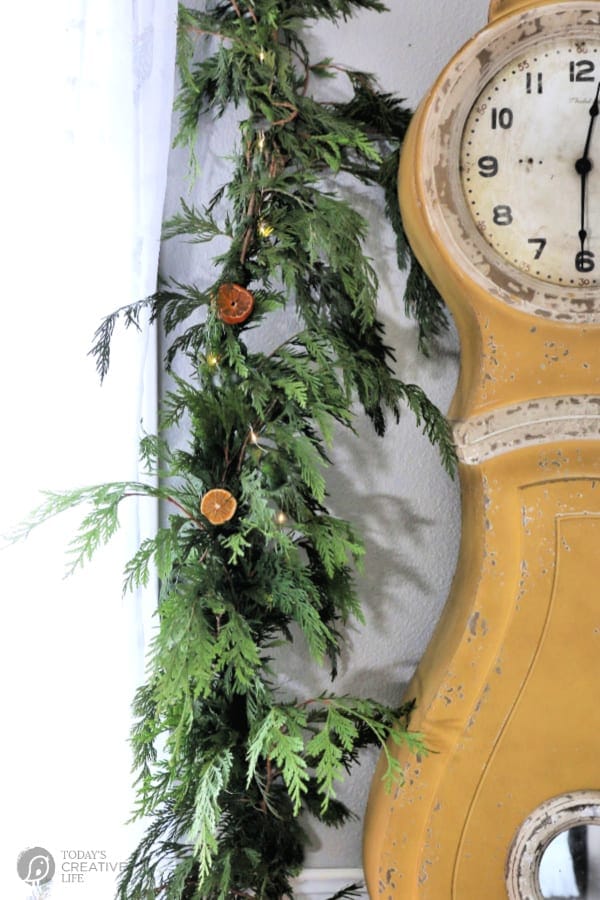 I wanted to make an orange garland or add them to my cedar garland, (see how to keep cedar garland fresh), and I also want to add them to wrapped gifts with a sprig of greenery.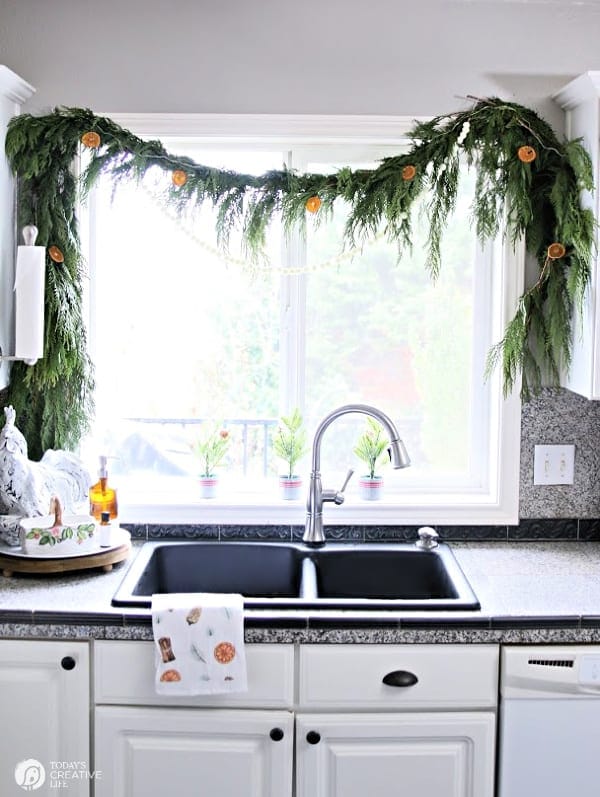 Drying oranges is a holiday tradition and a Christmas classic. It takes a bit of time because you have to bake them slowly, but it's one of the easiest holiday crafts you'll do.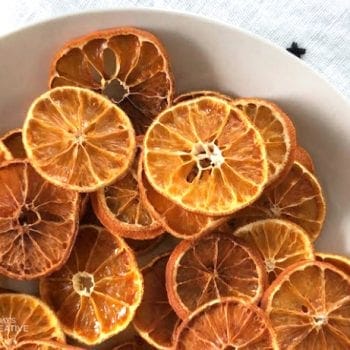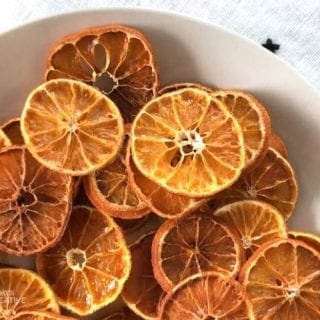 DIY Dried Orange Slices
Yield: 1 Orange makes 5 slices
Prep Time: 10 minutes
Active Time: 4 hours 30 minutes
Total Time: 4 hours 40 minutes
Difficulty: Easy
Drying oranges is a holiday classic. How to make Dried Oranges in the oven for holiday decor, potpourri and gift wrapping.
Materials
1 Bag of Oranges or the smaller Cuties
Sharp Pairing Knife
Baking Sheet
Parchment Paper
Tongs
Instructions
Preheat oven to 200° with the rack in the middle.
Slice oranges fairly thin. I sliced mine 1/8th of an inch. The thicker they are, the longer they take to bake and dry.
Place as many oranges on a parchment-lined baking sheet without them touching.
Bake for 4.5 hours, flipping them every hour. If the fruit portion is still sticky, bake longer if you can.
When they are dried and a golden amber color, cool on a cooling rack.
Notes
If you want to bake two pans at the same time, place your oven racks as close together as possible in the middle. Alternate them every hour.
CAN YOU DRY ORANGES IN A MICROWAVE?
I tried doing this by following this tutorial and ended up with burnt oranges. Granted, my microwave is older and I'm not sure if I had it set properly.
HOW LONG WILL DRIED ORANGES LAST?
From what I've read, they will last 2 years if stored properly in an airtight container. But since I'm using them for decor and crafts only, I don't see why they wouldn't last longer. I plan on storing mine in paper towels and a Ziploc bag.
HOW TO DECORATE WITH DRIED ORANGE SLICES
I used simple wire ornament hangers and just punched it through an orange. I hung them on all my greenery around the house, as well as my front door wreath.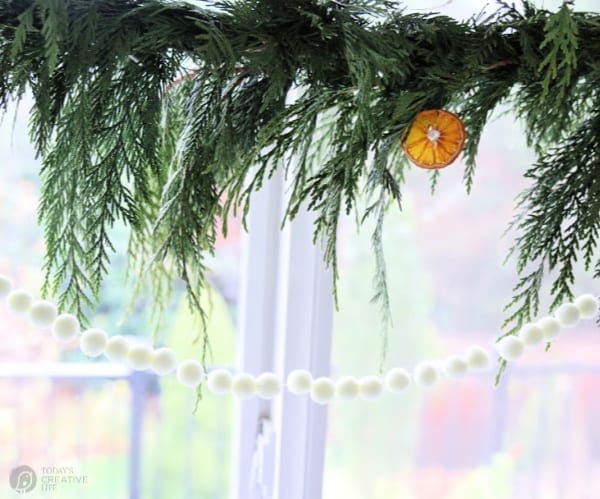 You can also string them all together with other natural items for a festive holiday garland.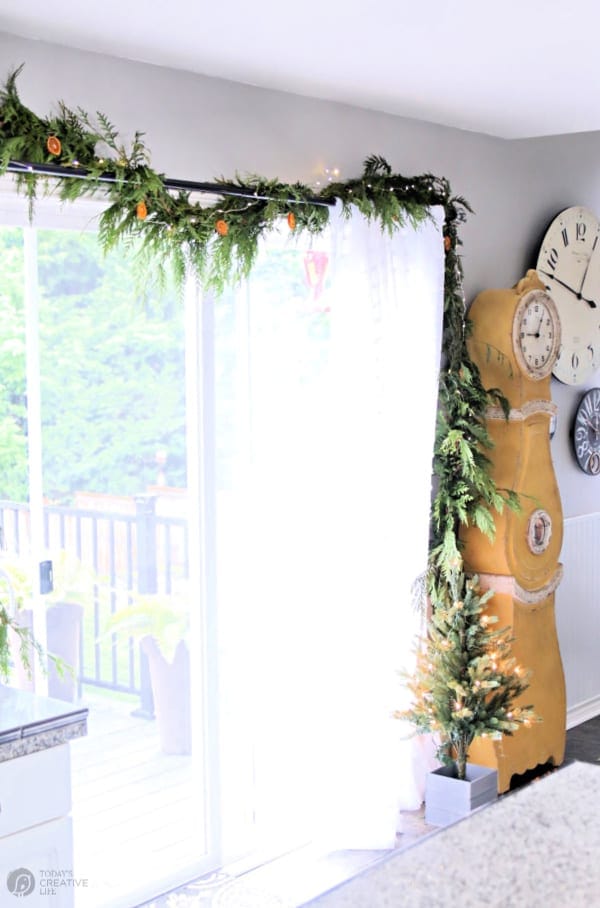 WHAT CAN YOU DO WITH DRIED ORANGES?
Oh my, so many things!
Make a Dried Orange Garland using thread, twine or fishing line. Combine with cinnamon sticks and cranberries for fun!
Add to cedar garland as I did.
Embellish a store-bought Christmas wreath. I added several to mine for a more custom look.
Use as Christmas Tree ornaments.
Decorate the Mantle.
Use them instead of a bow for gift wrapping.
Make Stove Top Potpourri – This will make your home smell like Christmas and great for homemade gift ideas.
Freeze in ice cubes for decorative drinks.
CAN YOU EAT DRIED ORANGES?
Yes! but you may want to sweeten them a little to take out any bitterness. Drying oranges for a garnish on cakes or in cocktails is always gorgeous. You can also add to brewed tea for more flavor. Here's a great recipe for sweetened dried blood oranges.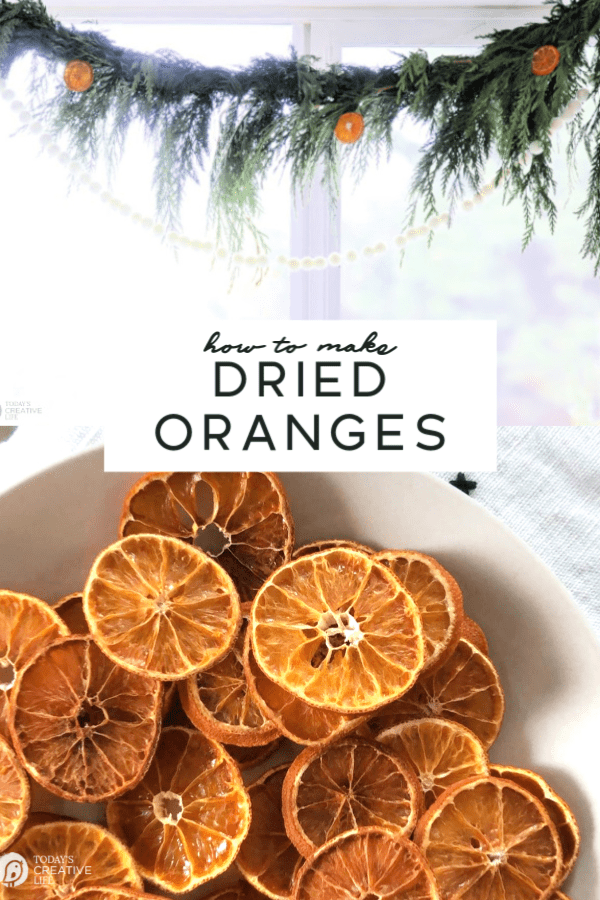 CAN YOU USE A FOOD DEHYDRATOR FOR ORANGES?
Yes, absolutely! Set your dehydrator at 110° and lay your sliced oranges on each tray. In about 2 days you'll have sliced dried oranges.
DIY Holiday Ideas
Easy to make holiday crafts, decor and gifts.