Taking the time to organize all the holiday decor is a chore you'll be happy you did right next year! Here are a few helpful and smart Christmas Storage Ideas to keep holiday decorations damage free.

Holiday & Christmas Storage Ideas
Taking the time to organize all your holiday decorations will not only make next year easier when it's time to decorate, but it is key to keeping them safe against dirt, dust, moisture, mold and being damaged. Finding the right storage solutions helps protect your valuables.
How to Store an Artificial Christmas Tree
Figuring out how to store your faux Christmas tree can be challenging. There are so many Christmas storage ideas for different sized trees. Many times the box it came in feels too small and it's not waterproof. Finding the proper storage bag or container will protect the tree from damage, keeping the needles, lights and center pole in good condition.
Upright Storage
Storing it upright is great if you have space in a bag that starts at the bottom and pulls up and over to cover the full tree. These will run around $40+, or you can find a more reasonable variety. Some of these come with wheels if needed. Be sure to get one that is tall enough for your tree.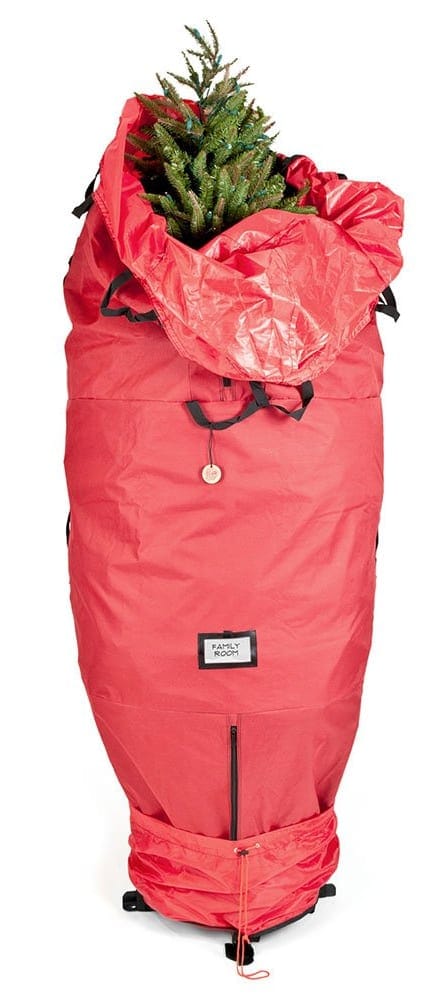 Artificial tree storage bags with handles really vary for what they offer. Waterproof, Canvas, reinforced handles, with wheels, tear-proof. Depending on your needs and situation will determine what type of bag you'll need. Always fold tree branches upright before placing in the bag.
Shrink Wrap
After you've removed the ornaments, take the top portion of the tree off, fold all the branches upward and wrap with plastic shrink wrap. Your everyday Saran wrap will work if you don't have a larger roll. After you have the first section wrapped, remove the middle and repeat. You can view this helpful YouTube video I found showing you exactly how to do this. This is also a great technique to use before placing it in a regular tree storage bag.
How to Store Christmas Ornaments
Organizing holiday ornaments are a must for heirloom and breakable tree decorations. Here are a few Christmas storage ideas.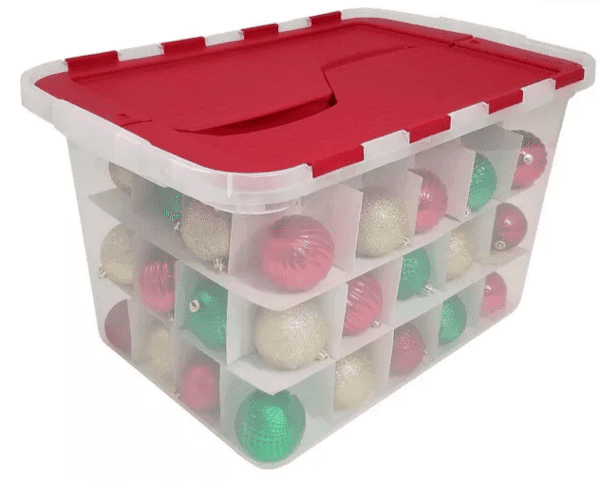 Ornament Boxes
I found that buying red or green totes with dividers has worked best for me. I put one ornament in each space. Some totes are dedicated to the ball ornaments only and some are for all other shapes and types. I have a few non-breakable ball ornaments and will usually store them in a large 5-gallon Ziploc bag. I like the plastic storage totes for better protection since my items are stored under the house.
There are many other divided storage boxes that are made from durable fabric. This one is the Cadillac of all upright storage for holiday ornaments.
Store by Color
Storing all your holiday ornaments by color makes it very easy to find what you need. I know many people who change the color of their holiday decor from year to year. If this is what you do, try this technique and save time sorting.
DIY Ornament Storage
Here's a wonderful round-up with so many great ideas on how to store Christmas ornaments. This tutorial for a DIY ornament storage solution is an easy project you can whip up in a few minutes.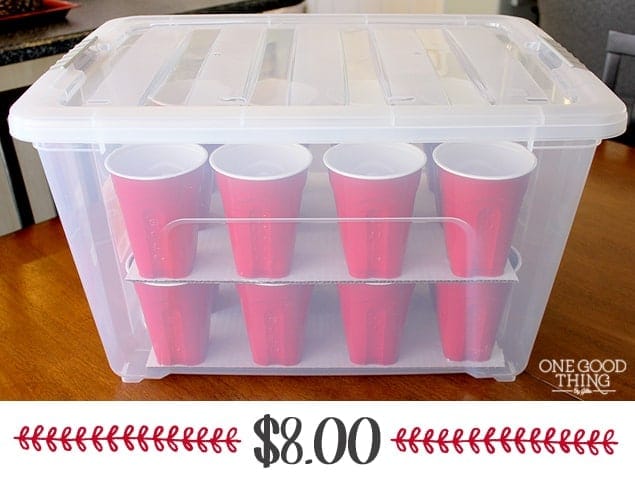 How to Store Wreaths
I actually hang all my seasonal wreaths in my garage on the wall. This way I can see what I have, they're protected from the weather and I have easy access. I may place a large plastic trash bag over it before hanging. No special hooks, just a long nail does the job. This is another way to store a wreath in a closet or garage.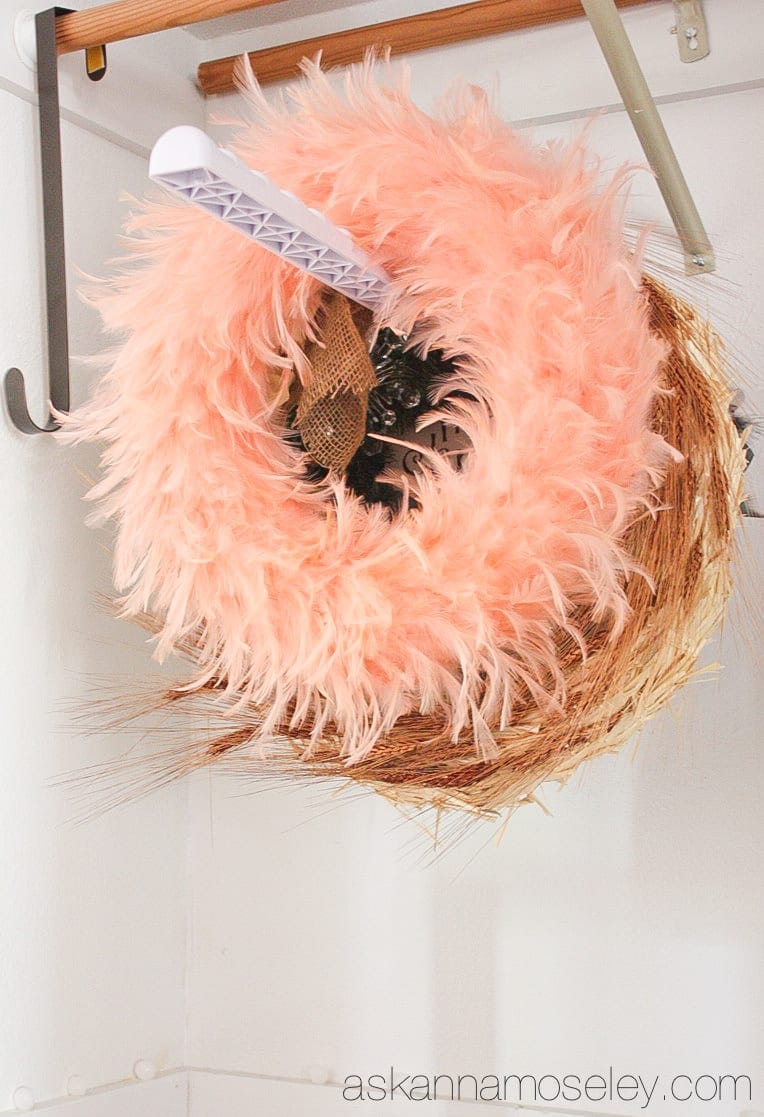 Hanging wreaths in a closet on a hanger is another simple solution.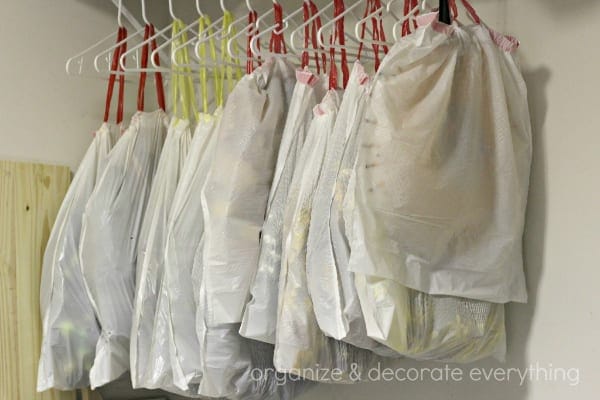 Other ways are with a simple wreath storage container. I like the ones you can stack for easy storage.
How to Store Christmas Lights
Storing Christmas lights can be a gamble if you don't do it right. The goal is to not have a tangled mess the next year when you're ready to use them. Nothing kills the holiday spirit more than a tangled string of lights.
How to Store String lights
There are a few techniques for doing this. Here are a few DIY storing ideas with items you most likely already have at home.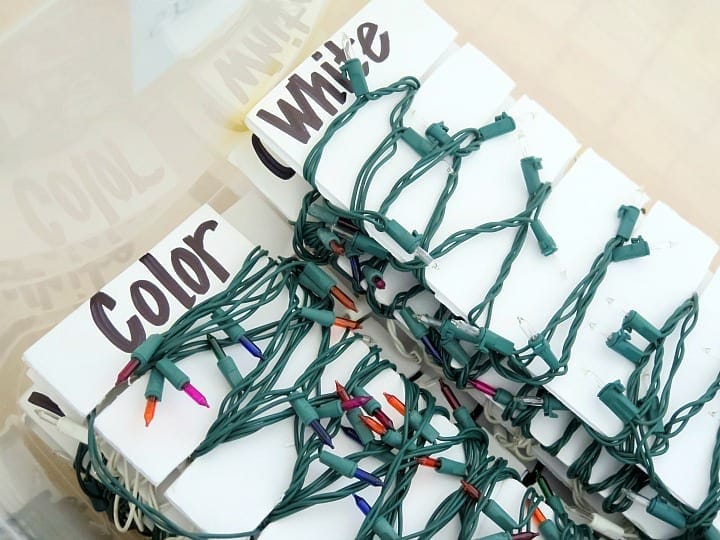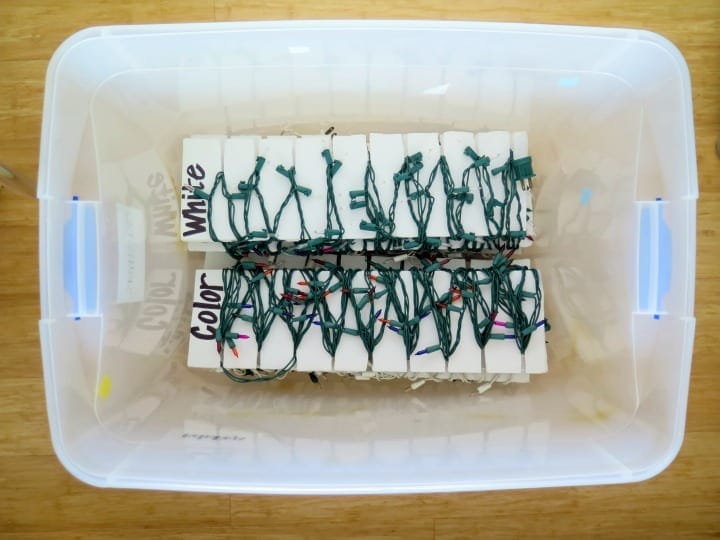 Other ways include store-bought storage meant storing strings of lights.
How to Store Net Lights
We don't own any of this type, so I can't share how we do this, but from researching, it looks like there are two ways. 1. Lay them flat, then bunch both sides together making a long line. Starting at one end, fold about 5 inches and continue to roll until you're finished. Wrap the remaining cord around the folded wad of lights. See the YouTube video here on how to store Net Lights. The other way is to lay them out flat. Starting at one side, lay a long dowel along the edge and carefully roll the lights around the dowel until you're finished.
How to Store Icicle Lights
This DIY idea looks like a good one.
How to Store Wrapping Paper
We store holiday wrapping paper in a flat plastic tote. This keeps it dust and damage-free. I also like that it doesn't tip over like upright varieties.
Depending on your space, you can choose hanging storage solutions or a duffle bag type with handles. Here are a few more ideas.
Getting organized feels so good! Now you can tackle other tasks like organizing your pantry.
Christmas Storage Product Ideas
Holiday decoration storage solutions for artificial trees, ornaments, Christmas lights and more.
Photo Credit: amazon
Easy string light storage ideas.
Photo Credit: amazon
Keep your wreath safe from damage with these storage ideas.