Using a pillow cover, felted wool ball pom poms, and a glue gun, I was able to create this beautiful DIY snowflake pillow. Making my own winter or Christmas DIY home decor is perfect for decorating between Christmas and Spring.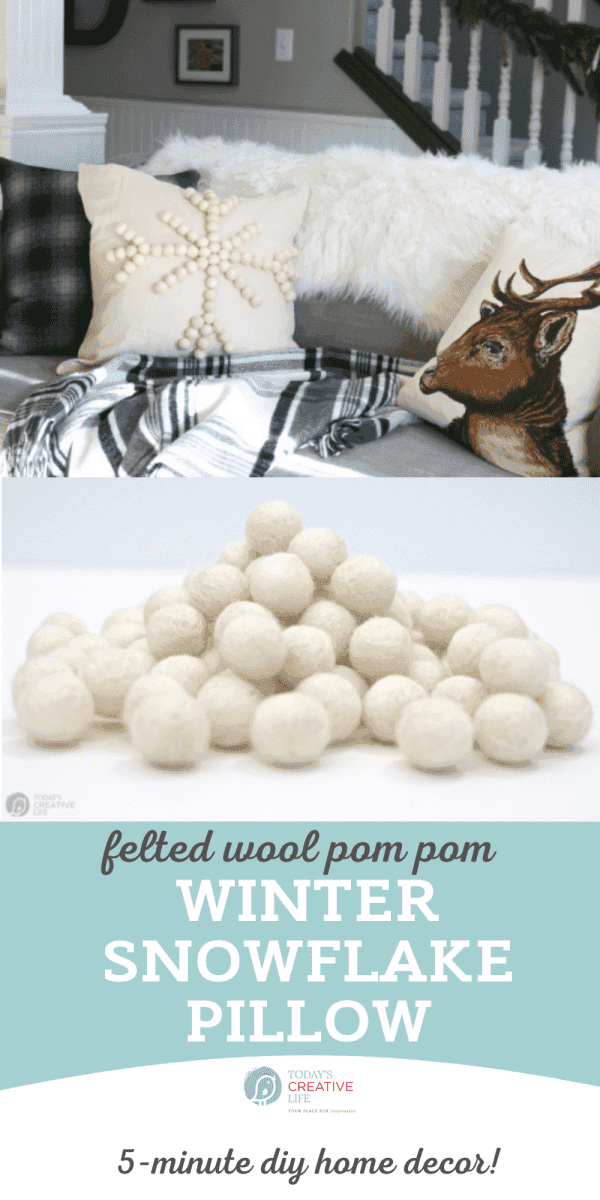 DIY Snowflake Pillow
I've had this idea tucked back in my brain for a couple of years and finally decided to order the supplies and just go for it. It was one of the easiest DIY home decor crafts I've done. When I shared it on my Instagram stories, I was flooded with comments. I guess they loved it too.
I love that this design can last Christmas thru spring and is neutral enough to blend with any home decor. I love EASY DIY and crafts for home decorating, especially if they don't take a lot of time. This DIY snowflake pillow is it!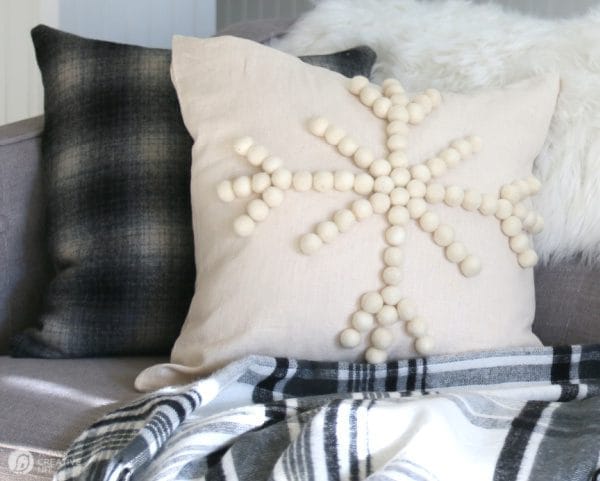 Supplies for Making a Snowflake Pillow
Felted Wool Balls – I bought 2 packs of 100 and I ended up not even using one pack.
Pillow Cover – I bought mine from IKEA, but any pillow cover would work.
Glue gun and glue sticks – I love my Xyron Glue Pen.
Cardboard or Cardstock – You'll need something to place inside the cover while gluing to prevent the glue from sticking to the other side of the cover.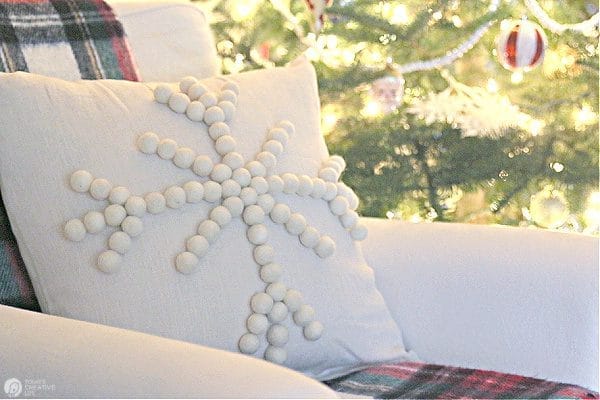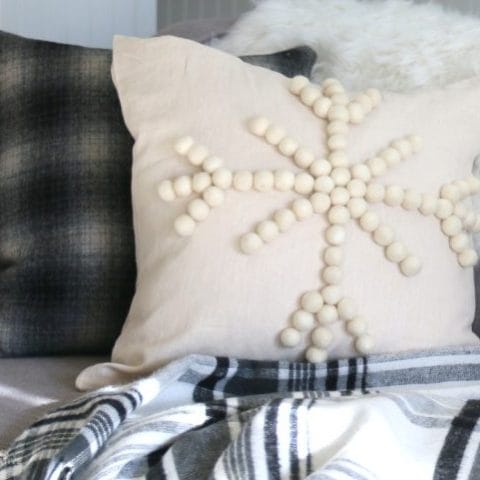 How to Make a DIY Snowflake Pillow
Yield: 1
Prep Time: 5 minutes
Active Time: 10 minutes
Total Time: 15 minutes
Difficulty: Easy
Easy to make felted wool ball pom-pom winter pillow cover.
Materials
Pillow Cover - I used one from IKEA (cotton/linen)
Large piece of cardstock, or cardboard
Tools
Glue Gun
Glue sticks
Pencil
Ruler
Instructions
Lay your pillow cover on a flat surface and iron if needed.
Using a pencil and ruler, lightly draw two lines crossing each other, then an additional crisscross.
Insert a piece of cardboard or cardstock inside the pillow cover. This prevents the glue from seeping through and sticking to the other side. Make sure this is under where you are gluing.
Heat up your glue gun and add glue over 2 inches of the pencil mark, add wool balls.
When that line is complete, start on the next line.
Continue until your design in complete.
Notes
I have only tried this will cotton or linen pillow covers. Because of the hot glue, make sure it doesn't melt any covers made with 100% polyester.
You can use yarn or fuzzy pom poms too.
If you have small children or animals that may chew, please be sure that wool pom poms are securely glued or sewn.
Recommended Products
As an Amazon Associate and member of other affiliate programs, I earn from qualifying purchases.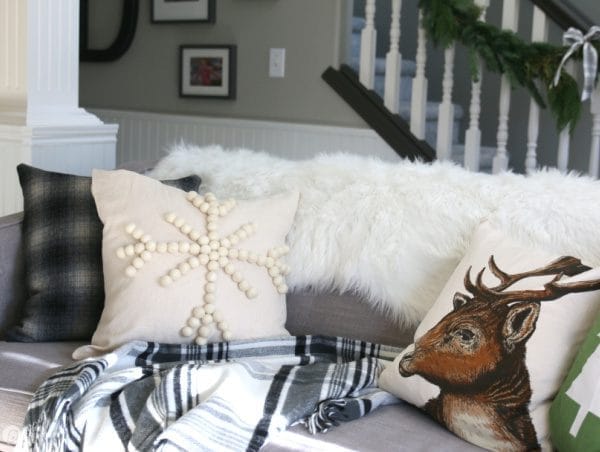 Can you Sew the Wool Balls On?
You most definitely could. I do not sew and I use my glue gun instead. But you could grab a needle and thread and get to work.
Can I Wash this DIY Snowflake Pillow?
I haven't had to wash it yet, but when I do, I will turn it inside out and use the hand wash cycle. I may even just hand wash it in the sink or just spot clean. I can always re-glue any of the balls that fall off.