This orange vanilla-infused vodka recipe was easy to make using vodka, orange peels, and vanilla beans. Choose from 2 different beautifully designed printable labels, making it a great holiday gift for Christmas or New Year's Eve.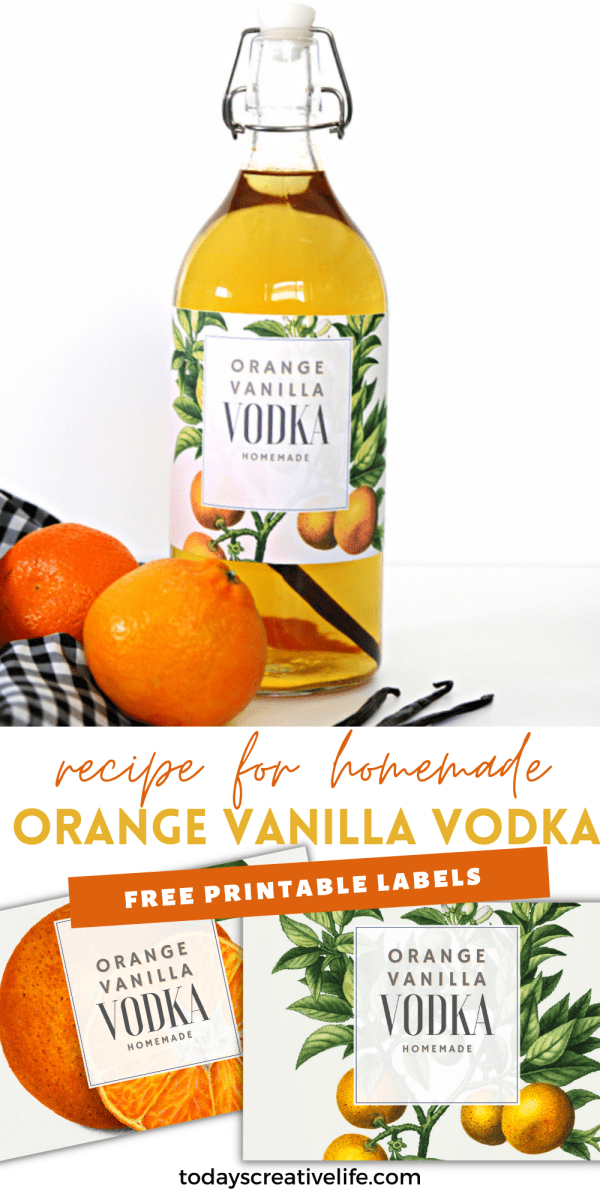 Orange Vanilla Infused Vodka Recipe
I had a lot of extra vodka, which I explained why in my Homemade Vanilla Extract post. I wanted to think of creative recipes and ideas I could make, which of course infused vodka recipes were high on my list. There are so many interesting flavor combinations, but I was really excited to try orange-vanilla… like a creamsicle flavor.
I created the most beautiful labels using my favorite vintage botanical designs and I knew the European water bottles from IKEA would be the perfect look. This makes the perfect home gift if you're looking for something different.
How to Make Infused Vodka
There is a printable recipe at the end of this post.
First, wash and peel your oranges. I used 3 or 4 from large oranges and tangerines. Place the fruit aside to eat later and put all the peels inside a jar. This jar needs to have a lid and be large enough to hold the amount of vodka you're wanting to infuse. I used a gallon-sized jar since I was using up a half-gallon of vodka.
Slice 2 or 3 vanilla beans lengthwise and slightly open to expose the aromatic paste inside. I used the tip of my knife to loosen some of it but didn't remove it. Place these with the orange peels.
Pour the vodka over the peels and vanilla beans.
Before you add the lid, give it a stir. Add the lid and set it in a cool, dry, and dark space for a couple of weeks. I just put mine in the garage pantry. I have it a swirl every couple of days.
When the vodka has turned a golden color, it's time to strain it. You'll need another large jar or large measuring mixing bowl and a cheesecloth. If you don't have a cheesecloth, you can use a smaller strainer or colander lined with coffee filters.
Once you've got your liquid and solids separated, you're going to need a funnel, and the bottle you're going to store your newly made orange vanilla-infused vodka recipe.
Pour liquid slowly into the bottle. Seal and add the label.
Labels for Orange Vanilla Infused Vodka Recipe
All free printables are located in the Printable Vault. You do need to be an email subscriber to have access. You can subscribe here. Your password will be sent to you. If you don't see it, please check your spam folder. If you still don't see it, give me a holler and email me at [email protected]
I love vintage botanicals, so I couldn't pass up the opportunity to use a couple of my favorites. I couldn't decide on just one, so I am offering two.
This way if you're making orange vanilla-infused vodka for homemade holiday gifts, you've got options.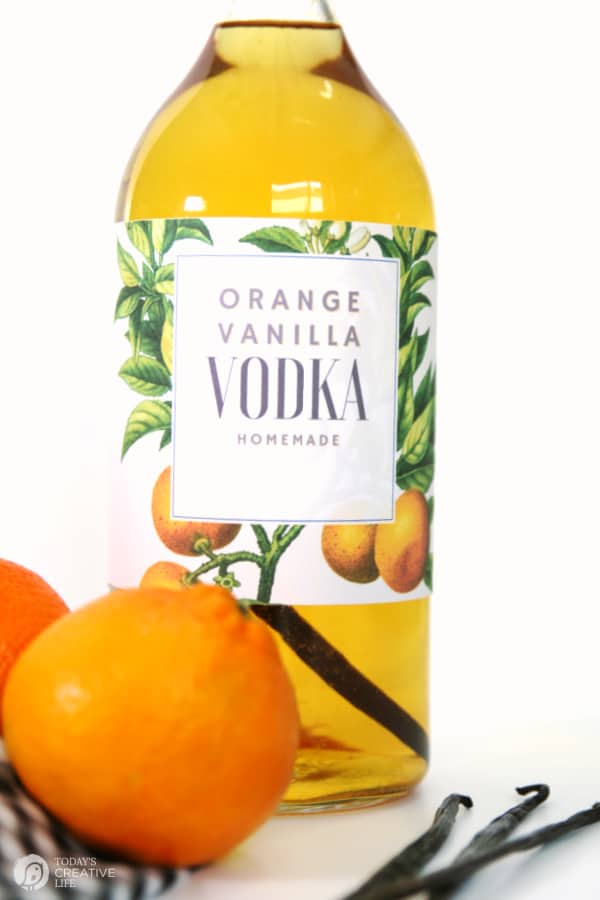 How to Print Labels
You'll need:
After you've downloaded the label files, open the file.
Load your printer with sticker paper. For my particular printer, I have to place the paper with the covered sticky backside facing up. Each printer is different. I tested my printer by marking a sheet of regular paper and then printed something. When it was finished, I took note of which side of the paper had the mark. This will help you figure out which way to load specialty papers. This goes for when using iron-on transfer paper too.
Print
Trim label using a paper trimmer or scissors.
Peel the backing off and apply to a clean and dry bottle.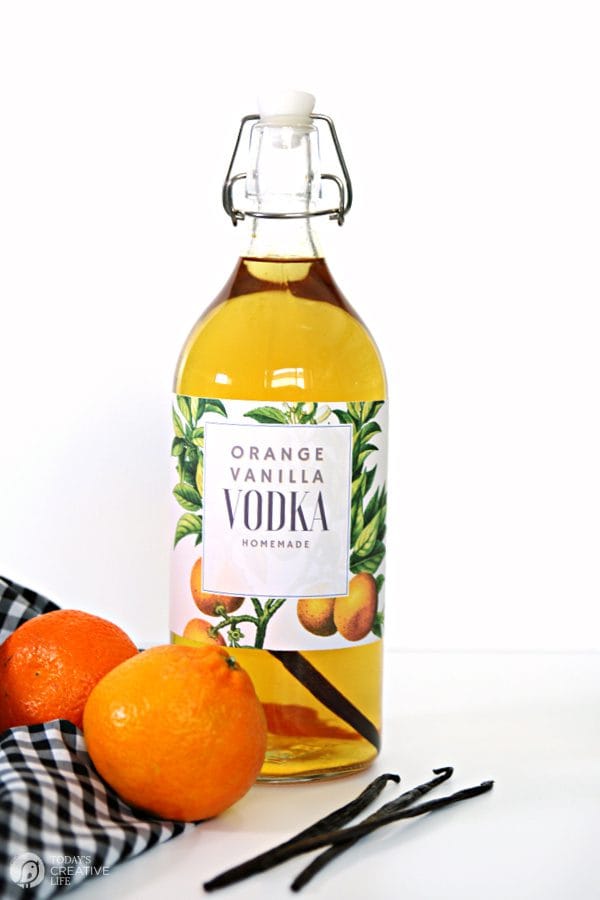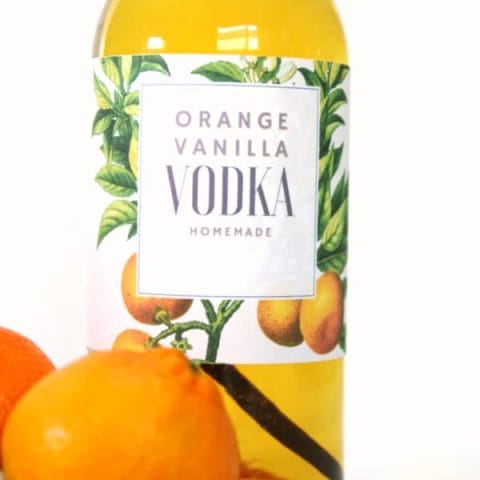 Orange Vanilla Infused Vodka Recipe
Yield: 1
Prep Time: 15 minutes
Additional Time: 14 days
Total Time: 14 days 15 minutes
This infused vodka recipe is easy to make with orange peels, vanilla beans and vodka. Free printable labels.
Ingredients
Vodka - I used a half gallon. You can use any amount you need.
Peels from 3 Oranges
2 Vanilla Beans
Instructions
You'll need a large jar, a cheesecloth, a bottle for the vodka unless you're using the bottle it came in. Free Printable labels are located in the Printable Vault on Today's Creative Life. E-mail subscribers have free access.
Wash oranges well with cool water and peel. You will not be using the orange itself. Just the peel. Place peels inside the jar.
Slice the vanilla bean lengthwise down the middle and slightly open to see the vanilla paste inside. Place 2 or 3 sliced vanilla beans in the jar.
Pour vodka over the peels and vanilla and gently stir or shake. I used a 1/2 gallon of vodka. If you are using more, I'd add more peels and a couple more vanilla beans.
Set in a cool dark spot for a couple of weeks.
Swirl or gently shake every couple of days.
When the vodka has changed to a beautiful golden amber, it's time to strain.
You'll need a large bowl. I used a large measuring cup bowl.
Place the cheesecloth over the jar with your vodka mixture in it and slowly pour the vodka into the bowl.
Pour the newly strained vodka into the bottle you're going to be keeping it in. I used a swing-top glass bottle. They come in many different sizes
I added one vanilla bean which is optional. It was more for a nice visual.
Choose your label. Print onto sticker paper. Cut and apply to bottle.
Notes
I use full sheet adhesive-backed paper which I call sticker paper to print the labels onto.
You determine how much you want to make, however, if you are making more than half a gallon, add more orange peels and vanilla beans.
Use this Orange Vanilla Infused Vodka recipe for any vodka cocktails or however you normally drink vodka.
Drink responsibly. Today's Creative Life assumes NO responsibility for actions. Do not give this to anyone under 21 and do not drink and drive.
Recommended Products
As an Amazon Associate and member of other affiliate programs, I earn from qualifying purchases.
Nutrition Information
Yield 24
Serving Size 1
Amount Per Serving
Calories 181
Total Fat 0g
Saturated Fat 0g
Trans Fat 0g
Unsaturated Fat 0g
Cholesterol 0mg
Sodium 1mg
Carbohydrates 2g
Fiber 0g
Sugar 2g
Protein 0g
We do our best to calculate, however, nutrition information may not be accurate.
What to Make with Infused Orange Vanilla Vodka?
Any cocktail you use vodka in, you can also use this orange vanilla-infused vodka recipe. Add to this grapefruit spritzer. Keep it simple. Of course, it would also be perfect to make something like this orange creamsicle cocktail.
How Long Does Infused Vodka Last?
If you remove the vanilla bean, it will last you a very long time, just as other alcohols do.
Cocktail Recipes
Refreshing home-crafted cocktails.
Fresh herbs make this drink special.
Grapefruit drinks with fresh herbs are delicious.
This cocktail is like a dessert!
The perfect cocktail for sitting around the bonfire!
This 4th of July cocktail has a bang!
Find a variety of simple recipes for the summer season.
This cocktail screams summer!