Create Gingerbread Decor for Christmas without baking. Make ornaments, garlands, mantel decor, and more using a chalk marker with cardboard, brown kraft cardstock, brown grocery bags or chipboard. One of my favorite sasy DIY Christmas Decor ideas.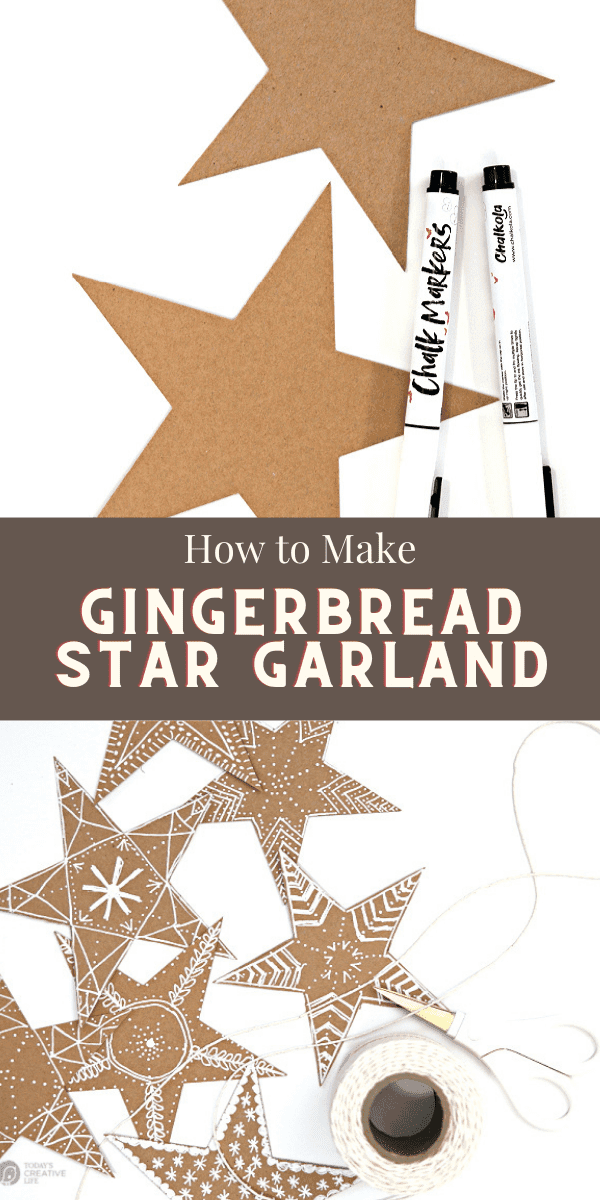 Gingerbread Decor for Christmas
Gingerbread Decor for Christmas is a very popular and budget-friendly way to make your home feel nostalgic and festive. I'm not using real baked gingerbread shapes, I'm making mine from brown kraft cardstock, or cardboard. Or I use cut chipboard with my Cricut Maker as I did for these Gingerbread Ornaments. You can make house shapes, hearts, trees, or stars like I did.
I created a banner for my kitchen window and my fireplace mantel, they look so cute hanging with my cedar garland. I love how organic and simple it looks.
Supplies for Gingerbread Decor
Brown kraft cardstock, cardboard, grocery bags.
Star Template – create your own or use the one I have for you located in the Printable Vault. Subscribers to TCL have free access. Subscribe here if you need to.
Craft Scissors – I used my Cricut machine to cut my stars because it's much faster, but regular craft scissors work great.
Hole Punch
String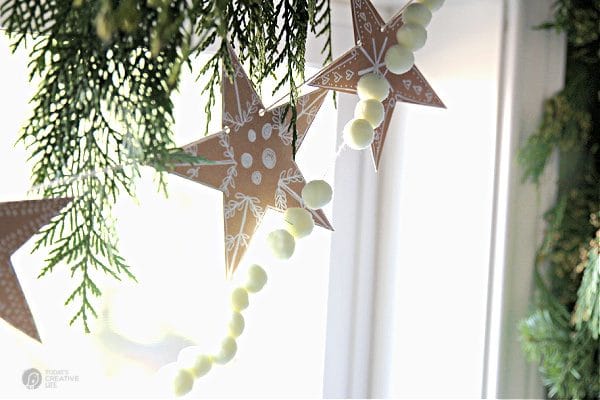 How to Make Gingerbread Decor for Christmas
Yield: However many you need
Active Time: 25 minutes
Total Time: 25 minutes
Difficulty: Easy
Estimated Cost: $15
Create budget-friendly DIY Gingerbread Decor for Christmas like this pretty star banner.
Materials
Brown Kraft Cardstock, Cardboard or Brown Grocery Bags
String
Chalk Marker - fine to medium tip
Tools
Craft Scissors
Optional: I used a Cricut Maker to cut multiple stars at ones.
Single hole punch
Instructions
Download the star template from the Printable Vault or hand draw your own.
Cut stars from the paper you're using with scissors or a Cricut.
Using the chalk marker, start designing your stars. I looked on Pinterest for gingerbread designs and went from there.
Punch 2 holes across from each other near where a point starts.
Thread string through with the string showing on the backside. I mixed up the star sizes for variety.
Hang and enjoy.
Notes
Try making different styles.
Black cardstock with a gold, silver or white marker.
White cardstock with a silver or gold marker.
Recommended Products
As an Amazon Associate and member of other affiliate programs, I earn from qualifying purchases.
Where to Hang Gingerbread Star Garland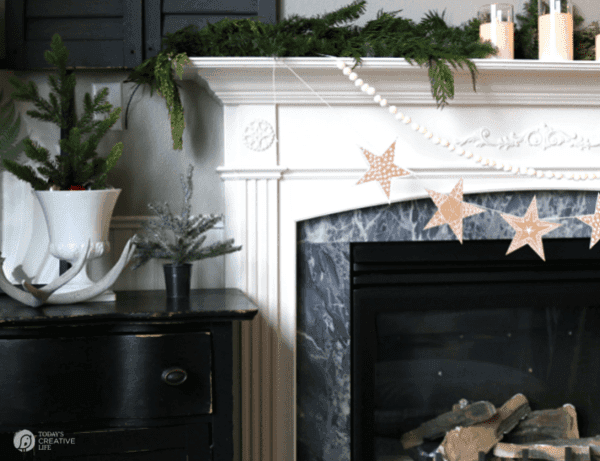 I made two gingerbread star garlands. One to add to my fireplace decor and one to hang in my kitchen window with my cedar garland.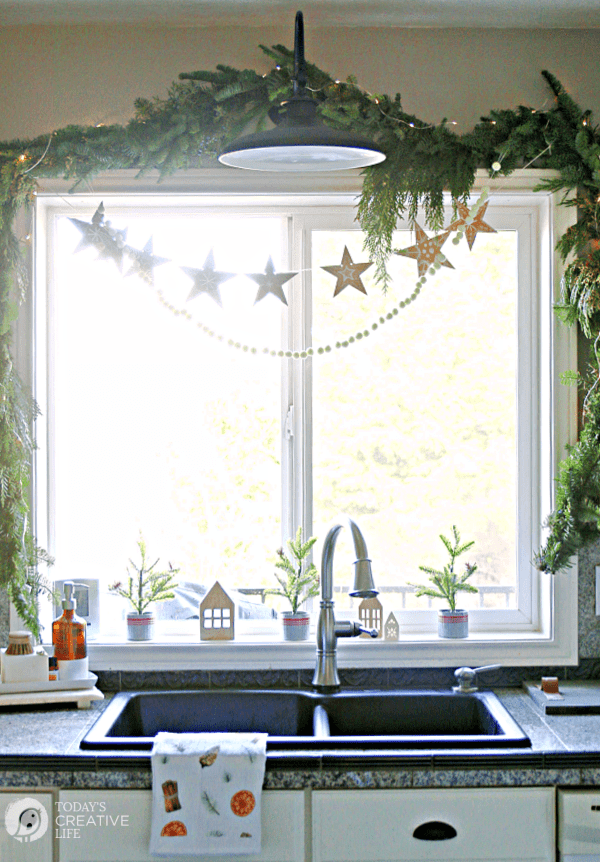 I love the look of the brown paper with the real cedar garland for a natural organic holiday look. If you decorate with real greenery, you'll find my article on How to Keep Your Garland Fresh very helpful.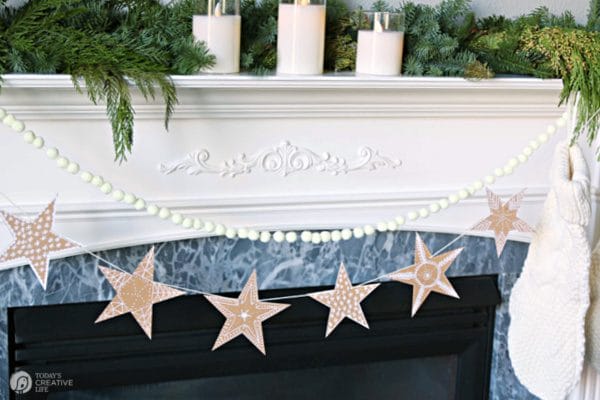 How to Store Paper Star Gingerbread Decor for Christmas?
I like to save any DIY Christmas decor that I can so I can reuse it the next year. I store paper items like this star garland in a paper file folder so it doesn't get bent and then I place the file folder inside a gallon zip lock bag to keep it from getting wet.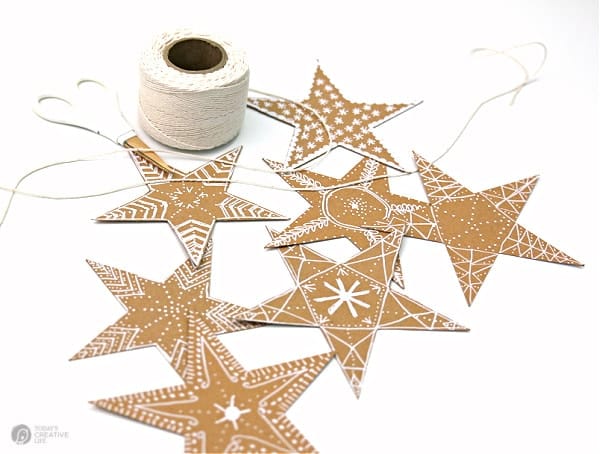 DIY Christmas Decor ends up being one of my most favorite ways to decorate.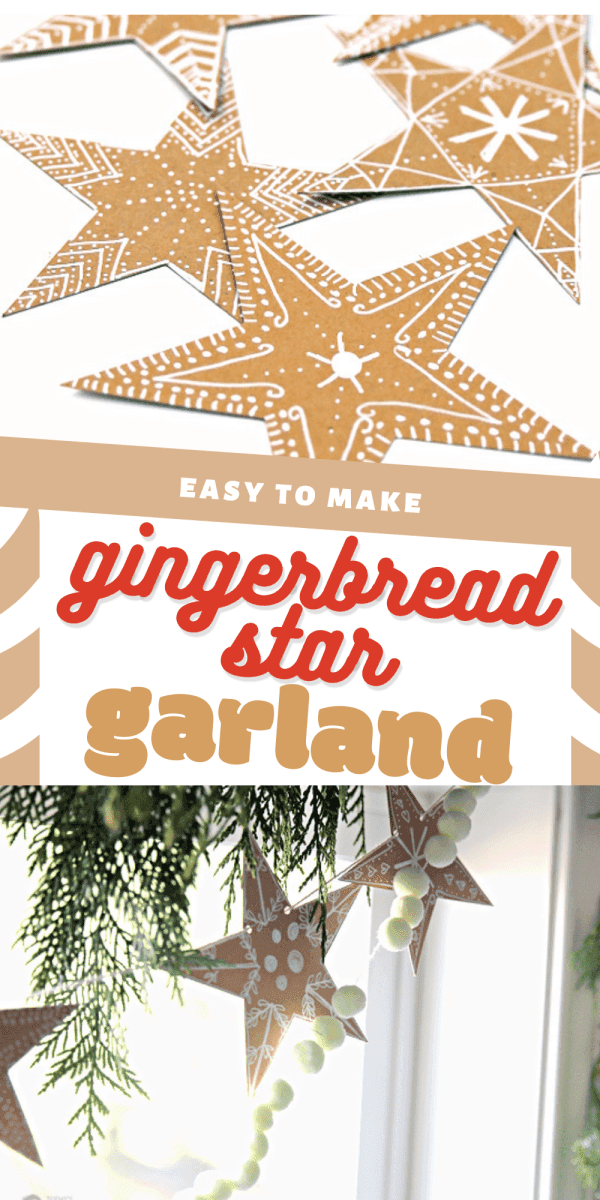 DIY Holiday Decor
Easy DIY ideas for creating your own Christmas decor.
Easy to make Christmas pillows using iron-on vinyl and a pillow cover.
Homemade white clay ornaments are fun and easy to make for holiday decorating.
Drying oranges is a holiday classic. How to make Dried Oranges in the oven for holiday decor, potpourri and gift wrapping.
Free Printable Merry Christmas paper tag banner adds quick DIY holiday decor.
Easy to make felted wool ball pom-pom winter pillow cover.
Easy to Make Holiday Ornaments using chip board or cardboard
Easy to make Christmas luminaries with cedar and cranberries.
Use your Cricut Cutting Machine to make holiday snow topped paper houses.