I"m joining a few blogger friends in sharing DIY Christmas wreath ideas today. This DIY Scandinavian evergreen star craft has been on my list to make for a long time. Even though it's not technically a wreath, I decided to use it as one. I've been drawn to Nordic, Swedish or Scandinavian Christmas decorations for a while and why not use this simple Swedish star however I wanted. This Christmas craft using popsicle sticks (or leftover wooden fondue forks like me) and pine needle garland ties makes the perfect evergreen Scandinavian stars for handmade holiday decorations.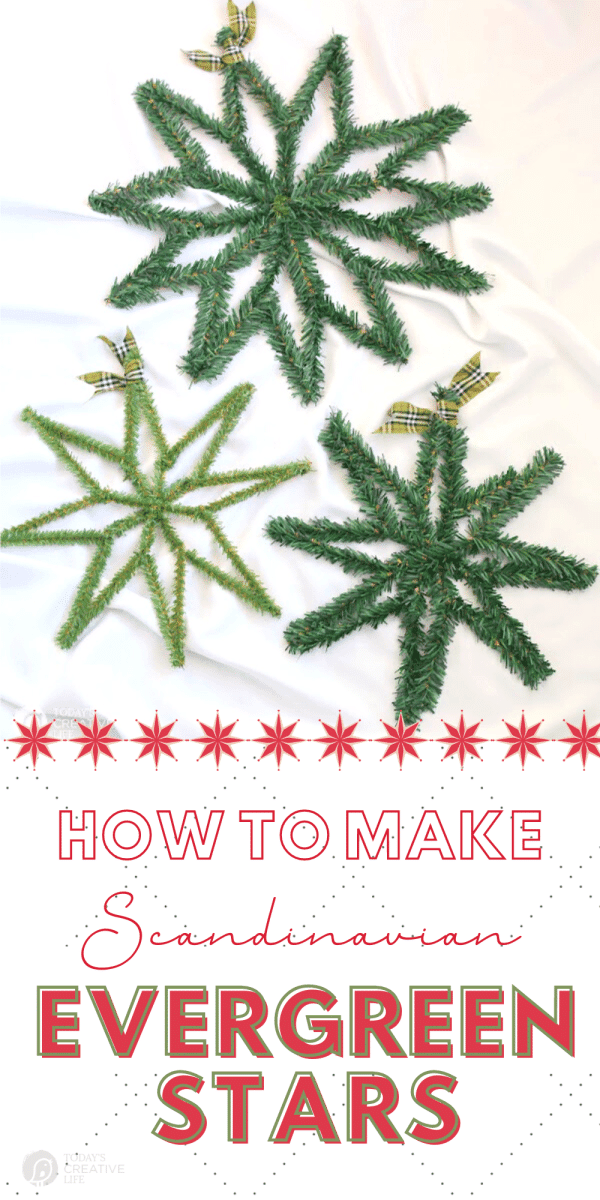 DIY Scandinavian Evergreen Star
All things Hygge (hyoo-guh) and making my home comfortable, cozy, and simple is my goal. I've been enjoying homemade Christmas decorations and the Scandinavian style brings me a lot of inspiration.
Here are a few of my favorite DIY handmade holiday decorations:
I enjoy decorating for the seasons with DIY home decor, not only because it's budget-friendly, but it adds more creativity and personality to my home. Your home should reflect YOU, not like the display at any home store.
Evergreen Star Craft Supplies
These stars require simple craft supplies that you may already have on hand.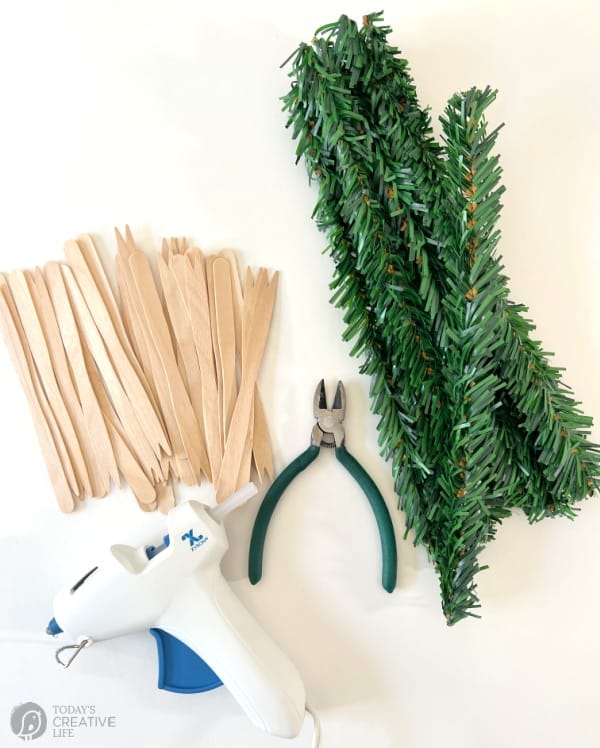 Popsicle sticks – I had a large bag of wooden fondue forks left over from when I made my chocolate marshmallow fondue and beer cheese fondue. If you're using popsicle sticks, I'd say if you have a choice, get the thinner ones.
Hot Glue Gun and Glue Sticks – I use these silicone finger caps so I don't burn my fingers… I learned the hard way.
Faux Pine Garland Ties – I had two kinds as you can tell in the photos. I perfer the lighter green. You can also use real rosemary, which would be my first choice if I had enough of it to make these stars with!
Wire Cutters – The garland ties will need to be cut to fit the length of different sections of your star.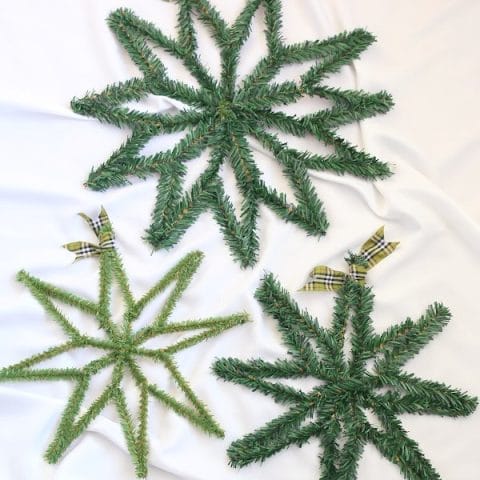 How to Make Scandinavian Evergreen Stars
Yield: 1
Prep Time: 5 minutes
Active Time: 30 minutes
Total Time: 35 minutes
Difficulty: Easy
Estimated Cost: $15
Follow this Christmas craft tutorial to learn how to make a Scandinavian star using popsicle sticks.
Materials
Popsicle Sticks - I'm using leftover fondue forks
Evergreen Garland Ties
Tools
Glue Gun and Glue Sticks
Wire Cutters
Instructions
Gather all your supplies.
Stack your popsicle sticks (4 total) in a criss cross position, gluing them together.
Glued in the middle, your base should look like this.
Glue sticks to each end and create a point like so.
Keep working your way around gluing the sticks to the front or back of your original base.
You'll end up with a star like this.
Time to glue the garland ties on. I just loosely measured with a tie and cut it.
Starting on the outside of the star, add glue to the stick and press the garland tie in place.
Your star will look like this.
Now repeat the gluing process to finish up the center.
Wrap ribbon or twine around one of the corners to hang. I used command hooks.
Notes
If you want to create wooden Swedish stars, you'll need to make the glued sections less obvious by gluing under each stick.
Try using fresh rosemary or cut boxwood stems instead of garland ties for a more rustic look.
Christmas Wreath Ideas
Here are several DIY Christmas Wreath Ideas from a few of my blogging friends. So much inspiration and talent!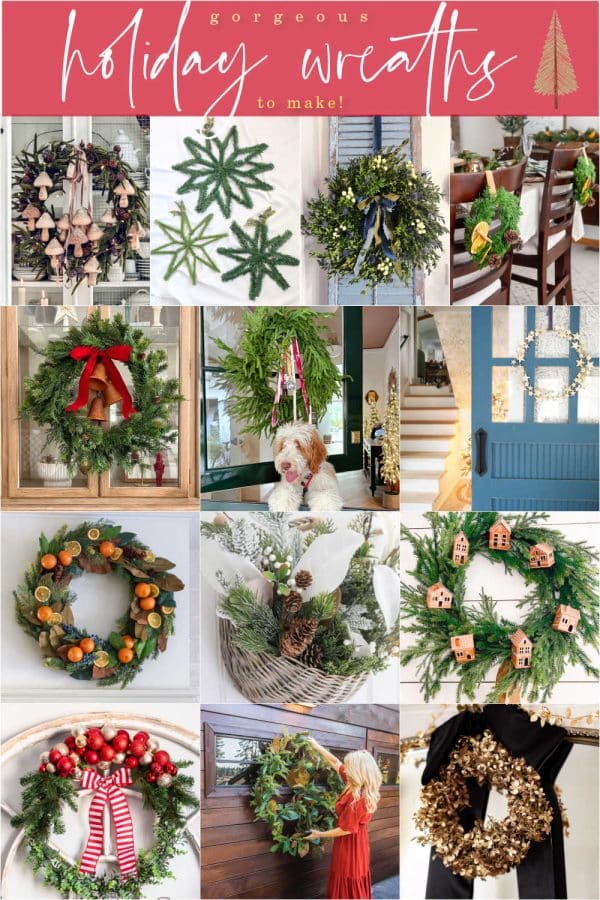 Click on each image to see a tutorial for that wreath.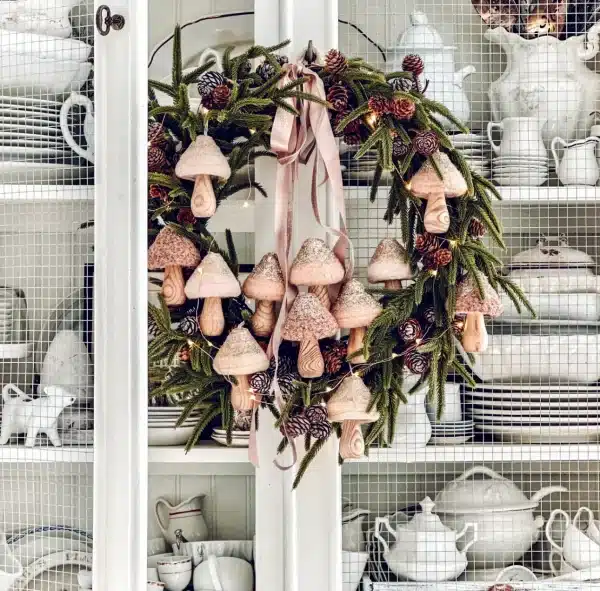 Christmas Star Crafts
These Scandinavian Evergreen Stars would be very cute using fresh rosemary or boxwood sprigs. Use your imagination with what you have on hand.
Christmas star crafts are a great way to create DIY holiday decor with so many ideas using a variety of materials. I was on a huge paper star kick the past couple of years. I ended up making patriotic paper stars with decorative bags. They turned out so cute! You could do the same with holiday patterned paper bags.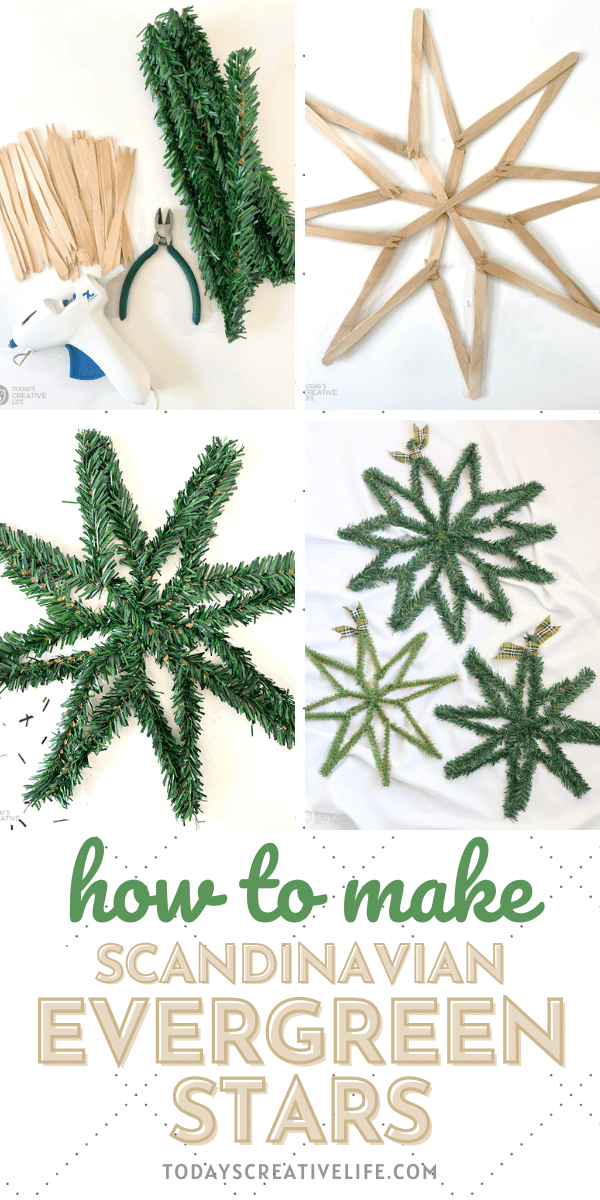 DIY Holiday Decor
Easy DIY ideas for creating your own Christmas decor.
Vintage Rustic porch ideas for Christmas.
Easy to make Christmas pillows using iron-on vinyl and a pillow cover.
Homemade white clay ornaments are fun and easy to make for holiday decorating.
Drying oranges is a holiday classic. How to make Dried Oranges in the oven for holiday decor, potpourri and gift wrapping.
Free Printable Merry Christmas paper tag banner adds quick DIY holiday decor.
Easy to make felted wool ball pom-pom winter pillow cover.
Easy to Make Holiday Ornaments using chip board or cardboard
Easy to make Christmas luminaries with cedar and cranberries.
Use your Cricut Cutting Machine to make holiday snow topped paper houses.