I am so happy to have found this TV Wire Hider! This cable hider method is the easiest DIY for a wire hider wall.
If I had my way, my TV would also be hidden while not in use. I've been able to hide my TV and wires in my living room and knew I would need wire hider solution for my bedroom.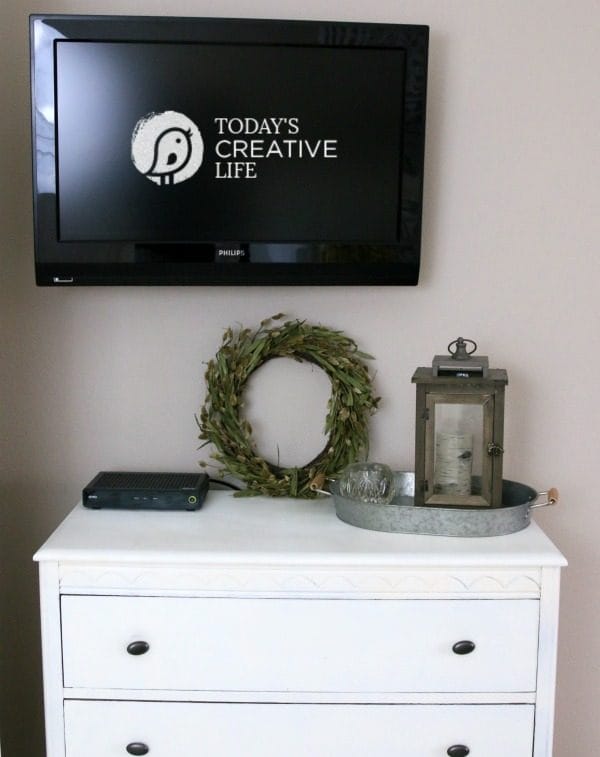 TV Wire Hider
I needed an easy wire hider solution for the TV power cords and the HDMI cable cords without needing an electrician. I needed and wanted something simple that my husband and I could do in an hour or less. It seemed like a lot to request, but we found the perfect product!
I partnered up with Best Buy to review the Legrand In-Wall Power Cord and Cable Kit. I was compensated in the form of a Best Buy Card and/or received the product for free. Opinions shared are 100% mine.
We had kept our television in an old armoire in our bedroom. The cabinet was bulky and was taking up space. I was wanting to place the TV on the wall, but I was concerned about all the wires. Wires are messy and ugly and I wanted nothing to show! I figured there had to be an easy solution, and I'm thrilled to have found one.
Wire Hider Solution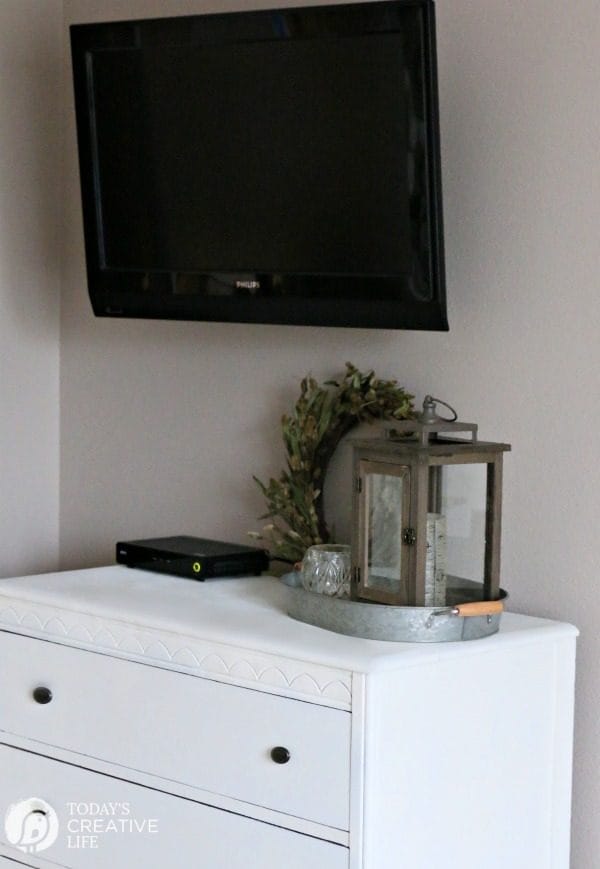 There is nothing more than unsightly wires to ruin your decor.
It's hard enough decorating around a flat-screen TV, let alone all the wires draping down the wall. I just can't do it.
I needed a simple solution and was thrilled to find this TV Wire Hider or cable hider…. well that's not the real name, but that's all I was interested in. Get yours here.

This Legrand In-Wall Cord & Cable Power Kit was easy enough that I probably didn't need my husbands help. It comes with everything you need to complete the project. Additional items you'll need are; a Phillips screwdriver, a pencil, a tape measure and a stud finder.
Here's a great video tutorial to get you started!
How to Hide TV Wires and Cables
First, we measured and marked where our TV would be on the wall and how high the dresser would go.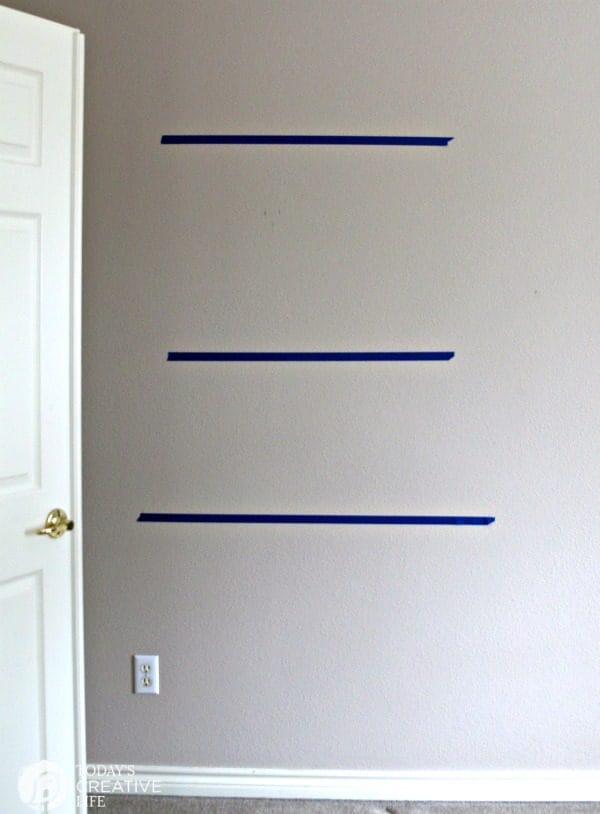 Next, we located and marked the studs.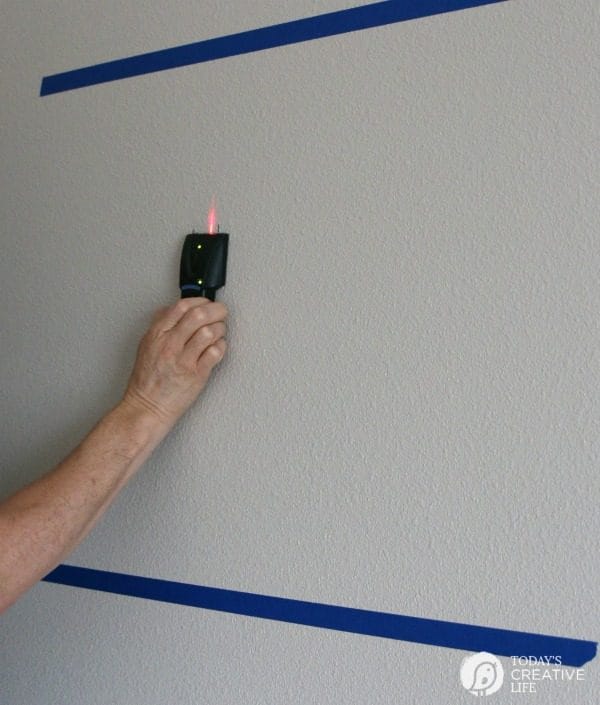 We first installed our television wall mount so we could navigate placement of where we would need to cut into the drywall.
We had all the parts organized and ready!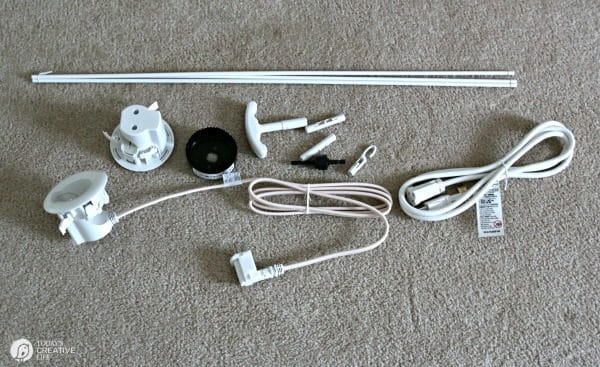 It was time to saw. It comes with a round saw that reminded me of a biscuit cutter.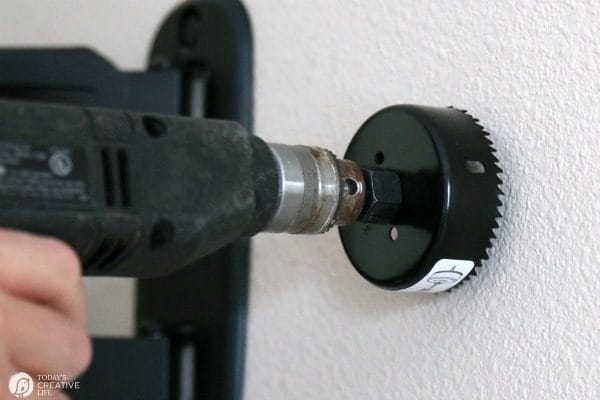 You can use your drill if you want, but it also comes with a handle so you can do this manually. It's up to you on which method you want to use. Using our drill was obviously much faster.
It cuts a really clean circle.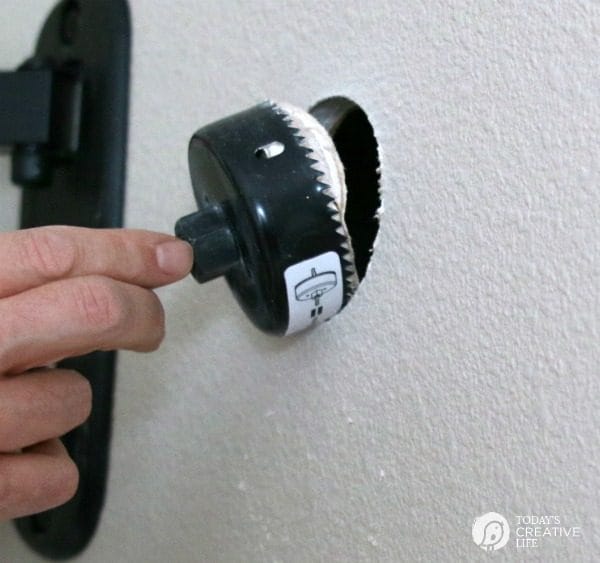 You'll need one at the top and at the bottom.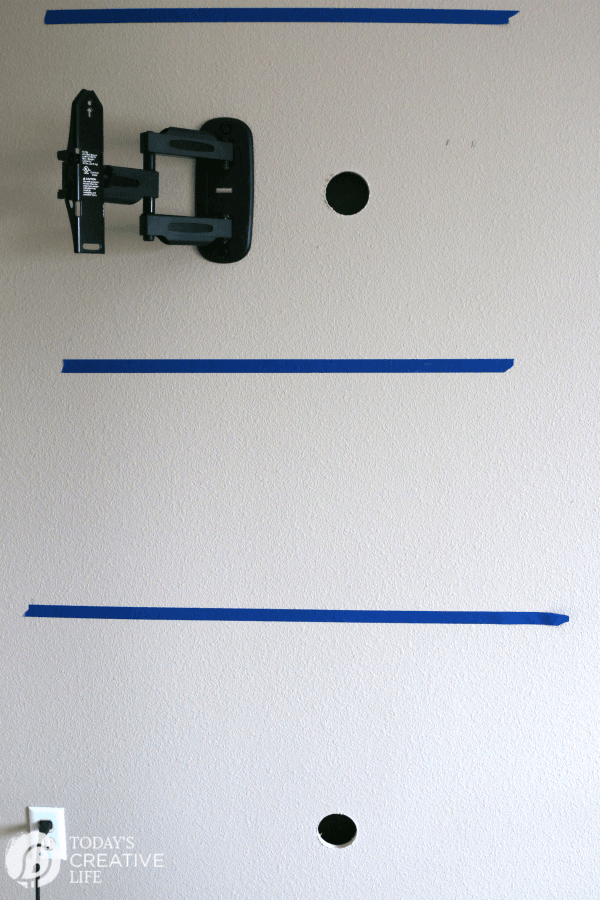 Now it was time to put together the fish tape with the hook. This is what will help you guide the cords and power plug from hole to hole.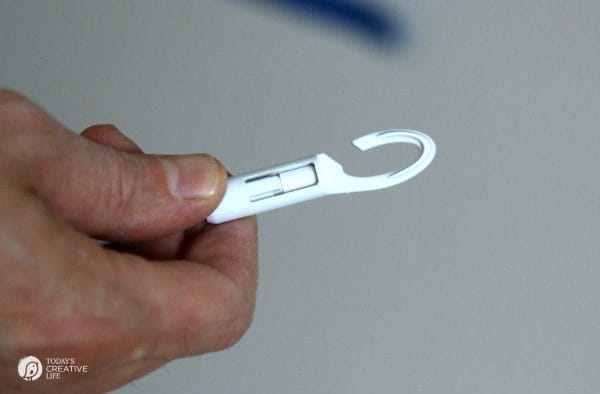 Guide your fish tape and hook from the bottom hole to the top with your hook at the top.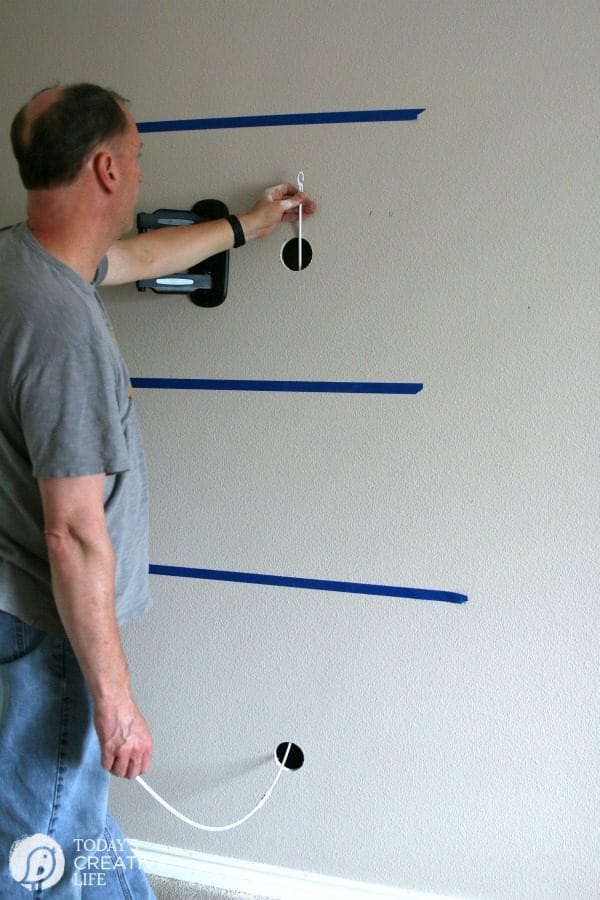 Hook the wire of the power harness to the fish hook and pull through the wall until it protrudes through the bottom hole.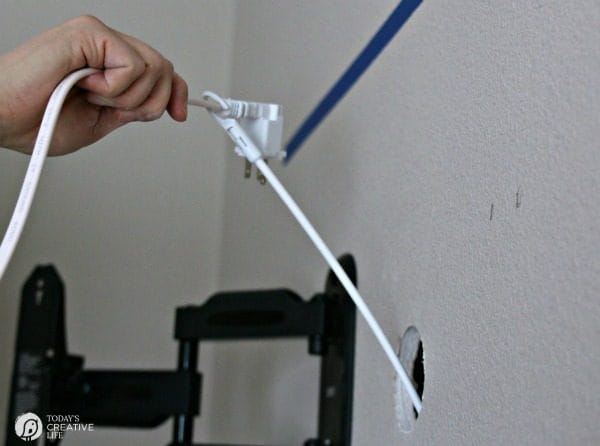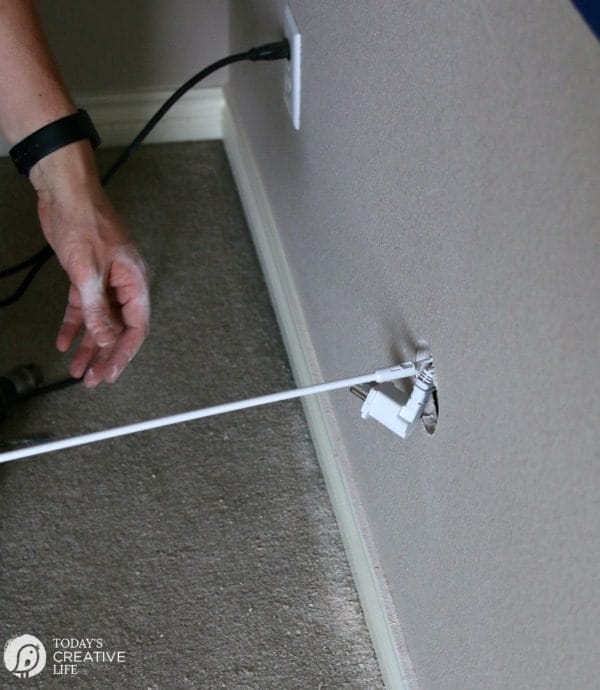 Following the directions, install the trim rings. Don't worry, just watch the video tutorial above if you get stuck.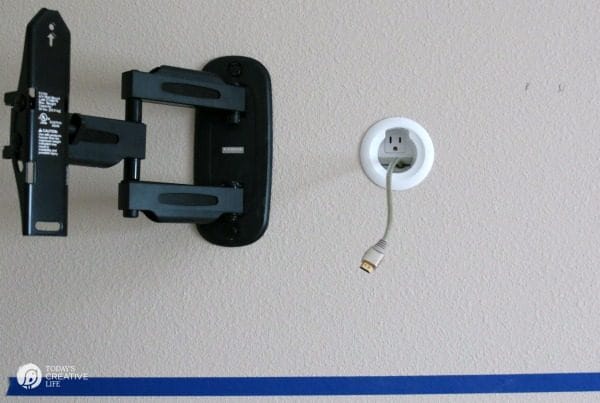 Follow instructions to complete the installation.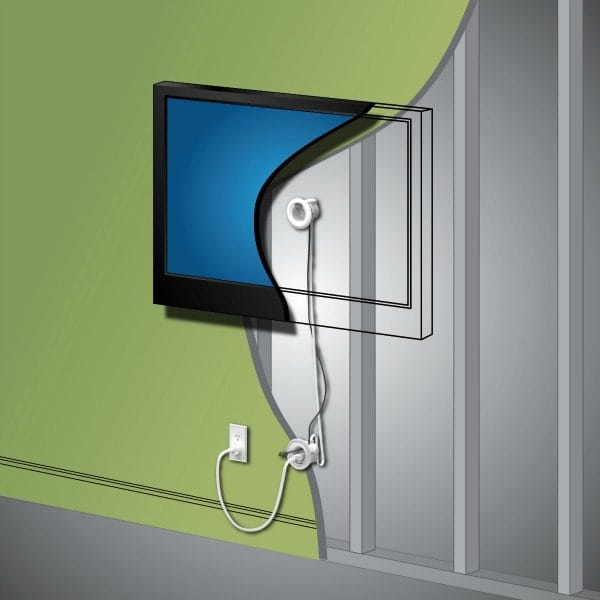 Plug everything in, arrange your furniture and you are finished! And look! NO WIRES! It truly is a TV Wire Hider!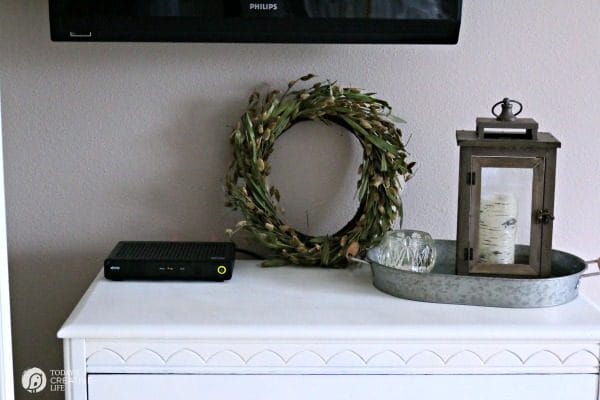 Hiding television wires and cables are possible and so much easier than I thought it would be.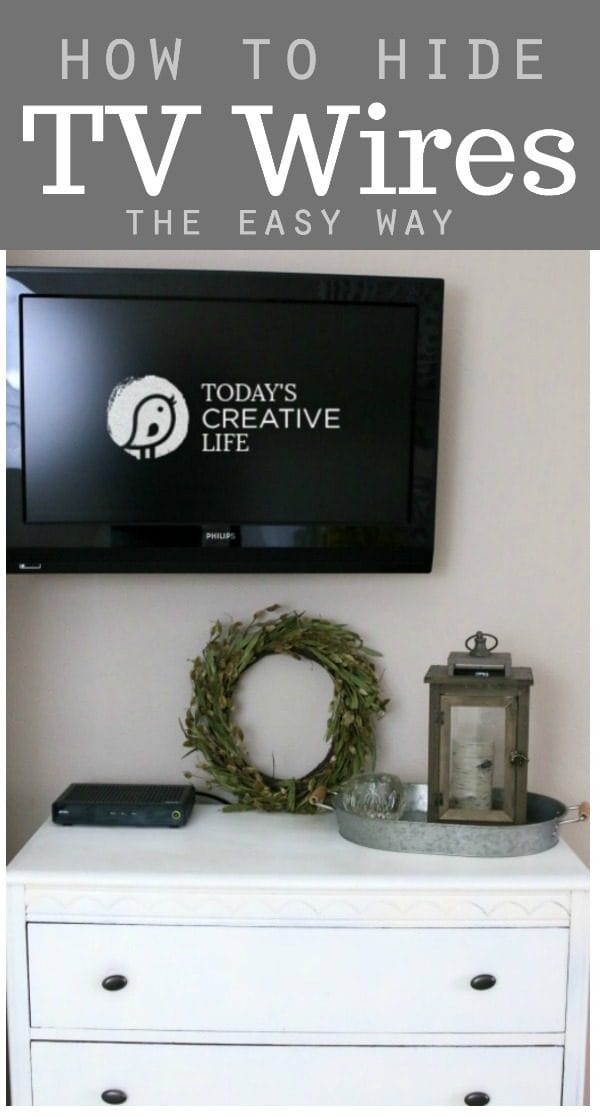 Now it's time to curl up in my bed and watch a movie!