I'm always looking for simple No-Carve Creative Pumpkin Decorating Ideas that make decorating for fall and Halloween easier. I usually just decorate for fall while throwing in a few hints of Halloween.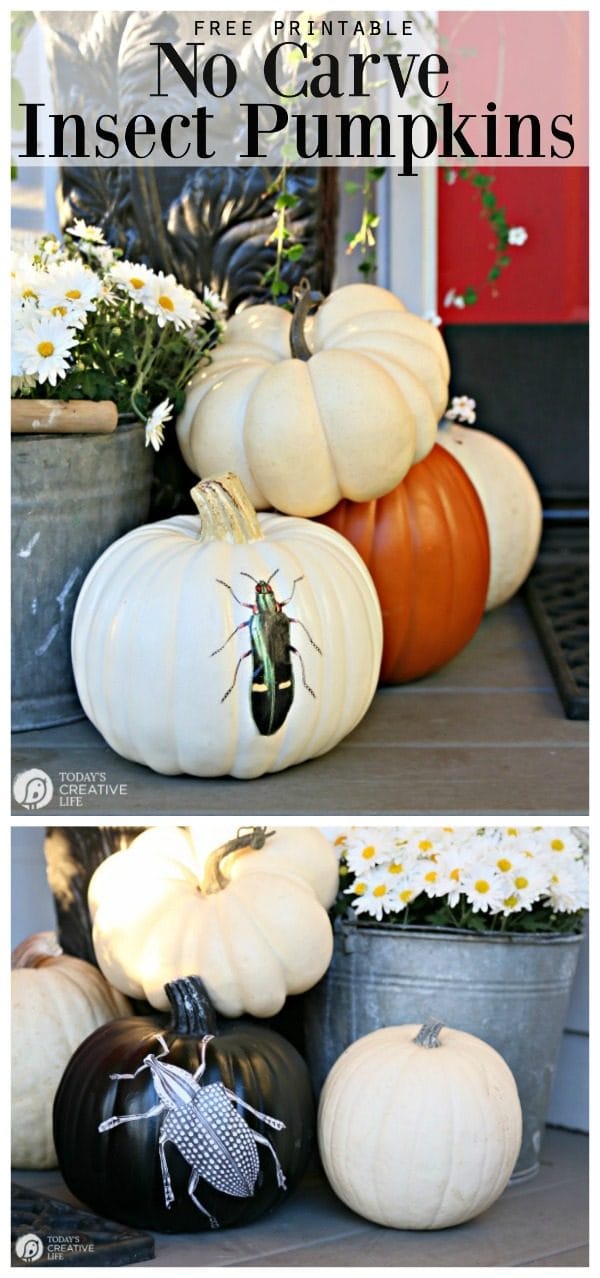 Subtle Halloween decoration is much more my style, especially if it has a vintage flair like these decoupaged bug pumpkins.
I think you're going to like these free printable beetles for a fun creepy Halloween decoration! Keep reading for your free download.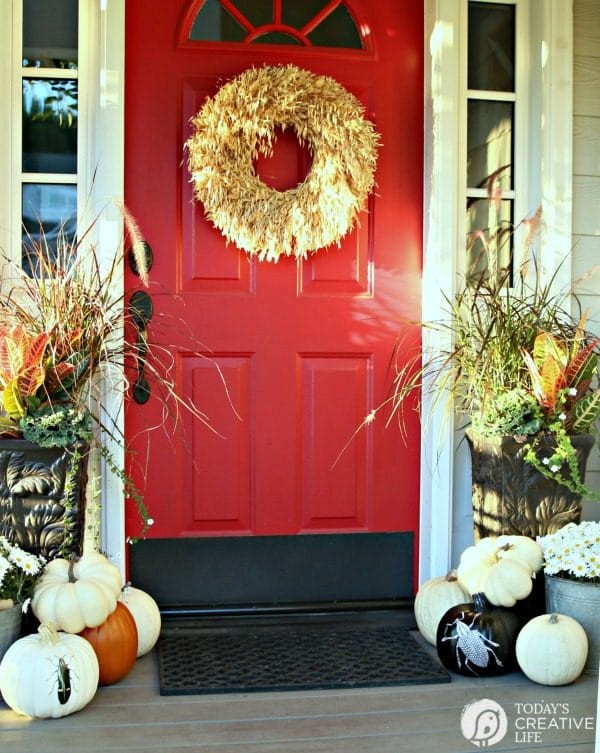 Creative Pumpkin Decorating Ideas
While looking for something in my craft room, I came across these no-carve mod podge pumpkins I crafted last year. I guess I forgot to share them. It was a little busy around here with having new wood flooring installed. I also made decoupaged bug candy boxes which turned out SO cute! I'll be sharing those soon too!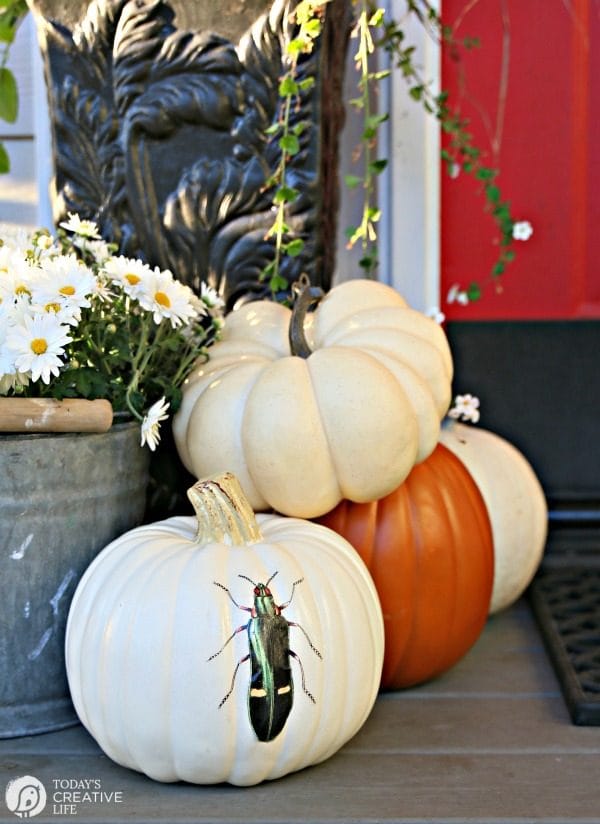 Putting together my fall porch, I was trying to think of simple and creative pumpkin decorating ideas that would put a pop of Halloween but wouldn't require me to completely redecorate my fall porch for Thanksgiving. These decoupaged no-carve pumpkins were the perfect addition. I'm so happy I came across them!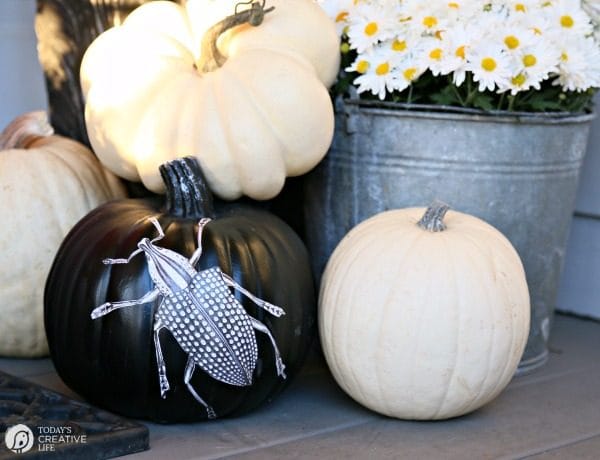 Decorating with creepy insects is a scary as I get. Did you see my easy DIY Beetle Pillow I shared this week? It goes perfectly with these beetle pumpkins. I think I've created a theme!
How to Make No-Carve Decoupaged Pumpkins
Supplies Needed:
Insect Image – I'm giving you these free printables, but any image you like will work.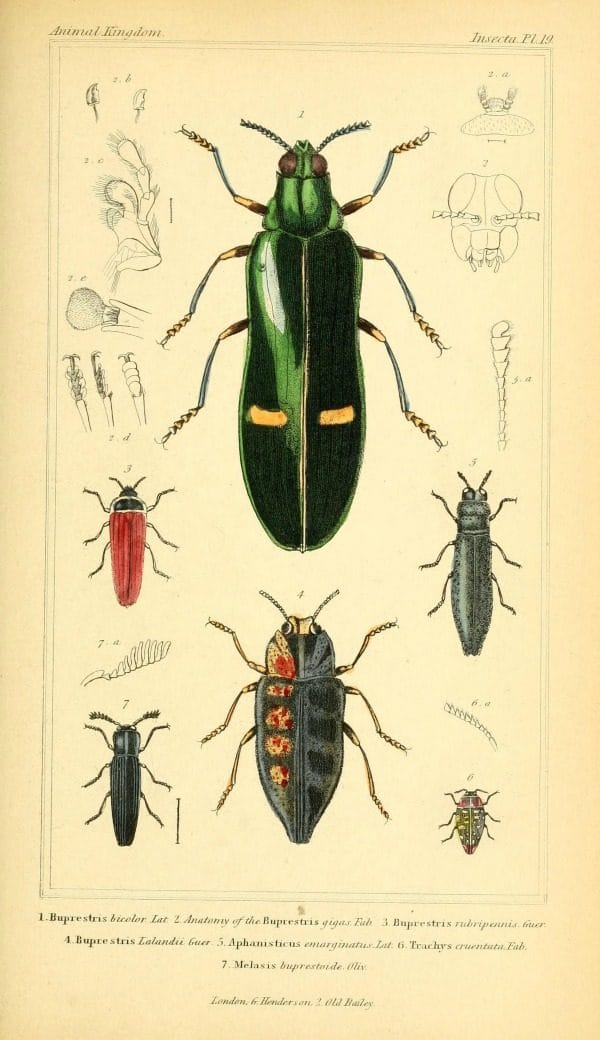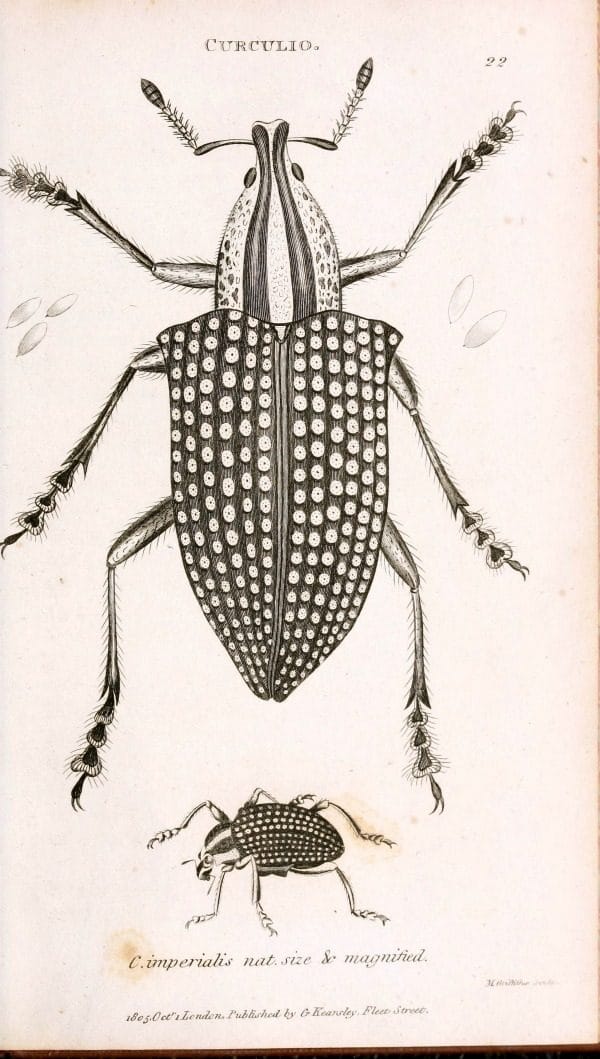 Print out your images and hand cut using craft scissors.
Gather your Mod Podge supplies.
Decide where you want to place your insect on your faux pumpkin. Slather that area with mod podge.
Place your image over the wet material.
Now paint over the image with more mod podge.
It's going to look sloppy and not very cute. But remember, it dries clear.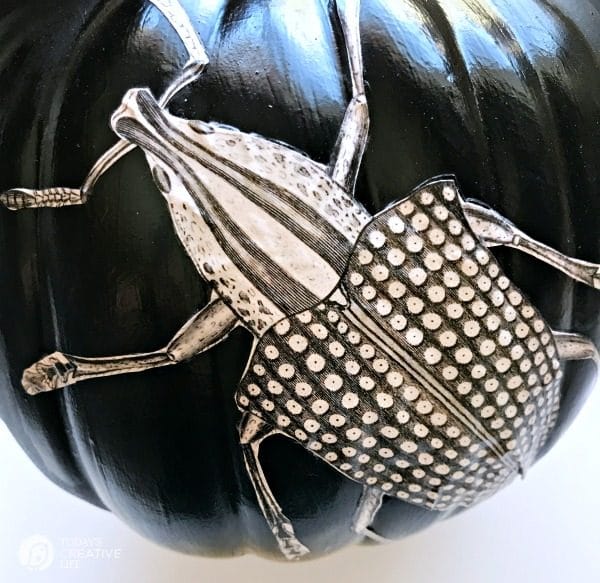 If you're going to use them mostly for outside, you may want to spray with a sealer or use a decoupage formula for the outdoors.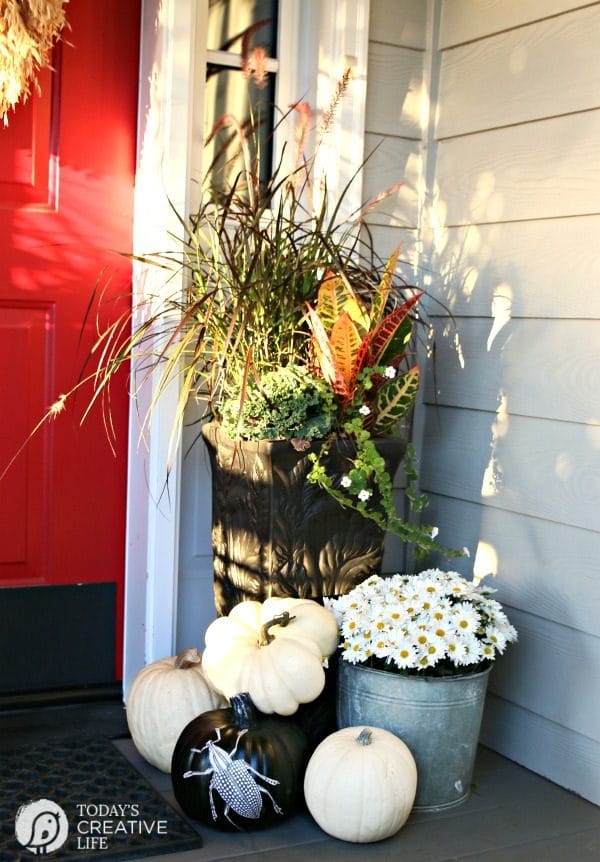 Don't you love a simple craft idea? Especially creative pumpkin decorating ideas for simple Halloween decor.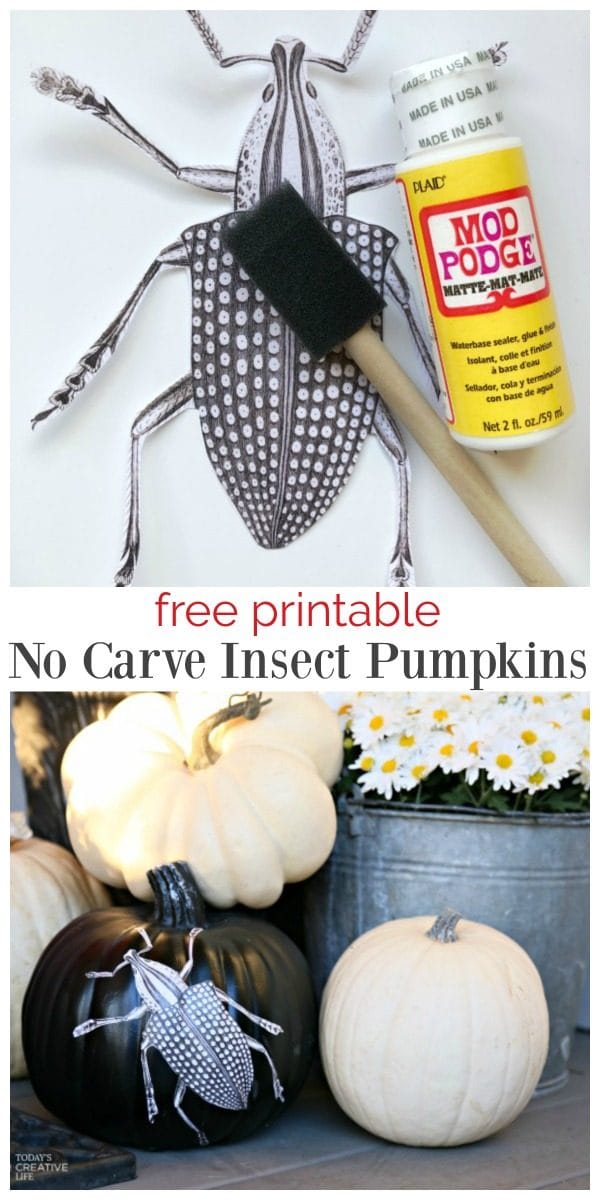 ---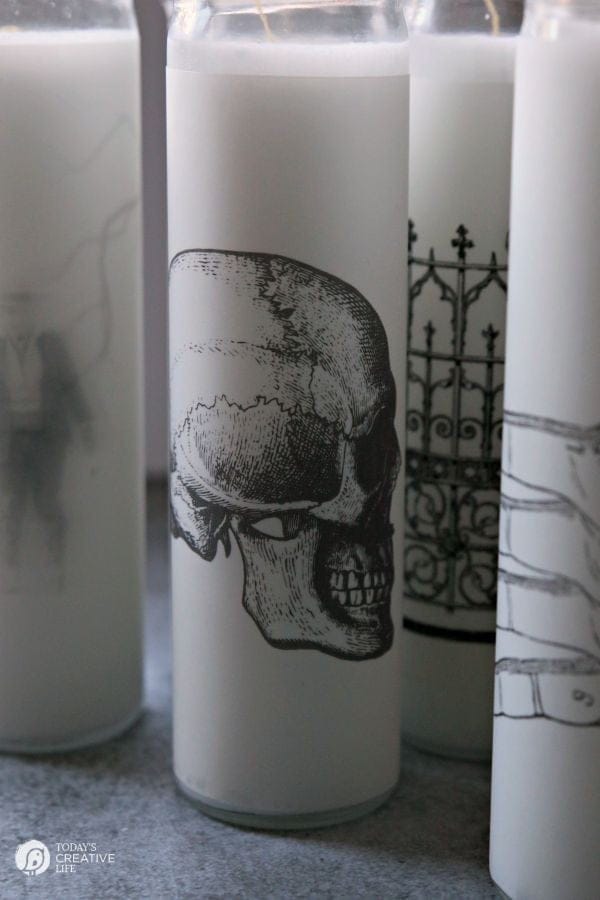 DIY Spooky Halloween Candles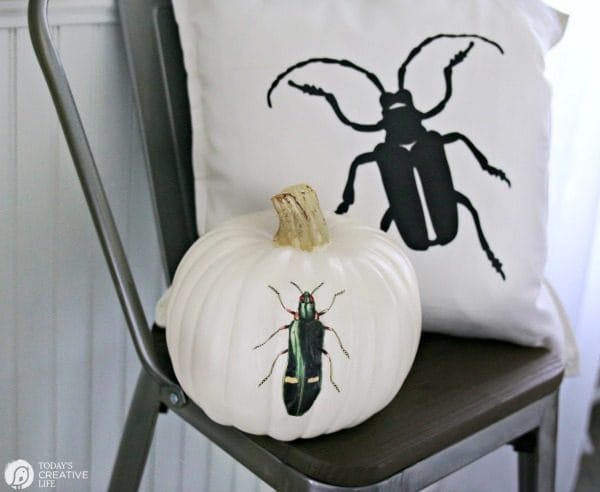 DIY Insect Pillow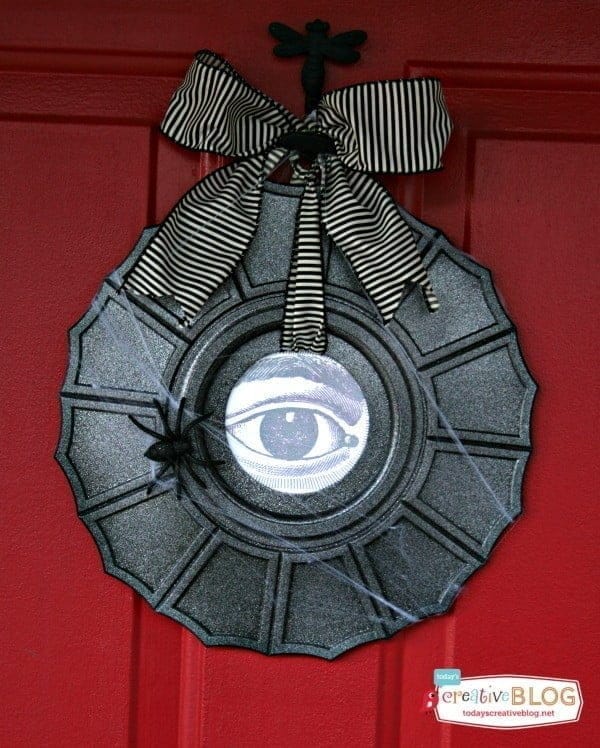 DIY Ceiling Medallion Halloween Wreath
pt>