Having an eco friendly hardwood floor finish was very important to us, so working with Bona Flooring and having our new flooring finished with their water-based high traffic method was a no-brainer. Having new wood floors installed was the highlight of my year! See part 1 on Hardwood Flooring – Choosing a Color.
Eco Friendly Hardwood Floor Finish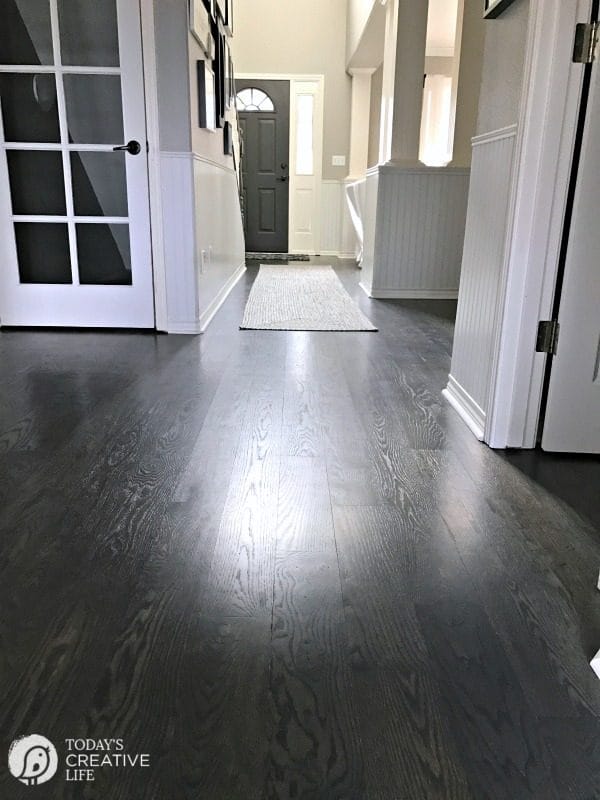 Here in the Pacific NW, I know we may be known (even teased) for living a more eco-friendly non-toxic lifestyle. But I believe most people want and choose the healthiest options for their homes and their families. We do better, when we know better.
As I learn more and more about off-gassing and VOC odors… I realized just how little I really knew, especially how dangerous VOC toxins can be. Once you open that pandora's box, it's hard to ignore.
You're suddenly wondering the toxicity of all the items in your home! Carpet can be one of the biggest culprits of emitting toxic gasses into your home, but equally harmful is using a non-water based method to refinish your floors, called Acid Cure. I have since replaced the carpet on our upper level with one of the best non-toxic carpet hypoallergenic options on the market.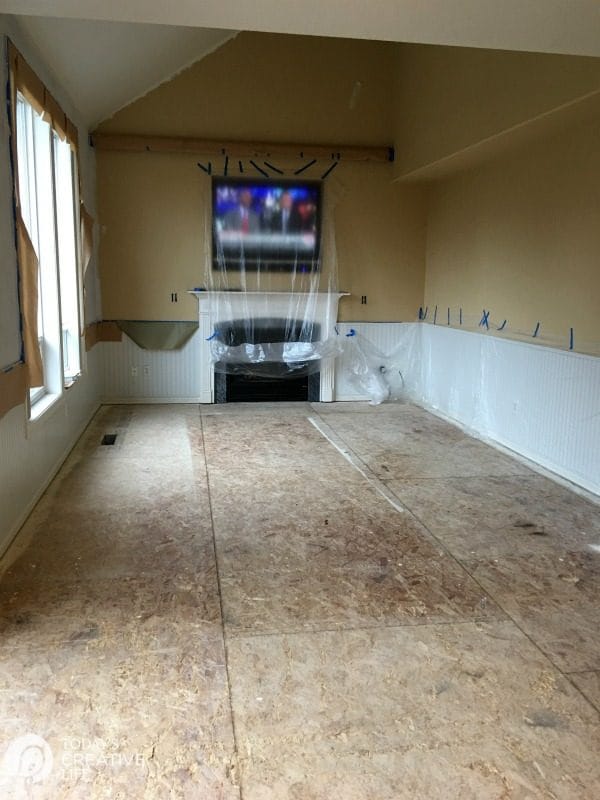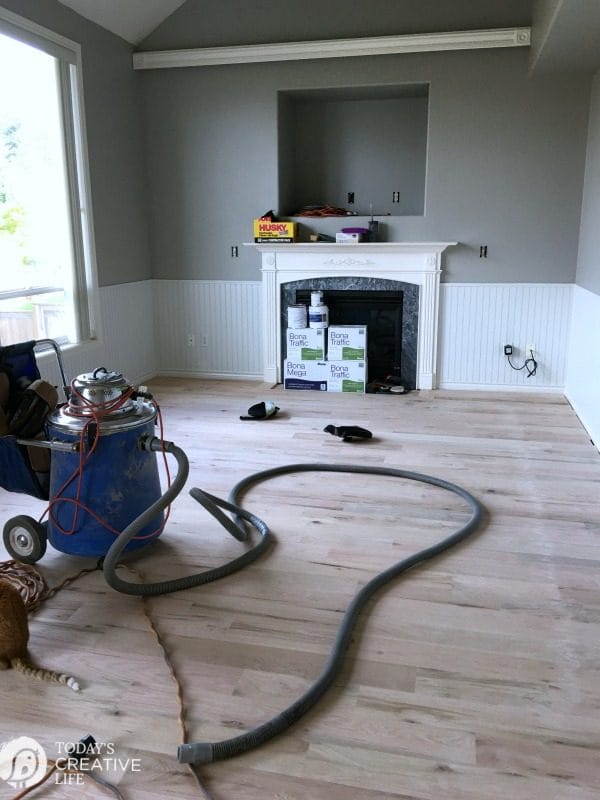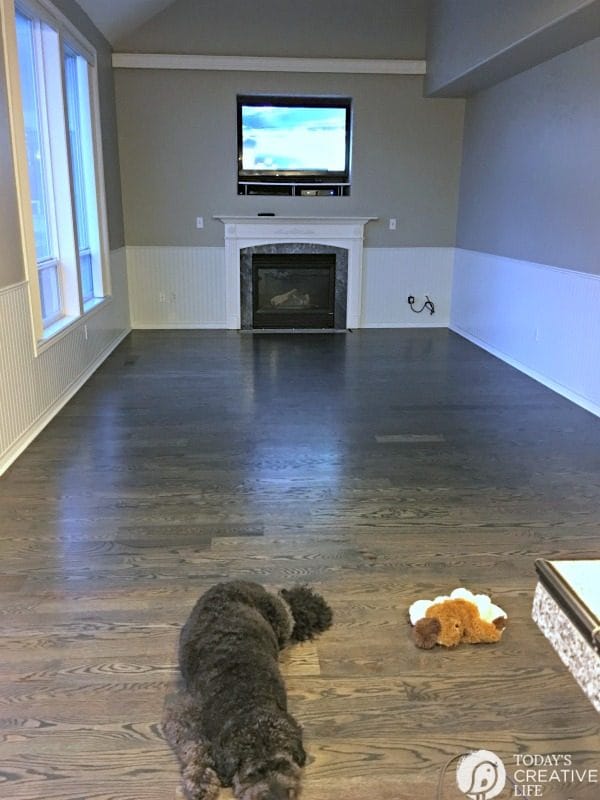 Just the name Acid Cure sounds horrible, doesn't it?
What are acid cure floors?
Acid cure floors, also known as a Swedish finish, is a highly dangerous and toxic method of sealing hardwood floors. It's a method that is widely used among floor refinishers. This is NOT an eco friendly hardwood floor finish and definitely not water based.
Swedish finishes are a Class 1 Solvent with a flash point below 73 degrees Fahrenheit. That means it's extremely combustible and dangerous to deal with. It's not only unsafe for the home and the home owner, but also for the contractor applying the product.

Swedish finish will attack the central nervous system after repeat exposure and can injure people who are chemically sensitive, have asthma, or have any other breathing illness. It will also off-gas in your home for an average of 60 days.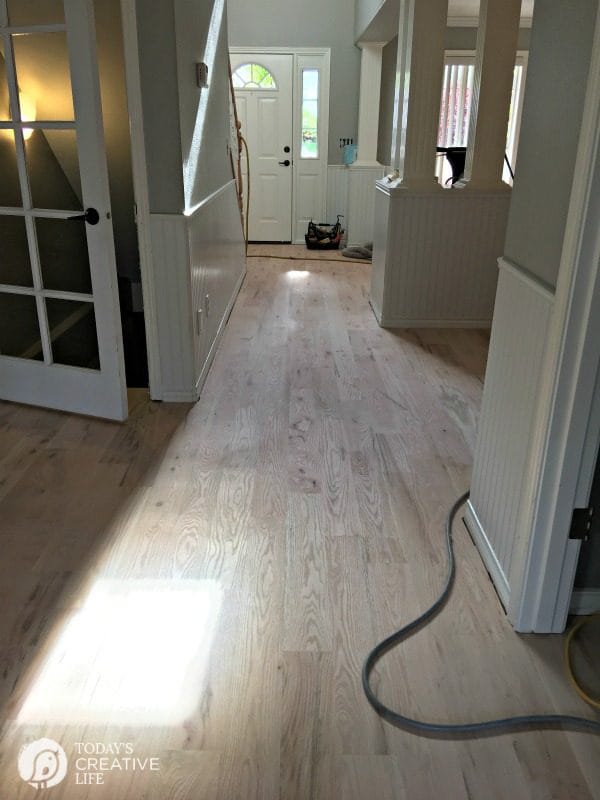 Sounds scary, doesn't it?! Way more than you ever thought you needed to know. Now you can understand why I'm SO thrilled to have a water based, eco friendly hardwood floor finish for my brand new wood flooring.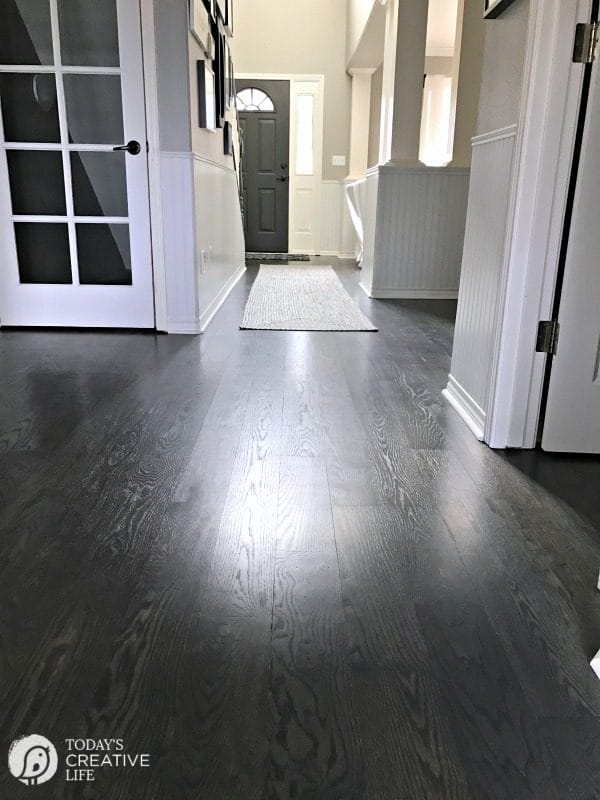 Non-Toxic Water-Based Floor Finish
Domino Floors, a certified Bona Wood Floor Specialist used Bona adhesive to glue assist my new hardwood floors (glue assist just means they used nailing and gluing to lay the floor). This creates a solid foundation for the floor. Bona's silane-based adhesives are unique with their carefully weighted combination of elasticity and strength, specially developed and tested by Bona's research and development team. See more about that here.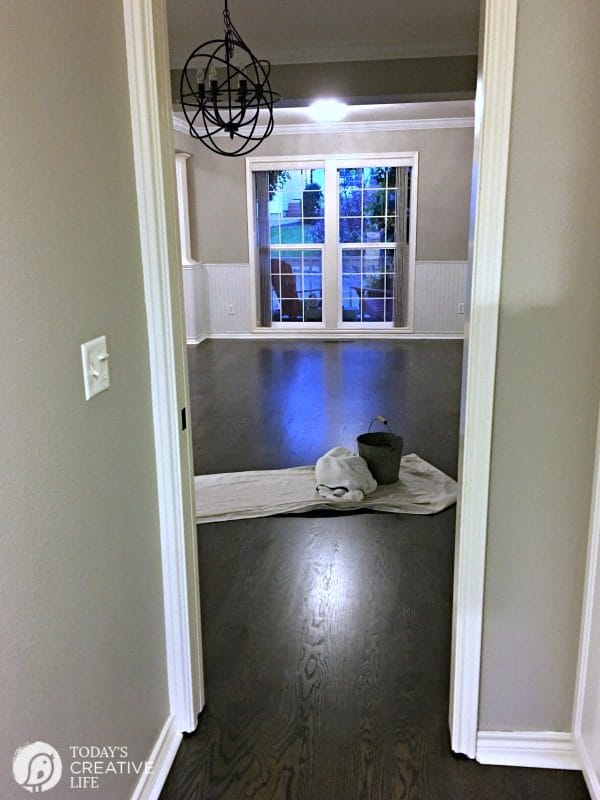 Next, they sanded my floor with a dust containment system (the Bona Atomic 110). What's AMAZING about this system is that it leaves minimal dust in the home. You can see the machine in my first post; Hardwood Flooring – Choosing a Color.
Better for the air, for my family, my animals, my house and of course my floors. I was ready and prepared for major dust covering everything! I had large plastic sheets blocking off the upstairs, I had scheduled my cleaning lady for a full wipe down, only to realize that there was hardly any dust at all! I was shocked. I had to cancel the cleaning.
You always hear how messy contractors can be, but I have to say, this was one of the cleanest processes I've ever witnessed.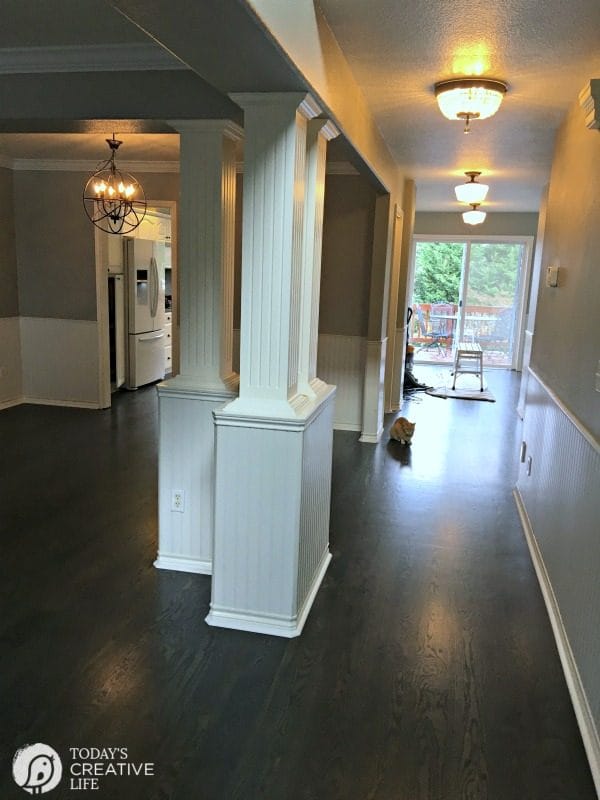 Again, learning more than I ever thought I needed to about dust containment, but, WOW! It's pretty important to a non-toxic environment and sadly, many contractors don't bother.
With no containment, wood dust particulates in the air exceed 22 milligrams per cubic meter
OSHA's limit for wood dust particulates present in the air is 1 milligram per cubic meter
With containment, wood dust particulates in the air are below .75 milligrams per cubic meter
Wood dust is a known carcinogen and can aggravate asthma and other breathing ailments
Using dust containment is a healthier process for the contractor AND for you and your family
Eye opening isn't it? I cannot tell you how thankful I am that we had an eco friendly hardwood floor finish and non-toxic process for our wood floor installation. Not only was this the healthier option for the humans in my home, but my poor animals! They are often more susceptible to toxins than we are! My sweet Maybelline agrees.
Environmentally Friendly Floor Finish
After all the sanding and dust containment, they applied my stain color — Driftwood. This was the first color I was instantly drawn to from their full selection. They used Bona DriFast Stain – a quick dry stain that comes is 26 colors that can be custom mixed for the perfect floor color. My color is from the Bona DriFast Stain Metropolitan line.
The last step was the Bona Traffic HD to seal and finish the floor. This too is water-based, has low VOCs, low odor and is fast drying.

Using the Bona®Floor products I was able to get a premium floor and eco friendly hardwood floor finish that was quick, safe and durable! Compared to an acid cure floor which would have taken much longer and had a higher level of toxicity in the home.
This post is sponsored by Bona®Floors – All opinions shared are 100% mine.
---
Hardwood Flooring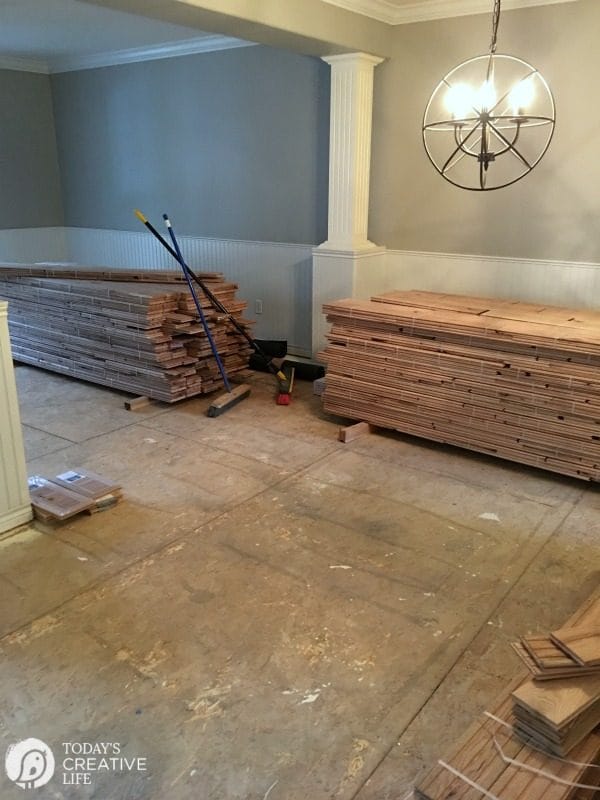 Hardwood Flooring Installation FAQ
Best Way to Care for Hardwood Flooring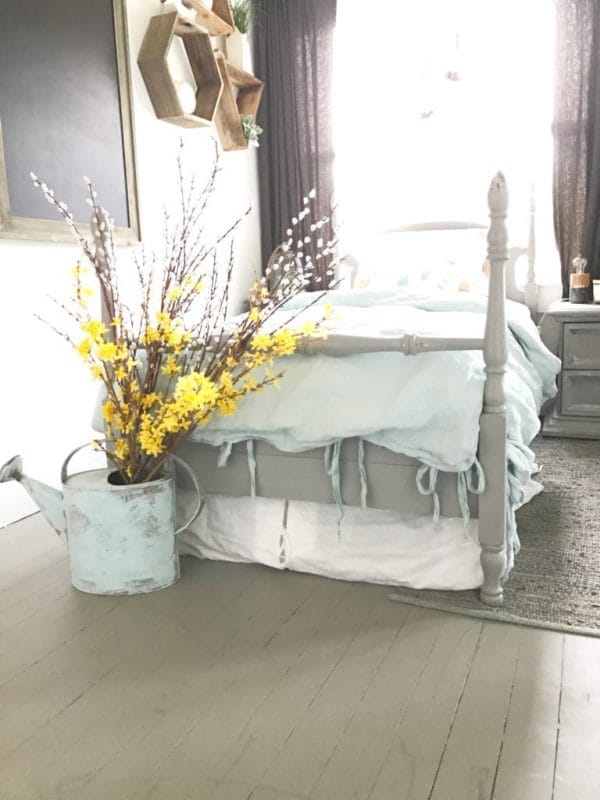 How to Chalk Paint Wood Floors