Spring is finally here and I have a few Spring Front Porch Ideas for you to shake off those winter blues. Decorating for spring and my front porch for each season is one of my favorite things. I keep it simple and have found a few shortcuts for quick curb appeal. This past Fall porch was one of my favorites so far with my DIY Indian Corn Wreath.
Front Porch Ideas for Spring
If you're from the Pacific Northwest, then I don't have to tell you why we were voted with the highest rating for winter fatigue. The sleet, the rain, the snow, the rain… and more rain. When the sun did finally peek it's head out, I rushed to decorate my front porch for spring, hoping to coax it to stay. Maybe if I make this rainboot flower pot, it will tell the rain it's no longer needed?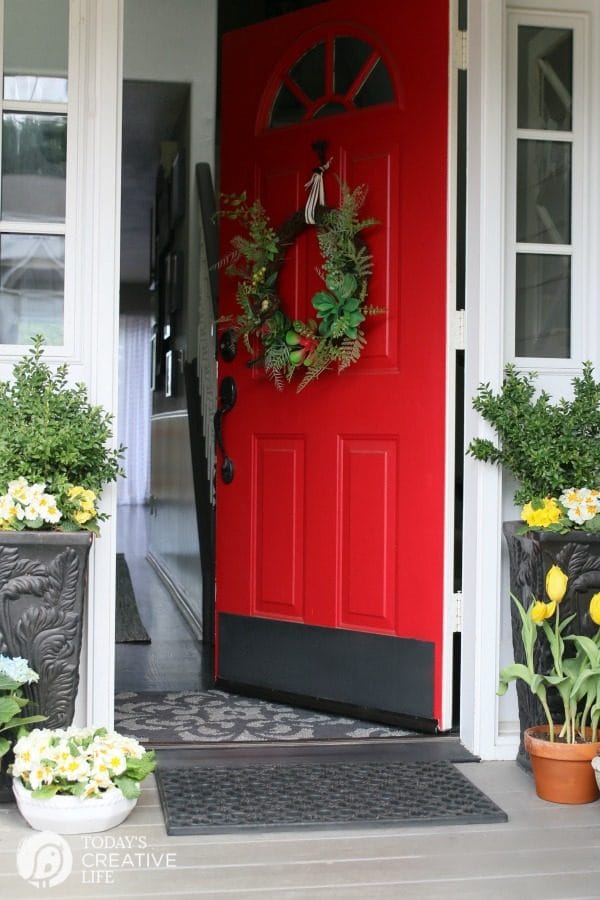 My winter porch was bare and tired, still sporting the Christmas holiday wreath. I shared it on Instagram, letting you all know to be on the look out for my front porch ideas.
Here's the before.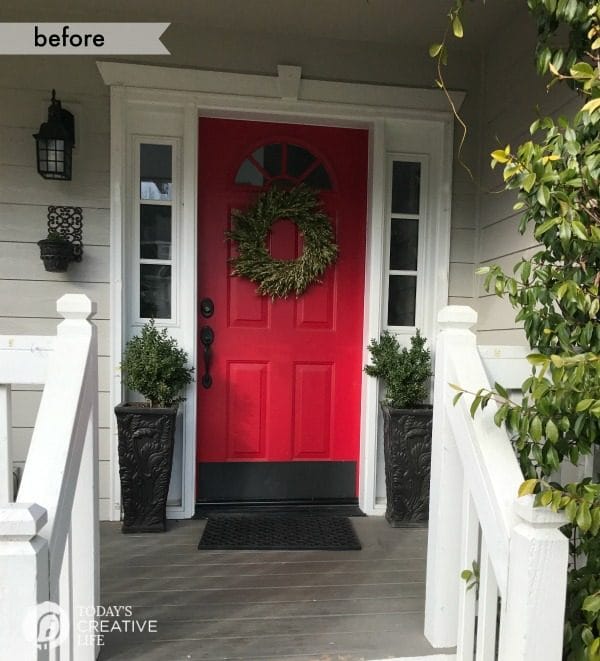 Bare, but somewhat tidy.
Keep scrolling for more AFTER photos!
After painting our door red (Positive Red by Sherwin Williams) a few years ago, I had the epiphany to invest in some planters that could work year round. I found these terracotta planters at a local nursery on clearance for $20 and spray painted them. I had just spray painted my door hardware and kick plate from gold to black, so I chose a metallic spray paint that would hold up under the weather. The door hardware outside is starting to show some wear, but not bad for 7 or so years.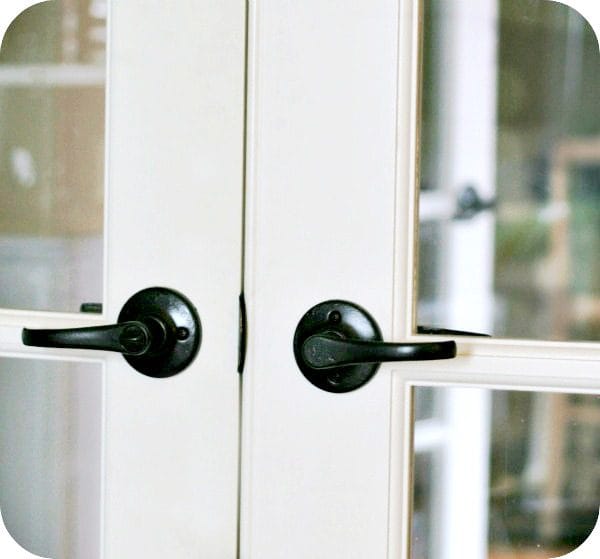 Speaking of painting door hardware, we painted most of our door knobs inside the house too. It's held up really well. See the tutorial here: How to paint Door Knobs.
Shop Kim's Front Porch
Affiliate links for products listed are for your convenience only. This costs you nothing extra. If you happen to purchase anything as a result of clicking, TCL will receive a small percentage. Thank you for your support. This allows me to continue to offer you free content.
I wanted a simple pot I could place a boxwood plant in and just add to it seasonally. Primroses in the early spring, petunias and something trailing for summer, flowering cabbage, and mums for fall and holiday decor for Christmas. It works out pretty well, cutting back on extra work. The only thing… my boxwoods aren't growing the way I want them too. I'll try trimming them and if they still don't behave, I'll swap them out for a rounder ones.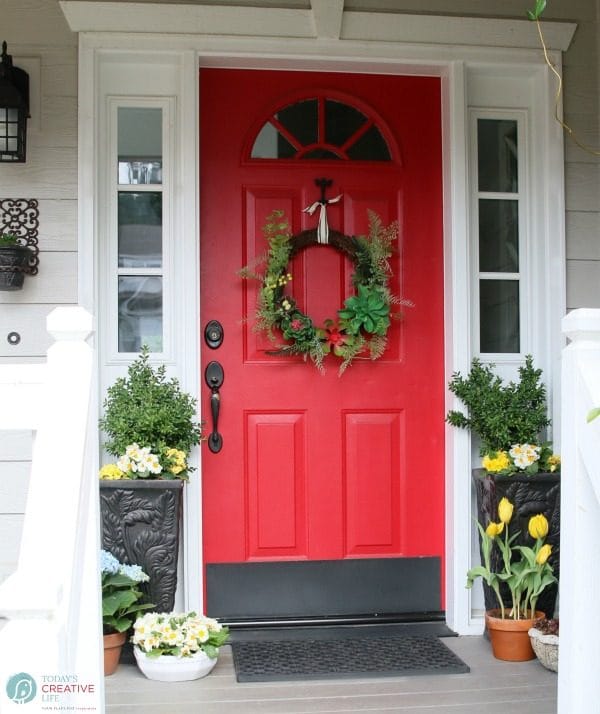 Look how much better that looks! Much more inviting, and all I did was swap out the wreath, plant primroses, added a few pots of spring flowers and finished it off with a couple of lanterns.
Front porch ideas don't have to be fancy or complicated. Take a hint from nature and add seasonal plants.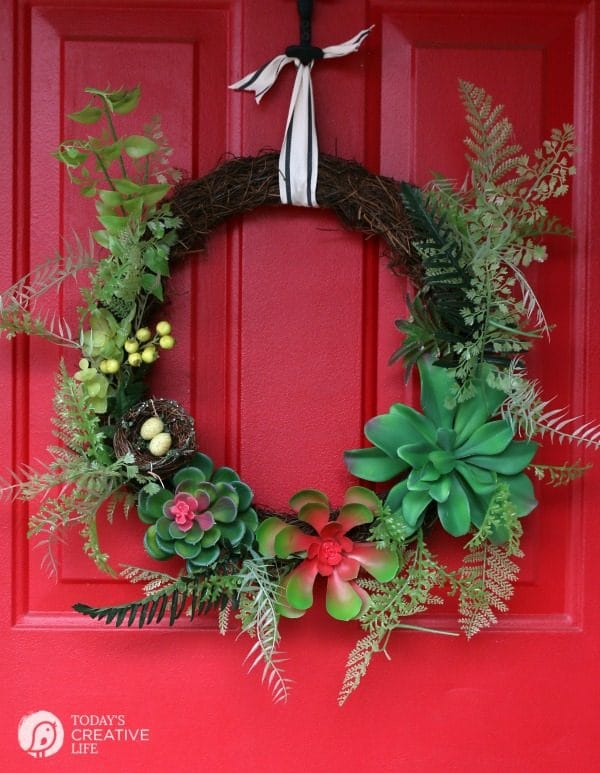 I've been swapping out my diy spring wreath and this artificial succulent wreath I found at Michaels. I fell in love with it and placed it in my cart without noticing that a few of the greenery was missing. Here's what it was supposed to look like.
Good thing it was on sale! Like my Simple Table Centerpiece Ideas artificial arrangement, I searched my craft cabinets for bits and pieces of old greenery. That nest? I added it. Those little green berries? I added them. I love it!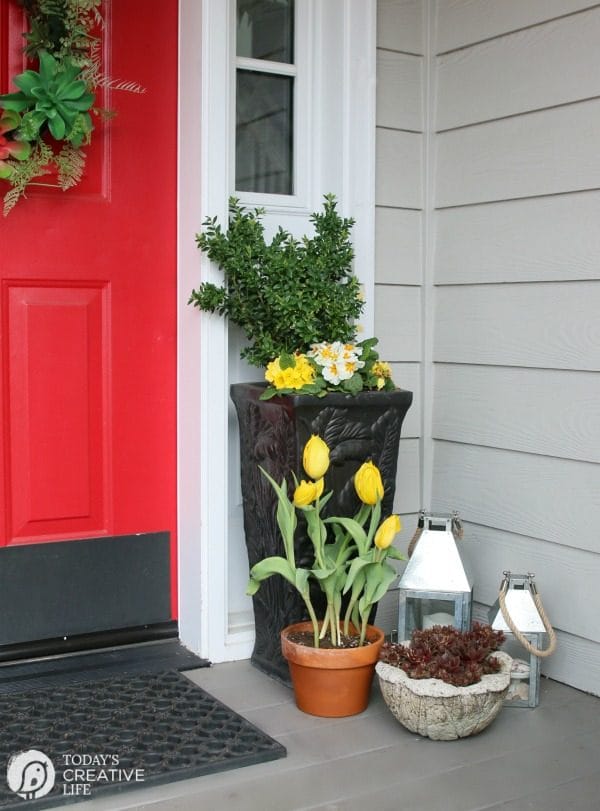 For simple spring front porch ideas, make it easy on yourself and just buy potted plants like these tulips and re-pot them. Or just set them inside a new planter. That's what I did with the hydrangea. If you're really organized, you could plant a few bulbs in the fall in flower pots and come spring, you'll have sprouting tulips for your front porch.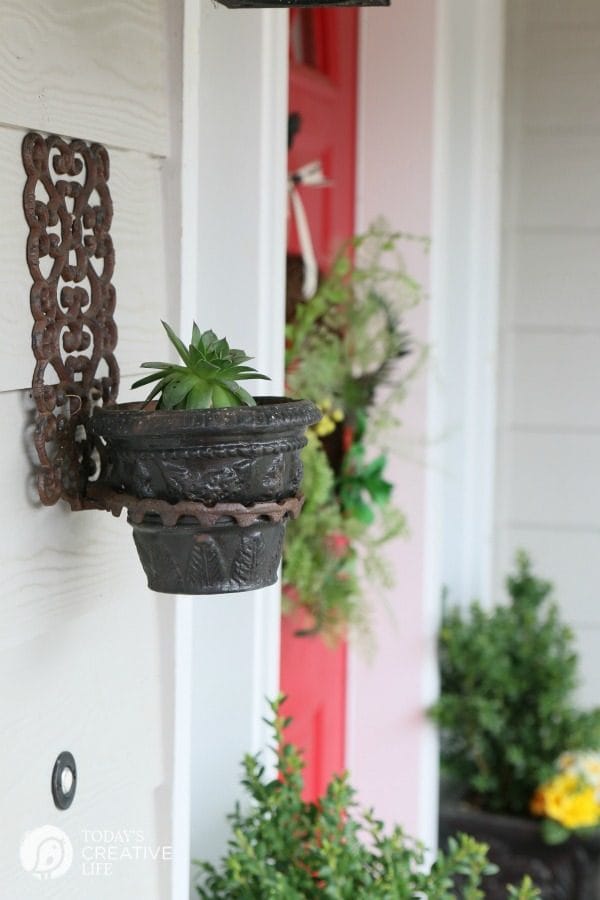 I love using succulents because they require little to no care.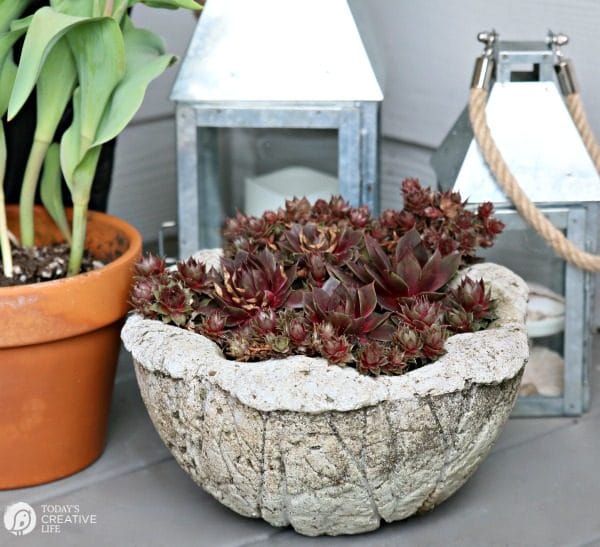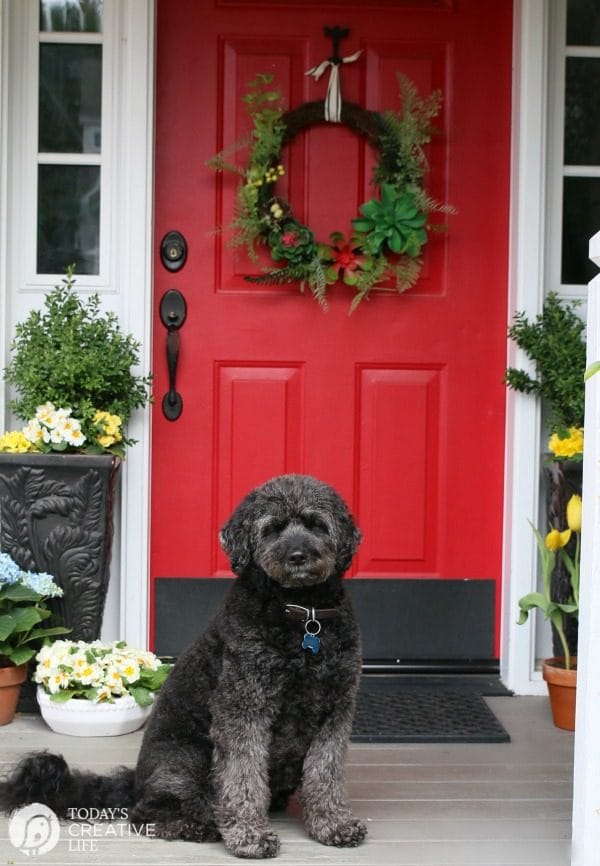 Mabie had to help, plus she enjoyed the brief sunshine, but like most PNW people, it seemed so bright! (Maybelline is a Multi-Gen Austrailian Labradoodle from Mt. Park Labradoodles)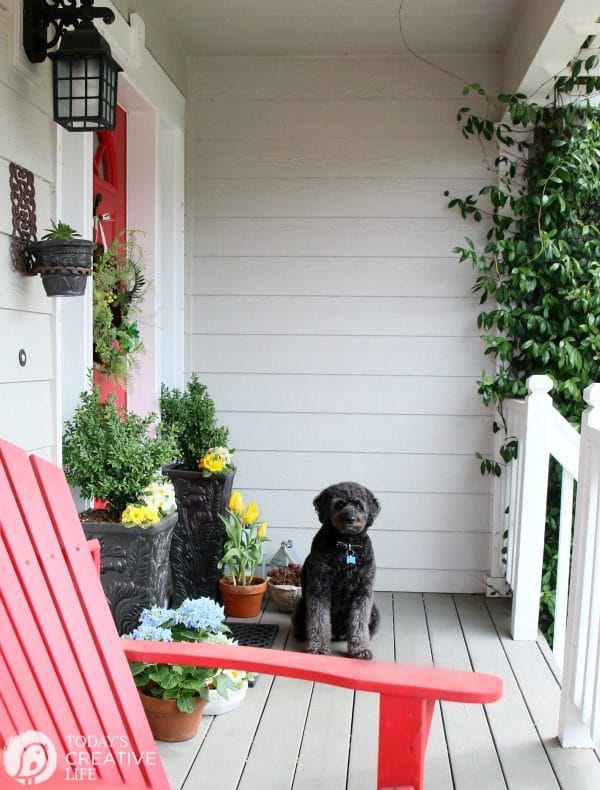 ---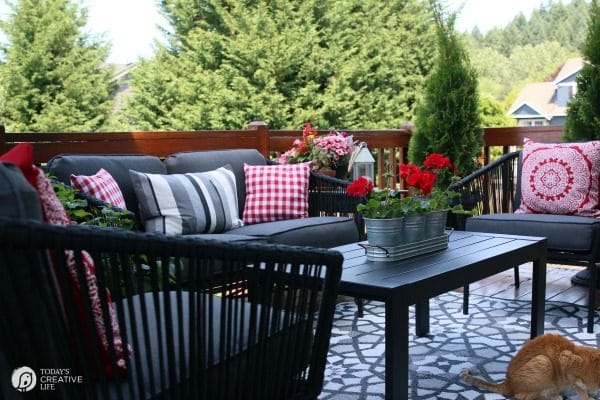 Small Patio Decorating Ideas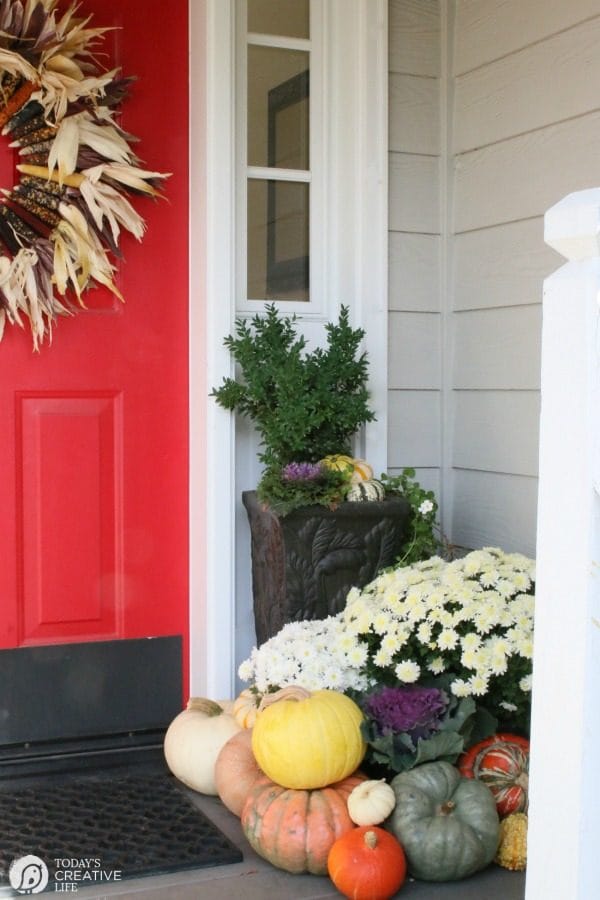 Fall Porch Ideas – DIY Indian Wreath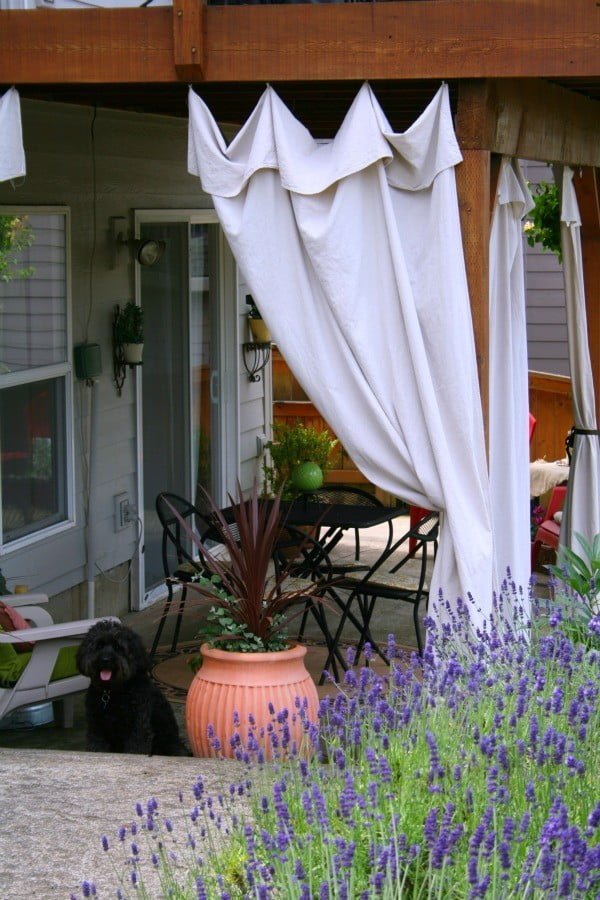 Outdoor Drop Cloth Curtains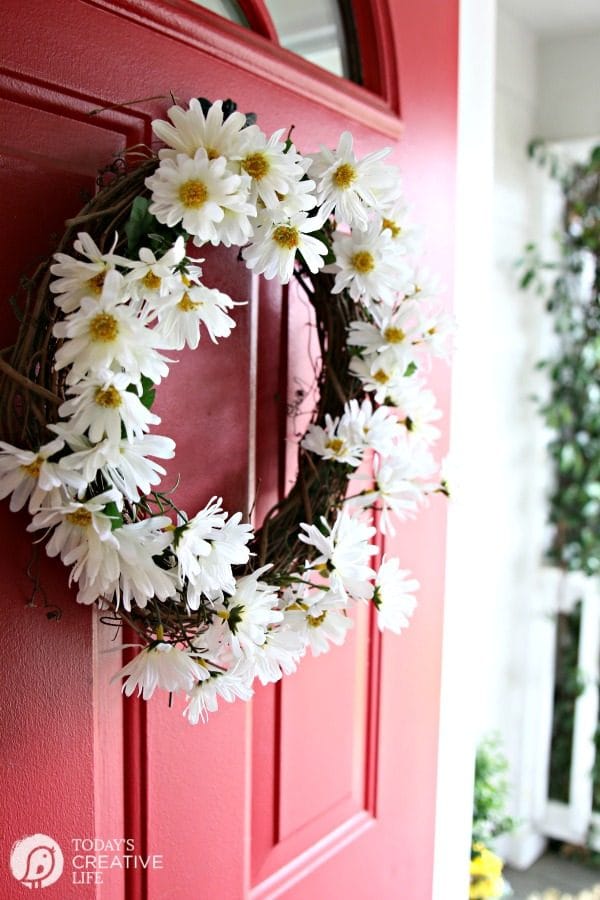 DIY Daisy Wreath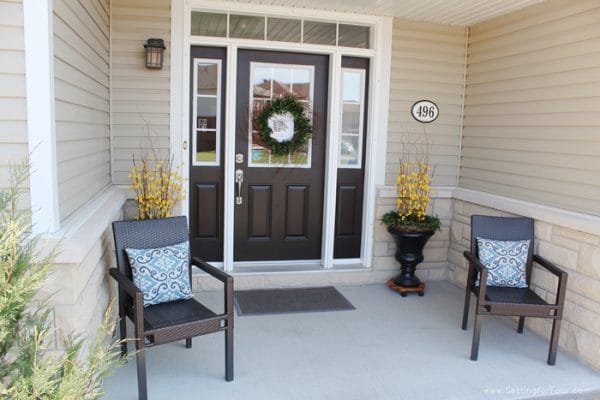 4 Ways to add to your Front Entry