We've been trying to cut a lot of sugar out of our diet, so I'm back to my Coconut Oil Chocolate! Except, this time, I bumped it up and made Coconut Oil Chocolate Peanut Butter Cups. These are so much healthier than a snickers bar and taste just as good!
After making these Coconut Oil Chocolate Truffles a few years ago, I wanted to cut the dark chocolate taste just a touch.
Coconut Oil Chocolate Peanut Butter Cups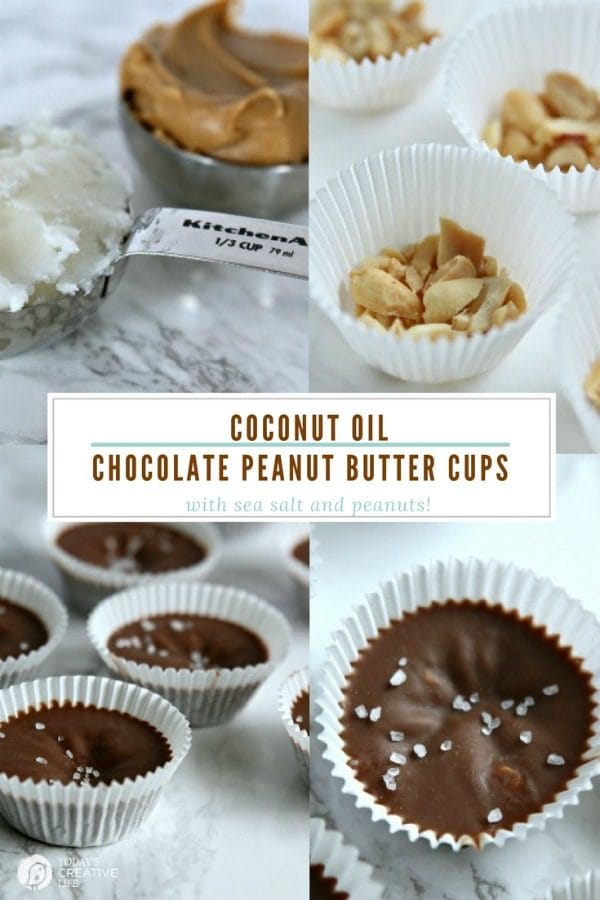 It's not that I don't like dark chocolate, but I like it in much smaller doses like my Dark Chocolate Fruit and Nut Bites. I'm really much more of a milk chocolate fan and I LOVE peanut butter or any nut butter, so I thought I'd try mixing it in with the coconut oil chocolate.
There are so many different variations you can create with this simple recipe base.
Coconut Oil Chocolate Ingredients:
Affiliate links for products listed are for your convenience only. This cost you nothing extra. If you happen to purchase anything as a result of clicking, TCL will receive a small percentage. Thank you for your support. This allows me to continue to offer you free content.
Coconut Oil – I usually just use the one from Trader Joe's.
Sweetener- I've used Truvia, Stevia drops, and Agave.
Options – Nut Butters, Chopped Nuts, Sea Salt
I have also since learned from my first experience, that melting the coconut oil, peanut butter, and cocoa together, is so much better than trying to whip it together. Not sure what I was thinking.
Once melted, add your sweetener to taste. Keep in mind that Agave is not a sugar-free choice, but it is considered a lower glycemic choice. And you don't need very much! Truvia, a sugar-free option is a bit grainier but tastes great, but the liquid stevia works well. If you've never used stevia before, it also does not take much. Start slowly.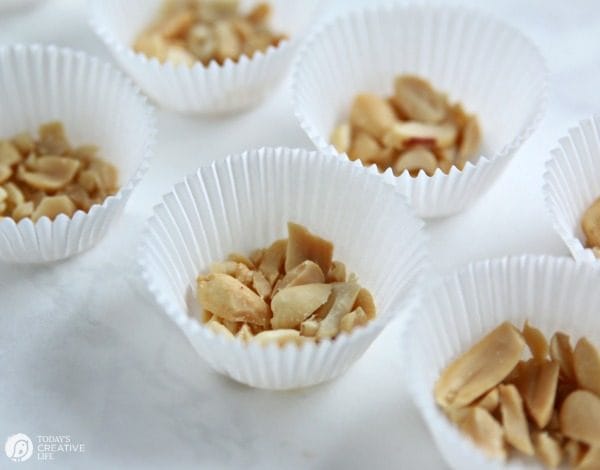 I have also learned to add the peanut or any nuts to the candy cup liners first, then pour your melted coconut chocolate mixture on top. Place in the fridge and wait. In about 20 minutes, you'll have the most delicious chocolate treat you've ever had.
TIP: Arrange the paper cups on a dish before pouring, then just place the dish in the fridge.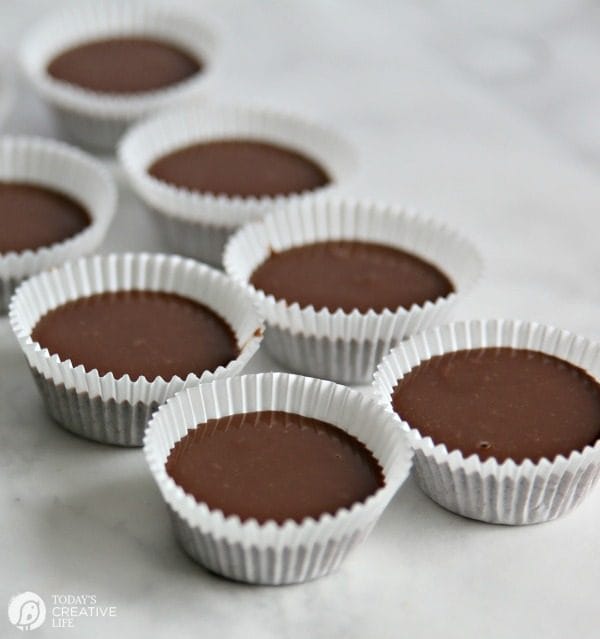 If you want to add sea salt, don't make the 2 mistakes I made.
Don't add it right after you pour the chocolate mixture into the candy cups.
Don't wait too long when the cups are completely chilled. There's that sweet spot when the salt won't sink and will perfectly stick to the top.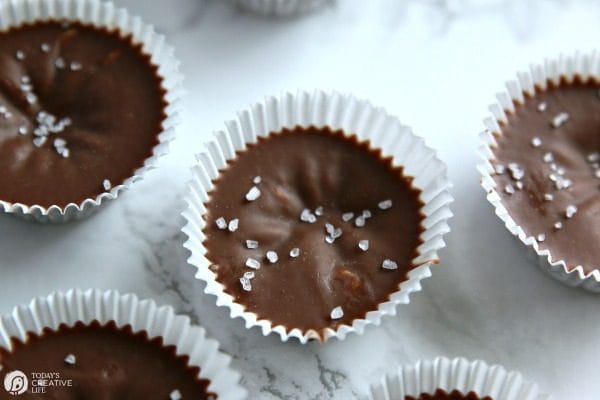 These melt in your mouth, which means they'll melt quickly if not kept chilled.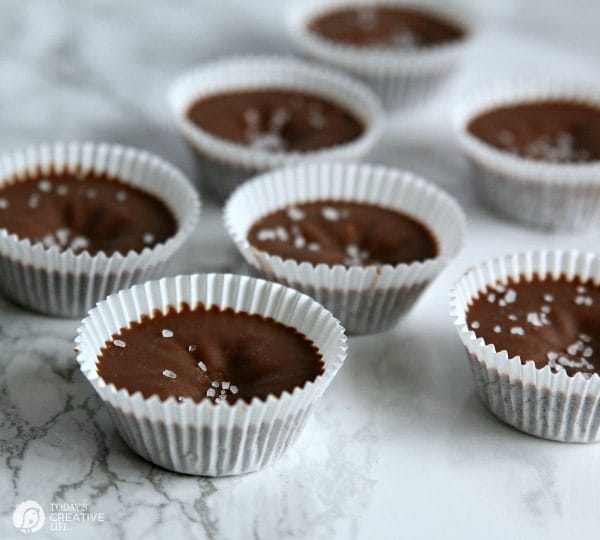 I keep mine in the fridge until I'm ready to eat them. One coconut oil chocolate peanut butter cup is all you need.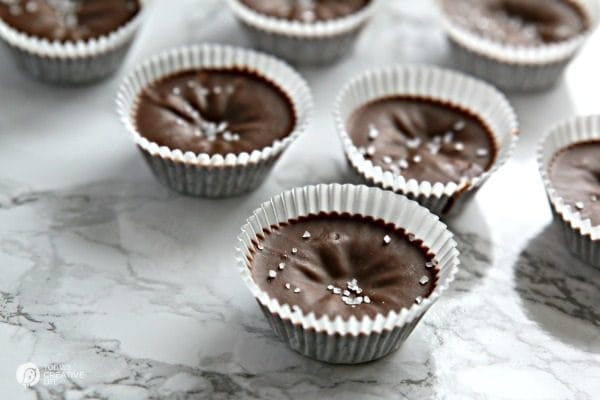 They are creamy, with a nice nutty crunch, bursting full of that perfect blend of peanut butter and chocolate.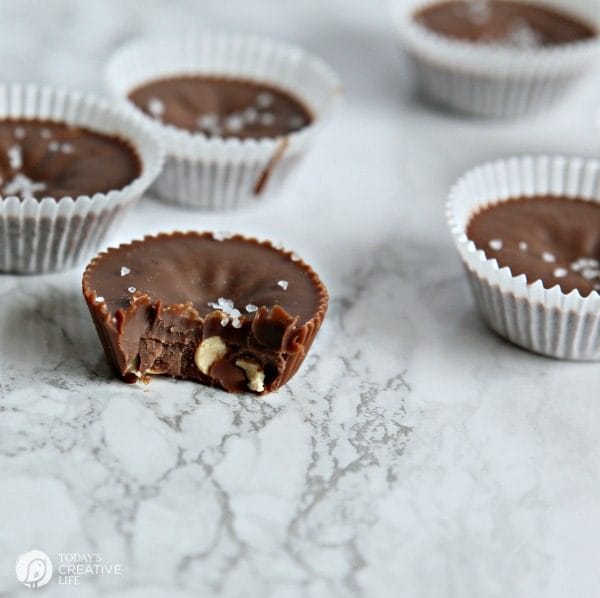 The beauty is, they are NO BAKE, which means when you suddenly crave a little something sweet, you can whip up a quick batch and you'll have them ready to eat once chilled.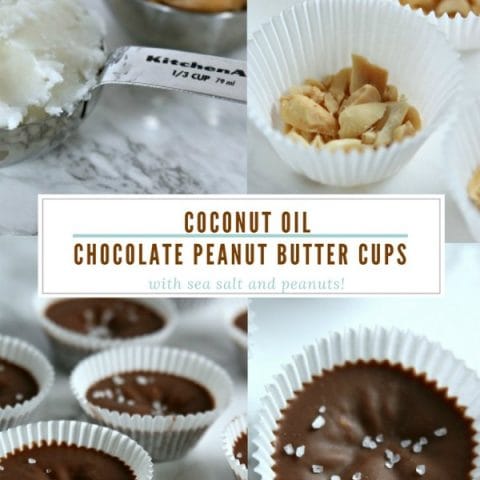 Coconut Oil Chocolate Peanut Butter Cups
Yield: 8
Prep Time: 5 minutes
Cook Time: 15 minutes
Total Time: 20 minutes
Ingredients
1/3 cup coconut oil
1/4 cup peanut butter (or any nut butter)
1 heaping tablespoon unsweetened cocoa
Sweetener (choose one): I use about 1 tablespoon Avage, about 1/2 teaspoon Truvia or a few drops of liquid stevia.
About 2 tablespoons chopped nuts. I used peanuts
Instructions
Grab a plate or small baking sheet to arrange your mini cupcake liners on.
Place the coconut oil, peanut butter, and cocoa in a microwave-safe dish. I like using a large pyrex measuring cup because it's easier to pour later.
Microwave until melted. Check every 30 seconds and give it a stir.
Using a fork or small whisk to make sure it's well blended.
Add your sweetener.
Line the cupcake liners with your chopped nuts, then pour your melted mixture into each cup.
Place in the refrigerator for about 5 minutes before sprinkling a little sea salt on each candy. Continue to chill for another 15-20 min until hardened.
---
More Easy & Delicious Sweet Treats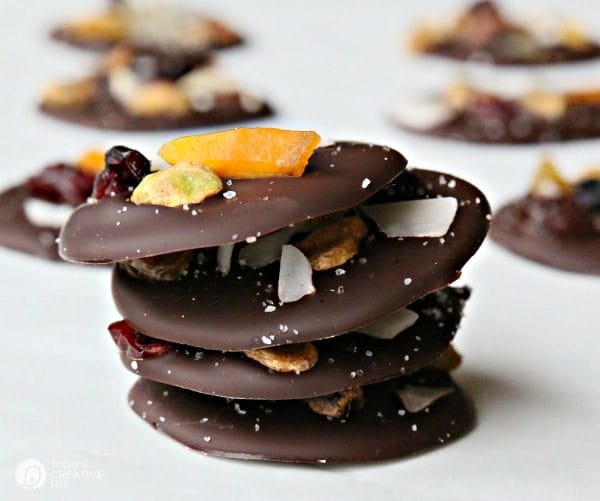 Dark Chocolate Nutty Fruit Bites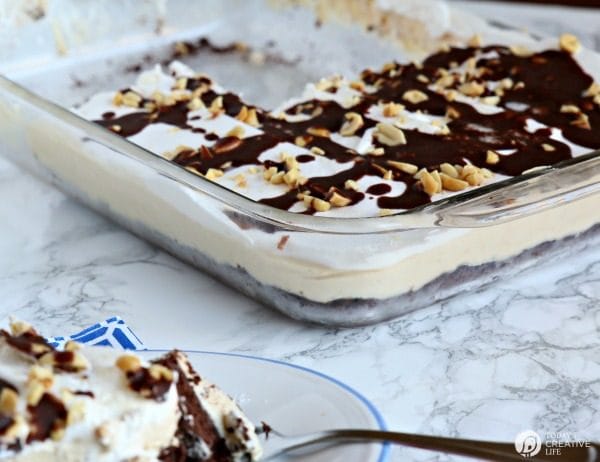 Peanut Butter Chocolate Layered Dessert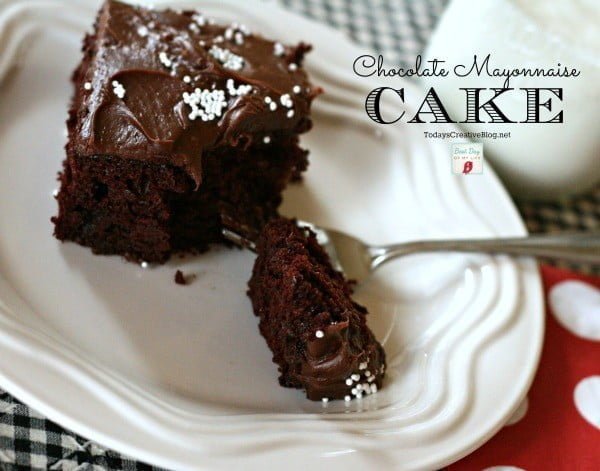 Chocolate Mayonnaise Cake