Any Peanut Butter lovers out there? This Peanut Butter Chocolate Layered Dessert will knock your socks off! It's THAT good! Of course, if you'd rather still with just chocolate, try my Impossible Chocolate Pie!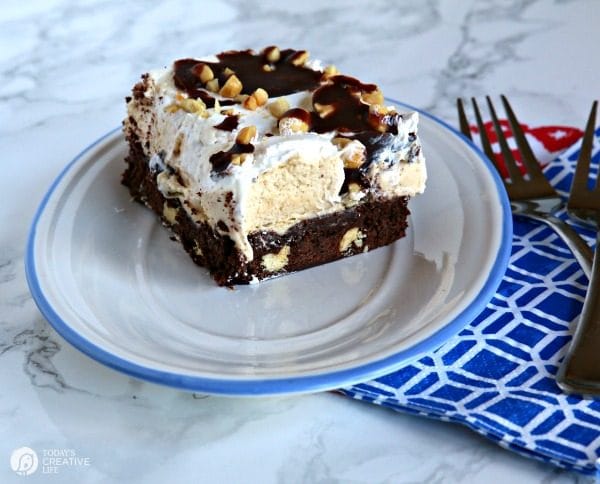 It's fluffy, rich and full of creamy peanut butter taste with a crunchy, yet moist chocolate crust. The crust reminds me of my Brownie Recipe.
Peanut Butter Chocolate Layered Dessert Recipe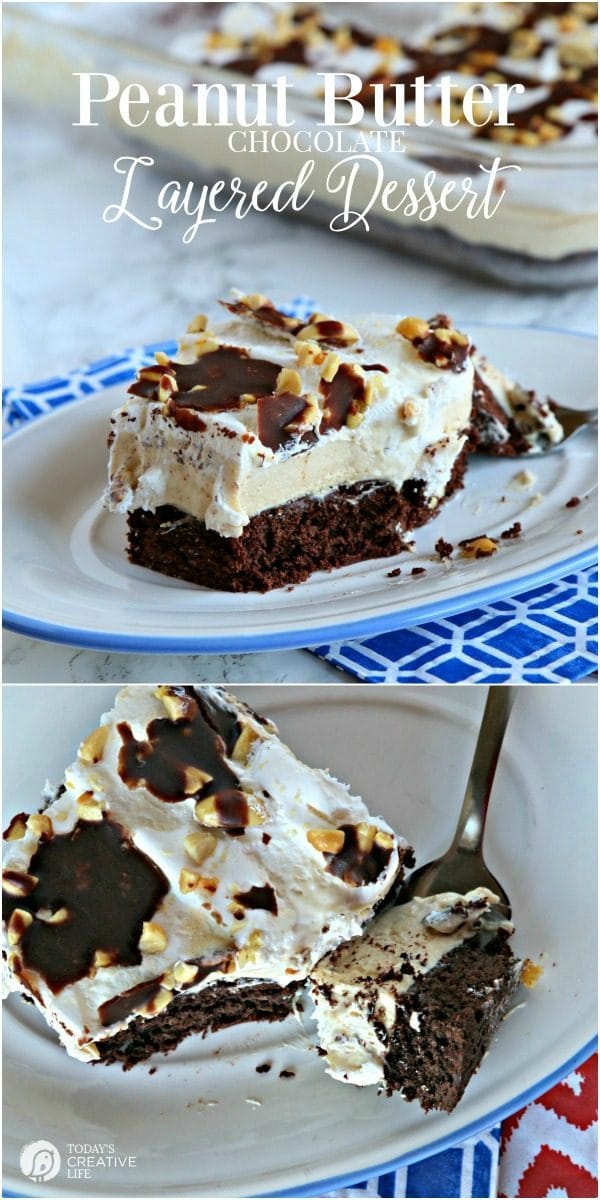 When I was growing up, my favorite candy bar was of course the Reese's Peanut Butter Cup. At the time, it seemed to be the only chocolate peanut butter combination out there, well at least in my small little world. Then I remember ordering a piece of Peanut Butter Pie and I think I about died! Since that time, my mom would make her version of a Peanut Butter Pie every year at Thanksgiving. To say I love peanut butter is an understatement.
I found this recipe in a magazine years ago and have the tattered recipe card to show it. This recipe is perfect anytime of year, and it's rich taste will satisfy even the biggest sweet tooth with just one slice.
It's a great recipe when you need dessert for a crowd. Just like my Chocolate Mayonnaise Cake.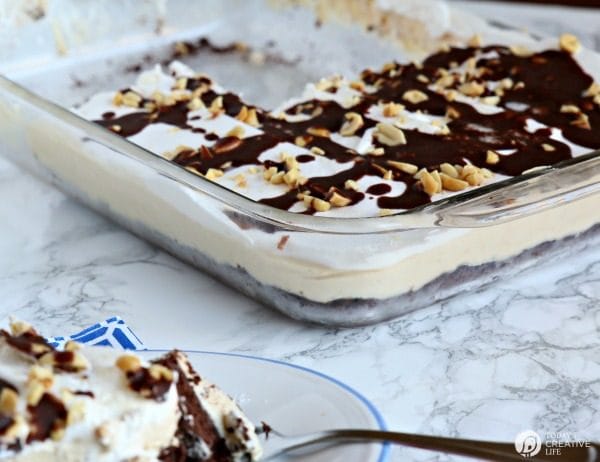 The part that always amazes me is the "magic shell" type drizzle. The chocolate drizzle across the top forms a slight crust similar to a dipped Dairy Queen dipped cone. I like to add a lot to the top for that extra texture. I keep thinking I'll try it with peanut butter chips sometime.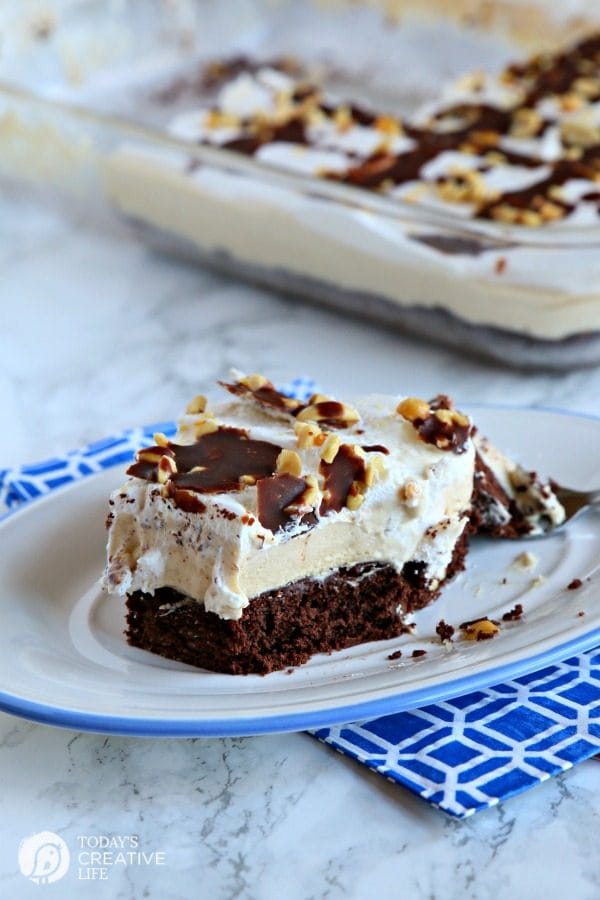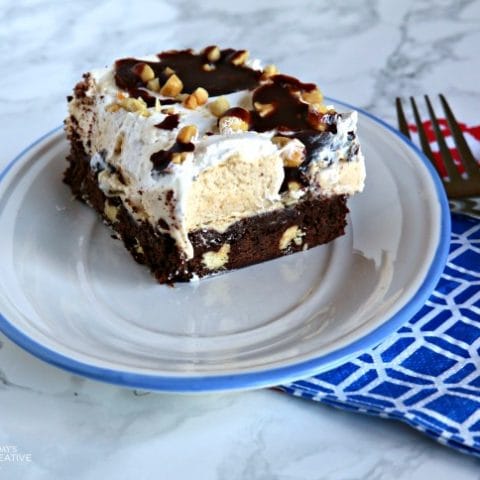 Peanut Butter Chocolate Layered Dessert
Yield: 12-15
Prep Time: 15 minutes
Cook Time: 25 minutes
Total Time: 40 minutes
Ingredients
1 package chocolate cake mix (regular size)
1/2 cup butter, melted
1/4 cup milk
1 egg
1 cup chopped peanuts, divided
1 package cream cheese (8 oz) softened
1 cup peanut butter
1 cup powdered sugar
1 can sweetened condensed milk (14 oz)
1 1/2 teaspoons vanilla extract
1 tub frozen whipped topping like Cool Whip (16 oz) - thawed and divided
1/2 cup semisweet or milk chocolate chips
4 1/2 teaspoons butter
1/2 teaspoon vanilla extract
Instructions
In a medium sized mixing bowl, mix the cake mix, butter, milk and egg.
Add 3/4 cups of the peanuts.
Spread into a 13in x 9in greased baking pan. Bake at 350 degrees for 25-30 min or until a toothpick inserted into the center comes out clean. Set aside and cool.
In another mixing bowl, beat cream cheese, peanut butter, sugar, condensed milk and vanilla until smooth.
Fold in 3 cups of the whipped topping, then spread your mixture over the top of your chocolate crust; Top with the rest of the whipped topping and peanuts.
In a small microwave safe bowl, heat chocolate chips and butter on high for one minute or if your microwave is older like mine, it may take a little longer.
Stir in vanilla until smooth.
Drizzle over the top of your dessert.
Refrigerate for 1 to 3 hour before cutting.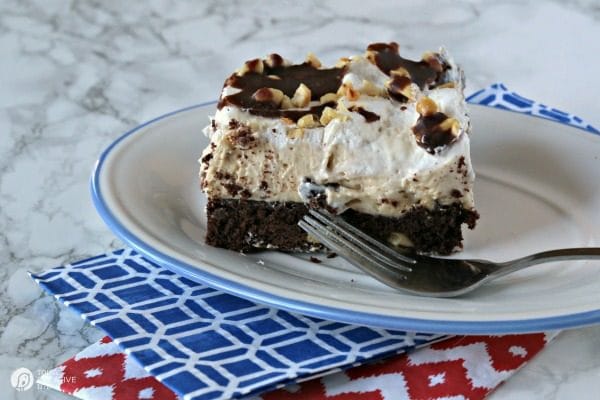 Who wants a piece?
---
More Delicious Recipes