Find easy and stylish Bedroom Ideas for Young Men that help transition from a teen bedroom to a young adult.
We recently updated and transitioned my son's room from his tween and teen boy bedroom to a college-aged boy bedroom. Decorating a bedroom for a young man can be easy if you keep it simple by just changing the color scheme. I found myself reaching for darker colors along with traditional patterns and swapping out a younger look for a mature and masculine design.
My son is in college, only spending summers, holidays, and a few weekends at home. I wanted a room that grew with him, something more mature and for young male adults, but still comfortable and inviting for when he came home and one with small touches of his childhood.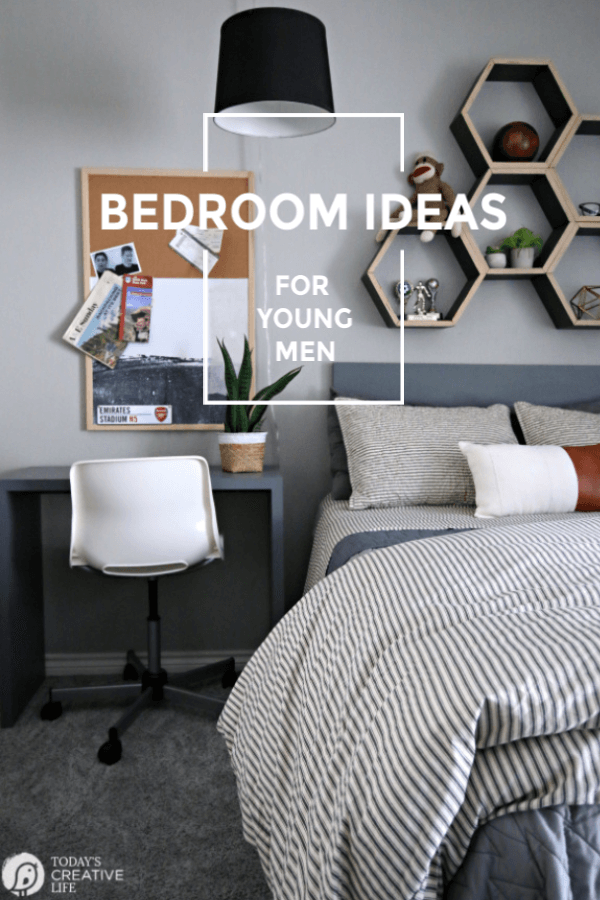 Bedroom Ideas for Young Men
My son's old room was a bright and energetic sports themed bedroom, perfect for a tween or teen boy. It was the first project I did while partnering with Lowe's as one of their Influencers in 2012. My friend Aaron Christensen, an amazing designer did most of the work and my son loved it! It upheld its style for years!
Here is the before.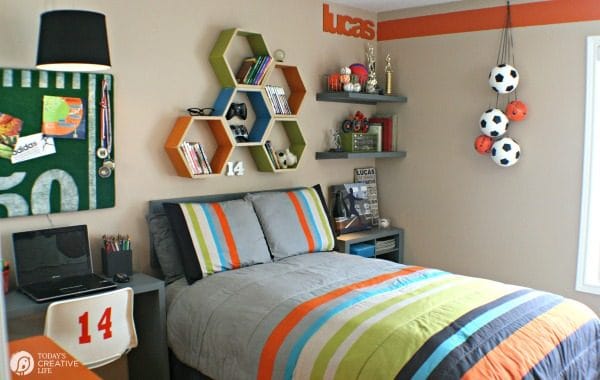 And here's the after!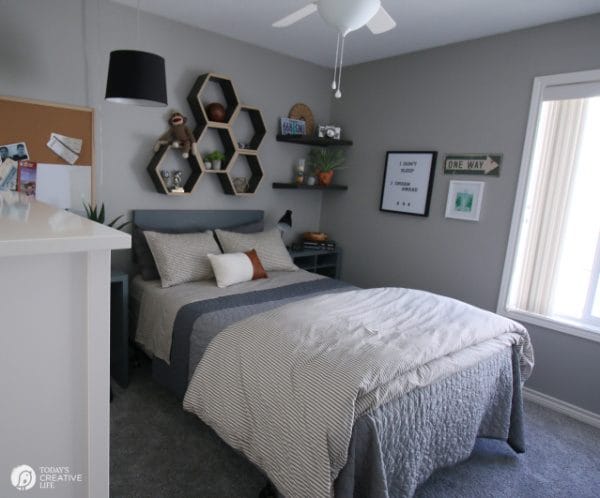 Bedroom Color Ideas for Young Men
We gave the room a more masculine look by using neutral colors of grey with wood-tone accents. I kept the basic arrangement and main components of the room the same. The shelves, the headboard, the desk, and the hanging lamp all stayed.
The room got a fresh coat of paint (Sherwin Williams Mindful Grey), as well as a dark charcoal color for the hexagon shelving. These were built by Aaron, but I've found a few on Etsy at a reasonable price if you're not into building your own.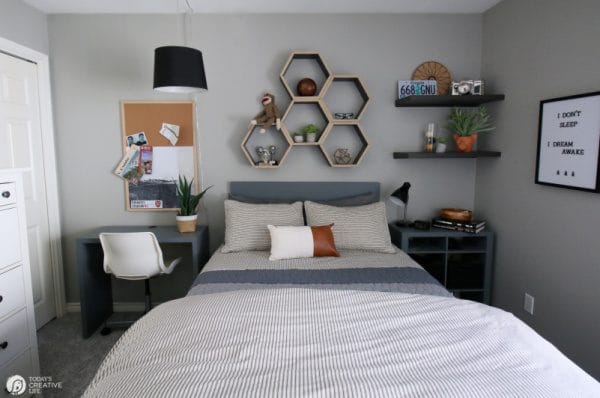 Bedding Ideas for Young Men
I found the bedding from an Instagram Ad. It's actually what prompted me to update his boy bedroom into a young adult bedroom. I love the classic traditional look of the ticking fabric which I always call pillow ticking. My first sofa was this fabric, and that was over 30 years ago. It's still a favorite!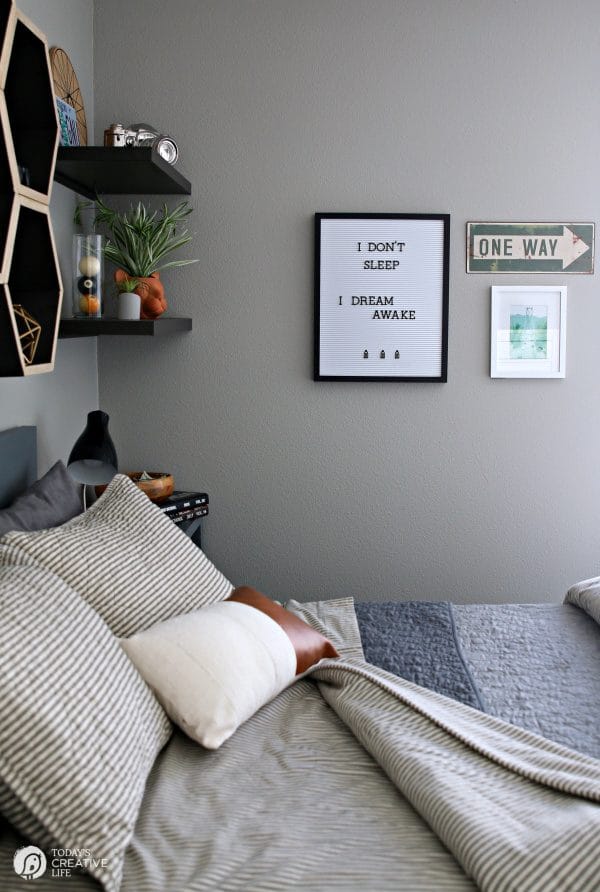 I reached out to them and asked if they'd like to collaborate with my son's bedroom makeover and they were thrilled to do so! I picked out a few items from the Lawrence Ticking Stripe Collection and was pleased with the quality. This fabric is durable, soft with a vintage vibe. It's a great way to add pattern and style when decorating a bedroom for young men. See all their other collections.
Luxury Bedding | From our farm to your home — we're growing the best upland cotton that the rich red earth of North Alabama can produce to bring you luxury linens that are fresh from the farm.
I love that they're made in America and are family-owned. They have a great story.
Because they are thicker than most store-bought sheets, I did wash them a couple of times to really soften them up. The quality is outstanding and I know they are going to last for a very long time! They are wonderful! My son loves them and the best part…. the sheets stay tucked in!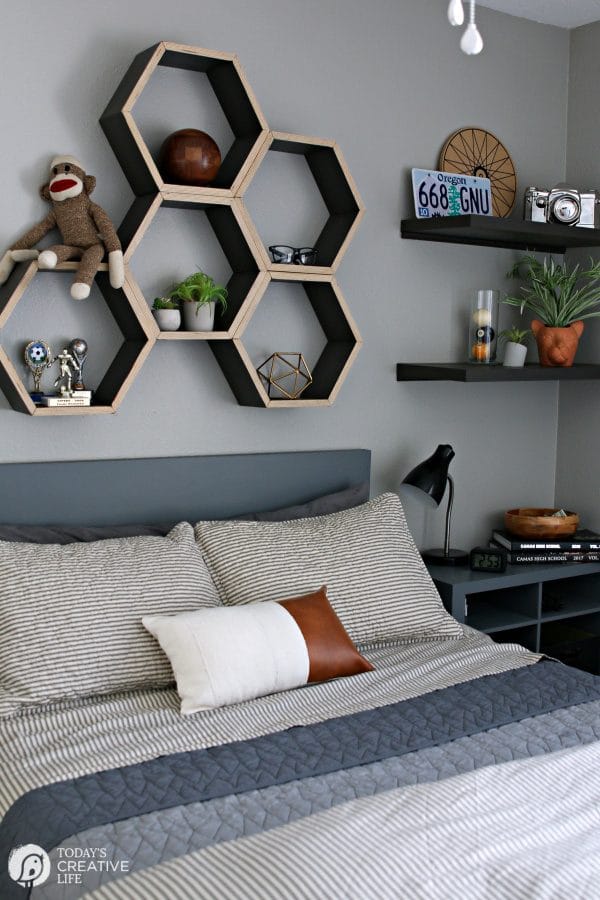 I also ordered a duvet cover and quilted pillow shams to match the sheets.
We already had this two-tone charcoal grey/light grey coverlet. It was a great neutral base that goes with everything. This one is from Target.
As much as I knew he wouldn't use the decorative pillow and it would just end up on the floor when he was home, I knew the mudcloth with faux leather pillow would look amazing with the bedding. It looks so good and he even loves it!
Bedroom Wall Art for Young Men
When I saw this wall mural, I knew the neutral colors and abstract design would be exactly what this small room needed.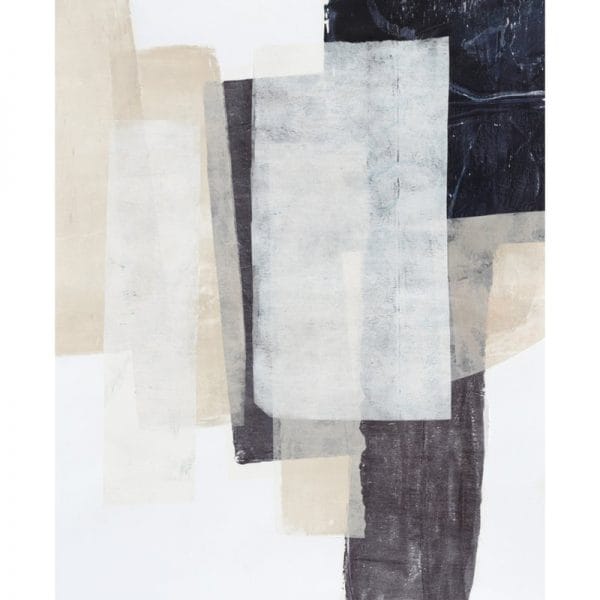 I contacted Minted immediately to also see if they'd like to collaborate and they too were more than happy to contribute to this Bedroom Makeover. The particular mural didn't come in the wall size needed, but we figured if I hung it horizontally, it would be the exact measurements needed.
Well…. don't do that.
Not only was it very difficult to hang in that direction, but it also peeled off the wall after two days. This was not Minted's fault. I wanted to mention it to help anyone from making an expensive mistake.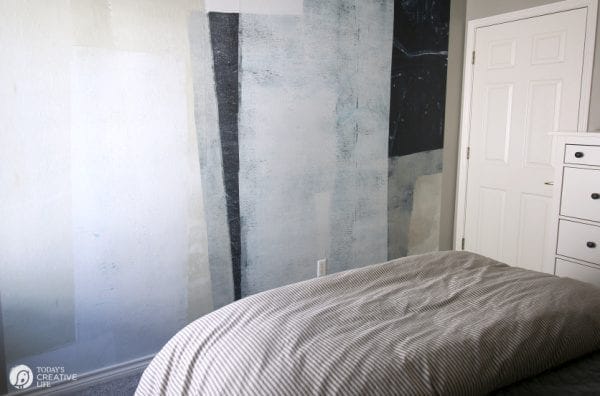 So we ordered one size larger, which blew the design out a little larger and we had to leave a 6-inch space on each side, which I'm fine with.
It was easy to hang and we were finished within an hour. Much faster when you hang it vertically as intended.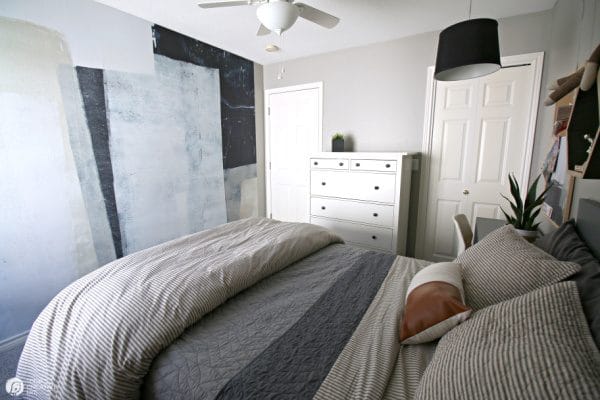 It added an easy solution for much-needed style to an otherwise vacant boring wall.
As mentioned we already had these. I painted to match the room. They can be functional or just used for wall art, or both!
I used a leftover piece from the mural and stuck it on the bottom portion of the bulletin board. This was an easy solution to make a functional drab piece serve as DIY wall art as well!
Isn't it cute?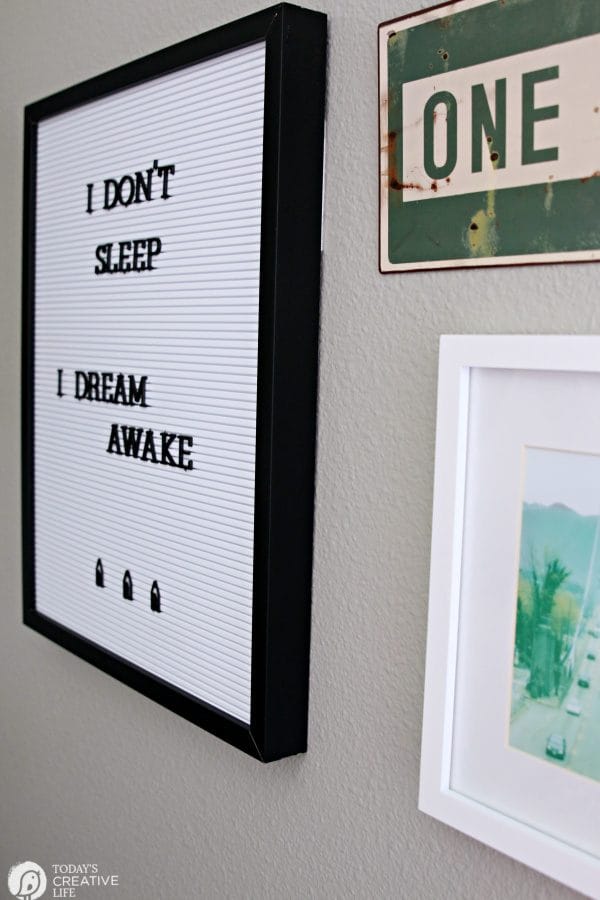 I took down the hanging soccer balls from before and added a word board, a tin sign and one of his photos, which didn't print well, but it ended up being the right tones for the room.
I also added a few artificial plants, because I know they wouldn't get watered, but they still look great and add some color.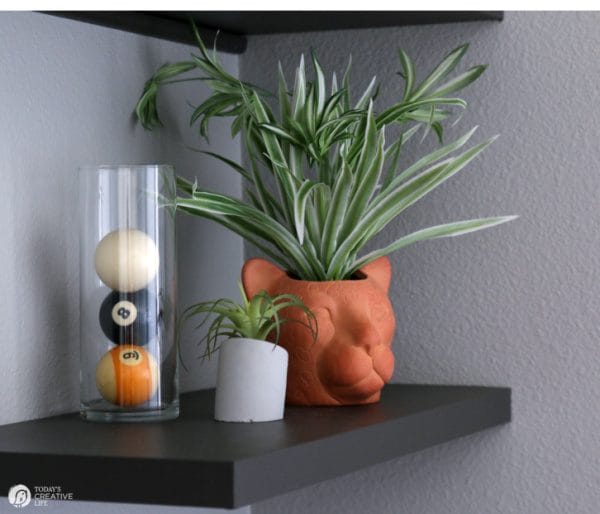 A few items that reflect his interests and places to store his electronics when home.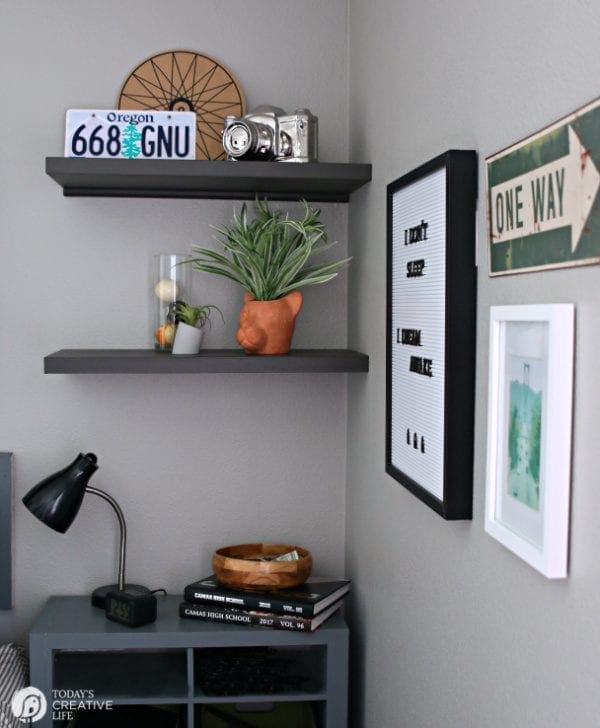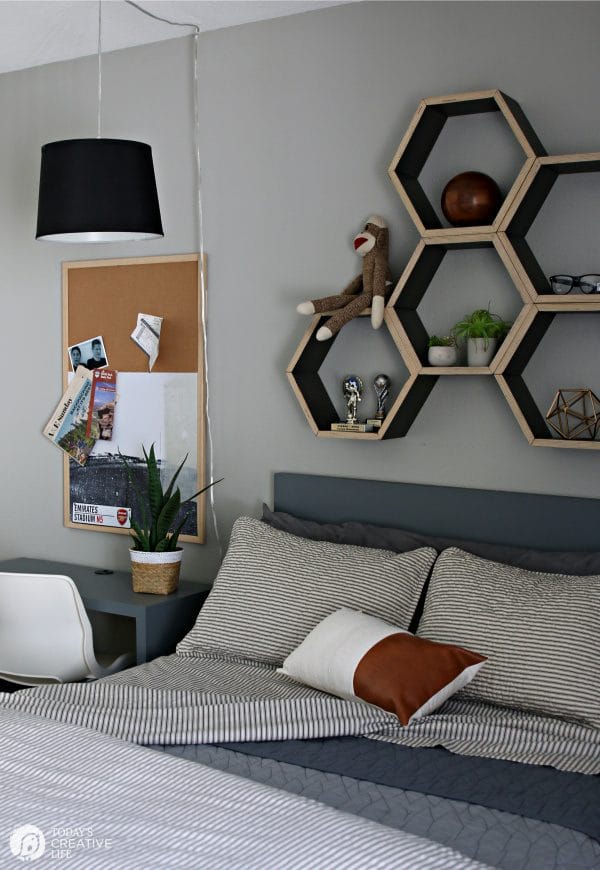 If you're needing to update a boy bedroom and you're searching for bedroom ideas for young men, I hope I've given you direction as to where to start.
Keep it simple, clean and neutral.
Shopping List for Masculine Bedroom Ideas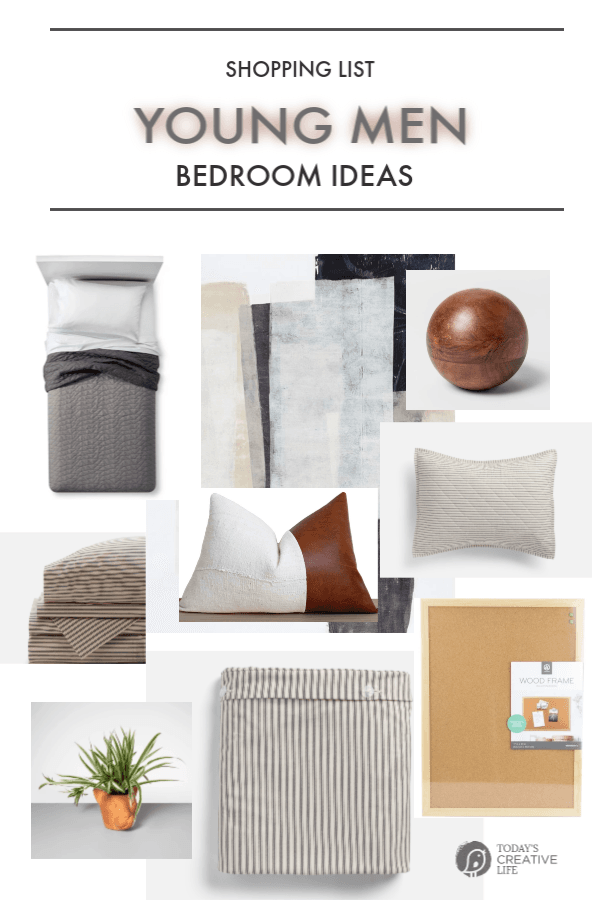 Bed Linens for Men
Decorative Ideas for Male Bedrooms
Young Men's Bedroom Shopping List
Find items that work well for masculine bedroom decor.

Stylish, classic and neutral.

Photo Credit: Red Land Cotton

Classic style with quality materials.

There are many varieties to choose from.

Photo Credit: Minted

This non-permanent wall mural is a great way to add stylish design.

Photo Credit: www.etsy.com

Start with a basic and neutral cover.

Add faux plants, because you know they won't be watering them.

The rustic texture and color are perfect.

Use rustic decorative items that add style.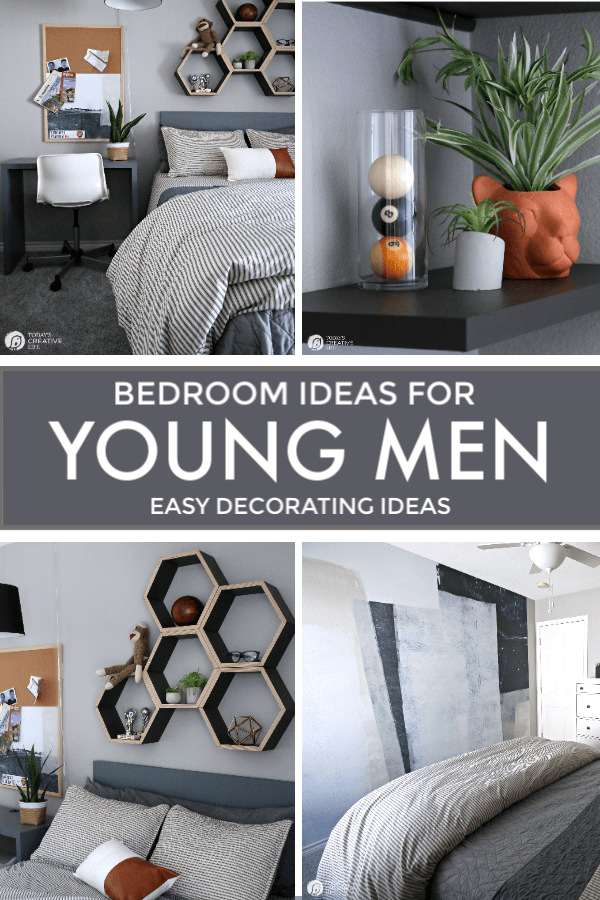 I'd love to see your bedroom decor! Tag me on Instagram!
Bedroom Decorating Ideas
Bedroom Decorating Ideas for a Master Bedroom, Kids bedroom, or guest bedroom.