It's Slow Cooker Sunday! If you love lava cakes, then you're really going to love this Crockpot Lava Cake!

I had planned on using a chocolate cake mix I thought I had in the pantry, but what I thought was going to be a chocolate mix, was actually a Funfetti cake mix. I don't even remember buying that. I don't think I've ever made a funfetti cake before. I also looked for instant chocolate pudding and I only had the cook and serve kind, but I did have butterscotch instant. I was also out of chocolate chips, but I had white chocolate or peanut butter chips.
Crockpot Lava Cake – Funfetti Butterscotch Lava Cake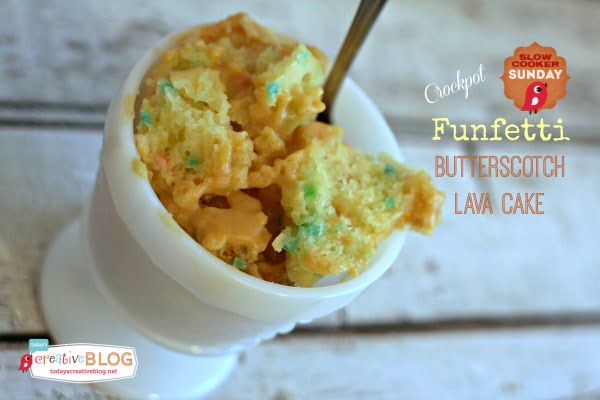 This is when you go with the flow deciding that Funfetti Butterscotch cake would be even better than chocolate lava cake. My son doesn't like chocolate cake anyway. (who's child is he anyway?)
So I mixed it up and poured it in my crockpot, poured the pudding mixture on top, sprinkled a few white chocolate chips on top and hoped for the best.
It was a hit! The boys loved it. I had a couple of bites and declared it good. The butterscotch pudding lava was really good!
I like making cake in the crockpot because it's always moist! I hate dried out cake. Plus I don't have to heat up the WHOLE oven……because pressing that button is so exhausting.
Actually it does save a bit of energy and it's always nice when it's summer to avoid the extra heat of the oven.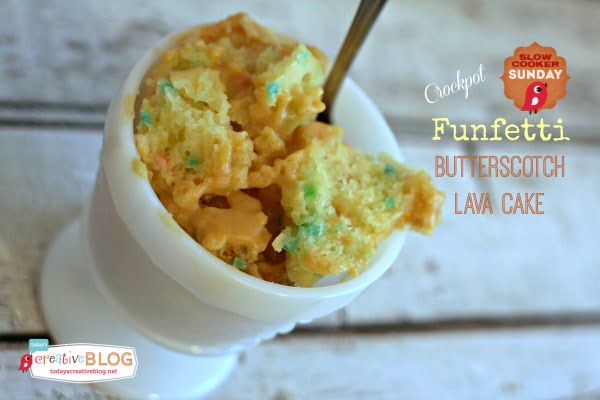 Crockpot Lava Cake
Prep Time: 10 minutes
Cook Time: 3 hours 30 minutes
Total Time: 3 hours 40 minutes
Ingredients
1 package of cake mix - make mix according to package. (I used Funfetti)
1 small package of instant pudding - make pudding according to package. (I used butterscotch)
1 cup white chocolate chips (I'd use chocolate if I was using a chocolate cake mix)
Instructions
Grease the inside of your crockpot. I used coconut oil spray, but any cooking spray would work.
Prepare the cake mix according to package instructions and pour batter into your crockpot insert.
Prepare pudding according to package instructions and pour over the cake batter in your crockpot.
Sprinkle the chips over the top.
Cook on High for 3 to 4 hours, but really watch that last hour. The edges will be browned and the center will look less "done", than the edges.
Scoop out into bowls and enjoy. Maybe even add a scoop of ice cream.
Notes
Use any flavor cake mix or pudding. Find a combination that sounds delicious to you!
If you like using your slow cooker, then you'll love all my recipes in my Slow Cooker category! You'll also want to join my Slow Cooker and Crockpot Pinterest Board.
Below are a few things that are my must haves for slow cooking.
This post contains affiliate links. These links are for your convienece in finding what I have used, but if you do however purchase anything, I will receive a very small % from that sale.