There is something about a good Fruit Cabbage Salad. This spring and summer salad recipe meets all the crunch needs with pecans, crisp apples, and cabbage, while the raisins and bananas mixed with the sweet tangy dressing packs in the flavor!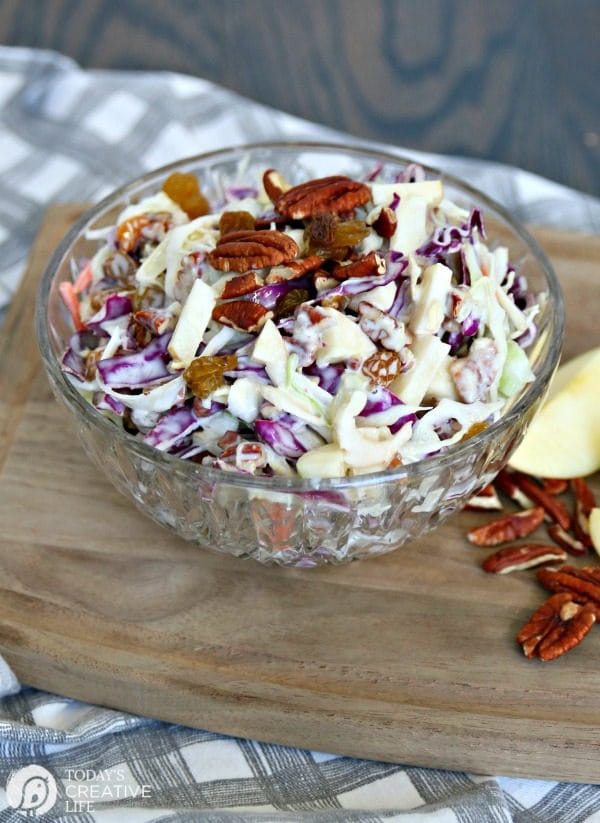 It reminds me of a classic Waldorf salad.
Fruit Cabbage Salad Recipe
It also reminds me of my Sour Cream Fruit Salad.
I like adding fruit to my salads, like my Mango Chicken Salad with Cashews, or my Strawberry Gorgonzola Green Salad. Or a tangy dressing like my Sour Cream Cucumber and Onion Salad! YUM! If you want something more traditional, then try my Cobb Salad! Let's not forget my Zesty Coleslaw Recipe too!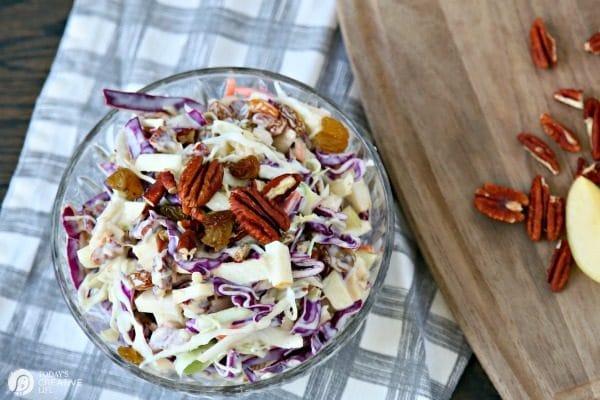 The nice thing about this Fruit Cabbage Salad is kids will love it! Making it an easy way to get your children to eat more veggies.
It also makes a great holiday or potluck dish! Perfect for Easter.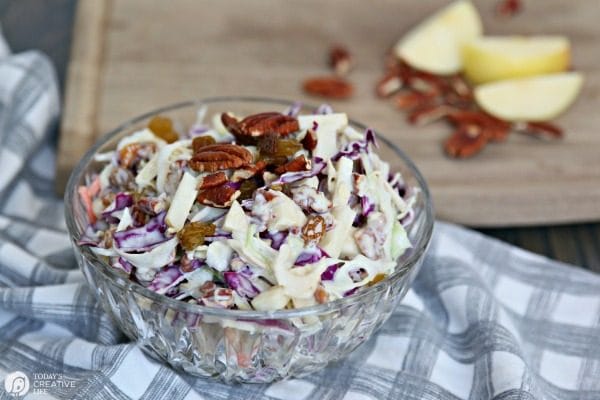 I like using a mixture of green and purple cabbage and will often just pick up the pre-shredded stuff at the grocery store. I'm all for making this even easier.
How to Make Cabbage Salad with Fruit
Fruit Cabbage Salad Recipe
Yield: 6
Prep Time: 10 minutes
Total Time: 10 minutes
Ingredients
4 cups shredded cabbage - I use a prepackaged mixture.
1 medium apple - I like using honey crisp the best.
1 banana - not overly ripe.
1/4 cup chopped pecans
1/4 cup golden raisins
1/2 cup mayonnaise
2 tablespoons milk
2 tablespoons sugar
1 tablespoon lemon juice - I like using fresh squeezed.
Instructions
In a medium-size bowl, combine the first 5 ingredients listed. Set aside.
In a small blender like a magic bullet or a shaker cup, combine mayonnaise, milk, sugar and lemon juice. Blend or shake well.
Pour dressing over the cabbage mixture and toss gently until all ingredients are coated.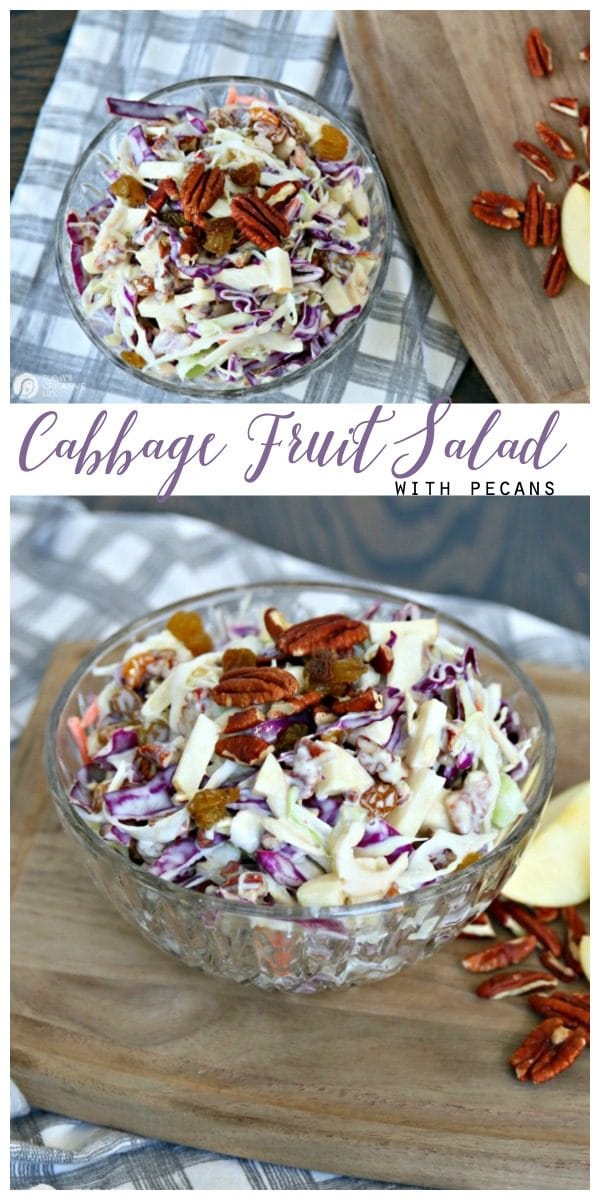 I could literally eat this salad every day for lunch. A great option is adding shredded chicken for a complete meal!
Happy eating!
Easy Salad Recipes
Easy to make salad recipes for a quick side dish or meal.
Bacon, avocado, egg, and chicken! This protein-packed salad is a full meal.
I just cut up all the fruits I want to use. For a large fruit salad, you'll need about 6 or 7 cups of fruit.
Cherry tomatoes with buttermilk vinaigrette will be your summer go to salad! Great way to use your own homegrown cherry tomatoes! Fresh, tangy and sweet!
Waldorf Salad was first made from Waldorf Astoria Hotel in 1893. This crunchy salad consisting of apples, grapes, walnuts and celery in a mayonnaise dressing is a classic.
This classic spring salad is great for Easter brunch.
Use this recipe in a sandwich or on top of greens.
Everyone's favorite spring and summer salad.
Fresh, crunchy and full of healthy nutrition.
---