Fruity salads are popular this time of year! This Coconut Fruit Salad Recipe is a great Easter salad or a refreshing side dish for a BBQ.
Pineapple, mandarin oranges, and peaches along with shredded coconut, cream cheese, yogurt, and marshmallows are the perfect combination for a quick tropical creamy fruit salad! Another fresh-tasting side dish similar to my Pina Colada Carrot Salad.
Coconut Fruit Salad Recipe with Marshmallows
This is another one of those classic salad recipes that remind us of our grandmother. I don't know anyone who didn't grow up with something like this or the classic ambrosia salad made with fruit cocktail.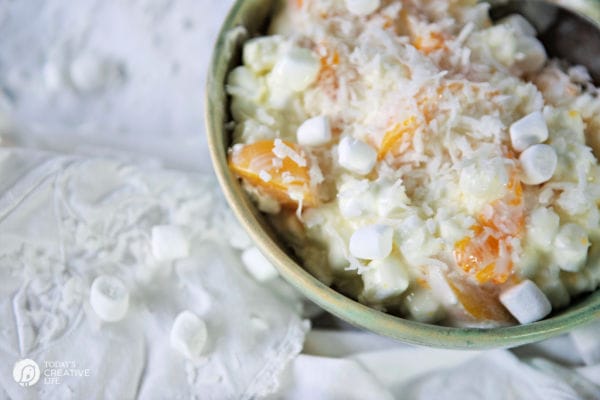 It was a regular on many holiday tables and always a favorite amongst the kids. It must be the mini marshmallows!
Can you Make this with Fresh Fruit?
Of course! This recipe calls for canned fruit, which is much easier, but fresh works too! You may even find some of the work done for you with fresh cut fruit at your grocery store.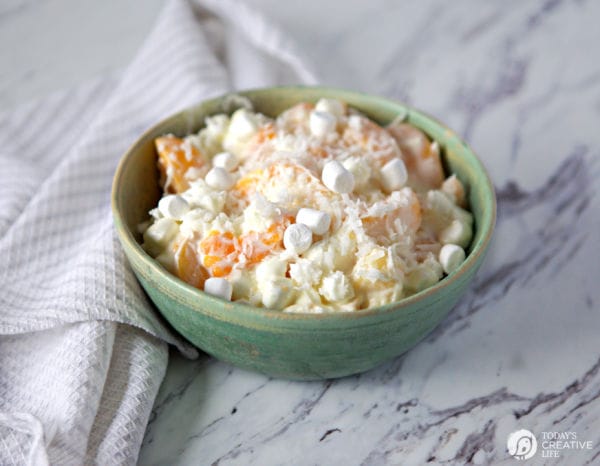 Can I use additional Fruit?
The beauty of this coconut fruit salad recipe is you can add or subtract what you love or dislike. My husband doesn't like coconut, so I'll set a little aside before adding any.
Optional fruits that would be great.
Banana's – these would need to be added right before serving.
Canned Fruit Cocktail – drain first.
Pears – canned or fresh
Grapes
Mango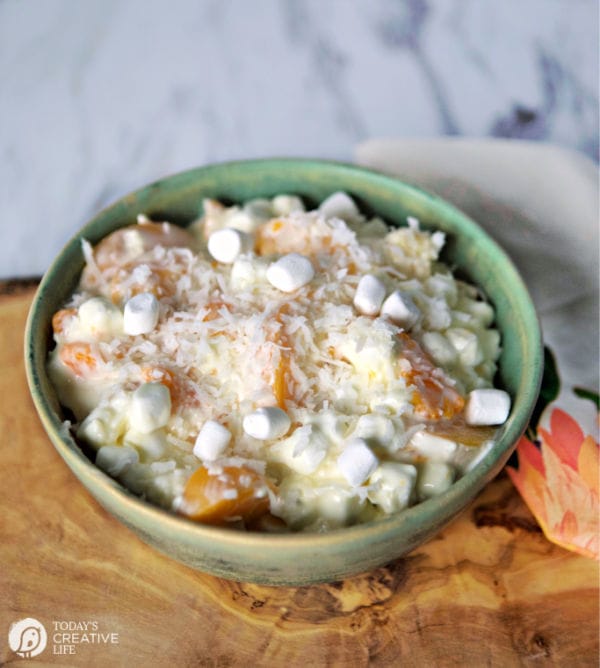 How to Make Coconut Fruit Salad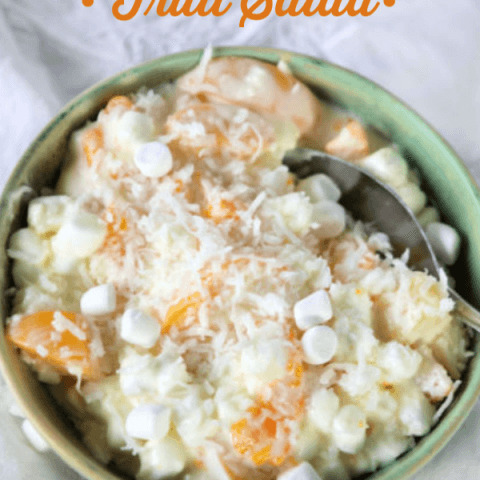 Coconut Fruit Salad Recipe
Prep Time: 10 minutes
Total Time: 10 minutes
Ingredients
1 can (11 oz) mandarin oranges, drained
1 can (8oz.) can sliced peaches, drained
1 can (8oz.) chunked pineapple, drained
1 cup miniature marshmallows
4 ounces cream cheese, softened to room temp
1 cup shredded coconut
1/2 cup plain yogurt
1/4 cup sugar
Instructions
In a large bowl, the first 4 items.
In another bowl, using your mixer, mix together cream cheese, sugar and yogurt until smooth and creamy.
Add to the fruit mixture and stir gently to coat.
Refrigerate for 15-30 min before serving.
Notes
Feel free to add additional fruits.
- Bananas
- Pear
- Grapes
- Mango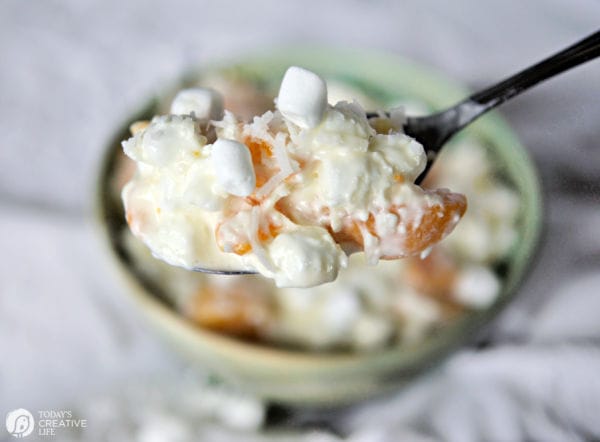 I love the texture that the coconut gives this creamy fruit salad. A little crunch goes a long way!
Can you make this salad up ahead of time?
If you need to transport or make it up ahead of time, I would add the coconut and marshmallows at the time of serving. Otherwise, they could get soggy and no one likes a soggy mushy salad.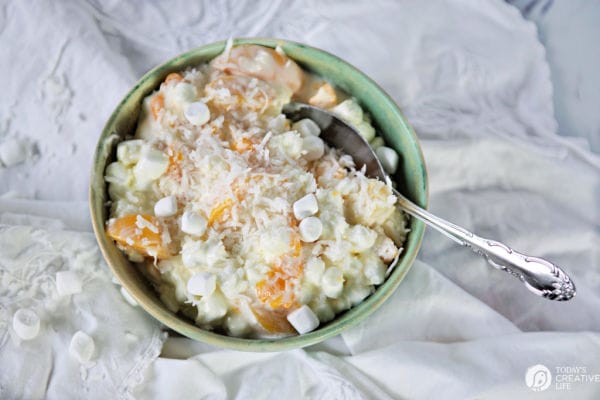 If you make this Creamy Coconut Fruit Salad, please take a photo and tag me on Instagram @TodaysCreativeLife
Follow along on Instagram | Pinterest | Facebook
---
Fruit Salad Recipes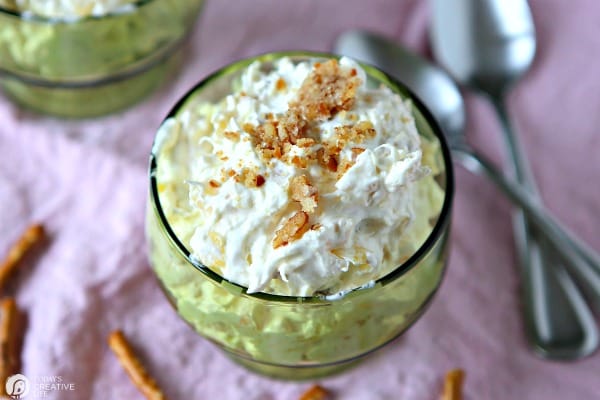 Pineapple Pretzel Fluff Recipe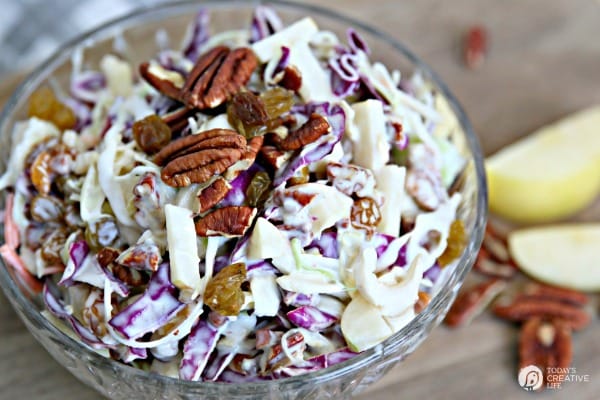 Fruit Coleslaw Recipe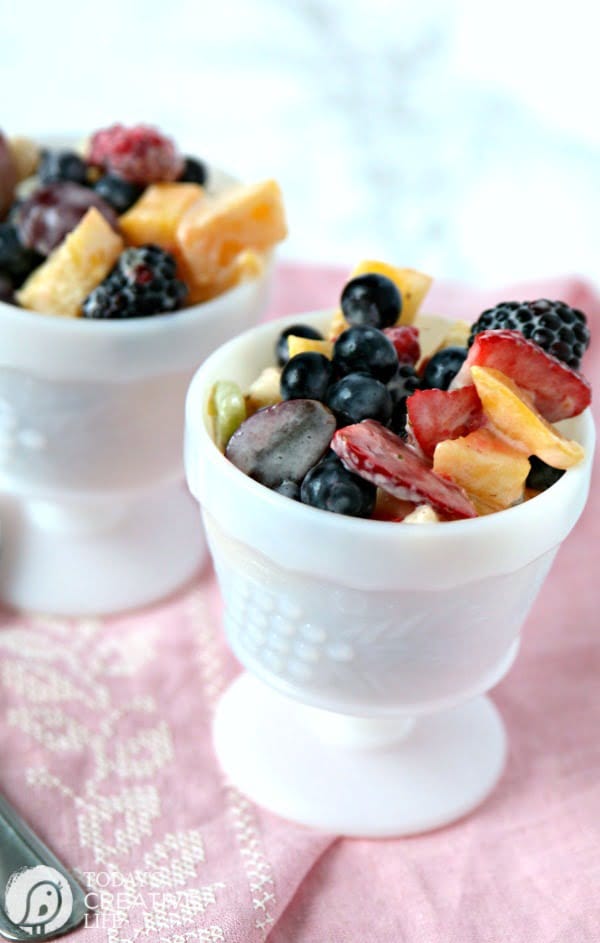 Fruit Salad Recipe with Sour Cream