I had no idea how much I loved a classic and traditional Waldorf Salad Recipe! Full of crunchy apples, grapes, walnuts, and celery with a delicious Waldorf salad mayonnaise dressing…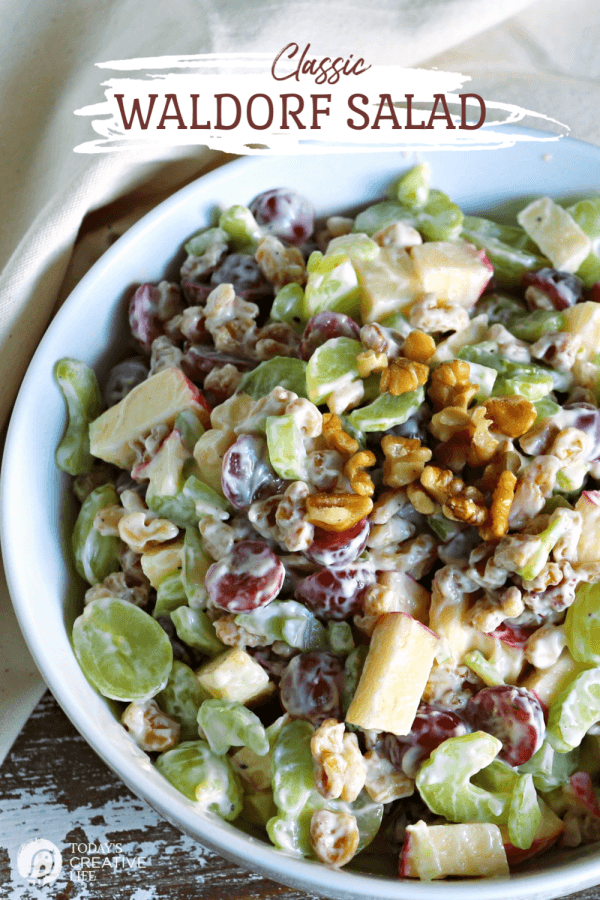 It's a great summer recipe to take to a potluck or bbq. It's also a great one to add chicken for a complete meal similar to this weight watchers chicken salad with grapes.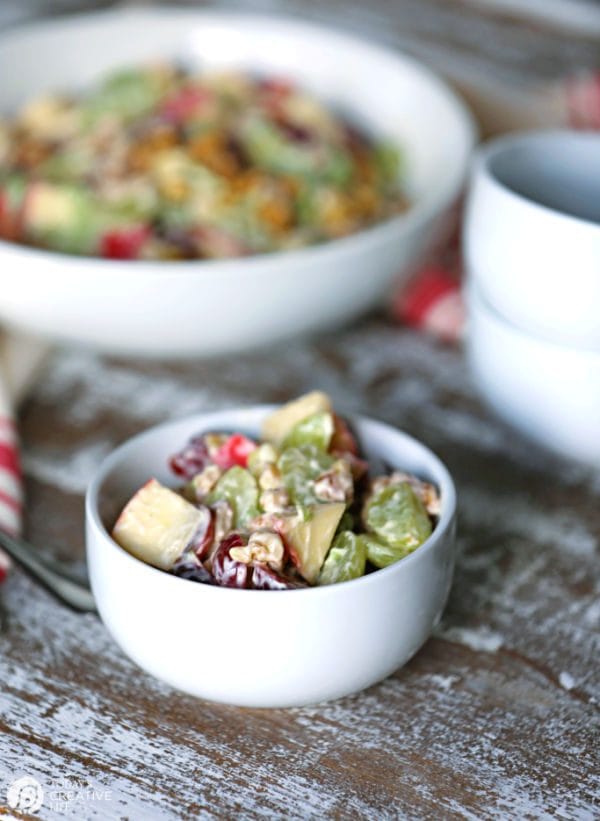 Classic Waldorf Salad Recipe
I was well into my adult years until I really embraced this traditional salad. It was one of those salads, like the Carrot Salad that you saw at every potluck. As a child, they just didn't look appetizing to me, so I had never really tried it. Luckily our palate matures as well as our ideas on trying new foods because missing out on this flavor combination would be a crime!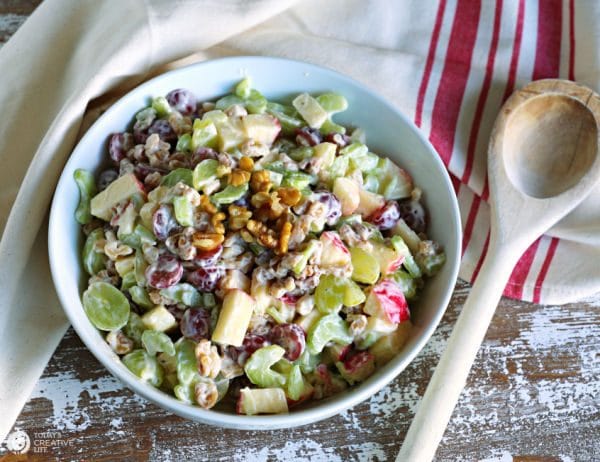 How to Make a Traditional Waldorf Salad Recipe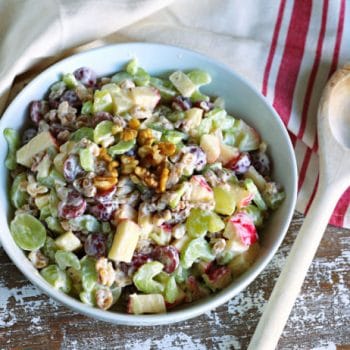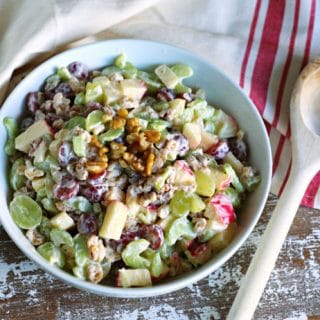 Waldorf Salad Recipe
Yield: 4 servings
Prep Time: 15 minutes
Total Time: 15 minutes
Waldorf Salad was first made from Waldorf Astoria Hotel in 1893. This crunchy salad consisting of apples, grapes, walnuts and celery in a mayonnaise dressing is a classic.
Ingredients
1/2 C. Mayonnaise
1 T. Lemon Juice
1 T. Sugar
Salt & Pepper to taste
2 Apples (green or red, or one of each) Cored and chopped into bite-size pieces
1 C. Grapes, halved - I used a mixture of both green and red
1 C. Celery, thinly sliced
1 C. Walnuts, chopped
Instructions
In a large mixing bowl, add mayo, lemon juice, sugar, salt and pepper. Mix together until smooth.
Add in grapes, apples, celery, walnuts and stir until all are coated with dressing.
Serve right away, or cover and chill up to a couple of hours.
Notes
The traditional way to serve Waldorf Salad is over a bed of lettuce. I usually skip that and just scoop it into a bowl.
Nutrition Information
Yield 4
Amount Per Serving
Calories 380

Waldorf Salad with Yogurt
If you'd prefer, you can substitute plain or Greek yogurt for mayonnaise. The flavor may be a bit more tart, but it can help cut calories and fat if desired. You could omit the sugar or substitute honey instead if you're trying to cut sugar from your diet. This Waldorf salad recipe will still be delicious!
What Kind of Apples for a Waldorf Salad
I like using a variety of green and red apples. Sweet honey crisp apples are perfect to mix with tart green granny smith. I love the combination of colors and taste, a little sweet with tart. I think it gives the salad more flavor.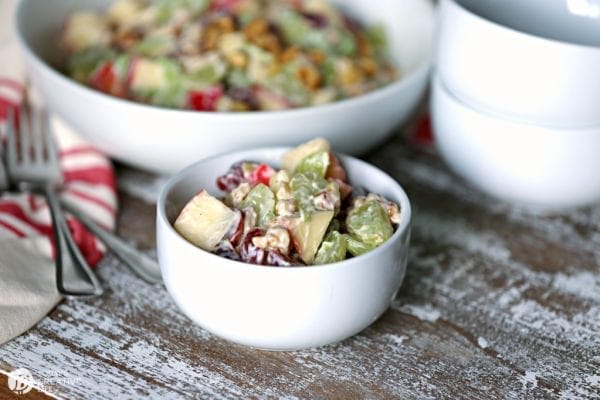 Waldorf Salad Recipe with Chicken
Make a meal out of it and add protein. Chicken or Tuna are great additions! For convenience, just break up canned chicken or rotisserie chicken into small bite-size pieces. You can mix it into the salad or serve it on top.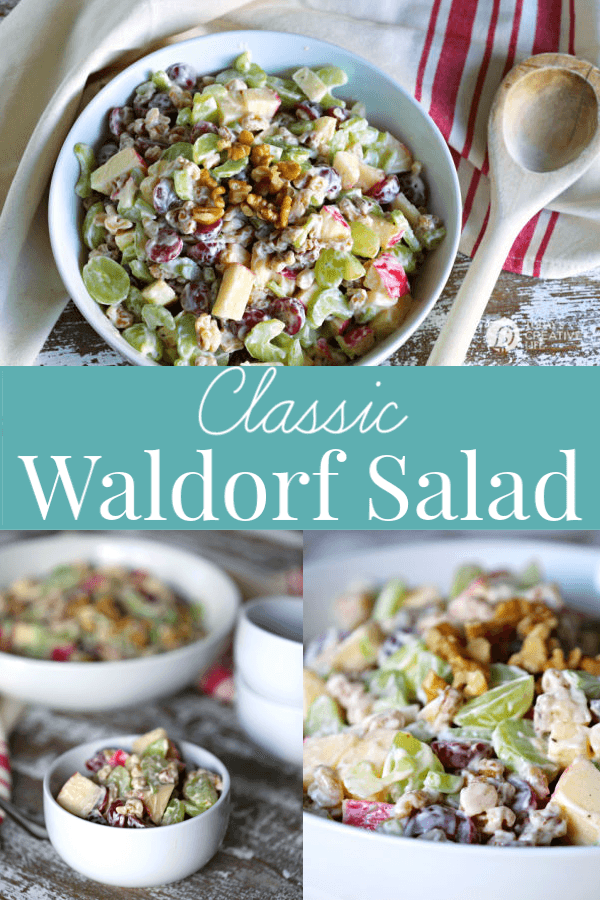 This is the perfect salad to serve on a warm summer evening. Quick and easy recipe with no cooking.
Salad Recipe Ideas
Easy to make salad recipes.
Savory Vinegar Cucumber Salad
This flavor combination is always a hit!
Line up your salad ingredients for a quick and easy dinner idea!
Refreshing with a tangy taste!
This classic is a keeper.
Another classic salad to keep alive.
The fresh crisp taste is full of flavor and crunch.