This simple savory side dish Vinegar Cucumbers recipe can be made with regular or lemon cucumbers, your favorite onions and apple cider vinegar.
Hi all! I'm Sara from Mom Endeavors and am so thrilled to be sharing one of our favorite summer recipes with you today! Vinegar cucumbers salad couldn't be easier to make and it is the perfect summer side dish! It's fresh, crunchy and easy to make.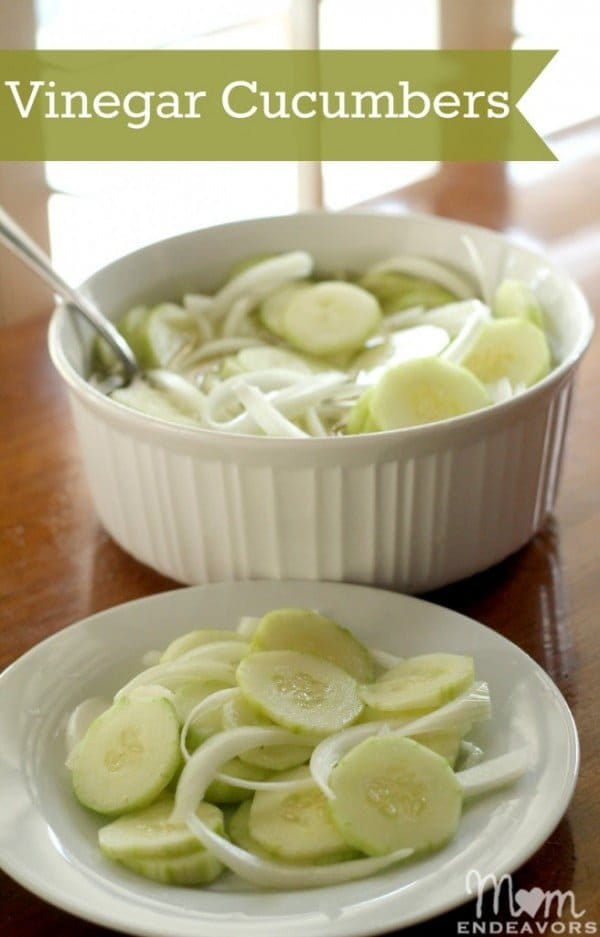 Vinegar Cucumbers and Onions
Super yum! Even if you don't like onions (I don't), continue on because the cucumbers really are delicious! These vinegar cucumbers make an awesome side for any summer BBQs or potlucks! Just like this Pickled Onion Recipe… even I like it! This is a super simple and quick side dish you can whip up in no time.
How to Make Vinegar Cucumbers
You'll need just a few simple items to make this summer salad.
cucumbers – Any variety will work great.
onions – this salad is best made with sweet or red onions.
vinegar – I use apple cider vinegar, but white vinegar, rice vinegar or white wine vinegar can be used. All will give a slight difference in taste. It's all up to your preference.
The onions and cucumbers can be sliced in any manner. I like medium slices of both. It's also up to you if you want to peel the cucumbers. This truly is a very easy salad.
Vinegar Cucumbers Recipe
This salad recipe is best if you allow it to soak overnight, but I've made it just an hour or so before and it's still delicious. Some people add a bit of sugar and that is also just another option. This recipe has a lot of wiggle room to make it your own.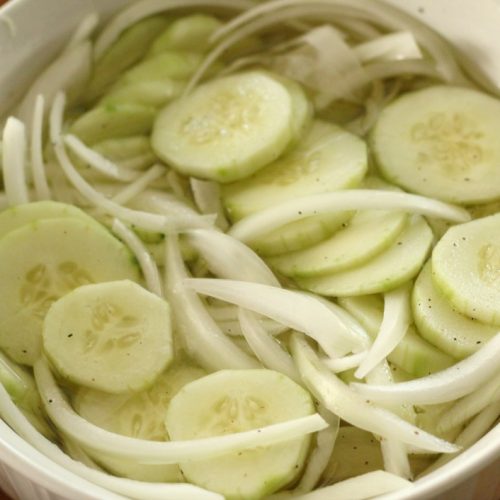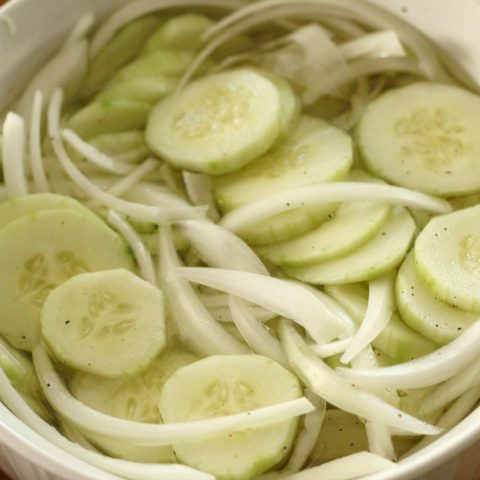 Vinegar and Onion Cucumber Salad
Yield: 6
Prep Time: 15 minutes
Additional Time: 12 hours
Total Time: 12 hours 15 minutes
Savory Vinegar Cucumber Recipe makes a great summer salad or side dish.
Ingredients
3-4 large cucumbers
1/3 - 1/2 large sweet onion (depending on how much you like onion)
1.5 C vinegar (I prefer apple cider for this recipe)
2.5 C water
salt & pepper to taste
Instructions
Peel and slice cucumber. Slice onion. You want everything thin enough that you don't have giant chunks, but not so thin that everything just falls apart. *Note - even if you do NOT like onion, do NOT omit. My husband loves the onion in this, I do not. But, I tried making this recipe without the onion and the flavor was all off. So, if you don't like onion, just don't eat any of them when you dish it up! 😉
Dump the cucumber and onion into a large serving dish. Add vinegar and water--enough to cover the vegetables. As long as you keep the vinegar & water ratios about 1 part to 2 parts, you should be good!
Season with salt & pepper to taste (I don't add much).
Cover and refrigerate. If you can make it overnight, that's best. They are SO good after they've been sitting for at least 12 hours. 24 is even better!!
Notes
You can make this Vinegar Cucumber Salad Recipe with sweet, red or white onions. You can also choose the type of vinegar you prefer.
Nutrition Information
Yield 6
Serving Size 1
Amount Per Serving
Calories 48
Total Fat 0g
Saturated Fat 0g
Trans Fat 0g
Unsaturated Fat 0g
Cholesterol 0mg
Sodium 60mg
Carbohydrates 9g
Fiber 1g
Sugar 5g
Protein 1g
We do our best to calculate, however, nutrition information may not be accurate.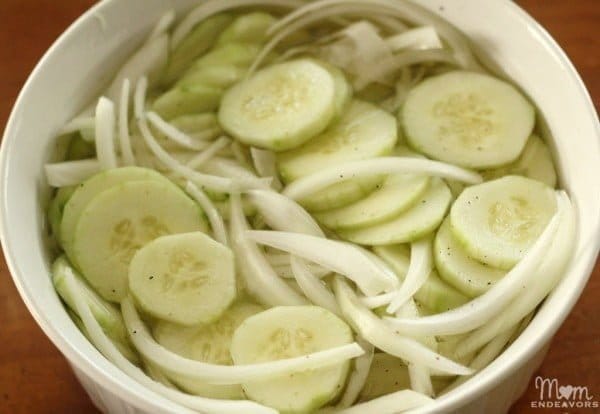 We love these! Easy to make, low in calories, and perfect for summer! A total win! If you need any more delicious summer side dish ideas, be sure to come on over to Mom Endeavors to get the recipes for Italian pasta salad, marinated vegetable salad, apple snickers salad, or my great-grandma's BEST potato salad recipe ever! Thanks for having me today!
Easy Salad Recipes
Easy to make salad recipes for a quick side dish or meal.
Bacon, avocado, egg, and chicken! This protein-packed salad is a full meal.
I just cut up all the fruits I want to use. For a large fruit salad, you'll need about 6 or 7 cups of fruit.
Cherry tomatoes with buttermilk vinaigrette will be your summer go to salad! Great way to use your own homegrown cherry tomatoes! Fresh, tangy and sweet!
Waldorf Salad was first made from Waldorf Astoria Hotel in 1893. This crunchy salad consisting of apples, grapes, walnuts and celery in a mayonnaise dressing is a classic.
This classic spring salad is great for Easter brunch.
Use this recipe in a sandwich or on top of greens.
Everyone's favorite spring and summer salad.
Fresh, crunchy and full of healthy nutrition.