With Easter and Summer coming up, this Fruit Salad Recipe is much needed! I am ready for fresh fruit, and fresh recipes! My key lime bars or my Shrimp Avocado Salad are calling my name too! This Watermelon Pizza will also be a must-make recipe!
I guess being under a rainy cloud for weeks will do that to a girl! I'm craving a bit of sunshine and fresh foods! If you're looking for more fruit salad recipe ideas, try this summer berry chicken salad, this creamy quick and easy fruit salad or this Cherry Berry Compote.
Fruit Salad Recipe with Sour Cream Dressing

I dropped by my local fruit market here in Camas Washington.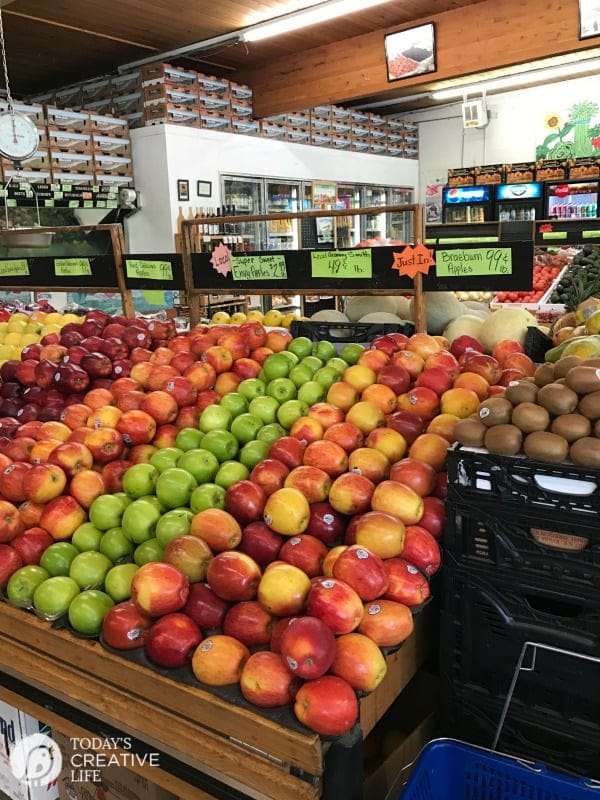 It's the cutest little market and the produce is SO fresh. Anytime I can find a head of romaine lettuce and the bottom stalk is crisp white… you know it's going to be a good day.
Mixed Fruit Salad Options
Gazing at all the fruit, I decided right then I needed to make a mixed fruit salad and they had so many options for the best fresh fruit salad recipe.
blueberries
strawberries
raspberries
kiwi
mango
grapes
pineapple
pears
bananas – which I forgot to add to my fruit salad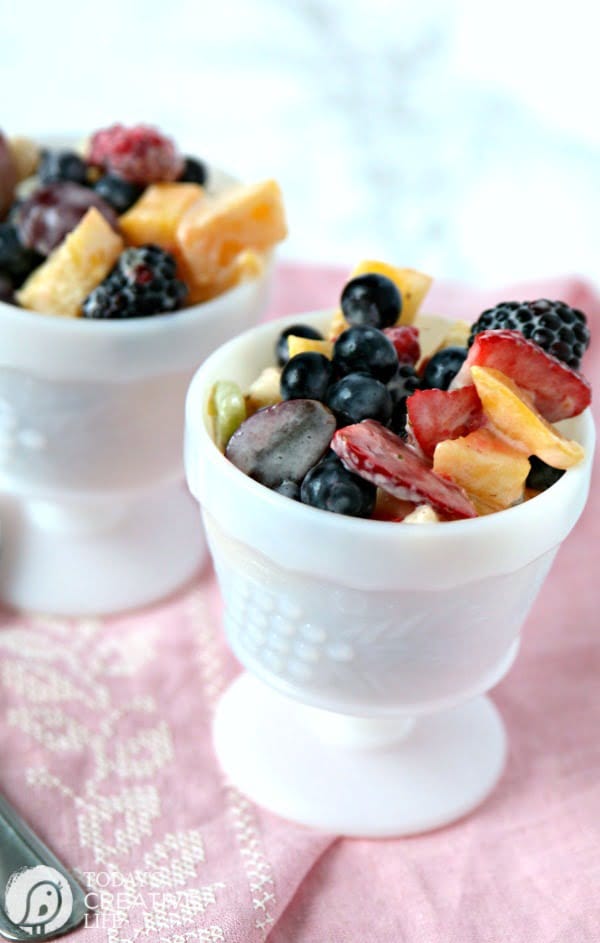 You can add any fruits you like and toss them together. During the spring, you'll find most berries, kiwi, mangos, and more. Later in the summer, look for fresh peaches to add.
Sometimes I add walnuts for a variation. That nutty taste with the fruit always reminds me of a Waldorf salad and adds more flavor. Or try adding my homemade granola!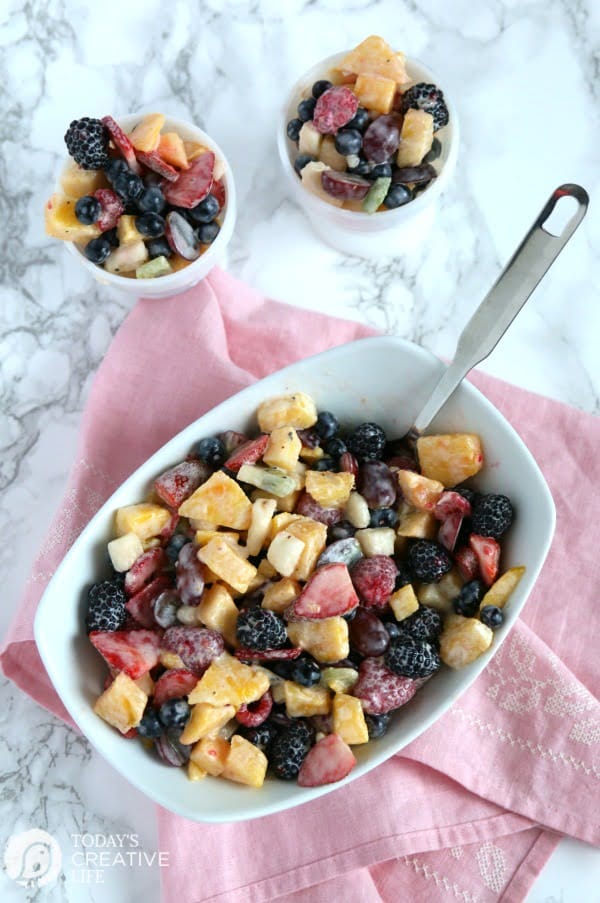 Mixed Fruit Salad Tangy Dressing
Occasionally, I like adding a light creamy dressing to my fruit salad and other times, I serve it naked…. not as in I'm naked, when I serve it, but the fruit is naked. Don't make that mistake.
The fruit salad dressing I use is very simple. It's a mixture of sour cream, mayonnaise, powdered sugar….(not that much or use honey instead), and fresh lemon or lime juice. It really depends on what I have on hand. It's sweet and tangy, which blends perfectly with any fruit salad recipe.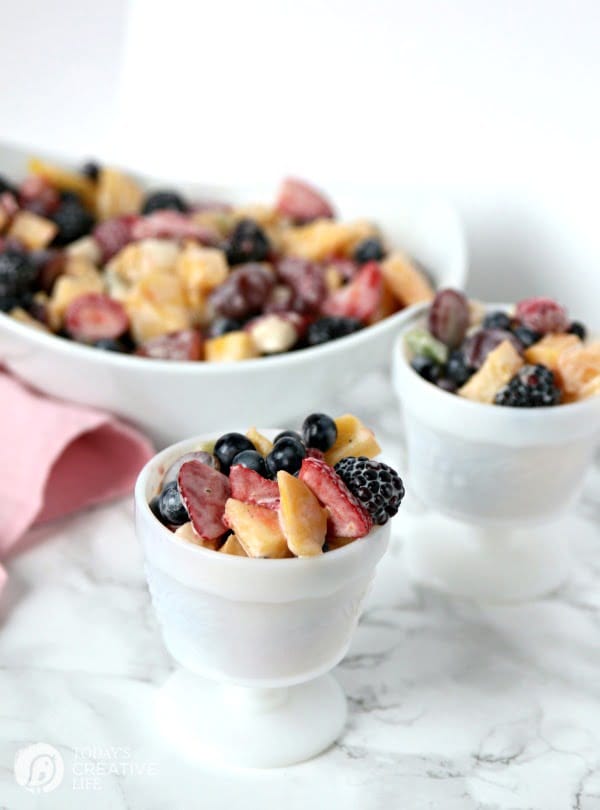 If you're having Easter brunch or dinner, and you have cute little fruit cups, use them! They will look so cute with this fruit salad recipe scooped up into individual servings.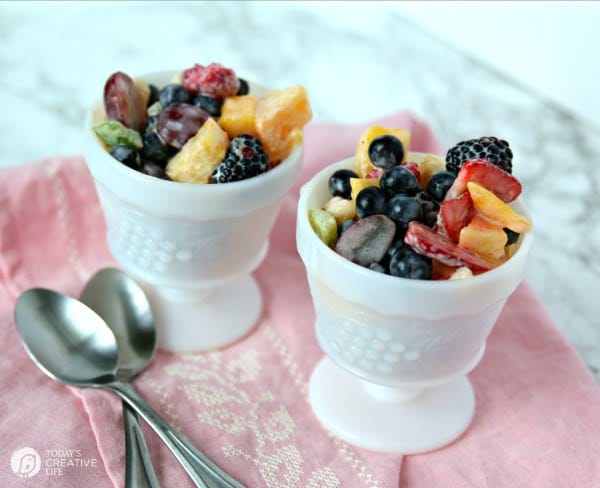 If you want to be really fancy…. garnish with a sprig of mint.
How to Make a Mixed Fruit Salad with Sour Cream Dressing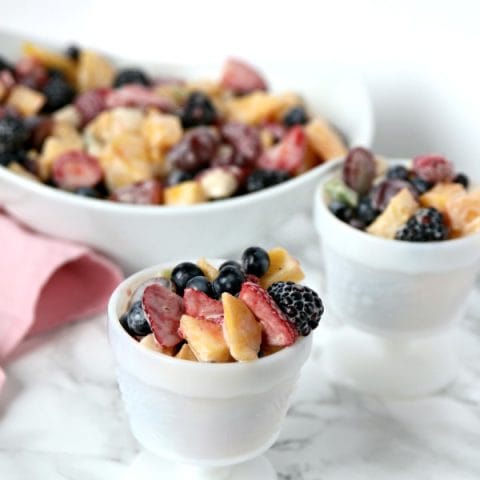 Fruit Salad Recipe
Prep Time: 25 minutes
Total Time: 25 minutes
Mixed Fruit Salad with a tangy sour cream dressing!
Ingredients
Choose a cup or so of each fruit.
Most fruits will need to be cut into bite size pieces.
FRUIT Choices
Strawberries
Blueberries
Pineapple
kiwi
banana
Mango
Blackberries
Raspberries
Pear
grapes, red or green, or both!
DRESSING
1/2 cup sour cream
1/4 cup mayonnaise
1/4 cup powdered sugar
1 tablespoon Lime or Lemon Juice.
Instructions
I cut up all the fruits, except for the blackberries, raspberries, and blueberries.
Place them in a medium size bowl.
If you're using banana's, make sure to serve the salad within the hour, as they may brown up.
DRESSING
In a small bowl, mix all ingredients together until well blended. If it tastes too tart, add a little more powdered sugar.
Once it's mixed well, pour over the fruit and carefully blend, being careful not to smash any fruit.
Notes
Use a mixture of all your favorite fruits.
Substitute powdered sugar with a couple of tablespoon's honey if you'd like.
Add walnuts if you want to add more texture.
Nutrition Information
Yield 8
Serving Size 1
Amount Per Serving
Calories 172
Total Fat 8g
Saturated Fat 2g
Trans Fat 0g
Unsaturated Fat 5g
Cholesterol 11mg
Sodium 50mg
Carbohydrates 25g
Fiber 3g
Sugar 19g
Protein 1g
We do our best to calculate, however, nutrition information may not be accurate.
Can you Freeze Fruit Salad?
I would not freeze a fruit salad after I've added the dressing. You can however cut up all the fruits and flash freeze on a cookie sheet and store them in a freezer-safe Ziploc bag. By laying the fruit out on a baking sheet and freezing for about 20-30 min, this will keep the fruit from freezing together in a large lump. You can see more about how to freeze fruit here.
How Long Does Fruit Salad Last?
Depending on the types of fruits you're using, will help determine how long your fruit salad will keep in the fridge. Softer fruits like bananas will get soggy pretty quickly. I've never kept a mixed fruit salad longer than the next day. We usually don't have many leftovers, because we end up enjoying it the day I make it!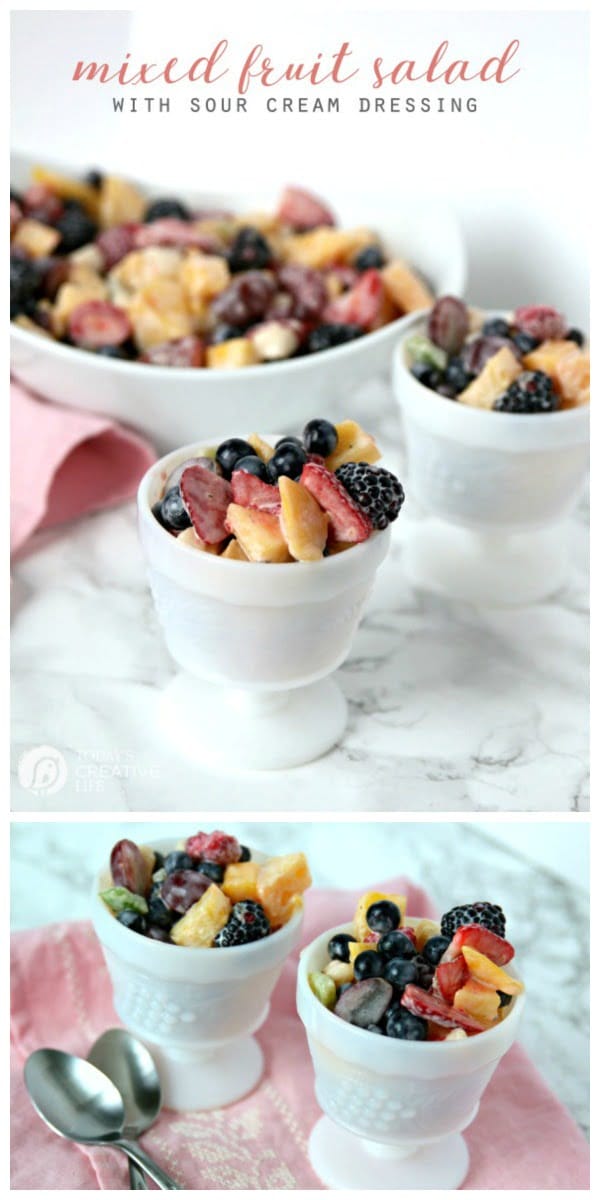 Fruit Recipe Ideas
Simple and delicious fruit recipes.
Fruit Pizza for a fun treat.
Mixed fruit salad with a tangy sour cream dressing!
Fruit ice cubes make every beverage better.
The perfect spring salad recipe.
Refreshing berry dessert idea.
Slab Strawberry Pie is a summer favorite.
Easiest and most delicious cobbler recipe you'll ever make!
Easy to make, fancy to look at!