Printable conversation hearts make easy Valentine Decor Ideas. Decorating for Valentine's Day can be simple and budget-friendly by using free printables and your imagination. You'll find all free printables in The Printable Vault. Continue easy to make DIY Valentine's Day decorations.i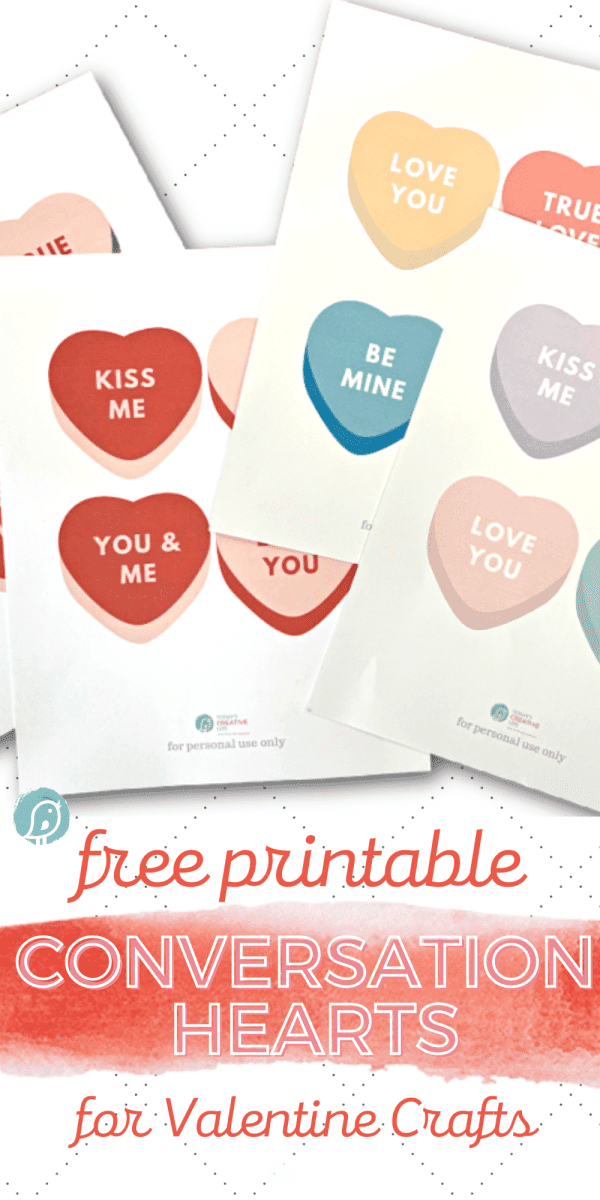 DIY Valentine Decor Ideas
I don't do a lot of decorating for Valentine's Day, but a cute Valentine's garland or centerpiece may happen. Valentine crafts that can also be used as decor are my favorite. Cute, budget-friendly, and reusable. Here are a few simple ideas I've created in past years. Click on the image to visit the tutorials.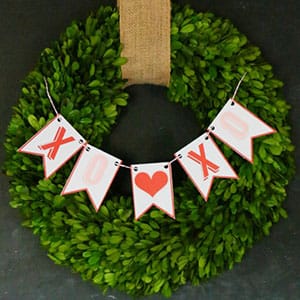 Conversation Hearts Printable
I've designed 4 sheets of conversation hearts with different messages and colors.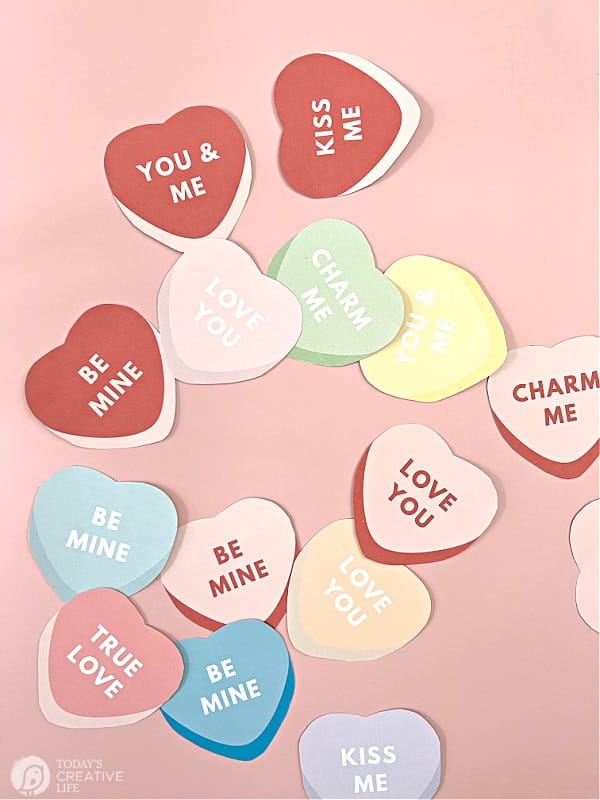 I ended up just printing on white cardstock and hand-cutting, which I wasn't very careful and ended up with a few wonky edges, but it's totally fine with me. If I wanted perfectly cut hearts, I could have let Cricut do the work with the Print and Cut method.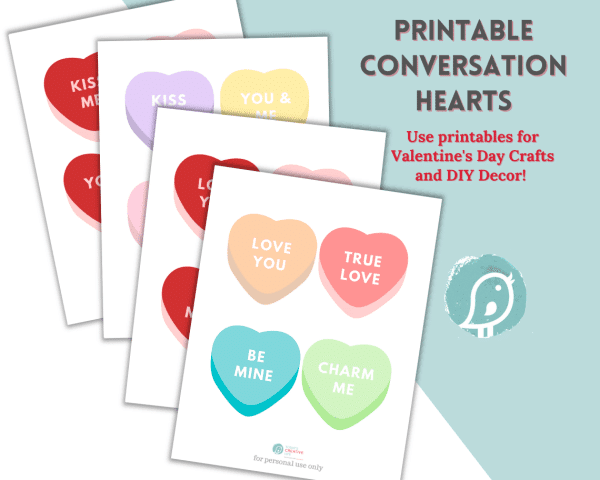 I made the cutest Valentine's day garland with all the pink and red hearts and just strung them on a piece of string. I might try mixing them all together for one long banner for fun. Simple is always best.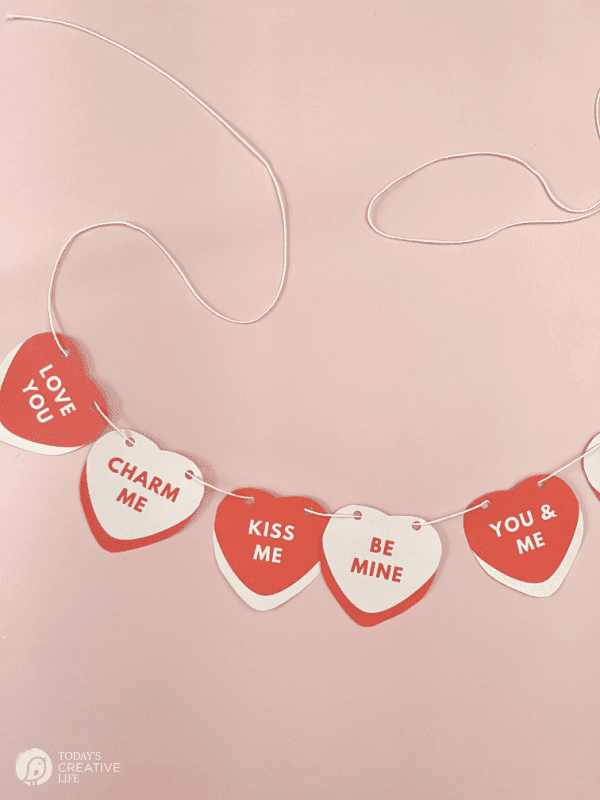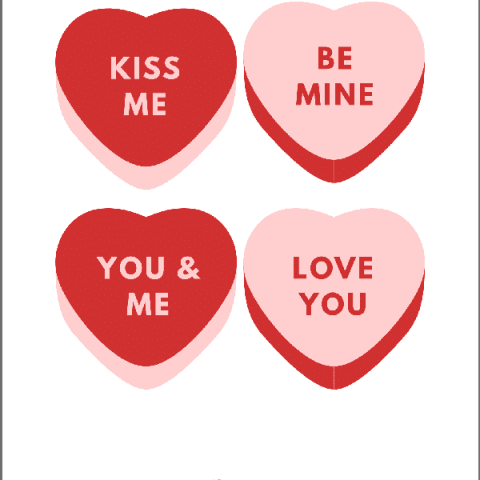 Valentine's Day Banner
Yield: 4 hearts per sheet
Prep Time: 5 minutes
Active Time: 15 minutes
Total Time: 30 minutes
Difficulty: Easy
Estimated Cost: free
Printable Conversation Hearts for easy DIY Valentine's Day decorations. This tutorial is for how to make a Valentine's banner.
Materials
White Cardstock
String, ribbon or twine
Tools
Craft Scissors
Inkjet Printer
Single hole punch
Instructions
Gather your supplies: printable designs, string, single hole punch and scissors.
Cut hearts out by hand or by using the Cricut Print and Cut method.
Using the single hole punch, punch 2 holes in each heart.
Thread with string to create a garland.
Notes
The cost is based off already owning products needed to complete this craft.
Recommended Products
As an Amazon Associate and member of other affiliate programs, I earn from qualifying purchases.
Printable Valentine Decor Ideas
For quick seasonal decorating, you gotta hand it to free printables. These conversation heart printables can be used so many ways. Find printables in The Printable Vault.
Cut each heart out and glue the backs together. Hang with thread from windows and chandeliers.
Use as gift tags to decorate a simple gift.
Decorate a gift bag by applying them to each side.
Frame as is, or cut them out, apply them to another piece of cardstock, and frame as a 5×7 or larger.
Place all the cutouts down the center of the table for a quick table runner.
Scatter around a buffet party table.
As you can see, with a little imagination, there are so many ways to create candy heart decor.
Valentine's Day Printables
I also have the cutest Valentine's day cupcake toppers and created printable wall art from one of the designs. It's colorful and bold and could be used year-round.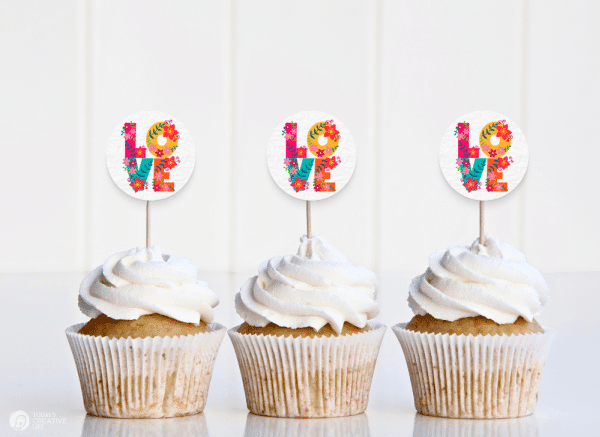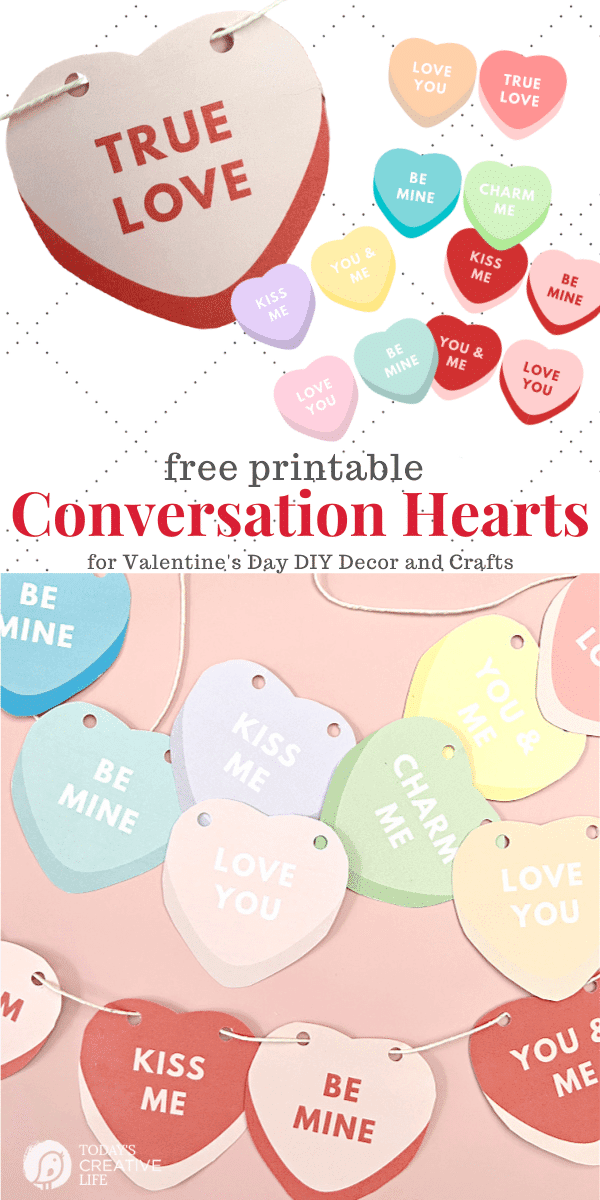 Free Printables for Valentine's Day
Easy Valentine's Day printables and decorating ideas.
Super cute tag for a Valentine Treat!
Fun Classroom Valentine's idea.
Decorate your own tea bags for a quick and cute gift idea.
Valentine Printable candy bar wrappers for king-size bars.
Free printable Heart Valentine Gift tag or label.
This is perfect to place in a heart-shaped candy box!
Printable Bag Toppers for easy gift giving.
Tags and labels for Valentine's Day gift giving.
This fast and cute Valentine Banner is so cute for the mantel or door.
Send the kids to school with this Valentine surprise.
Cupcake toppers or stickers for more than just Valentine's.
XOXO Printable banner for easy DIY Holiday Decor!
Fun classroom activity for Valentine's Day.
Make a book of Valentine's Day coupons with these free printables.