All you need for a quick DIY Halloween Centerpiece are plastic snakes, 2 vases, and a candle! Glowing slithering snakes for easy ideas for Halloween decoration.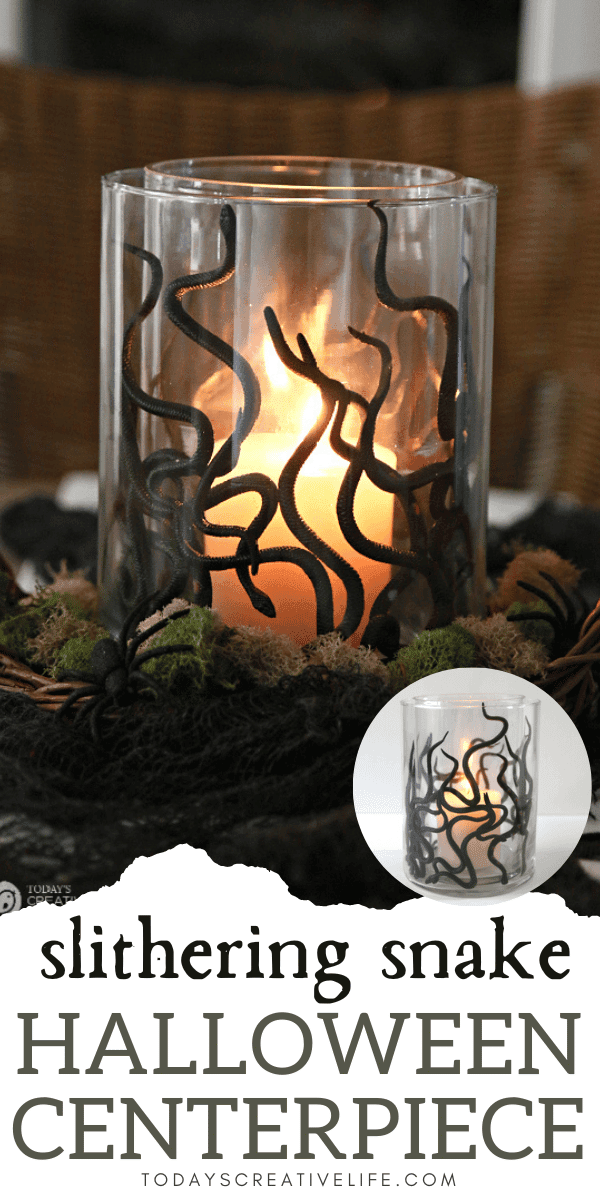 DIY Halloween Centerpiece
Decorating for Halloween doesn't have to be tacky or cost a fortune. This DIY Halloween Centerpiece was so easy and only took me a couple of minutes to make. It looks very creepy at night lit up with a glow, it's perfect for any table surface.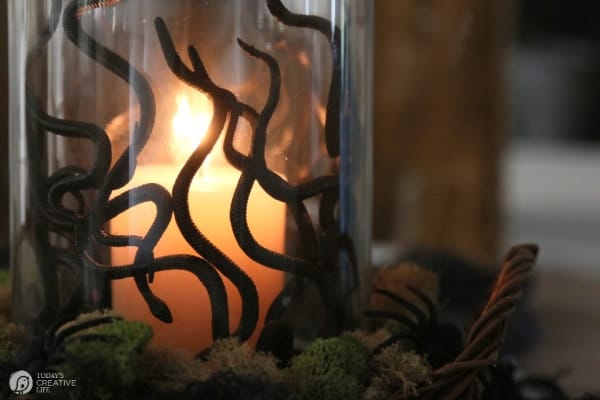 Ideas for Halloween Decorations
I've always loved the grapevine wreaths I've seen painted black with slithering snakes added for a fun wreath. Creepy and simple, but that got me thinking about other ways I could incorporate snakes into indoor Halloween decor ideas.
For this easy Halloween project, most items I already had on hand. To make his DIY Halloween centerpiece you'll need: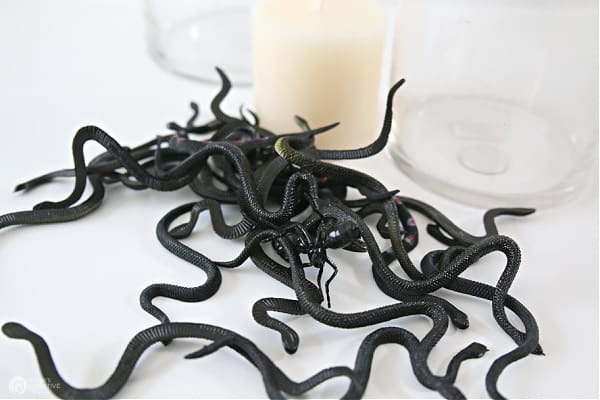 Plastic Snakes – I couldn't find all black so I spray-painted them.
Black spray paint if needed
2 Cylinder vases. One has to fit inside the other with a small space between. I bought mine at Walmart and are much more affordable. Any two glass jars, vases etc… will work. I think a round fish bowl vase with a jar inside would be really cool.
Candle – use a real or flameless.
You can use it alone or spruce it up as I did by adding additional items like a round basket tray and deer moss to set it in.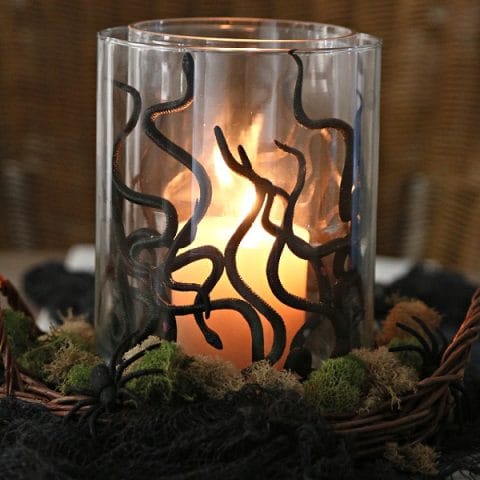 Halloween Table Decor
Yield: 1
Prep Time: 20 minutes
Active Time: 5 minutes
Additional Time: 2 hours
Total Time: 2 hours 25 minutes
Difficulty: Easy
Estimated Cost: $25
Create this slithering snake candle centerpiece in just minutes. Use it as a centerpiece or for any surface that needs Halloween decor.
Materials
Plastic Snakes - use any size that will fit.
Black Spray Paint - only needed if you need to spray paint the snakes.
2 Glass Vases or Jars that one can fit into the other.
Candle - real or flameless
Instructions
Gather your supplies.
If needed, spray paint the snakes in a well-ventilated area. Allow drying for a couple of hours.
Place the smaller vase inside the other.
Start placing the snakes in the space between the vases. Be creative. Maybe you want all the tails up like mine, or you want the snakes clumped more to the bottom.
Place a candle inside. I like using a shorter candle so the glow is lower and illuminating upward. Be sure all snake bits are not near the flame. You can also use a flameless candle.
Decorate as is, or add it to a tray full of deer moss like did. Do what you love!
Notes
Time was calculated on needing to spray paint the snakes.
Never leave a lit candle unattended.
Recommended Products
As an Amazon Associate and member of other affiliate programs, I earn from qualifying purchases.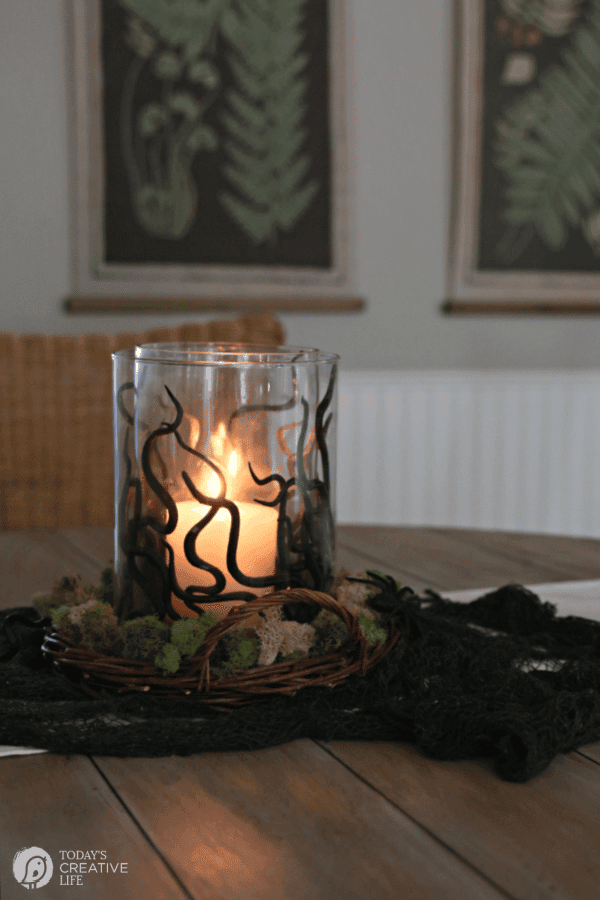 Will other vases work for this DIY Halloween Centerpiece?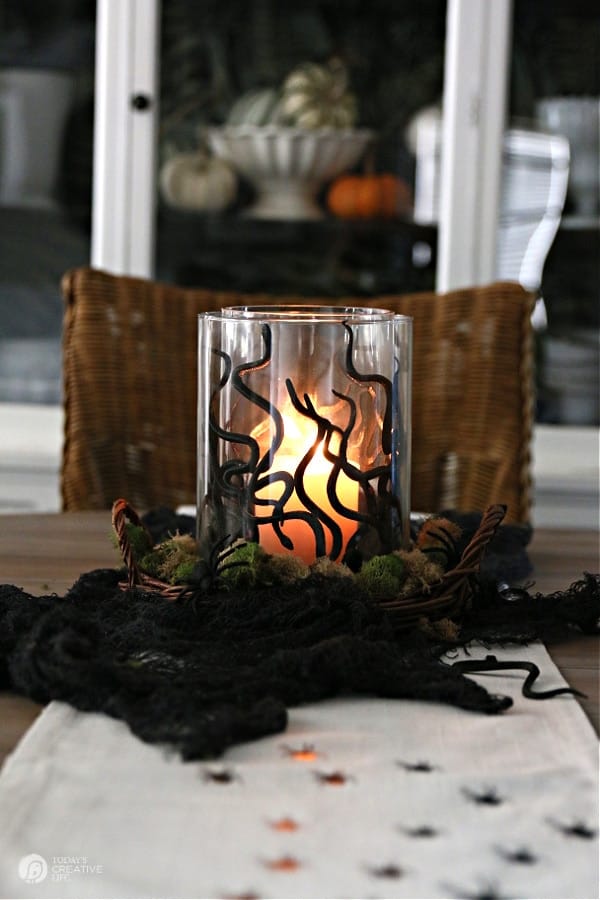 The only "rule" is that the vases need to be somewhat transparent and be able to fit inside of each other. I think frosted glass would look really cool. You can make them any size or shape. I think using a round fish bowl globe vase or even a globe light cover would also be really nice looking.
Table Decorating for Halloween
This simple DIY Halloween decor idea can be used alone on any surface that you normally decorate on. Here are a few ideas that will spark your creativity.
Set it on a set of small books.
Use smaller versions and line across your mantel.
Place in a wicker (or any) tray filled with deer moss or other fall items like small pumpkins etc…
Ideas for DIY Halloween Decor
Find creative and easy DIY Halloween Decor ideas for decorating your home.
Glowing Eyes Spooky Halloween Decorations
Image Transfer craft for making Halloween Candles.
Halloween Cricut Craft project using vinyl.
Amazing Faux Insect Taxidermy you can use all year long.
Create your own Halloween Wall art with this printable.
Make creepy and original treat boxes for Halloween party favors.
Cricut project for Halloween using iron-on vinyl.
Great for Halloween parties or any Halloween dinner ideas.