Another great idea for Halloween decorations is making your own DIY Halloween Apothecary Jars. Using my free printable Halloween Apothecary labels makes this a fun and easy way to decorate. This 30-minute craft is great for quick decorating.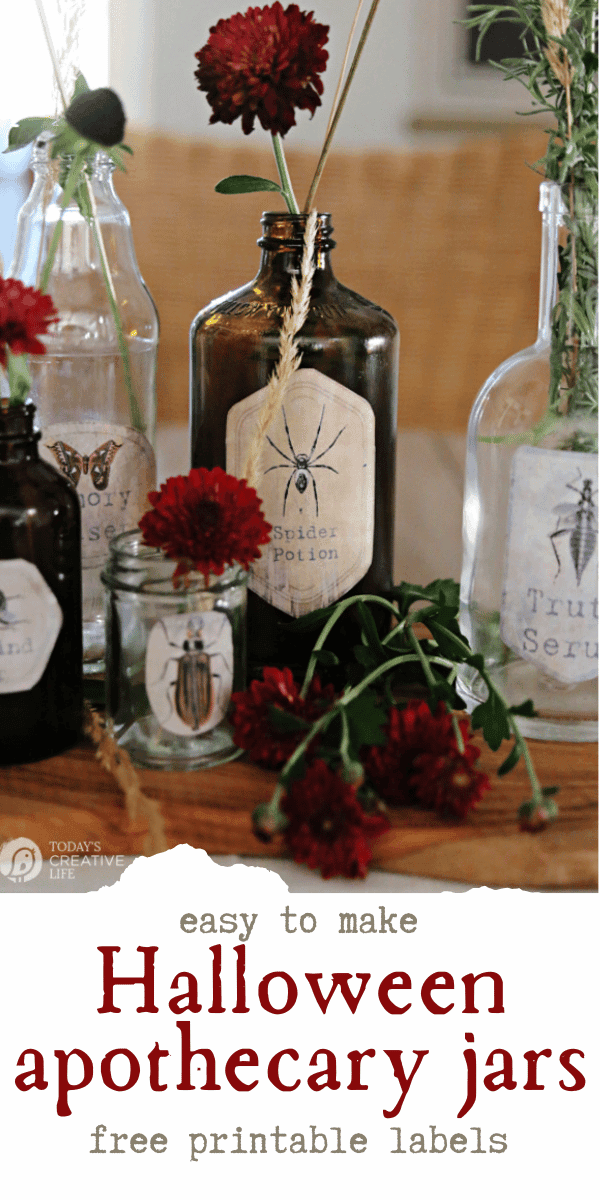 DIY Halloween Apothecary Jars
I love a good budget-friendly craft idea for DIY home decor. I made apothecary jars many years ago and filled them with colored water and creepy items, which were fun, but I wanted something a little more vintage and classic. So I whipped up some spooky apothecary labels with vintage insect images and I love them. Subscribers can find all free printables in The Printable Vault. Subscribe here for access. A password will be emailed to you. Or take my course on how to make your own printables for a creative home.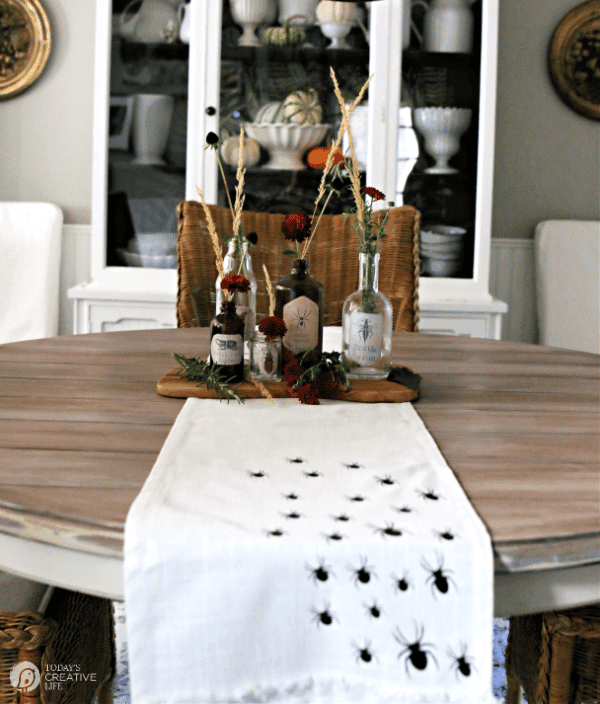 How to Make Halloween Apothecary Jars
You'll need:
Glass jars or bottles – I kept it really inexpensive by using bottles and jars I already had. One is a rice vinegar bottle, another is a kombucha bottle, etc… Of course, you can find authentic-looking apothecary jars if you want a more realistic look.
Printable Labels – I offer free apothecary labels in The Printable Vault. Once there, just click on the title to download and print at home. You can also find more elaborate labels on Etsy.
Mod Podge decoupage medium – I used matte.
Craft Brush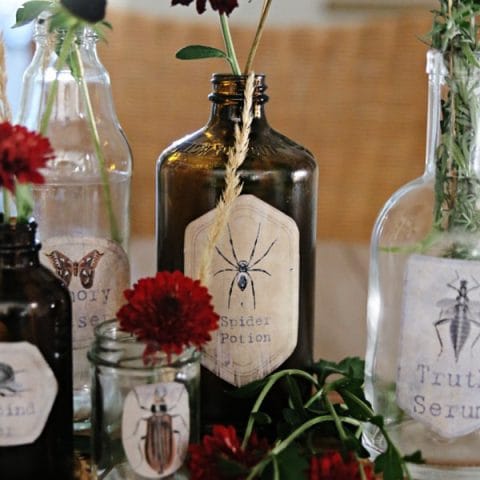 DIY Apothecary Halloween Decor
Yield: 5
Prep Time: 5 minutes
Active Time: 30 minutes
Additional Time: 30 minutes
Total Time: 1 hour 5 minutes
Difficulty: Easy
Make your own Halloween Apothecary Jars with this tutorial and free printable Halloween apothecary labels.
Materials
Jars or bottles - I used what I had around the house.
Instructions
Gather your supplies.
Wash and dry your jars and bottles. I used bottles from empty pantry items.
Print and cut out the Apothecary labels.
Apply Mod Podge to the area on your jar where you want the label to go.
Apply the label.
Apply a coat of Mod Podge over the label.
Allow to dry and enjoy.
Notes
If you want your jars to be waterproof, you'll want to use a waterproof Mod Podge.
Recommended Products
As an Amazon Associate and member of other affiliate programs, I earn from qualifying purchases.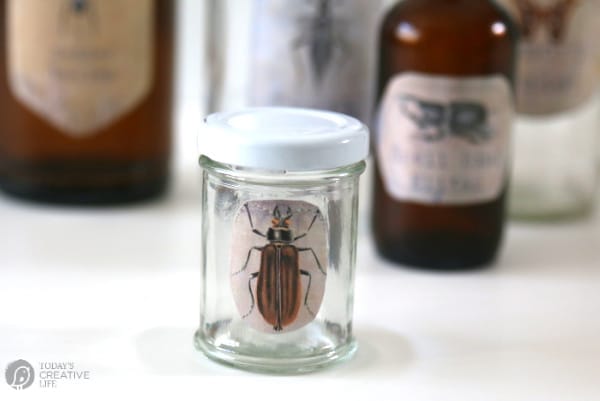 What Can You Put In Halloween Apothecary Jars?
As you can see, I didn't fill my jars and bottles with anything. I wanted a more rustic look, so I wandered out into my yard and just picked a few things. I love how they look. There are so many things you can fill them with depending on the look you're going for.
Dried seed pods
Dried leaves and herbs
Dried flowers
Written messages on crumpled paper
Faux bugs
Of course, you can add colored water to any of those items mentioned. Or watered-down tea or coffee for a warm amber color.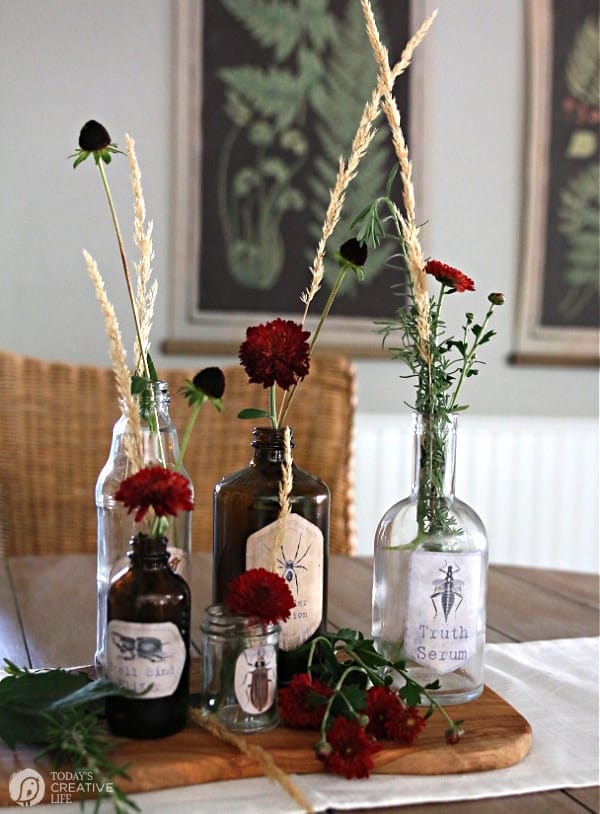 How To Print Apothecary Labels
Download printable labels located in The Printable Vault. Subscribe here for access and your password will be emailed to you.
Open the downloaded document on your device and print.
I printed on regular printer paper. Thicker paper will be hard to decoupage.
Cut each label out with craft scissors.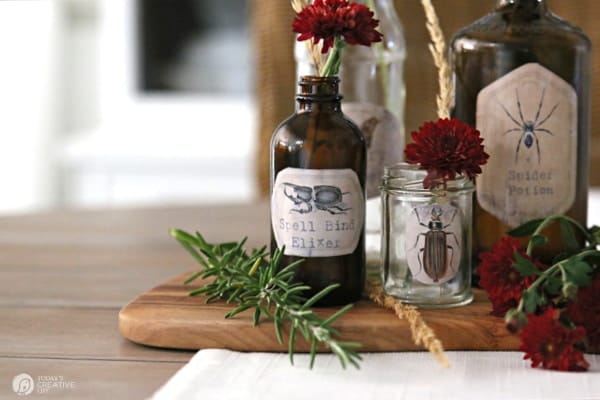 I decided to keep it really simple by placing them on a wooden board with the extra items I had found in the yard. It's stylish, and rustic and has just enough Halloween vibe without being tacky like so many Halloween decorations.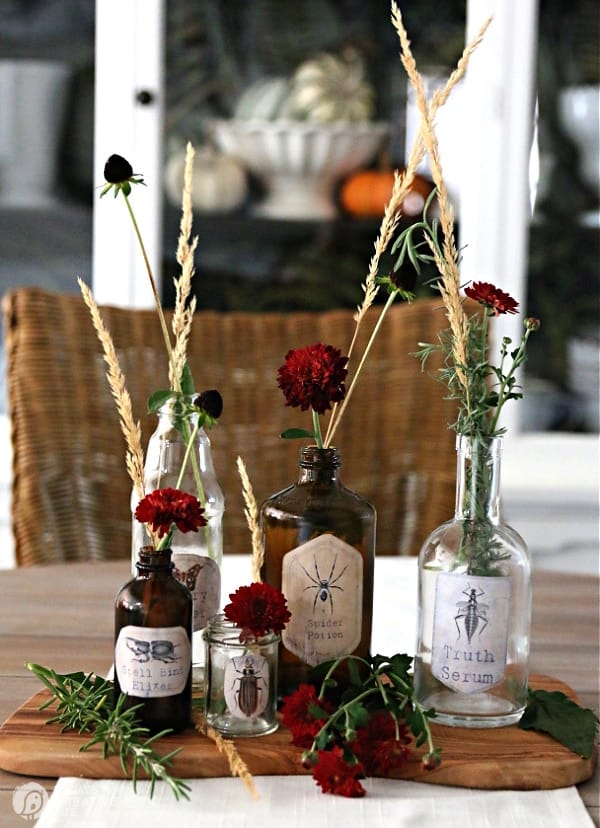 if you love simple Table Centerpieces like do, then you'll love my downloadable digital book.
I'd love to see what you come up with. You can always tag me on Instagram.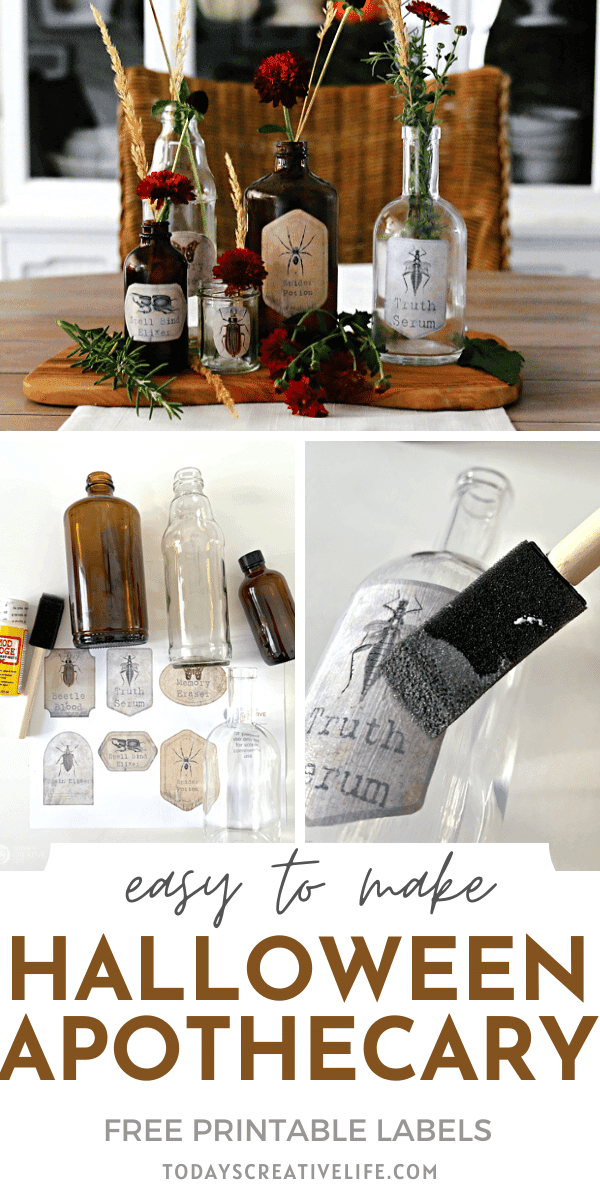 Ideas for DIY Halloween Decor
Find creative and easy DIY Halloween Decor ideas for decorating your home.
Simple ideas for Halloween decorations.
Glowing Eyes Spooky Halloween Decorations
Image Transfer craft for making Halloween Candles.
Halloween Cricut Craft project using vinyl.
Amazing Faux Insect Taxidermy you can use all year long.
Create your own Halloween Wall art with this printable.
Make creepy and original treat boxes for Halloween party favors.
Cricut project for Halloween using iron-on vinyl.
Great for Halloween parties or any Halloween dinner ideas.