Pergola Kits make it easy and budget-friendly to add a pergola structure to your backyard. DIY Pergola kits from Backyard Discovery are easy to build with an average time of 3 hours.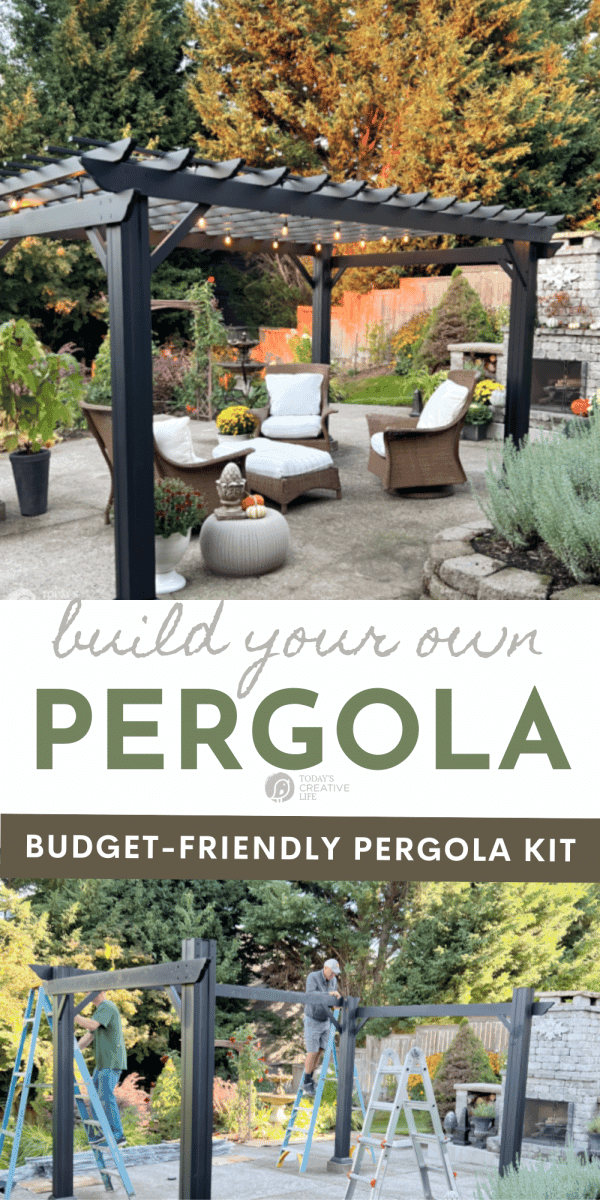 DIY Pergola Kits
After building our outdoor fireplace, we knew we would also need to add a pergola to create the space we wanted. Once we started researching, it was clear, a kit would be our best choice.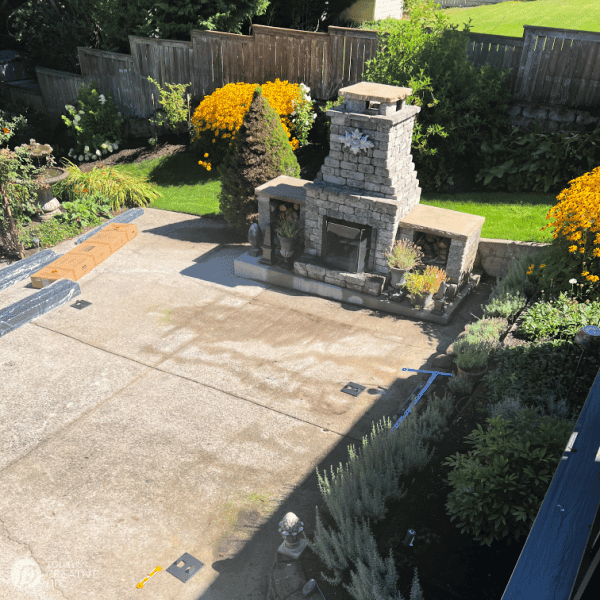 DIY pergola kits are usually much more budget-friendly than hiring someone to build and construct one for you (although Backyard Discovery also offers this option). Kits come with everything you need. The materials and the instructions are all included. No hidden costs. It's all laid out for you. Easy Peasy, right?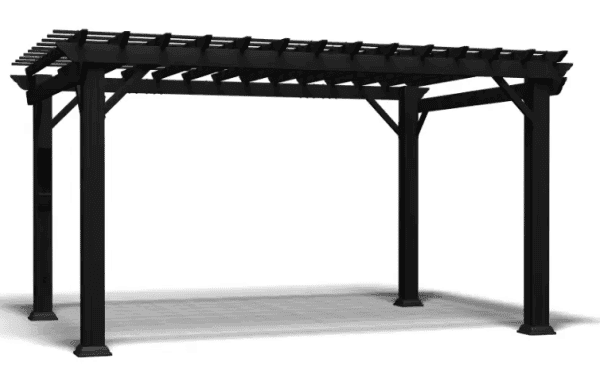 We decided that because of our wet climate, a powder-coated galvanized metal would be a better option and require less maintenance. After finding what I wanted and that they also offer free shipping, I reached out to Backyard Discovery and they were happy to work with Today's Creative Life. You guys LOVE all my backyard content and I knew you'd love this new addition.
Before looking for pergola kits and after we built the fireplace, we added DIY cafe light poles which really made it look better. But it was still feeling empty. The space is large and needed more.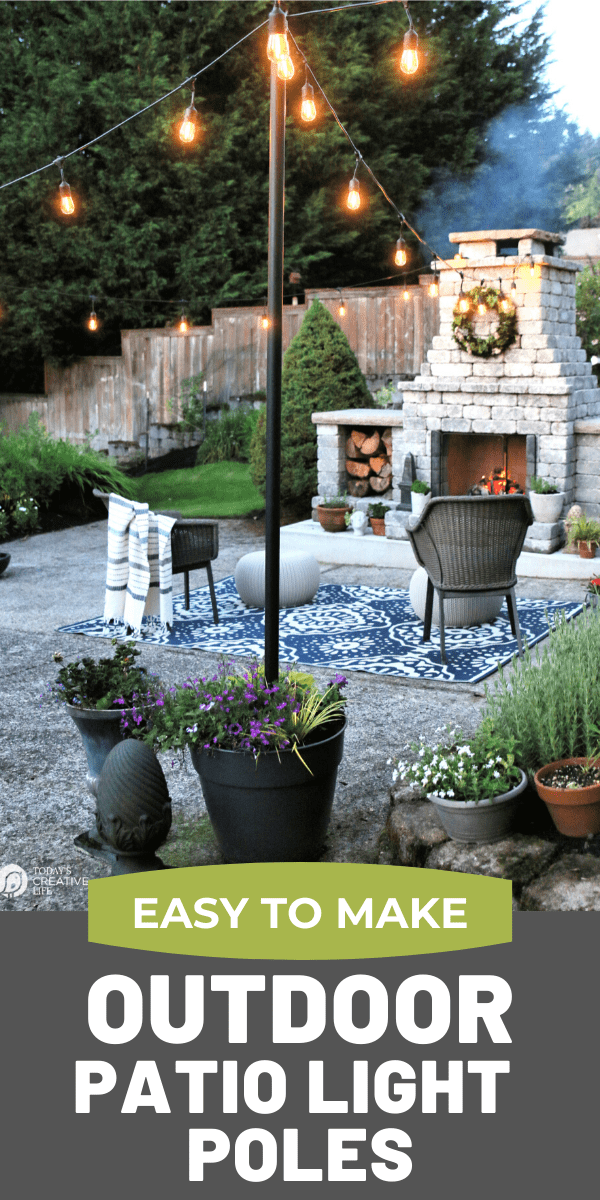 Prepping Your Space for a Pergola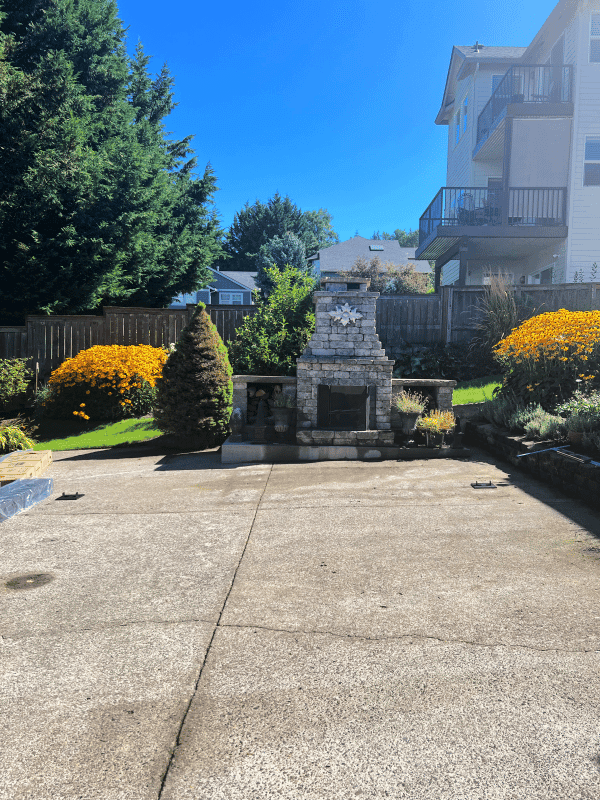 Most spaces will not require the amount of work we had to do but because our space was very uneven, the prep took us more time. Our space is unique but we found a solution.
We have no idea why the previous owners added this overly large concrete pad, but was great for playing basketball, etc.. when our son was small. It was always our plan to try and create a backyard oasis.
The space had its challenges because it slopes quite a bit (you can see how much by looking at the fireplace platform) for drainage, but it also sloped side to side as well. Our dilemma would be how to make it level enough using a kit.
We built our own concrete forms for one side of the concrete pad. This is not a typical issue or need when building a pergola, unless you have an uneven concrete area.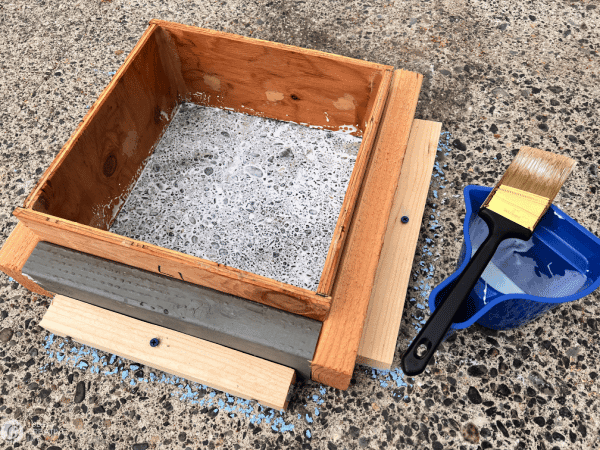 We had never done this before, but how hard could it be, right? Let's just say, there were words. But we got it.
Before mixing and pouring the concrete, we added a concrete adhesive. We wanted to make sure it was as structurally sound as possible.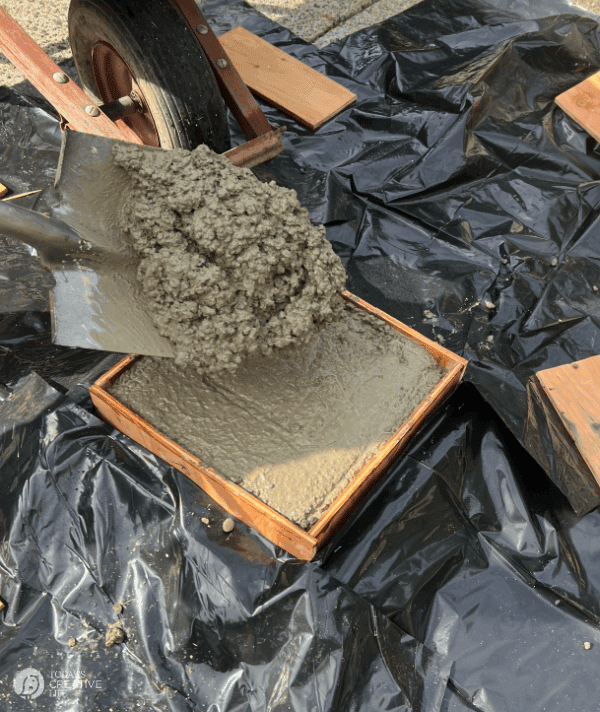 It took two bags of concrete to fill two concrete forms.
We leveled it and then let it cure for at least 7 days.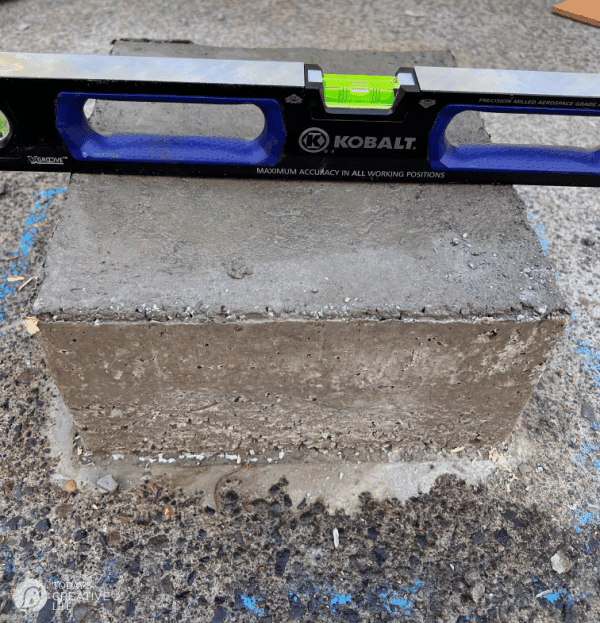 On the other side of the patio, there was just a slight slant, but not enough that required a concrete block.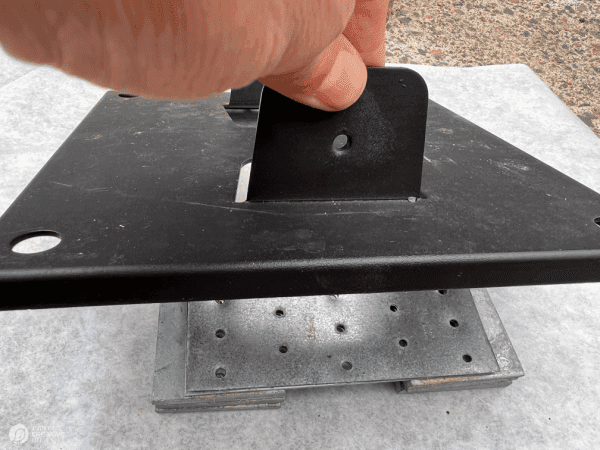 So my husband added small steel plates (he used glue that was good for metal and also waterproof)until it read level.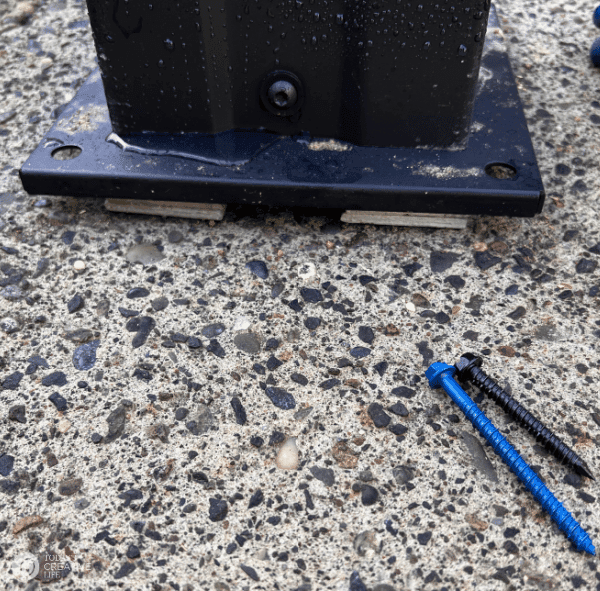 How to Build a Pergola
Now that that hurdle was complete, we were ready to install and build the pergola. This will take 2 people, but I did help on the first beam, making it 3 people for about 5 minutes. They completed this in about 3 hours.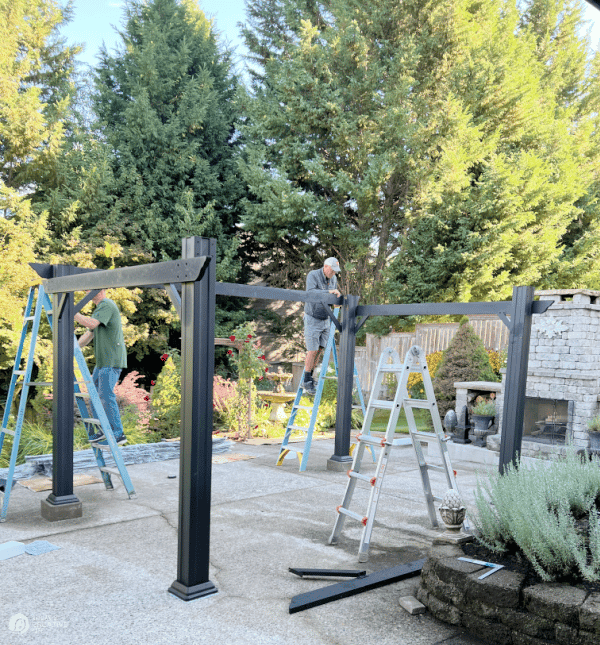 You'll also need a couple of ladders, a drill, a soft mallet, etc… But that is all in the instructions. All of the screws, bolts, etc… are included in pergola kits.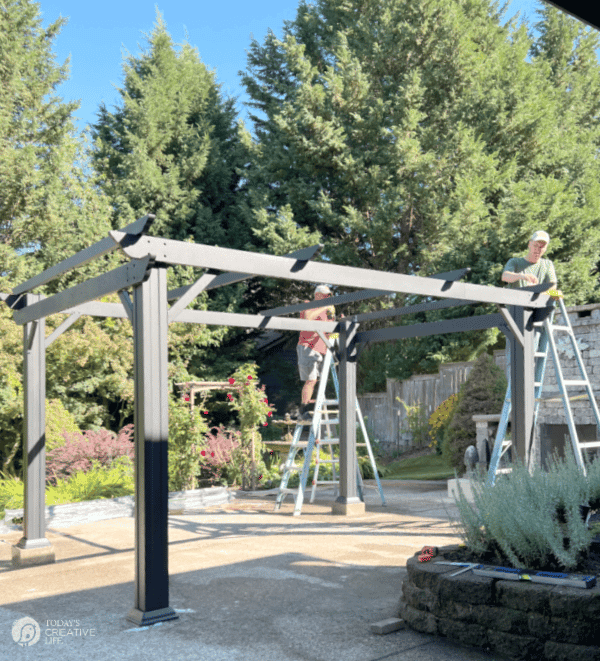 Our friend that came to help was surprised by how easy the whole process was. We didn't even need to use the step-by-step interactive BILT® app.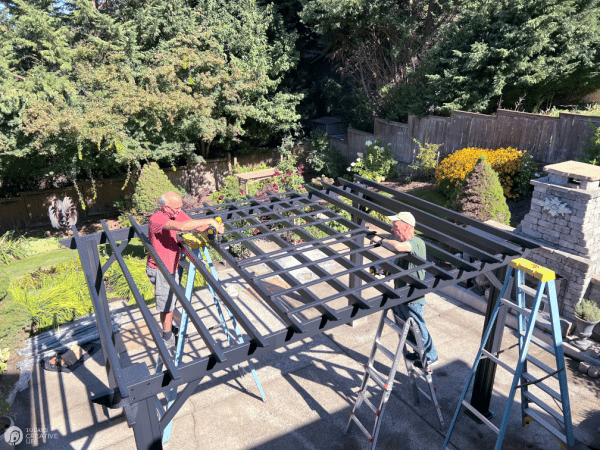 It's looking so much better already!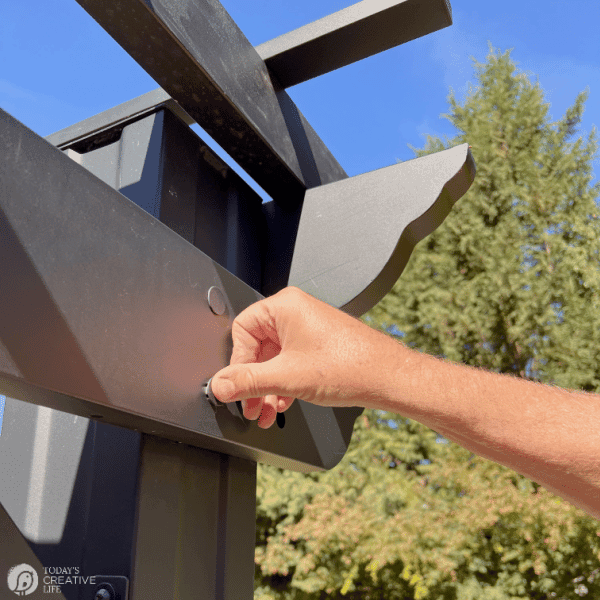 To make it weather resistant, it comes with these screw caps to cover any exposed hardware.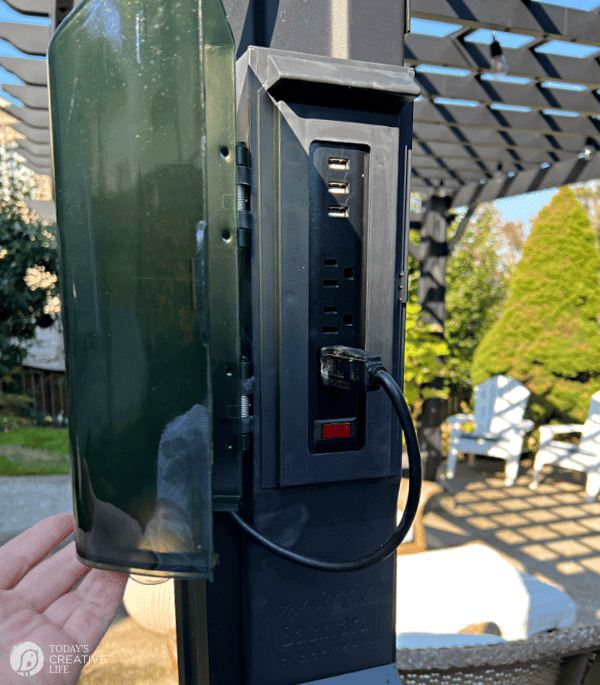 This feature is very cool. This exclusive PowerPort™ has 3 USB ports and 3 electrical outlets to use for powering outdoor lights and electronics as well as charging your devices.
Pergola with Canopy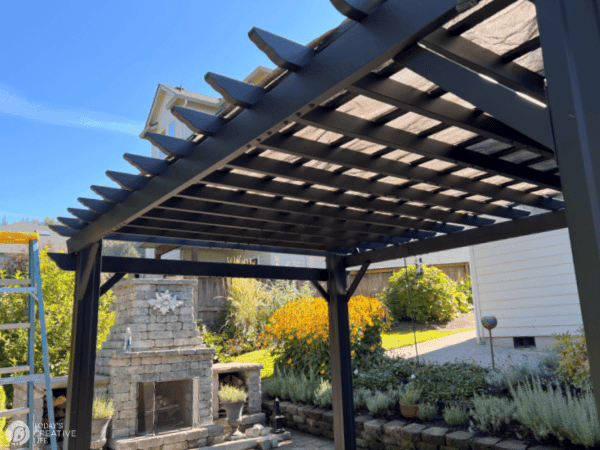 This pergola kit comes with a light-filtering sail shade soft canopy that is easily removed if desired. This is a great feature for added shade until any plants we add are mature enough to offer shade. Mine is the 14×10 Stratford Traditional Steel Pergola. It comes in 3 different sizes. Backyard Discovery has many styles, colors, and materials to choose from, so if you prefer wood, they have it. I had a hard time deciding between the Hawthorne Pergola Kit in white.
Kit for Pergola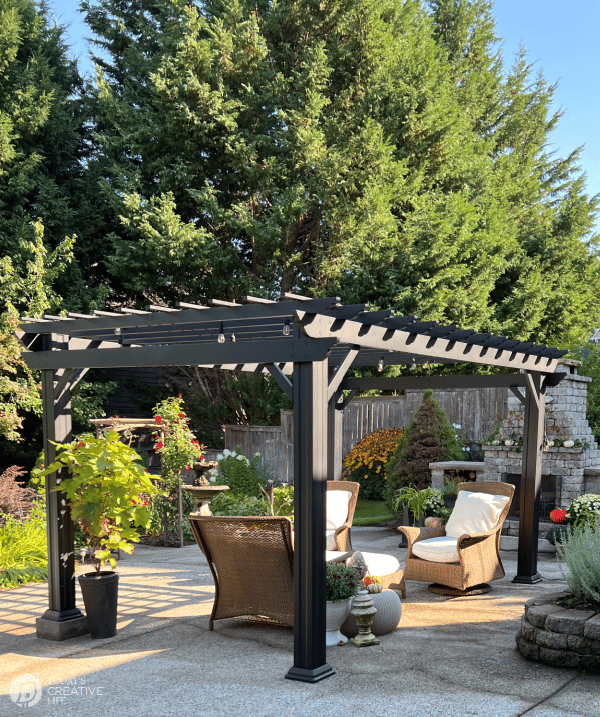 When researching about adding a pergola to our backyard, we realized it was much more economical to choose a kit that comes with everything we would need. It didn't even occur to us that a weather-resistant metal was an option. Perfect for the wet Pacific Northwest.
What is the Purpose of a Pergola?
Adding a pergola can be done for a variety of reasons. Mine was to make my back area more stylish and provide shade and privacy. I wanted a budget-friendly way to create a backyard oasis and by adding a pergola, it did just that. Other reasons to add a pergola to your backyard:
Increase the value of your home. Everyone loves a beautiful and usable outdoor space.
Increase the footprint of your home by creating more liveable space. – This can give you additional space for relaxing, reading, or even working outdoors.
Entertaining – Hosting family and friends for dinner, or just visiting is more inviting.
Beauty – We are planning on adding grapevines. They will look amazing when they are mature enough to grow across the top.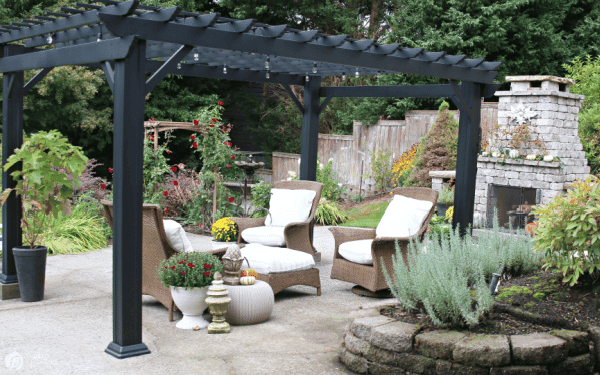 Before & After Backyard Makeover
It looked extra bare after removing the patio furniture and cafe light poles.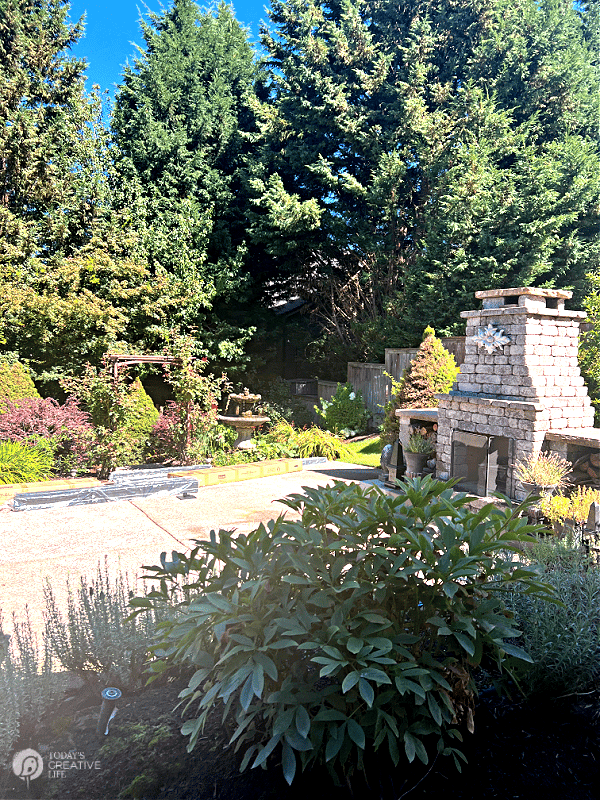 And after… it looks like it's always supposed to have been there. It really completes the look of our backyard.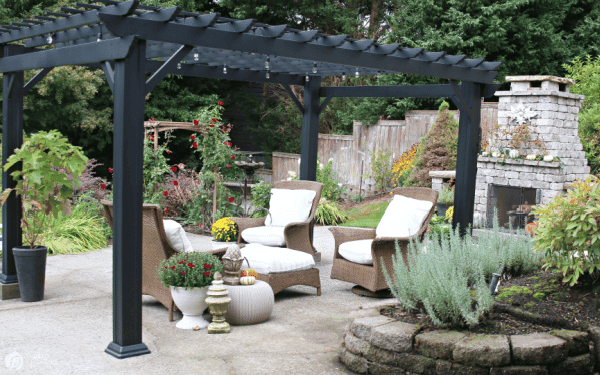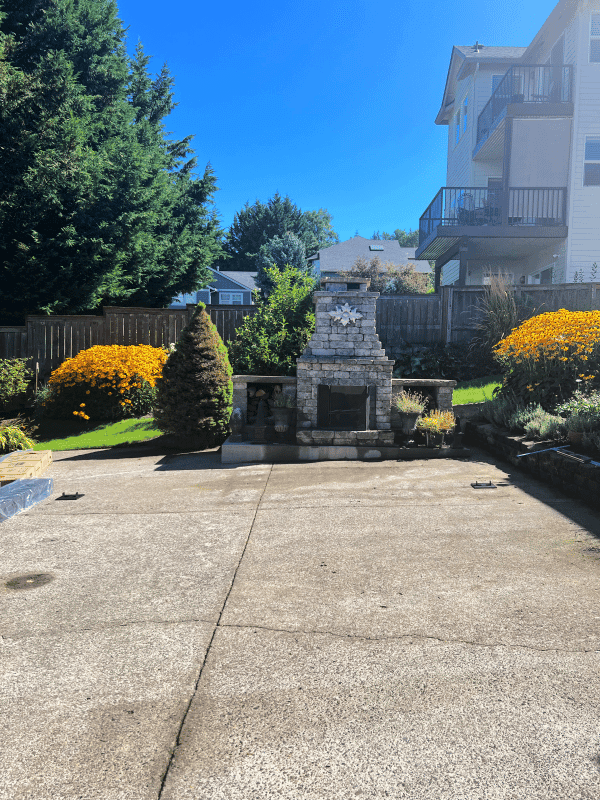 This before photo above just looks sad. It's so empty. Adding the pergola changes it for the better.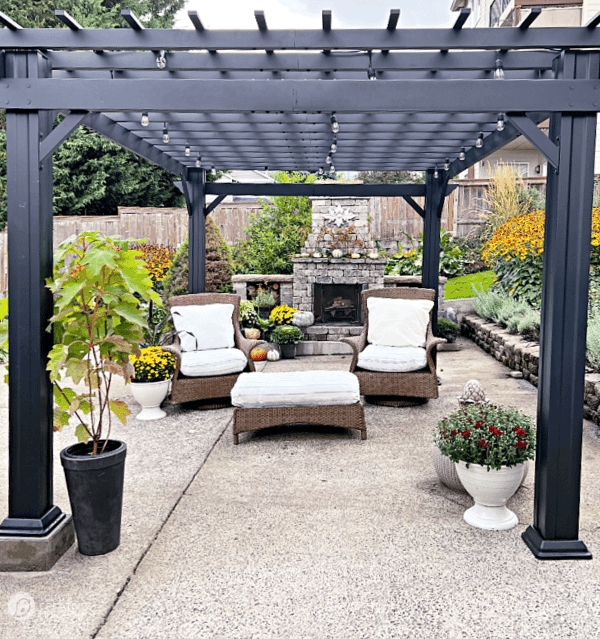 This now looks inviting and a place you'd want to hang out.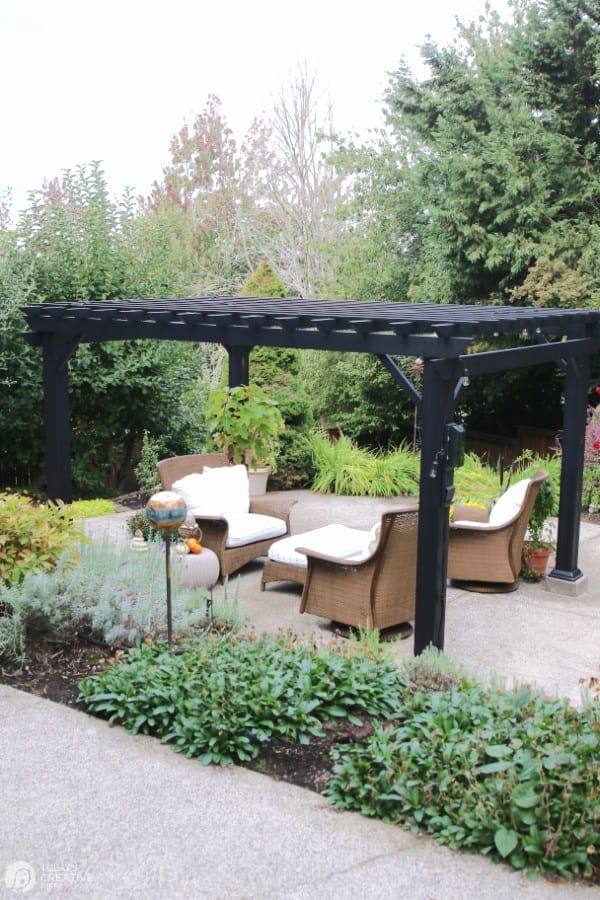 It's a great place to gather in the evening, especially with the glow of the cafe lights.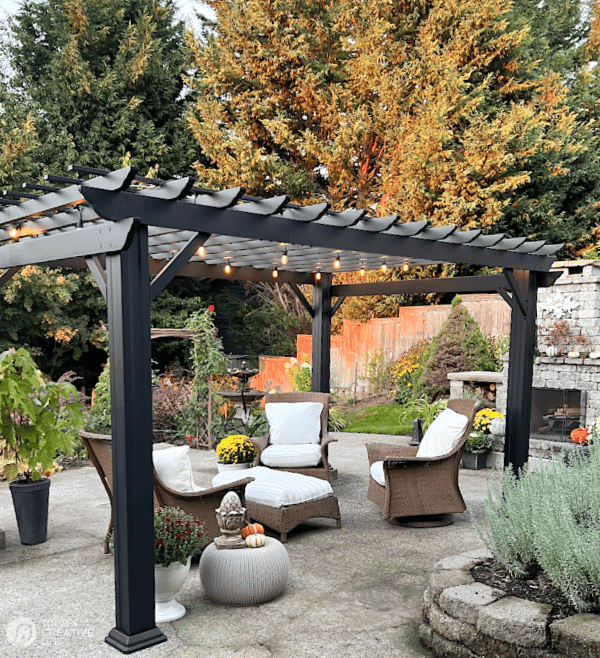 Pergola Kit Features
They have the run down on all their pergola kits. Here's a bit of info on the particular one I have.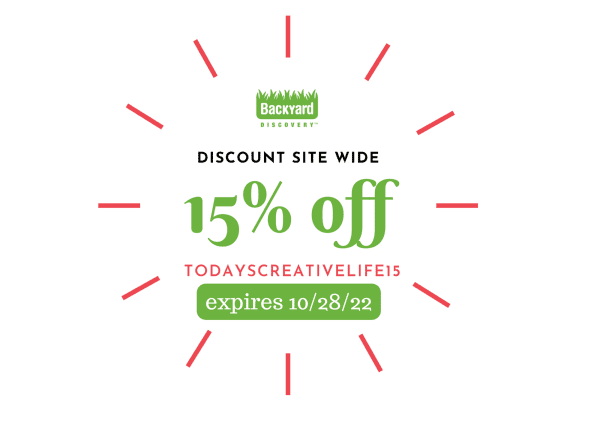 HEAVY DUTY: 100% galvanized steel is a stronger construction vs aluminum or vinyl structures
ZERO MAINTENANCE: Engineered for zero maintenance with stainless steel hardware and fully welded and rust resistant
WIND TESTED: Pro-Tect™certified performance structure; certified to withstand up to 100 mph
POWERED UP: Exclusive removable PowerPort™ features 3 electrical outlets and 3 USB ports that is transferable to any post on the structure. PowerPort™can be used for charging devices, lights and more. PowerPort™requires a power source to be functional (not included)
GALVANIZED & POWDER COATED STEEL: High performance powder-coating and galvanization for full protection against rust, corrosion, and UV harm
UV PROTECTION: Light filtering sail shade soft canopy included. Soft shade canopy is made of UV protected breathable woven fabric that allows water and air to flow through freely thus preventing water pooling on rainy days
TRADITIONAL DESIGN: Geometric post design and stylish black finish deliver popular appeal. Hidden internal joints add to the supreme strength while creating a sleek exterior
MULTIPLE FOOTPRINTS: Offered in 4 sizes – (16×12, 14×12, 14×10, 12×10)
ANCHORING PLATES: Powder-coated steel anchoring plates hidden by sleek steel post covers
EASY ASSEMBLY: Supported by step-by-step interactive BILT® app
5 Year Limited Warranty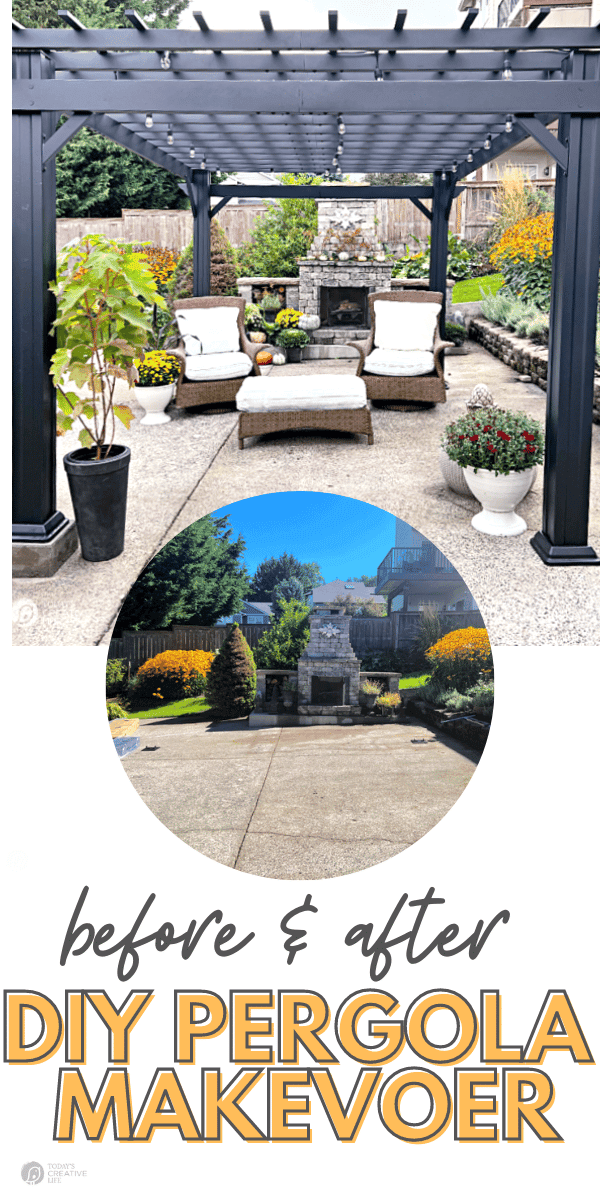 DIY Outdoor Projects
Budget-friendly ways to bring style, function and beauty for the outside of your home.
Bring beauty to your yard using an old fountain for an herb garden.
Making a fountain is easier than you think. Follow this DIY tutorial.
Simple solar lights for your patio.
Simple steps for keeping your fence healthy for winter.
Create a beautiful deck or patio with these ideas.
Help your lawn recover from winter with these tips.
Setting a gorgeous outdoor table can be simple and quick.
Learn the pros and cons of having a composite deck.
Tips for taking care of your composite decking.
Rustic and vintage Christmas decor tips for your porch.
Use what you have and create a gorgeous outdoor space for fall for a cup of hot cider.
This DIY Fireplace kit was one of the best additions to our backyard.